BTC Wallet Review – A Two Currency Wallet Review
BTC Wallet Details
Wallet name: BTC Wallet
Coins accepted: BTC, BCH
Linked Exchange: None
Countries: International
Languages: 27 Supported, and counting
Mobile compatibility: Fully mobile
Wallet Rating: 4.5
Wallet Type: Double Currency Bitcoin Wallet for Desktop and Mobile
What is BTC Wallet?
BTC Wallet is a trusted Bitcoin wallet solution built for people who use Bitcoin in their daily lives. You can store Bitcoin long term with the BTC Wallet if you want, but it's really intended for smaller balances used for trading. Think of your BTC Wallet like your real wallet. You don't carry all of the money you own in the wallet you carry in your pocket (at least…we hope not). You just carry what you need to live your life. Use BTC Wallet for the same, and you shouldn't have any problems. The BTC Wallet supports both Bitcoin and Bitcoin Cash.
BTC Wallet is offered by Bitmain, at the website BTC.com. You can create your wallet in browser through the website, or download the fully featured app for iPhone and/or Android. The BTC Wallet has a bunch of features which make it secure and useful, no matter which version you have. Trusted for several years already, the BTC wallet has never had a serious breach. Use with confidence!

BTC Wallet Features
The BTC Wallet is well featured for a wallet made for simplicity. Of course, you'll be able to easily send and receive Bitcoin and Bitcoin Cash. For usability's sake, though, you'll also be able to send without typing in complicated addresses, or scanning QR codes. Both of these features are available, but you'll more generally send to named identities, like your friend Bill, or your favorite coffee shop. Address IDs are stored with pictures, so you can see the faces or other images associated with each one.
BTC Wallet also supports 2 and 3 signature transactions. Let's say you owned a small business with 2 of your friends. Paid in Bitcoin, you don't want any one of your party to be able to spend the Bitcoin without consulting the other two. You set up a 3 part multi-signature for your balance, meaning that you all must agree before funds are unlocked. This is a nice perk that makes BTC wallet more useful for real people.
Finally, users won't have to store the entire blockchain to use BTC Wallet (like with Bitcoin Core wallet, for example). It can take seemingly forever to download the entire Bitcoin blockchain. BTC Wallet starts right up and completes transactions in seconds. And you don't even have to pay for it!
Choice of Coins
BTC Wallet isn't built to support a bunch of coins. In fact, for most of its history it has supported only Bitcoin. When Bitcoin forked in 2017, it introduced support for Bitcoin Cash as well. Multicurrency wallets, which support dozens or even hundreds of cryptocurrencies, can be very convenient and definitely have their place in the market. But these multicurrency wallets aren't meant for daily spending. You wouldn't want to risk losing your entire portfolio by storing it in a spending wallet, would you? We hope not.
Instead, by focusing on Bitcoin and Bitcoin Cash, the BTC Wallet reaches out to the largest bloc of cryptocurrency users: the Bitcoin fans! We think altcoins are cool and that you should definitely give them a look if you have not. But if you only or mostly use Bitcoin, BTC Wallet could be one of the most important wallets you download.
Check out The Best Bitcoin Wallets of 2018
Mobile & Desktop
BTC Wallet performs admirably on both desktop/browser and smartphone. Both versions are fully featured, though if you're out and about, the mobile version will be the more useful. While you're at home shopping online, you'll find that the desktop/browser version is what you need. We suggest you get both. They're both free, and with access to the same balance in both versions, you'll find that they both come in handy.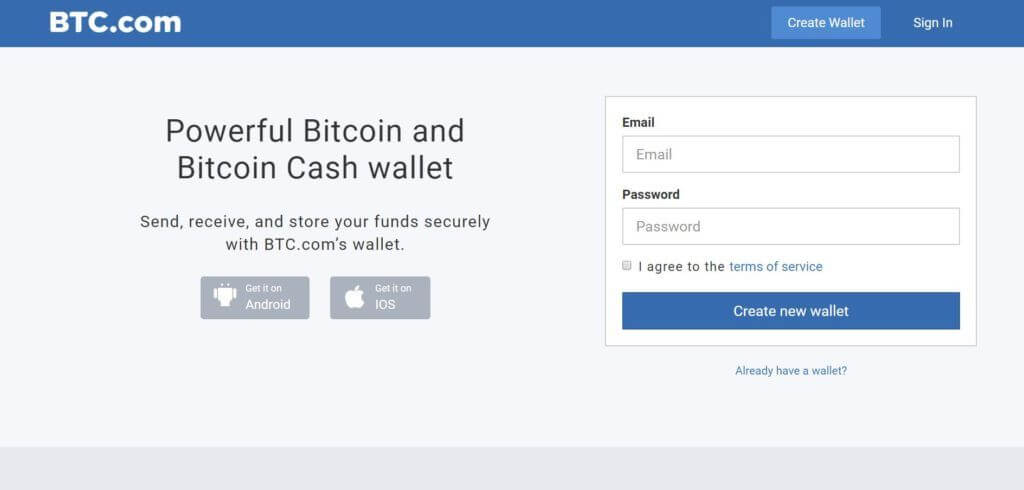 Operating Systems
The BTC Wallet is available on mobile for Android and iOS devices. Anybody with an internet connection and a browser can use the web version.
BTC Wallet Fees
The wallet is free: no purchases, no subscriptions, no DLC. You'll pay fees to send Bitcoin, but those go to the Bitcoin miners, and there's no way to use Bitcoin without paying them. BTC Wallet itself is a free service from Bitmain to bring you into the fold so you'll buy more Antminers and stuff.
Security
BTC Wallet is considered pretty secure for a cryptocurrency wallet built for mobile and web. By its very nature, BTC wallet is very much a "hot wallet", always attached to the internet. But with passwords, 2 Factor Authentication, and optional PINs protecting your account, it's veeeeery unlikely to be hacked. What's more, BTC.com doesn't even house your private keys, at least not in a way that anyone at the site has access to. Even if your account was compromised (which pretty much doesn't happen apart from big time user error), your private keys would be safe.
BTC Wallet Customer Support
Bitmain provides solid customer support for the BTC Wallet. Problems are few, but you'll always be able to talk to someone to resolve your issues. Also, because BTC.com supports 27 languages, international users will have an easier time getting help than they would with many other American wallets and exchanges.
Pros and Cons of BTC Wallet
Pros
✓ Free
✓ Secure (2FA, PIN, Password, private keys inaccessible to Bitmain)
✓ Mobile and Desktop/Browser
✓ Master Seed file can restore your account
✓ Multi-language support
✓ You don't need to download the whole Bitcoin blockchain
Cons
✓ No altcoins
✓ Hot wallets are necessarily less secure than cold wallets. This isn't really a con. Just sayin'.
Guide to Opening a BTC Wallet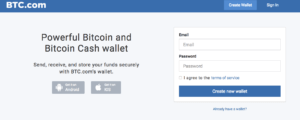 To sign up with BTC wallet, all you have to do is go to BTC.com, and click "wallet". Then enter your email and new password and click "Create New Wallet". You'll be offered a master seed file that can be used to regenerate your wallet if you ever lose access. Definitely download this and keep it somewhere safe. Add 2FA and PINs as you see fit, deposit some Bitcoin, and have a ball!
The mobile versions pretty much work the same. Download the BTC Wallet from your app store and input the same email and password you used to create your desktop account (You can also create your mobile wallet first). You'll see the same balance, because this is literally the same wallet, just from a different device. Set up the security layers and enjoy your day.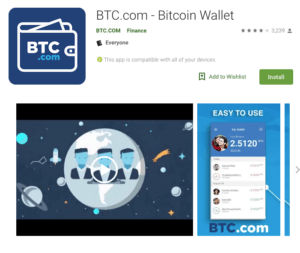 Is BTC Wallet a Scam?
Have you been reading? Lol. No, it's not a scam.
A Better Alternative to BTC Wallet
It's hard to find a better alternative to BTC Wallet for Bitcoin and Bitcoin Cash spending and storage. For long term storage you could get better service out of the Ledger Nano S. And if you want a great platform to buy Bitcoin, look no further than our recommended broker, eToro.
Or, if you'd like to explore other exchanges to see if they're right for you, take a look at the table below…
Conclusion
As you can tell, we like BTC Wallet quite a bit. And this isn't some biased opinion. If you look around the web, you'll quickly see the BTC Wallet is one of the most respected and widely used in the industry. Get your's today, and start taking your Bitcoin into the real world.
BTC Wallet FAQ
What if I lose my phone?
Just use your master seed file to restore your account on a new device.
What if we use multi-signature and one of our party dies?
That'd be terrible. If you're worried about that, each party should give another trusted individual access to their private keys (perhaps in a safety deposit box?) in case the worst happens.
What if I don't like Bitmain?
Then use another wallet.
What if my favorite vendor doesn't accept Bitcoin?
Tell them to change their ways. You'd be surprised at what a difference a little Bitcoin activism can accomplish.
Can I use BTC Wallet with BTC ATMs?
Yes, just use your BTC wallet address when you buy BTC at the ATM. It'll be sent straight to your wallet.