How to Mine Bitcoin Gold - Step-by-Step Guide
Bitcoin Gold (BTG)
...
Proof-of-work cryptocurrency networks rely on miners to maintain network security, validating transactions and to ensure decentralisation. Miners ensure that network transactions are validated by using their computing power to solve complex mathematical problems. The new block is added to the blockchain while the successful miner gets rewarded with newly created coins.
This is what happens on the Bitcoin Gold (BTG) network, a digital currency created in 2017 following a Bitcoin hard fork. This guide details everything you need to know about how to mine Bitcoin Gold, including the best hardware and software to use.
Our Quick Guide to Mine Bitcoin Gold
Set up a Bitcoin Gold wallet
Before you mine Bitcoin Gold, you need to have a wallet where you'll receive and store the mined coins. Ensure the wallet is compatible with BTG, for which there are several options to choose from in the market. These include mobile wallets that offer greater accessibility and hardware wallets for high-level security.
Join a Mining Pool
As you prepare to start mining Bitcoin Gold, you need to decide whether you are going at it solo or via a mining pool. Although you can solo mine with Bitcoin Gold's Zhash algorithm, you have a better chance of getting the reward when you combine resources with other miners in a "pool".
Start Mining
Before you begin, quickly go over the mining setup, confirming that you have your wallet and software properly configured. Generally, you want to ensure you are set to roll. Once you are satisfied that you have all boxes checked, start mining.
Alternative Cryptocurrencies
Requirements – What do You Need to Start Mining Bitcoin Gold Today?
To mine Bitcoin Gold, you need the right type of hardware and software, as well as have access to electricity and a stable internet connection. If you have these in place, you are good to go and could soon be among the people helping to secure the Bitcoin Gold network.
Popular Hardware and Mining Rigs for Bitcoin Gold
Bitcoin Gold changed its Equihash mining algorithm, revamping it to Zhash (Equihash 144_5) after a series of 51% attacks in the summer of 2019. The new algorithm is still a Proof of Work consensus mechanism that is designed to be ASIC-resistant. It's a version of the same PoW algorithm used on the Zcash network.
And that is why the graphics cards (GPUs) are used in mining Bitcoin Gold and remain the most popular hardware for mining this cryptocurrency. Currently, the most in-demand video cards for BTG mining are those designed for high-end gaming by GPU giants AMD and Nvidia.
To mine more effectively, you need several powerful GPUs, each packing a decent amount of hashing power. Although they might be a little expensive, a powerful video card gives you enough speed to compete for blocks.
The rigs also need a high-quality Power Supply Unit (PSU), a Motherboard that supports 6 GPUs, and a way to cool the hardware. If you don't invest in fans and the equipment overheats for lack of proper cooling, your mining operation could as well be dead before it even starts.
Most of the GPUs support Windows or Linux OS.
Best GPUs for mining Bitcoin Gold
1. Custom GPU rig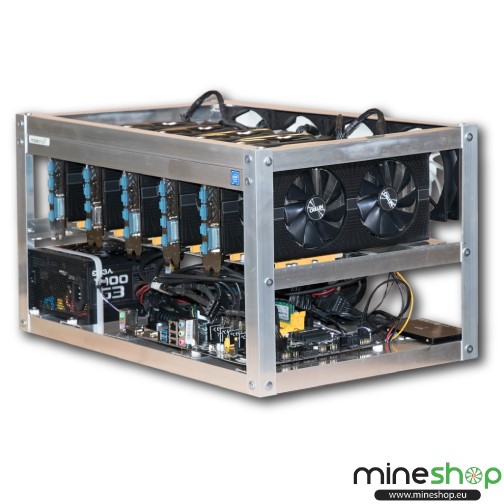 Custom GPU rig. Source: mineshop.eu
The above GPU miner features a Celeron CPU G1840 Dual-Core, 1 Motherboard- Pro BTC (Asrock H81), 6 GPUs of AMD Radeon RX570, RAM of 8GB DDR4, a 120GB SSD Hard drive, and 1000W PSU. Each video card offers 240H/s with power consumption at 800W for the unit.
2. Nvidia GTX 1080 Ti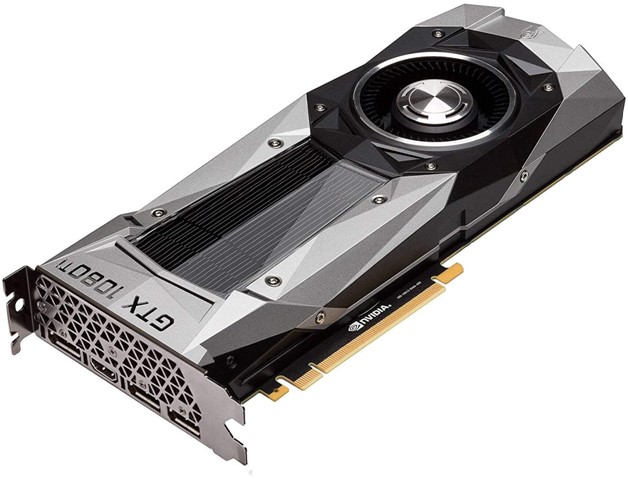 Nvidia GTX 1080 Ti. Source: Amazon
The GTX 1080 Ti ranks as the best GPU for Bitcoin Gold mining. This remarkable graphics card offers processing power of up to 700 H/s and draws 190W.
3. GeForce GTX 1070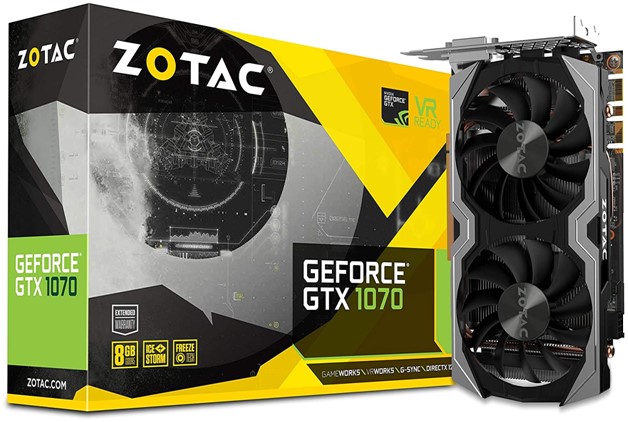 Nvidia GeForce GTX 1070. Source: Amazon
The GTX 1070 offers a hash rate of 440, drawing 165W. This is a great graphics card for Bitcoin Gold mining and has a high resell ratio and great power.
4. Nvidia GTX 1060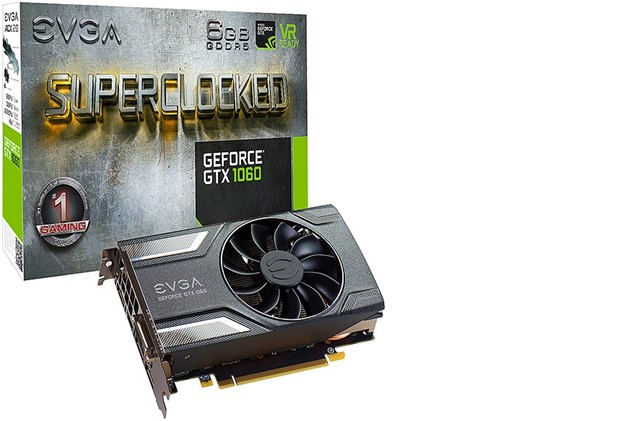 GeForce GTX 1060. Source: forum.bitcoingold.org
The GTX 1060 is another popular BTG GPU mining card that comes with a hash rate of 400H/s. It consumes 100W, and offers one of the fastest processing speeds for GPU miners.
Software
Software is a key requirement if you are to mine any cryptocurrency, let alone Bitcoin Gold. What software does is allow you to connect your hardware equipment to the BTG blockchain. You use the interface to configure mining settings before you begin to mine for the reward on offer.
Remember that different types of mining software support different types of graphics cards, which is why you must ensure you only use software that's compatible with your hardware.
Some software download to your desktop computer and support Windows and Linux OS, while some come with support for mobile access via Android and iOS. Take note of this fact too as you choose your mining software. If you are using a mining pool, you should find out the supported products before you proceed.
Which software people use to mine Bitcoin Gold
There are several providers of Bitcoin Gold mining software in the market today, which means a beginner miner won't have a problem with a suitable one. But which software do people use most when mining BTG?
OptiMiner: OptiMiner is a Windows and Linux compatible software tool that supports both AMD and Nvidia graphic cards.
Claymore's Dual Miner: The Dual Miner is a great software tool that comes with an easy-to-use interface. It's compatible with Windows and supports AMD and Nvidia graphic cards
EWBF Miner: EWBF supports Windows and Linux operating systems and is best suited for Nvidia GPUs.
Can I Use my Personal Computer to Mine Bitcoin Gold?
As noted above, Bitcoin Gold uses a mining algorithm that is ASIC resistant, which means CPU and GPU mining.
In this case, you can mine using your personal computer or even one of these powerful laptops. However, even though you can technically mine Bitcoin Gold on your computer's processor, you will find it too slow. And because the PC lacks the processing speed to compete with powerful video cards, you are likely to never mine any BTG with just the computer.
If you want to use your home-grade processor to mint BTG and have a chance to recoup more than just electricity costs, give it a boost by adding dedicated GPU power.
As mentioned earlier, you will need six video cards, a good hard drive, RAM (4 GB or more), a motherboard, a power supply unit and a cooling system.
With these in place, you can assemble a simple but powerful enough GPU mining rig to work with your PC. If you cannot manage the above setup, then thinking of mining with your consumer-grade computer is like experimenting on how fast your device can get damaged.
Technical Knowledge Required to Mine Bitcoin Gold
Mining can be a complex activity, especially for a newcomer with no grip on the technical language used in crypto mining. You need the right tools to mine, but topping that with an understanding of how mining works will make it even easier to get going. To help you get a grip on some of the words, we have provided a simplified explanation of crypto mining terminology.
Consensus algorithm: A set of rules on the network that allows for decentralised consensus on the validity of blocks. There are different types of consensus algorithms with Proof of Work, the one that supports mining on blockchains like Bitcoin Gold. Specific examples include SHA-256, Scrypt, Equihash and CryptoNight.
ASIC-resistant: An algorithm that does not support the use of specially-designed ASIC miners is resistant. Developers make the network's mining memory-intensive, which means miners require more memory than an ASIC chip can pack.
Block: A part of the blockchain that contains a record of verified transactions. The mining process is what allows for new blocks to be added to the network's growing chain.
Block time: The estimated amount of time it takes for miners to figure out the hash of a given block and add the new block to the blockchain. Bitcoin Gold shares the same block generation time of 10 minutes with Bitcoin.
Block reward: This is what miners earn after they successfully find a new valid block. In the case of Bitcoin Gold, the block reward reduces every four years. Currently, miners earn 6.25 BTG.
Mining difficulty: This is a measure of how much work miners have to put in before they find the valid block. The difficulty adjusts regularly to keep block time within the estimated 10-minute interval, so it can increase or adjust downwards.
Hash rate: The amount of computing power needed for a miner to calculate the hash function and solve the block puzzle. It's simply the processing power of your hardware measured in hashes per second. The more powerful, the higher the hash rate and the better the chances of quickly finding a block reward.
Mining profitability: A calculation of how much revenue you can earn with the given hash rate when taken into consideration with factors such as cost of hardware, power consumption, and the cryptocurrency's price. Mining calculators make it easy to estimate the profitability of popular BTG mining rigs.
Joining a Bitcoin Gold Mining Pool
Bitcoin Gold (BTG) supports GPU mining, which effectively means you could assemble a powerful rig or rigs and do some solo mining. However, your chances of getting the block reward increase significantly when you join a mining pool.
A mining pool will offer you a chance to get a share of the reward proportional to your hash rate. Although small, the reward will be regular and more likely to see you turn profitable faster than if you solo mined.
When choosing a Bitcoin Gold mining pool, it is important to find out about its hash rate, fees and reputation. These factors can tell you about the likelihood of the pool frequently solving blocks as well as what you will have to pay. A reputable pool is one likely not to scam you.
Bitcoin Gold cloud mining
You can also mine BTG without having to buy, set up, and run the mining hardware. This is because of the concept of cloud mining. A cloud service company managing massive data centres that rent out hash rate, which you can use to mine Bitcoin Gold without the need to own or run any hardware machines.
In cloud mining, you buy the hashing power. The service company will ensure you get the computational power to mine BTG for the agreed period. You don't have to worry about maintaining hardware or looking for a cheap source of electricity.
Pros
No need to invest in hardware
Less costly
Friendly to new or less savvy miners
Cons
Risk of being scammed
Time-locked (you must mine for the period agreed in the contract)
Top mining pools for Bitcoin Gold today are:
Mining Pool Hub
Suprnova
2miners
Btgpool
How Profitable is Mining Bitcoin Gold?
Profitability is a key consideration that you must make before you start mining any cryptocurrency, Bitcoin Gold included. While you can profit from mining BTG today, how well you do will depend on several factors that include initial investment and overhead costs.
To determine how profitable mining BTG is at the time of your investment plans, use a Bitcoin Gold mining calculator. You can then check how much revenue mining BTG will bring you in a day, week, monthly, or annually based on the following parameters:
Cost of hardware
Hash rate
Power consumption
Cost of electricity (per kWh)
Pool fee (if you join a mining pool)
Bitcoin Gold price
For example, the Nvidia GTX 1080 GPU that offers 550H/s and consumes about 150W returns on average $12.49 per day. If you deduct electricity costs at $0.10/kWh and a pool fee of 1%, the daily profit is $12.00. According to the Bitinfocharts mining calculator, the average return for six months is currently at $2,160.
I've Already Mined Bitcoin Gold, What Now?
Congratulations! You are now in the league of successful Bitcoin Gold miners. You have the coins safely in your crypto wallet and the next step is to figure out what to do with them.
You can either:
Sell immediately for a profit
Hodl
Selling Bitcoin Gold
If you decide to sell your mined Bitcoin Gold immediately, then you can do so via a crypto exchange like Coinbase or Binance or sell directly to a buyer on a peer-to-peer platform.
Cryptocurrency exchange: If you don't have an account, proceed to open one on an exchange of your choice. Once you verify your identity, move the coins from your wallet to the exchange. Go ahead and sell your BTG for fiat, then withdraw the money. You could also buy other coins on the exchange.
Note that selling on an exchange might attract additional transaction fees and that best practices recommend you move any coins you don't plan to sell off the exchange.
Peer-to-peer network: P2P platforms are marketplaces that pair crypto sellers with buyers. Here you can sell your BTG for your local fiat currency. Once you agree on the price and payment method, ask the buyer to first send the money before you transfer the BTG to the wallet address they provide.
Saving Bitcoin Gold Coins in a Secure Wallet for the Long Run
If you don't want to sell the BTG coins immediately, you can store them securely in a wallet and hold them as a long-term investment. In cryptocurrency, the term for this strategy is "hodling".
What it means is that you hold onto the coins and never sell no matter how the market outlook changes in the short term. Crypto investors use this strategy because of the idea that a digital currency is greatly undervalued at current prices.
Hodling requires that you store your coins in a secure wallet, preferably one that keeps your private keys offline.
If you don't do that, you could risk losing your funds- especially if you leave them in a hot wallet. The good news is that several wallet options offer top-notch security features for long-term hodlers. Here are popular recommended wallets for storing Bitcoin Gold.
Most Popular
Min. Deposit
$10
Promotion
Award-winning Cryptocurrency trading platform
14 Cryptoassets available to invest in
Payment Methods:
Bank Transfer, Wire Transfer
Full Regulations:
CySEC, FCA
Cryptoasset investing is unregulated in most EU countries and the UK. No consumer protection. Your capital is at risk. CFD crypto trading is unavailable for clients residing in the UK and US.
Min. Deposit
$1
Promotion
The worlds most popular hardware wallet
Buy, Manage and Secure your crypto in one place
Compatible with over 100+ cryptocurrencies
Payment Methods:
BitPay, Credit Card
The worlds most popular hardware wallet
Buy, Manage and Secure your crypto in one place
Compatible with over 100+ cryptocurrencies
Payment Methods:
BitPay, Credit Card, PayPal
Frequently Asked Questions
No, Bitcoin Gold uses a mining algorithm that is ASIC resistant and only supports CPU and GPU mining.

Bitcoin Gold's first block was mined on November 12, 2017, following the split from Bitcoin.

Bitcoin Gold is a fork of Bitcoin. Both BTG and BTC are mineable coins, which mean they rely on Proof of Work algorithms to create network consensus. They also share many other features, including a hard cap of 21 million coins, block time of 10 minutes and reducing block reward.

Miners currently earn 6.25 BTG per mined block.

Yes. You can rent a hash rate from a cloud mining provider like Nicehash and use it to mine Bitcoin Gold.

Bitcoin Gold uses the Zhash mining algorithm, which is similar to Equihash.