Stellar Lumens Price Index – Real-time XLM rate
Stellar Lumen Price Live Performance Indicators
Stellar (XLM)
...
Stellar Lumens Price Summary
Stellar Price Summary
At the time of writing, July 24th, Stellar (XLM) price sits at $0.2664, after dropping by 0.91% in the last 24 hours. The coin did grow by 14% over the last few days, which once again brought it near the resistance level at $0.3—a level that XLM has been trying to breach since June 21st, 2021.
Unfortunately for the project, each attempt to approach this level has resulted in its price being rejected, and the coin has been pushed down every time. Fortunately, it seems to have found its bottom at $0.2, as it did not really go below this level since mid-November 2020.
Of course, Stellar traders have been using even these smaller fluctuations to make a profit by trading the coin, but it seems that Stellar's progress, for now at least, is still held back by Bitcoin (BTC). Stellar is not the only altcoin that continues to follow the world's largest crypto, and in order to earn from its price volatility, traders should keep a close eye on XLM and BTC alike.
Stellar Price History
Stellar is one of the cryptocurrencies that did see a massive surge in 2021, but the momentum was not sufficient to take it to a new all-time high (ATH). The coin's ATH is $0.9381, from the early days in 2018. With that said, Stellar did come close to reaching it, hitting $0.7965 in mid-May, just before the market crashed.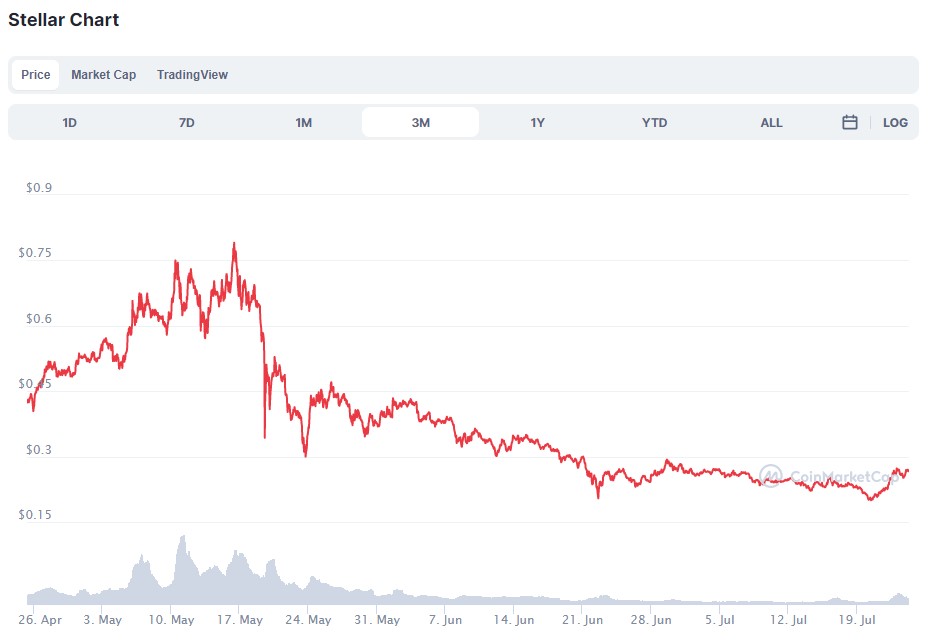 Stellar price chart. Source: Trading View
The coin went from this price level to $0.2115 over the course of a two-month-long drop. However, the market seems to be finally taking a turn for the better, as Stellar saw a 14% increase over the last seven days. At the time of writing, its price sits at $0.2664, which is around $0.91% below its price 24 hours ago.
It is possible that the coin's price has reacted as strongly as it did because of the recent rumour that the Stellar Foundation might be acquired by MoneyGram. Stellar has been viewed historically as one of the biggest rivals of XRP. As some may remember, XRP's parent firm, Ripple, has been working quite hard to team up with MoneyGram, and it even managed to succeed in doing so. But, after the SEC announced that XRP is a security, MoneyGram distanced itself from Ripple and XRP alike, allowing Stellar to swoop in, and essentially create a 'love triangle' with MoneyGram. With XRP and Ripple no longer being safe, it would make sense for MoneyGram to turn to Stellar, provided that it is still interested in going the crypto route.
Stellar Price Prediction
When it comes to Stellar price prediction, it is important to remember that the coin is still subject to Bitcoin's dominance. This means that Bitcoin is likely to dictate the mood of the market and Stellar will usually follow it. If we compare the two charts, there are some very obvious similarities. Here is Bitcoin's price performance over the last three months.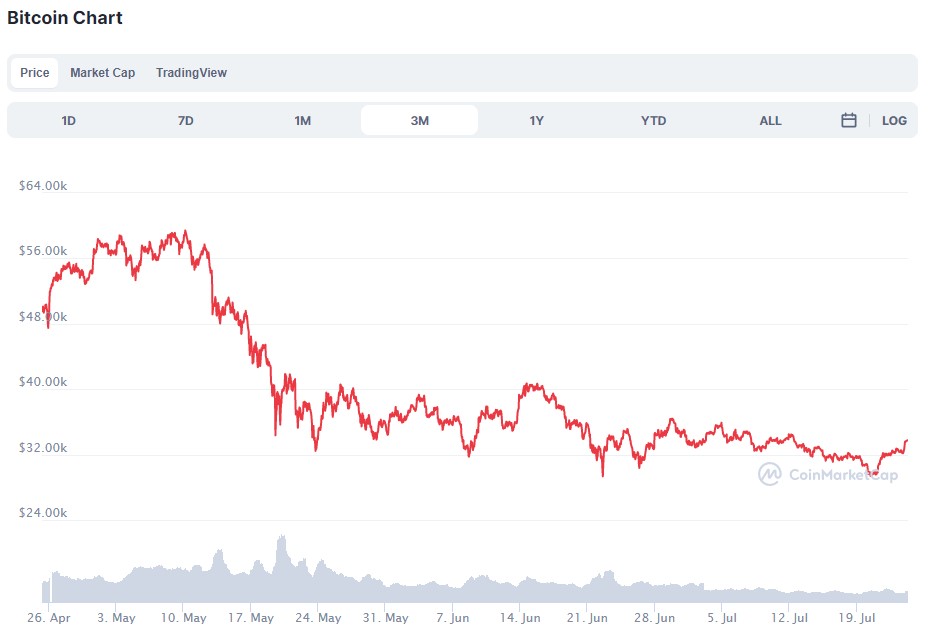 Source: Trading View
Comparing that to Stellar's chart from earlier, it is clear that Stellar is following Bitcoin's lead.
With that said, an impactful enough development, such as the acquisition by MoneyGram could be powerful enough to allow the coin to start heading down its own path, at least for a while. Of course, there is still a lot to be learned by studying Stellar's chart independently, recognising trends, and making predictions based on probability. The coin is influenced by BTC, that much is true. But, it is not entirely without a character of its own.
Stellar did have multiple periods when its price was relatively stable in 2021, which is quite clear on its YTD chart. Furthermore, if larger cryptocurrencies, like Bitcoin and Ethereum, were to break out, then Stellar price would be very likely to follow the trend. In other words, this year is not over for Stellar just yet, and it is still more than possible for the coin to go back to its former heights as the year draws towards its end. Historically, cryptos have always performed a bit sluggishly over the summer, only to see the return of bullish behaviour over the fall and early winter.
As for the future, a lot of it could change for Stellar if MoneyGram does get involved, and the coin could be brought to the centre of attention, and even fulfil its goal of becoming a go-to remittance cryptocurrency.
Exert Tip on the Price of XLM

"

Looking at Stellar's price performance, it seems that the coin was held back during this year's bull run. Back in early 2018, just before the crypto winter started, Stellar hit an all-time high that still stands as its absolute record to this day. With Ripple facing major regulatory issues in the West and being forced to turn to Asian countries for usage, Stellar should have an advantage in any market that is willing to reconsider partnerships with XRP in light of the US SEC's decisions. This makes its behaviour during the 2021 bull run quite curious, as the coin has been making sharp surges followed by strong corrections, only to surge even higher during the next wave. But it never even got close to reaching its old ATH, let alone surpassing it. In other words, Stellar still has the potential to go higher than it did even as Bitcoin was leading the market up at full strength.

"
About Stellar
Stellar is a decentralised cryptocurrency founded by Jed McCaleb and Joyce Kim, that uses blockchain as its underlying technology. The coin has come as an alternative to Ripple's XRP, but they share a similar goal. Whereas Ripple's goal is to partner with as many banks as possible and become the go-to crypto for making global payments by providing the banks with its technology that relies on XRP, Stellar operates more in the spirit of crypto.
It is decentralised, open, and transparent, and it doesn't aim to work with banks. It still wishes to become the preferred coin for international transfers, but it wants to do it on its own, and provide users with the true crypto experience. The coin boasts of the quickest transaction time in the market and is certainly capable of accommodating users who may wish to use it for sending payments all over the world nearly instantly.
Stellar is also an old coin and was launched even before Ethereum, in July 2014. This month, it celebrated its seventh birthday. It has managed to climb quite high on the list of largest cryptos by market cap, and it spent a long period among the top 10 coins. It has also made a name for itself due to its unique transaction fee that only costs 0.00001 XLM, which is basically free, given that its price right now is $0.2.
Stellar Lumen Value Compared to Other Cryptocurrencies
Frequently Asked Questions
Stellar recently made headlines after a new rumour that the Stellar Foundation might be acquired by MoneyGram. This news, combined with the entire market's attempts at recovery, allowed the coin price to go slightly up.

Stellar has shown that it has the potential to surge high, and any level that has been reached before should be reachable again. In theory, Stellar could go back to its ATH, and it might have done it if the market didn't crash in May.

Stellar doesn't have a real-world asset that would give it value, so its price remains volatile. It is also commonly influenced by Bitcoin due to its dominance in the crypto industry, but Stellar has shown that it can control its own price behaviour. Since it is a decentralised cryptocurrency, it is difficult for any single entity to manipulate its price.

As of right now, it appears that Stellar's bottom is at $0.2. This is the lowest that the coin has gone in over eight months now.

Stellar could see a major surge if MoneyGram rumours are true, but also if larger cryptos like BTC and ETH lead the market into another bull run.