How and Where to Buy Litecoin (LTC) - A Beginner's Guide
Litecoin (LTC)
...
Litecoin is a cryptocurrency made in response to the creation, and growing success, of Bitcoin. Created by Charlie Lee, a computer scientist from the Massachusetts Institute of Technology and former Coinbase employee, Litecoin was designed to be a 'store of value' alternative to Bitcoin. 
For this reason, while Bitcoin bears the moniker, 'digital gold', Litecoin wears the title, 'digital silver'. These names have stuck and many early investors in Bitcoin tend to also have a little Litecoin stashed away in cold storage.
As one of the earliest cryptocurrencies, Litecoin has benefited from first-mover advantage. Because of this, its associated Litecoin Foundation has a well-established and engaged global community. That said, the community has occasionally voiced its displeasure with Lee, not least of all when he decided to sell almost all of his holdings in the digital currency he had created.
This article takes a look a Litecoin, its pros and cons, whether it's a cryptocurrency worth investing in now, plus how and where you can buy it. 
How to buy Litecoin (LTC) from popular exchanges 
Sign up for an account with a reputable exchange or broker such as eToro.
Choose your preferred method of payment on the exchange—debit, credit card, Paypal, bank transfer or other payment methods—and add the relevant details.
Deposit funds into your account using your preferred payment method.
Wait for your funds to arrive and check the amount, noting any fees deducted.
Head to the exchange marketplace and search for Litecoin (LTC).
Depending on which exchange you're using, click 'buy', 'trade' or 'confirm' to purchase Litecoin (LTC) with your fiat balance, eg USD, EUR, GBP. Note: you can execute your trade at the market price (immediate) or with an order (when a certain price is reached).
Check your fiat and spot wallet balance to see your fiat and Litecoin (LTC) holdings.
Where to buy Litecoin (LTC)
Check out our deep dive into these top-rated platforms...
1. eToro - Most beginner-friendly platform to buy Litecoin (LTC)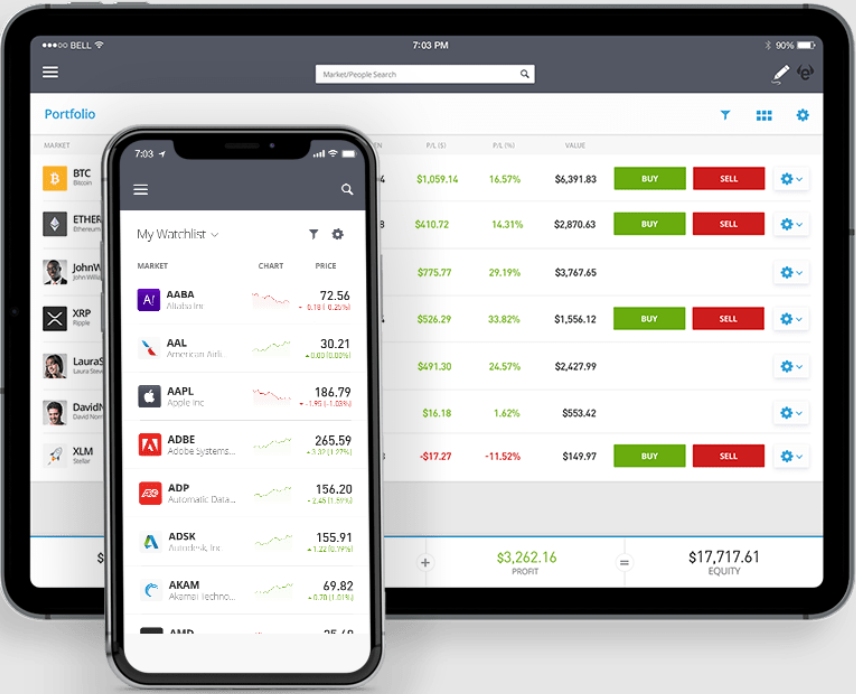 eToro has positioned itself as the best place for beginners to enter the world of trading and investing in stocks and cryptocurrencies. In addition, it has also made itself supremely attractive to accomplished investors keen to build a following of social traders.
In practice, this means that those without any crypto knowledge or trading experience can find trending investors who are doing well and automatically copy their trades. In simplest terms, this means that, as a beginner, you can use your funds to buy and hold Litecoin (LTC) on the eToro platform, or pick someone with a proven track record of success trading LTC, and copy them.
eToro is also regulated around the world by the following organisations:
United Kingdom: Financial Services Authority (FCA)
United States: Financial Industry Regulation Authority (FINRA); Financial Crimes Enforcement Network (FinCEN); Securities Investor Protection Corporation (SIPC)
Australia: Australia Securities and Investments Commission (ASIC)
Cyprus and Europe: Cyprus Securities and Exchange Commission (CySEC)
Why we chose eToro
With 50 cryptocurrencies to choose from, including Litecoin (LTC), eToro's set-and-forget method and social platform is ideal for people who are new to the crypto space and want to gain exposure without high risk. It is also one of the few crypto platforms where users can dabble in other assets such as stocks.
2. Coinbase - Best US-regulated crypto platform to buy Litecoin (LTC)

Coinbase was the first cryptocurrency exchange in the world to gain a full listing on the New York Stock Exchange. This marked a milestone, not only for Coinbase but for the crypto industry as a whole through the exchange's high-level exposure helping to pave the way toward mass adoption.
As such, United States Coinbase Inc is licensed in most US states, with just a few exceptions where additional stipulations relating to virtual currencies, and how they are legally recognised, come into play. This still makes Coinbase the most well-regulated cryptocurrency exchange in the US meaning greater security and safety for its users.
Why we chose Coinbase
We chose Coinbase because, by dint of it being listed on the NYSE, it has had to meet a higher number of regulatory benchmarks than almost all other cryptocurrency exchanges. It was also the first crypto exchange to operate using the United Kingdom's Faster Payments Scheme. And while other exchanges were, and still are, grappling with the Financial Service Authority (FCA) and its stringent requirements, Coinbase was granted its e-money licence by the organisation unhindered.
3. Nexo - Best crypto exchange to earn a yield on Litecoin (LTC)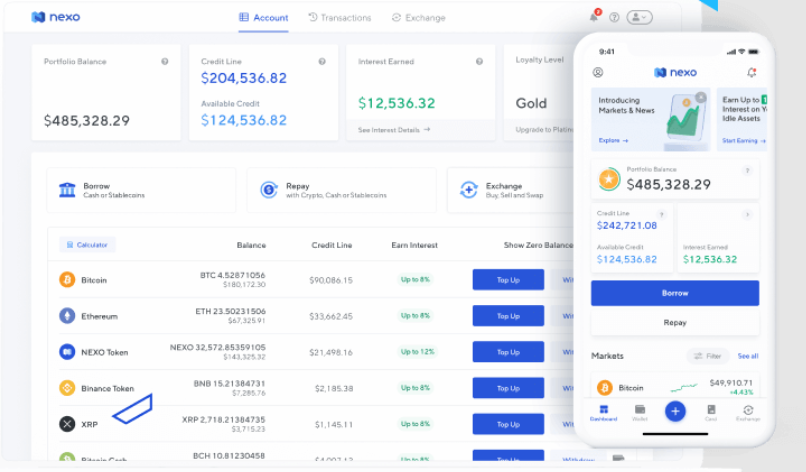 Nexo has positioned itself uniquely as an ideal alternative to traditional banking. It is also one of few exchanges to be built on a fully regulated blockchain. Based in Switzerland, Nexo allows companies and individuals to both borrow and lend fiat and cryptocurrencies without having to use the services of a traditional bank.
The main attraction for people who hold and lend Litecoin (LTC), for example, is that they get rewarded with excellent APY and APR interest rate returns. With up to 17% APR on some cryptos paid out daily, and therefore benefiting from compound growth, Nexo has quickly grown to become one of the most popular borrowing and lending crypto exchanges in the world.
Why we chose Nexo
We chose Nexo because of its innovation and unique proposition in the crypto space. Users can even borrow money against their staked crypto without creating a taxable event—ideal for accounting. In addition, Nexo has its own debit card allowing holders of crypto to automatically convert their coins and spend them in the high street. Fully insured and audited, there is also peace of mind for those with large accounts. And when certain conditions are met, users can borrow at a 0% interest rate!
4. Binance - Most comprehensive crypto exchange to buy Litecoin (LTC)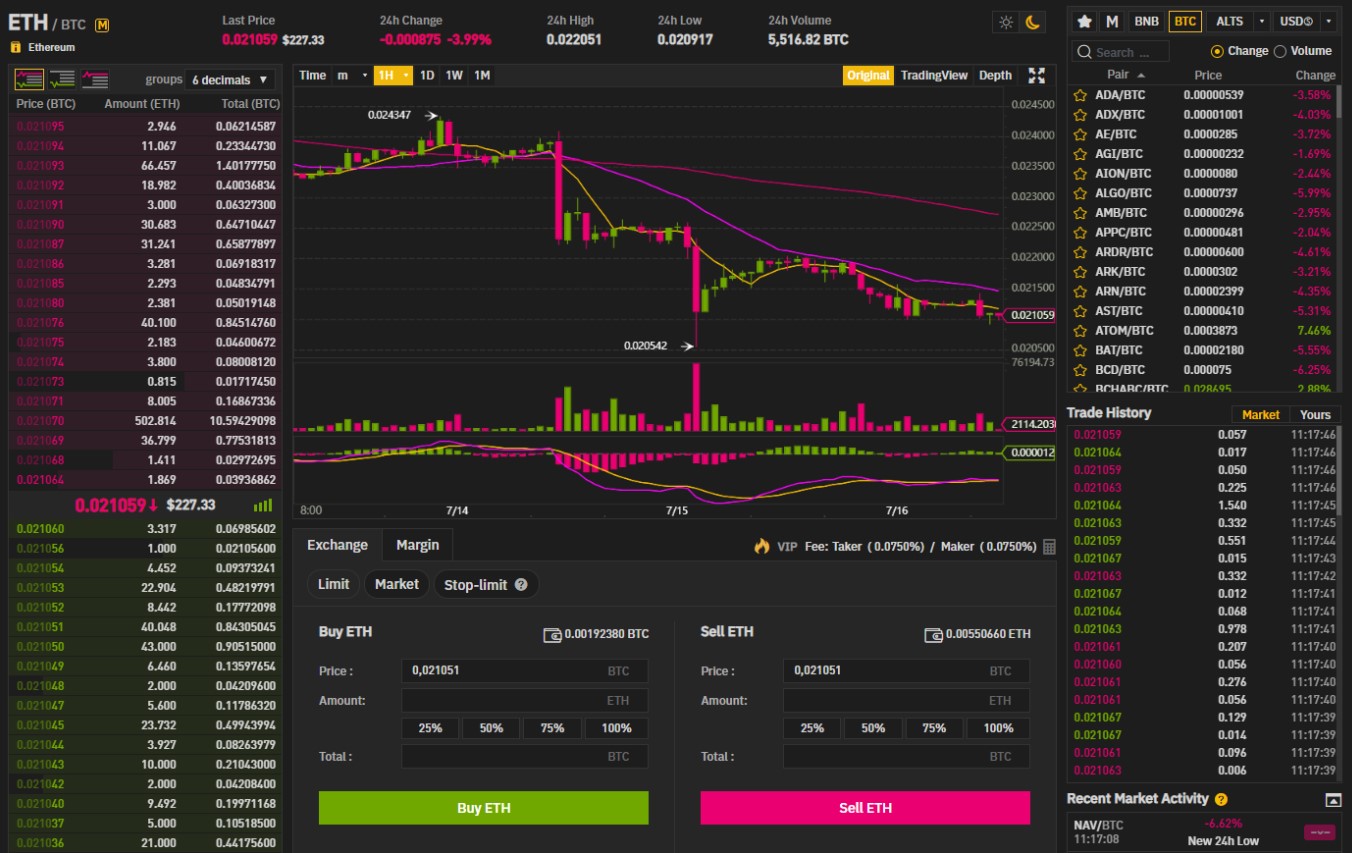 Handling billions of dollars in transactions every day, Binance is the largest cryptocurrency exchange in the world by trading volume.
With a prolific and highly vocal founder, Changpeng Zhao, commonly known as CZ, Binance is arguably the Tesla of the crypto world.
Boasting the largest number of cryptocurrencies of any exchange, Binance is the first choice for traders and investors looking for variety and the opportunity to speculate on exciting new projects. In addition, Binance offers users the ability to earn by staking their coins and offers some of the fastest and cheapest conversion and transaction fees in the crypto industry.
Why we chose Binance
We chose Binance because it has been tried and tested by crypto enthusiasts for many years. With its own blockchain, the Binance Smart Chain, and native token (BNB), it has also served its community well by implementing systems that have dramatically reduced on-chain transaction fees. With simple-to-use crypto conversion capabilities, excellent charting and dozens of other features, Binance remains one of the best places to buy and sell Litecoin (LTC) and other cryptocurrencies.
Best payment methods to buy Litecoin (LTC)
There are a number of ways to buy your Litecoin from an exchange or broker. Below are the most commonly used methods of payment with a brief outline of each one and how to use it.
Debit card: This is usually the preferred method of payment for both individuals and exchanges. Quick and easy with minimal costs, making a fiat deposit on an exchange to buy crypto is as easy as buying a product on Amazon. Simply plug in all of the relevant details including long card number, card expiry date and CVC, choose how much you want to deposit in your crypto account and you're ready to convert your USD, GBP, EUR etc into Litcoin (LTC).
Credit card: This is also a popular way for traders and investors to fund their cryptocurrency accounts. However, there are some considerations. The first is that this method is often classed as a cash advance and, as such, usually incurs much higher fees than a debit card payment or bank transfer. The second is that, as regulations increase, more banks are preventing people from using credit cards to buy crypto.
Bank transfer: Another popular method, this is usually quick and easy. This is also one of the most secure methods for making deposits into crypto accounts. The only downside is that the transaction may take a few days to complete. So, if the markets are running hot, and time is of the essence, use one of the other suggested methods if you can.
PayPal: One of the most popular and efficient ways of securely sending and receiving money, PayPal is widely used by cryptocurrency traders and investors today as a quick and easy way to fund their fiat and spot wallet accounts. If your exchange supports PayPal, this will appear as an option, alongside other payment methods, on the deposit page.
Crypto wallet swap and convert: If you already have cryptocurrencies stored on an exchange or in a non-custodial wallet such as Metamask, you can usually buy Litecoin (LTC) through a simple conversion process. Let's say you have some BTC, if your exchange or wallet allows swapping, simply find the convert or swap facility listed on the exchange or wallet, enter BTC in the 'swap from' or 'convert from' field and put the Litecoin (LTC) symbol in the 'to' field and press the 'swap' or 'convert' button to complete the process.
Where to store Litecoin (LTC)?
The easiest way to store your LTC tokens is in the custodial crypto wallet on your exchange either for staking or rapid access. For added safety, you can also store them in a non-custodial wallet such as Metamask or Trustwallet. For the highest level of security, however, you're best to keep your coins in cold storage. Cold storage simply means holding your coins off-chain so that they aren't vulnerable to attacks launched via the internet. Below are the most popular hardware wallets available to crypto traders and investors today.
Five good reasons to buy Litecoin now
Litecoin is a battle-tested crypto that has survived three bear markets.
Known as digital silver, Litecoin remains one of the best 'store-of-value- cryptocurrencies available today.
Litecoin benefits from digital scarcity. This means that, while many cryptocurrencies have exceptionally high inflation due to initial over-minting in the billions or trillions of coins, Litecoin has a maximum supply of just 84 million tokens.
Litecoin's transaction speeds are more than twice as faster as Bitcoin's.
Litecoin benefits from having a strong and dedicated community behind it headed by computer scientist and founder, Charlie Lee.
Key Takeaways
For anyone looking for a cryptocurrency with longevity, Litecoin stands head and shoulders above the thousands of other cryptocurrencies available. Following hot on the heels of Bitcoin, Litecoin was one of the first Proof of Work, peer-to-peer digital currencies to capitalise on the whitepaper by Satoshi Nakamoto. As one of the forefathers of what is, today, a trillion-dollar industry, Litecoin has weathered several crypto bear markets and remains intact with its initial founder still at the helm. For these reasons, and more, it is arguably one of the safest cryptocurrency investment opportunities available today.
Frequently Asked Questions
Litecoin has had some ups and downs. Famously, Charlie Lee, Litecoin's founder, sold all of his Litecoin tokens, leading some to speculate that time was up for the cryptocurrency. Lee went on to assure the Litecoin Foundation that his intention was to divest himself of any bias within the decentralised blockchain network.

As one of the first cryptocurrencies after the advent of Bitcoin, Litecoin has the advantage of being one of the most talked-about cryptos in the blockchain space. As a store of value, many holders of Bitcoin and Ethereum also hold Litecoin. Its longevity, large community, and dedicated team mean that Litecoin is and continues to be one of crypto's great survivors.

Yes, Litecoin is completely legal to buy and own. However, in some countries, like China or Russia, it cannot be used as a payment method for goods and services.

It's difficult to predict where the price of Litecoin is headed. Estimates vary from around $170 to $250 by the end of 2024. These estimates will, of course, be influenced by many factors, from macroeconomic and geopolitical shifts to the regulatory environment cryptocurrencies, in general, find themselves in.

At the time of writing around 74% of Litecoin's capped 84million coins are currently in circulation.
Alternative Cryptocurrencies