How To Mine Ethereum - Step-by-Step Guide
Ethereum (ETH)
...
Ethereum (ETH) is transitioning from being a Proof of Work (PoW) blockchain, whose consensus mechanism relies on mining to create new coins and secure the network to a Proof of Stake (PoS) blockchain.
This article explains Ethereum mining and will help you to find out the details about the process in case you are wondering how to mine Ethereum.
Our Quick Guide to Mine Ethereum
Set up an Ethereum wallet
A wallet stores the cryptographic keys that give you access to the coins you will earn from mining. You need to search for and set up a secure compatible wallet, of which there are several that support Ethereum. For better security, hardware wallets are a great option while hot wallets will suit frequent traders.
Join a Mining Pool
Mining has become complex and requires vast amounts of hash power, which has, in turn, made it difficult for solo miners. This is why miners with fewer resources join mining pools. When you do, you combine energy resources with other miners and therefore can mine ETH regularly and be profitable.
Start Mining
If you have the hardware all set and software properly configured, and the above steps are taken into consideration, you can start mining. However, you need to do some final checks on the entire setup before you proceed. Confirm that your power supply backup unit is working and the cooling system is running. If all looks good, start mining.
Requirements – What do You Need to Start Mining Ethereum Today?
What you need before you begin mining Ethereum is the right equipment and electricity. Of course, you will have to set up a wallet to receive the coins. In the following subsections, we look at the popular hardware, software and mining pools for Ethereum.
Popular Hardware and Mining Rigs for Ethereum
As noted above, mining difficulty has risen since the days you could mine with a Central Processing Unit (CPU). So, if you are looking to start mining today, you might need to take note of a few things about Ethereum hardware and mining rig requirements.
Let's first make it clear that you can mine Ethereum with GPUs and ASICs.
Application-specific integrated circuits (ASICs) offer massive amounts of computing power and can boost profitability by a wide margin. They are therefore highly sought after, although production has lagged demand and therefore the machines are only in the hands of a few individual miners and mostly in large mining farms.
ASICs are therefore popular, but they are not the most used mining hardware for ETH. That honour goes to Graphics Processing Units (GPUs).
What do you need to build an Ethereum GPU mining rig?
GPUs (8 or more is recommended)
A good motherboard
power supply unit
Random Access Memory (RAM)
CPU
Cooling system
You'll need a little expertise to build the mining rig. However, the basics include having a sturdy frame to hold the components.
After everything is put together as it should be, it's time to install an operating system. Most miners go for Windows, but you can also use Linux and Mac. The next step is to get a compatible software, and once you install and configure the whole setup, you are good to go.
Now, here are some of the powerful ETH miners in the market today.
1. Nvidia GeForce RTX 3090
The RTX 3090 was released in September 2020 and is a beast of a GPU. Each graphics card will give you a hash rate of 120MH/s, at a power consumption of 300W and efficiency ratio of 2.5j/Mh. It is, however, a bit pricey at $3,500 per unit at the moment.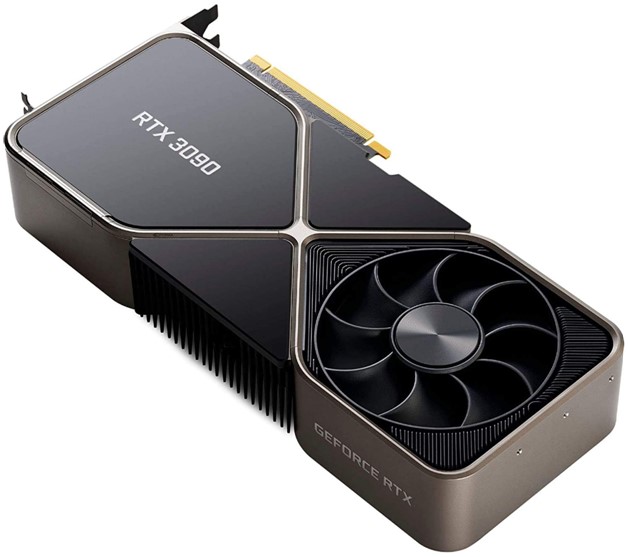 GeForce RTX 3090. Source: Amazon
2. Nvidia RTX 3080
Nvidia's RTX 3080 was released in September 2020 and is a truly powerful graphics card. The GPU can offer up to 97MH/s of hash rate, consuming roughly 250W at an efficiency ratio of 2.58j/MH. You can get a decent rig out of this graphics card, which costs roughly $700 per unit.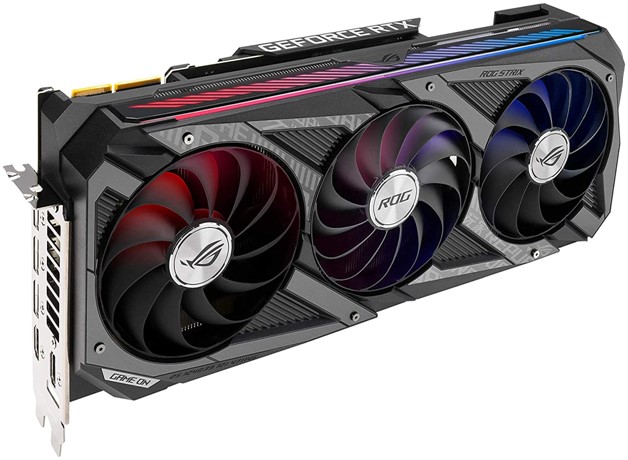 Nvidia RTX 3080. Source: Amazon
3. Nvidia RTX 3060 Ti
Nvidia RTX 3060 Ti is another popular GPU mining card. You can get up to 60 MH/s from each unit, with power consumption at 140W. A rig assembled with 10 of these cards can give you up to 600 MH/s, with a combined power draw of 1400W.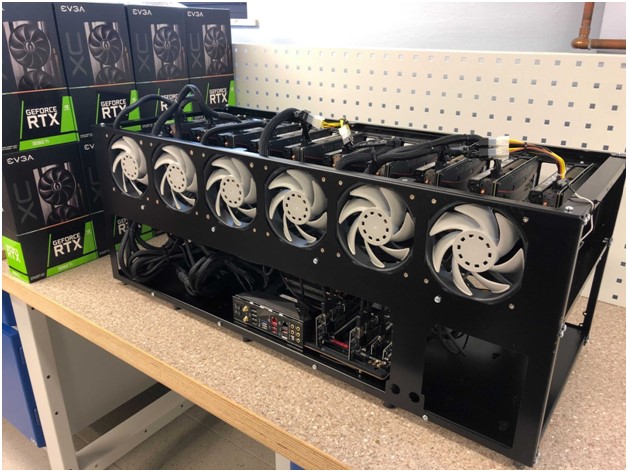 Mining rig using Nvidia GTX 3060 Ti. Source: NiceHash
For ASIC miner enthusiasts, here is another top piece of hardware that you can consider.
4. Innosilicon A10 Pro+ Eth
Released in December 2020, the Innosilicon A10 Pro+ Eth is one of the most popular and profitable ASICs for Ethereum. The miner comes with a hash rate of 750MH/s, power consumption of 1350W, and 1.8j/MH in output efficiency. According to ASIC Miner Value, the A10 Pro+ has a profitability of $54.86 per day as of March 5, 2021. The problem might be its cost, which ASIC Miner Market currently retails at $21,536.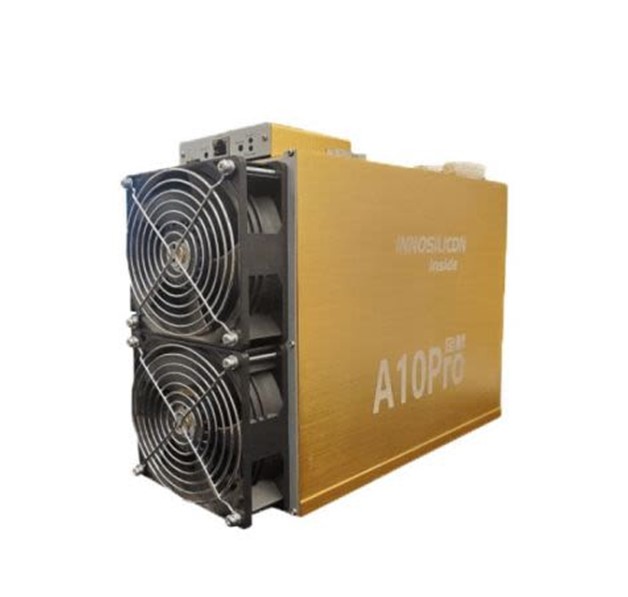 Innosilicon A10 Pro+ Eth. Source: ASIC Miner Value
Software
Software is what you need to connect your hardware to the blockchain and start hashing away for a reward. You might not need to download and install any software when using certain ASIC machines as these come with the compatible software pre-installed.
For GPU rigs, you need to get the software, which fortunately won't be a problem for you as several options are available in the market. Once you have the software, connect to the blockchain and complete the process as provided in user guidelines.
The software interface will allow you to connect with other nodes, link your wallet with the mining pool and monitor the mining process among other functionalities.
It is important to note that software can be a desktop version or a mobile version. The former downloads to your computer and will only work from that particular device. A mobile version offers you the chance to mine Ethereum on the go.
Be cautious as you download mining software as some malicious actors use these products to inject crypto-jacking malware into your system. Once installed, the malware can secretly mine cryptocurrency on your computer or steal your coins.
Which software people use to mine Ethereum
Choosing one software option over the other can really be a matter of which one works best with the hardware you have. As such, there might be no 'one size fits all' scenario. However, when looking at popular mining software for Ethereum, you are likely to find that most people use Ethminer.
What makes this program so popular is its compatibility with most devices mining the Ethash algorithm. So you could mine any other coin that uses the algorithm, with the software connecting your hardware to the blockchain as well as your preferred mining pool.
The software is a command-line program, which means you can easily download and deploy it using your Windows or Linux OS.
Other software options you can check out if you have a GPU mining rig are:
Can I Use my Personal Computer to Mine Ethereum?
It is certainly possible to mine Ethereum on your personal computer, but the fact is, you might never get a block and therefore earn money from it. When CPU mining was possible, miners used rigs that combined the processing power of several CPUs.
But that is no longer such a viable option today, with GPUs overtaking CPU processors and mining difficulty making it even more impractical to use a personal computer.
Yet, if you want to mine Ethereum at home you can still do it. All you need is a setup with consumer graphics cards. For miners, the best two are AMD and Nvidia.
With these, you can get a customised Ethereum mining rig, with additional requirements being as noted above.
Technical Knowledge Required to Mine Ethereum
You might mine Ethereum without having to learn and grasp most of the technical terminologies used in blockchain and cryptocurrency. However, as one who wants to benefit most from the mining experience, it is best to have a grip on a few key terms related to mining Ethereum.
Here is a list of some of these terms:
Hash rate: The amount of computing power a hardware device has and which it uses to compute complex mathematical problems to verify a block. It's also the total computing power miners have input into the network towards mining. The more the miners, the higher the hash rate and vice versa.
Difficulty: Settings within the mining protocol that determine how much hashing power a miner needs to find a new block.
Mining reward: The amount of ETH a miner receives for performing a Proof of Work function.
Beacon Chain: An upgrade of the Ethereum chain that introduces the PoS algorithm and staking on the Ethereum network.
Blockchain: A sequence of mined blocks, which contain a record of all the verified transactions. the first block to be mined is called the genesis block.
Consensus algorithm: The rules within the network protocol that miners need to follow when competing to validate blocks. When the network of miners agrees on the validity of a block, they come to a consensus by adding it to the blockchain.
Joining an Ethereum Mining Pool
If you want to mine Ethereum, you need the right tools. In this case, it's a powerful mining rig, or one of those compatible ASICs, if you can find and afford one. But that's not all.
We already mentioned that one of the steps to take when looking to mine Ethereum is to join a mining pool.
When you join an Ethereum mining pool, you combine your hashing power with that from other miners. This significantly increases the pool's computational power and allows it to mine blocks quite regularly.
All miners within the pool then receive a share of block reward as per the amount of hash rate they contribute to the pool. It is an easier and faster approach that new miners adopt to start earning a share of the reward as soon as they begin to mine.
Remember that there are different options out there when it comes to which mining pool to join. In your research, consider the following factors before you pick one over the other:
Pool size – Joining a larger pool increases your chances of regularly solving the computational problem and finding a new block. You can therefore have regular payouts, even though these could be significantly meagre due to the huge number of miners.
Fees – Ensure you find out how much the pool charges miners. The fee is meant for pool maintenance and varies from pool to pool. Most of them however charge 1%-3% in fees.
Payouts – Find out how the pool calculates its miner payouts. For some, the payout includes a share of the block reward and any attached transaction or uncle fees. Also, ensure you understand what the minimum payout is as that can impact how soon you can get your hands on the ETH. For instance, a pool that sets the minimum payout to 1 Ether (ETH) could see you wait a long time to accumulate regular rewards before you get them.
Other factors to consider include:
The geographical spread of miners
Server location
Reputation
Note that large mining pools are likely to be reputable and you might not run into problems with payouts. Talking of payouts, check the minimum limit as that could determine how long you wait before you get your income.
Cloud mining
If you want to mine Ethereum but aren't ready to invest in hardware, or just want to try hassle-free mining, cloud mining is your option.
In cloud mining, a large mining farm rents out computing power to miners at a fee, who then mine Ethereum or other cryptocurrencies without having to run hardware. Once you pay the required fee and agree to a contract, you do nothing else. Your work is to wait for the payouts, which can be monthly or other agreed timelines.
Pros and cons of cloud mining
Pros
No need for expensive hardware
No worries about finding cheap electricity
Regular payouts
Beginner-friendly
Cons
Risk of being scammed
The contract is fixed and time-locked- you lose if you cancel before the expiry of the contract
Ethereum mining pools
Ethermine
This is the most popular of all Ethereum mining pools. The pool fee is 1% of your payout, with the reward also inclusive of transaction fees. Miners get their rewards once they reach a minimum of 0.05ETH.
Perhaps Ethermine is popular because it supports the mining of several other cryptocurrencies, including Ethereum Classic (ETC), Zcash (ZEC), and Ravencoin (RVN).
Other top Ethereum mining pools are:
F2Pool – 2% fee and threshold of 0.1 ETH. It supports over 40 other cryptocurrencies that you can mine
Sparkpool – 1% fee and minimum reward payout of 0.1 ETH.
Nanopool – 1% fee and reward threshold of 0.2 ETH. Nanopool supports the mining of Zcash, Ethereum Classic and Monero among other coins.
How Profitable is Mining Ethereum?
Ethereum mining can be profitable, but that depends on several factors that you need to consider even before you begin mining.
Whether you see a return on your investment or not will depend on the initial cost of setting up the mining operation versus gains spread over time.
Apart from mining rig costs, you need to know that electricity could be the biggest reason you see profitability or not. It is recommended that you set your miners to work only in regions whose electricity costs are favourable. In most cases, power costs should be $0.10 per kilowatt-hour or lower.
Let's say your rig costs $3,000 to assemble. If your power costs are at the low end of $0.05/kWh and you make $6.67 a day, then your profit per month would be around $155.
Now, how long would it take you mining with this hardware to break even? A simple calculation shows that you'd need at least 19 months. That's when you will have recouped the initial investment. If the electricity costs jumped to say $0.20/kWh, using this same miner would take you a very long time to make back your investment. In this case, it comes down to more than a decade of mining.
The cost of electricity is therefore one of the key deciders of whether you become profitable (and after how long).
Other factors that determine profitability include:
Hash rate
Price of Ethereum
Mining difficulty
Mining pool fees
You should calculate the mining profitability of the hardware you intend to acquire before you proceed.
I've Already Mined Ethereum, What Now?
Now you need to decide what to do with your coins. For most miners, there are two options: either sell the ETH for immediate profit or store it in a secure wallet and hold it as a long-term investment.
Selling Ethereum
If you decide to sell, then consider the prevailing price of ETH. When satisfied that you'd be profitable at that price, go ahead to sell. You can do so via a cryptocurrency exchange or peer-to-peer platform.
Cryptocurrency exchanges will require that you first sign up for an account and in most cases verify your identity. Once set up, you can move your coins from your wallet to the exchange and proceed to sell. Just remember that apart from price fluctuations, potential fees can eat into your profit.
If you choose a P2P platform, then you will sell directly to a buyer of your choice. Once you get to the platform, agree with a potential buyer and have them send the money to your account before you transfer the coins to them.
Saving Ethereum Coins in a Secure Wallet for the Long Run
Saving your ETH coins in a secure wallet is a popular long-term investment strategy favoured by many miners. In this case, you would be "hodling". Many investors buy and hold their assets in secure wallets in the belief that the current market is greatly undervalued and that Ethereum's value will be much higher in the future.
If you decide to try this strategy, then here is a list of the recommended wallets you can check out.
Most Popular
Min. Deposit
$10
Promotion
Award-winning Cryptocurrency trading platform
14 Cryptoassets available to invest in
Payment Methods:
Bank Transfer, Wire Transfer
Full Regulations:
CySEC, FCA
Cryptoasset investing is unregulated in most EU countries and the UK. No consumer protection. Your capital is at risk. CFD crypto trading is unavailable for clients residing in the UK and US.
Min. Deposit
$1
Promotion
The worlds most popular hardware wallet
Buy, Manage and Secure your crypto in one place
Compatible with over 100+ cryptocurrencies
Payment Methods:
BitPay, Credit Card
The worlds most popular hardware wallet
Buy, Manage and Secure your crypto in one place
Compatible with over 100+ cryptocurrencies
Payment Methods:
BitPay, Credit Card, PayPal
Frequently Asked Questions
2 ETH. That's the current static reward in ETH for every mined block on the Ethereum network. Miners also earn from transaction fees

Ethereum's block time is 15 seconds. However, the average time it takes miners to mint a new block is 12 seconds.

Yes. You can mine ETH with ASICs, which is possible despite Ethereum's Ethash algorithm being designed as ASIC resistant.

A mining pool allows users to combine resources with other miners and therefore mine ETH regularly. The rewards are then shared with all miners in a pool.

No. Instead of miners, Ethereum will use staking and validators. Participants will earn when they stake their coins.

Yes. However, demands on computing power mean the best way to go about it is to use a dedicated GPU, with the processor used to boot the mining rig.
Alternative Cryptocurrencies