eToro or BUX: Which Broker Should You Trade With?
vs.
See the breakdown below
Lets take a deeper look into both brokers
Minimum Deposit:
Coins:
Regulation:
Asset Coverage:
Trading Platforms:
Free Demo:
Unique Features:
our pick
$10
eToro Mobile Trading Platform, eToro Trading Platform
Accepts customers from the USA, Offers 15 crypto coins to buy&sell including BTC, LTC, ETC, NEO and more, Trade on the world's leading social trading and investing platform
$30
AAVE, ADA, ATOM, AVAX, AXS, BAT, BCH, BTC, BUX, CHZ, COMP, CRV, CRYPTO, DOGE, DOT, DOT, ENJ, ETH, FIL, GRT, LINK, LTC, MANA, MATIC, MKR, OCEAN, OMG, ORN, SOL, UNI, USDC, XLM, XRP, YFI
What is eToro?
eToro is an Israel-headquartered broker company that has seen rather impressive expansion over the last several years. Originally founded in 2006, the company started offering a large variety of financial instruments, including stocks, bonds, forex, and, as of 2017, even cryptocurrencies. It has become one of the most popular brokers among cryptocurrency users. Just like PayPal, eToro also discovered that there is a massive demand for crypto, and kept adding new coins and tokens over time. The onboarding process is quick and simple, and it is a great choice for those who wish to invest regularly.
What is BUX?
BUX is often described as the fastest-growing new broker in Europe. It was launched in 2014, featuring three separate services—BUX Zero, BUX C, and BUX X. BUX Zero allows you to invest commission-free in shares and ETFs. Meanwhile, BUX C focuses on CFDs of various assets, while BUX X deals in cryptocurrencies. This is an interesting way to split the company into three separate services, each of which is dedicated to a different type of asset or financial instrument. It is a perfect choice for trading on the go, thanks to the fact that it offers all of its services on mobile as well.
Comparing Customer Support
Given that trading and investing are complex activities that directly involve money, brokerages and trading platforms need to be able to quickly and accurately respond to any questions or concerns that their clients may have. Of course, not every question requires a customer support representative's presence, and a lot of commonly asked questions can be addressed in FAQs and guides.
eToro Support
eToro's customer support has been praised for its reliability and competence. eToro provides 24/7 chat support but users can also call directly and inquire about various issues or topics. Not only that, but eToro gives itself a 2-week deadline to answer your question. On a positive note, however, no one actually waits that long, and the company does its best to address the most important matters as soon as possible.
And, it should also be noted that eToro understands the value and benefits of a reliable help centre, which is why it organized its own to be very helpful, while also being extremely easy to navigate.
BUX Support
As for BUX, its ecosystem consists of a massive knowledge base where you can find all the answers to any question you might have. After all, the platform does focus on educating younger audiences in the ways of trading online.
As for its customer service, it was also described by many as simple and fulfilling. Its team is friendly and competent, and available via email. We did feel a lack of a live chat and a phone number that you could call, but one could argue that between a thorough knowledge base, email support, and well-kept community forum, users are pretty well covered.
Available Crypto Trading Markets
When entering the trading industry, users should keep in mind that no two platforms are exactly the same. That means that they are unlikely to offer the same products, or have identical fee structures and spreads. This means that you need to do a thorough research of the platform you wish to use to find out whether or not it offers the desired assets.
Fiat to Crypto Trading Pairs
Both eToro and BUX are great places to buy cryptocurrencies in exchange for fiat, although, arguably, eToro offers a lot more assets. The platform supports 120 cryptos in 2021. As for fiat currencies, it features the US dollar (USD), Canadian dollar (CAD), Australian dollar (AUD), Japanese yen (JPY), Euro (EUR), and Swiss franc (CHF).
BUX, on the other hand, only lets you buy crypto with EUR, although, given the fact that it only services countries that are members of the European Union, most customers would prefer using the euro.
Crypto to Crypto Trading Pairs
Unfortunately, crypto-to-crypto trading is not supported at this time on both platforms. This is a common issue with brokers, although it will likely be resolved in time, as the crypto sector becomes more regulated and mainstream.
What Spreads Do They Offer?
Spreads are the difference between the asset's real price, and the one offered by the trading platforms when you buy or sell. It is always slightly different, and that difference between the prices is paid by the trader. These funds are then collected by the trading platform as their profit. Obviously, it is in the traders' interest to find the platforms with the tightest spreads, so that they wouldn't have to pay too much. There are two types of spreads that you should be aware of— variable spreads and fixed spreads.
Variable Spreads
A variable spread is a type of spread that grows and shrinks alongside the market itself. While this does make it subject to change and involves a bit of uncertainty, traders usually prefer this one, as it allows them to get better prices when buying and selling. BUX uses this type of spread on its platform.
Fixed Spreads
On the other hand, we have fixed spreads which allow users to know exactly how much they will have to pay, as fixed spreads (as the name suggests) are always the same. eToro uses this kind of spread, and while the cost of trading does remain fixed, most users believe that fixed spreads require too much. This is particularly the case when their profits from trading are low, and the fixed spread still needs to be paid.
eToro vs BUX: Security
Security is just as important as any other aspect that we have discussed so far. Since brokers work with money and sensitive personal information, these services are filled with things that hackers desperately want—money and private data. This is why it is of great importance for users to only choose platforms whose security is at a high enough standard.
Authentication
Different platforms ask for different things to ensure the security of their users, and eToro is pretty thorough in the security aspect. It needs you to verify your name, address, phone number, but it also asks about your income, trading experience, and more, in order to get a clearer picture of who you are.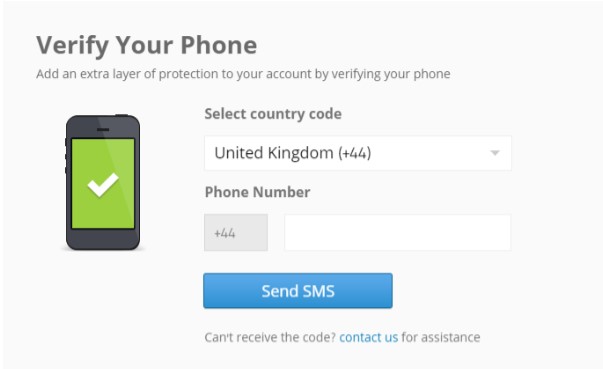 Source: https://www.etoro.com/
BUX, on the other hand, speeds up the process a lot more. It still asks for your name and location, as well as the source of your funds, but it is all very quick and easy to fill out. You just select from drop-down menus, and simply fill in the required information. But, that's only the registration process. To actually verify your account, you will have to submit your ID. Once the verification process is completed, you will be free to fund your account and can start trading.

Source: https://getbuxcrypto.com/
Regulation
As you can imagine, being regulated is extremely important for the platform and its users alike. If the platform is regulated, it means that it meets all the criteria that the financial regulators have set up, which, in turn, means that it does a good job when it comes to securing users, their funds, and their data. Users, on the other hand, need to only use regulated platforms in order to avoid scammers and hackers, which are constantly reinventing ways to trick people out of their money.
Licensing
eToro
UK - Financial Conduct Authority (FCA)
Cyprus - Cyprus Securities and Exchange Commission (CySEC)
US - Financial Crimes Enforcement Network (FinCEN)
Australia - Australian Securities and Investments Commission (ASIC)
Seychelles - Financial Services Authority (FSA)
BUX
UK - Financial Conduct Authority (FCA)
Netherlands - Autoriteit Financiële Markten (AFM)
Countries available
eToro
Algeria, Andorra, Angola, Argentina, Australia, Austria, Azerbaijan, Bahrain, Bangladesh, Belgium, Bolivia, Brazil, Bulgaria, Chile, Colombia, Costa Rica, Croatia, Cyprus, Czechia (Czech Republic), Denmark, Dominican Republic, Ecuador, Egypt, Eritrea, Estonia, Finland, France, Georgia, Germany, Gibraltar, Greece, Holy See, Hungary, Iceland, Ireland, Israel, Italy, Jordan, Kazakhstan, Kenya, Kuwait, Latvia, Liechtenstein, Lithuania, Luxembourg, Malaysia, Malta, Mexico, Monaco, Netherlands, New Zealand, Norway, Oman, Peru, Philippines, Poland, Portugal, Qatar, Romania, Senegal, Seychelles, Singapore, Slovakia, Slovenia, South Korea, Spain, Sweden, Switzerland, Thailand, Ukraine, United Arab Emirates, United Kingdom, United States* (some states), Uruguay, Uzbekistan and Vietnam. The information is correct at the time of writing, but please check before signing up.
BUX
BUX is available in the following countries at the time of writing.
Austria, Belgium, Cyprus, Denmark, Finland, France, Germany, Gibraltar, Greece, Iceland, Ireland, Italy, Liechtenstein, Luxembourg, Malta, Monaco, Netherlands, Norway, Poland, Portugal, Spain, St Kitts and Nevis, Sweden, Switzerland and the UK.
Fees
As a trader, fees is not something that you will be looking forward to, and that is quite understandable. After all, your interest is in trading, not in paying transaction fees. Fortunately for you, there are just too many brokers out there today, all competing for your attention with attractive offers and low fees.
Withdrawal and Deposit Fees
One great thing about eToro is that it allows users to make purchases with their credit or debit cards, and during such purchases, the platform charges zero fees for transactions. However, any network fees that users encounter while trading cryptocurrencies are out of the platform's control. Those are blockchain fees that users still have to pay.
As for BUX, there are withdrawal fees that vary from asset to asset. For example, if you opt to withdraw EUR, the fee will be 2 EUR and for Bitcoin, it's 0.0007 BTC, and for BUX, it is 40 coins. Fortunately, deposits are free of charge, so you at least don't have to worry about that.
Also, note that there are no fees for market orders, although there is a 0.25% commission for limit orders.
Can I use leverage on eToro? How is it different from BUX?
Yes, eToro does offer trading with leverage, where users get to enjoy up to 1:400 leverage if they have a professional account. In comparison, BUX offers leverage of only up to 1:30, which is not bad in itself, although it is nowhere near the same as eToro.
Can I use Margin Trading on Both Platforms?
Yes, if users wish to engage in margin trading, they can certainly do it on both of these platforms. Essentially, they will be required to deposit a minimum amount, known as margin, in order to receive funds from the broker. However, note that this investment can be lost in its entirety if you make a bad decision and trade against the market trend.
Liquidity
Liquidity is another very important aspect of the platform that determines how quickly you can buy and sell assets. Essentially, platforms that don't have a lot of users and don't see a lot of traffic have low liquidity, meaning that you might have to wait for an uncertain period of time before your sale is complete, or until you find a suitable offer available for purchase.
Which Broker is More User Friendly?
And, lastly, we should discuss the user-friendliness of the platforms. If you are new, it is in your best interest to choose a platform that is simple to navigate and use, but one that still has all the assets that you wish to trade. It is a difficult balance to achieve, but a lot of brokers have managed to do it by offering retail and professional accounts separately.
So newcomers can have their trading experience significantly simplified, so that they can gradually get used to the features and possibilities of online trading, while professionals will still have a reason to visit the platform and use it for advanced trading.
Platform Interface and User Experience: eToro
Here you can see a comparison in the screenshots below for the differences between the two platforms.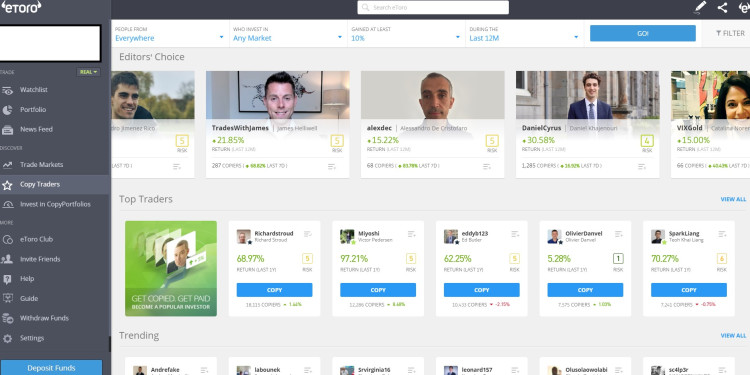 Not only that, but the navigation bar on the left also allows you to quickly switch to its copy trading page, or any other of the platform's major services.
Platform Interface and User Experience: BUX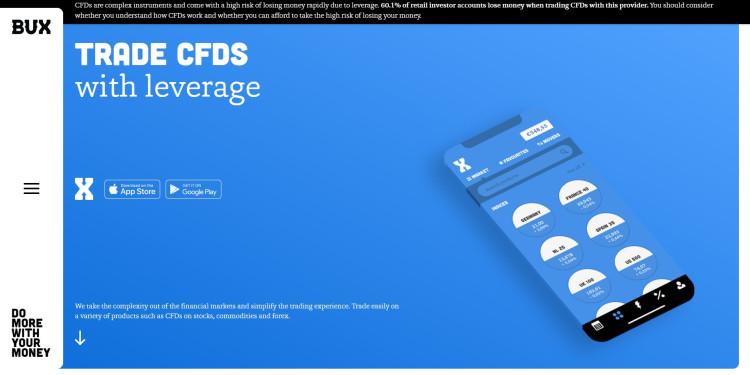 The same can be said for BUX X, which is a go-to option for trading CFDs of any kind. As mentioned, all of it is available within the BUX X app, which can be downloaded for both Android and iOS.
eToro vs BUX: Comparison Summary
As we have seen, both eToro and BUX offer a major variety of assets and products available for investments and trades. BUX actually split its service into three separate sites, for users who know exactly what they want. This makes it simpler to find the right asset and not have to spend a lot of time doing it.
eToro took a different approach through its categorisation process, but in the end, both methods do the job fairly well. Both companies are old, regulated and reputable. They have great security features, liquidity, user-friendliness and are available in numerous countries..
See Also Our Other Comparison Guides
etoro vs bux
etoro vs degiro
etoro vs webull
etoro vs oanda
etoro vs xm
binance vs etoro
Frequently Asked Questions
Yes, BUX is clean and user-friendly, with an easy-to-use app, and an equally easy-to-use web version of its crypto platform.

Yes, there is still risk to trading and investing on eToro, as well as any other platform. This is why you need to do your research and educate yourself on trading before you actually start investing.

eToro is popular because it is user-friendly. It supports multiple deposit and withdrawal methods, offers a wide variety of markets, has tight spreads, and offers great security.

With both platforms being regulated by top regulatory bodies in Europe, we would have to say that they are equally trustworthy. Which one you will use is simply a matter of preference and whether the platform offers the asset you wish to trade.