Ten plus years since the birth of cryptocurrencies, one can argue that the industry has gone mainstream. 
This popularity has spurred the cryptocurrency app market's growth, with developers looking to satisfy the growing appetite for cryptocurrencies. Today there are all sorts of apps related to cryptocurrencies—from trading apps, news apps, portfolio tracking apps, wallets and security apps.
The proliferation of the market with so many apps makes it challenging for users to select the right ones they need. This guide will list some of the best cryptocurrency apps in 2022.
Compare the Best Cryptocurrency Apps
1. Coinbase App
Coinbase is the top cryptocurrency exchange and has one of the best android apps out there. The Coinbase app allows secure access to your private keys. You can send and receive your cryptos securely much in the same way you would on your desktop. Price charts and tickers are conveniently displayed to allow you track your portfolios in real time. You also have access to price alerts on the app.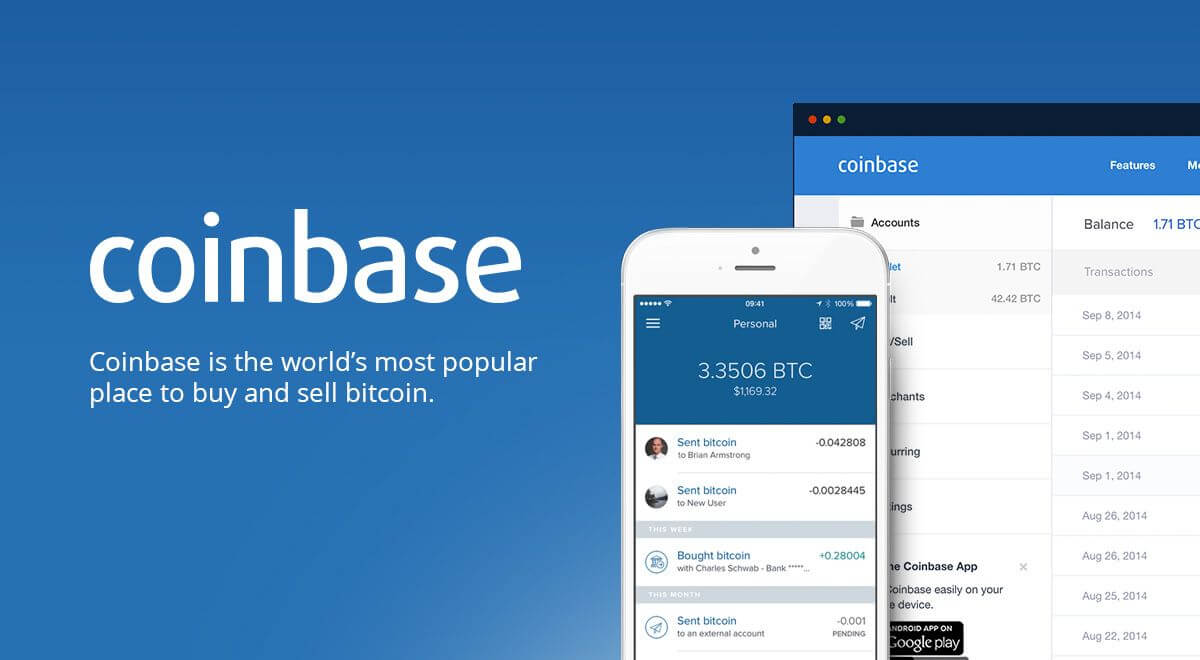 Important details such as your balance, transaction history and transaction details are easily accessible. There is a good variety of major languages to choose from including English, French, Japanese, Korean, Russian, Portuguese, Simple and Traditional Chinese. In case you lose your phone, Coinbase has the functionality to disable access remotely.
2. eToro App
eToro is one of the top social trading network and online forex brokerage. eToro has over 5 million users located in over 70 countries, one of the largest communities online. The platform has a long history of deploying apps for its platforms starting at least in 2010 to allow investors trade from their mobile phones. The eToro app is available for both android and iOS devices on Google PlayStore and the App Store for iOS users. The app allows users to connect with their peers and manage their portfolio from their phones. There is a lot you can do with the app including viewing open charts, open and close positions, and edit stops. The app is continuously being upgraded to provide you with one of the smoothest trading experiences. One other advantage with eToro is that you can purchase cryptocurrencies as CFD. CFDs mirror the underlying asset and you can realise profit or losses according to movements in the underlying asset. There are over 1000 investment opportunities you can access through the app. These include commodities, CFD stocks, currencies, ETFs, indices and a lot more investment options. You can even copy leading investors using its patented CopyTrader technology. eToro provides a completely new way of managing your money. What's more you can join conversations and get the latest investment news through the app.
3. Binance App
Binance is one of the top ten bitcoin exchanges serving its mainly Chinese users. It has more than 140 altcoins to choose from; one of the largest assortment in any exchange. Binance is also one of the few exchanges with a fully functional android and iOS compatible app. The Binance app for android and iOS provides an easy way to track prices and trade in cryptocurrencies while on the move. You can install the app by scanning the QR code provided on the website. It provides one of the smoothest experiences whether you are trader or you just want to keep track of the prices. This is one of the most popular apps going by the number of users and it is rapidly closing in on the likes of bitfinex and bittrex. There is a wide selection of cryptocurrencies including BTC, XRP, NEO, ETH, WTC, IOTA and GAS. More cryptocurrencies are being added every few days. Binance also has a fully fledged desktop app. As always, it is good to take advantage of the native BNB tokens which can save you 50% of the trading fees. This is a significant amount particularly if you are a day trader. Expect seamless deposits and withdrawals from the app. One advantage with Binance is the high liquidity it provides and so no hitches withdrawing your money from your account.
4. Xcoins App
The xcoins app for android and iOS is as good as the main website, if not better. The Xcoins exchange is known for the speed with which you can purchase bitcoin and other cryptocurrencies. The process is instant and there is a wide variety of payment methods to choose from. The Xcoins app brings the full functionality of the exchange and you can virtually make all kinds of transactions from the app. The process of buying bitcoin is safe and secure.
Once you have entered the number of bitcoins you want to purchase and the made the payment, the bitcoins are taken from the lender's wallet and deposited in your account. You can make deposits using your debit or credit card or PayPal. With the app, you can start trading with as little as $20. You don't even have to be an experienced trader to realise profits. The process if fully automated and all you have to do is deposit funds and hit the start button. It can even handle user approvals for you. The platform will even reimburse you if your profit margin drops below 50%. The app has to be really good for them to offer such assurance. The platform allows you to set parameters like spending limits, commissions and offer ranges.
5. CEX.IO App
Cex.io combines the user friendly interface and the functionality of the main site. The cex.io app is compatible with both android and iOS mobile devices allowing users to track their trading wherever they are. The app brings with it the ease of buying cryptocurrencies with debit and credit cards, something that cex.io is known for. Instant deposits through the QR codes provided are possible for BTC and LTC. You also have the option of linking your account this way. Once this is done, you can view the total available balance and you can even place market and limit orders using the app.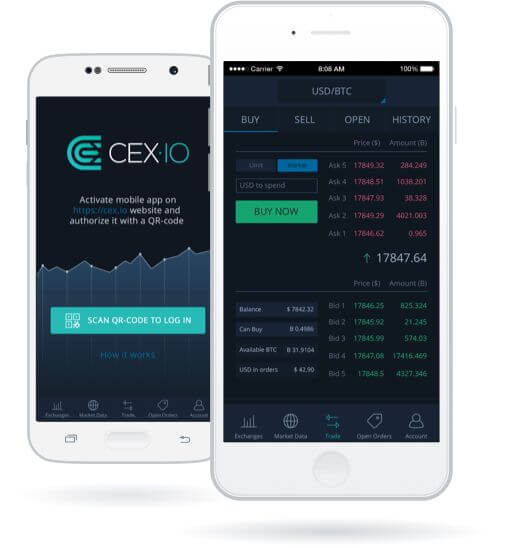 The 24 hour price movements will suit you very well if you are trader looking to make the all-important market analysis. One other strong point with cex.io app is that it is linked to other top exchanges. This means you have access to the most credible data from multiple sources. For a trader, this can make all the difference. If you have an android device, you can download the cex.io app on Google Play Store. iOS users can get the app on the App store. Cex.io has one of the best reviews from its users owing to its friendly interface and numerous payment methods. The app runs very smoothly and you can expect a seamless experience.
6. Virwox App
The Virwox app is compatible with both android and iOS devices and shows the current bitcoin rate in dollars. If you are buying bitcoins, the app will estimate the amount you will get from your deposit. The app does not however show other market data but it is a good choice if you want to purchase cryptocurrencies and keep track of their prices in an uncomplicated way.
7. Coinmama
Coinmama is one of the few decentralised cryptocurrency exchanges still offering complete anonymity to users. It does not have an iOS app at the moment but runs very well in other devices. If you are mostly on your phone, you can make some little money by referring new users through their rewarding affiliate program.
8. Cryptotrader
Cryptotrader is another great mobile app for tracking real time prices of cryptocurrencies. The EMA and MACD indicators come in very handy whether you are technical trader or just a cryptocurrency enthusiast.
9. Bitcoin Checker
This is one of the most popular and practical bitcoin apps on offer. The simple interface allows space for a wide array of coins to be displayed. Whether you are looking for price information or market movement for the flagship bitcoin or a more obscure cryptocurrency like dogecoin, Bitcoin Checker will likely have it.
Our List of The Best Apps to Invest in Cryptocurrencies
Cryptocurrency apps exist to serve various purposes. The overall goal is to simplify how individuals venture into the market, store their tokens, secure their accounts, access information, and interact with one another. Below is a list of some apps along with their features and advantages.
Understanding Cryptocurrency Apps
There are many cryptocurrency apps today, with most applications serving various purposes. There are those designed to help users with trading. These are known as trading apps. Most belong to exchanges and brokerage firms. They allow users to access the cryptocurrency market from their smartphones to buy/sell cryptos and track their trades.
Then there are those apps that help users track their cryptocurrency portfolios where users can enter trades they have on trading apps and see how they are performing. These apps enable users to know if they are making profits or losses from a single interface.
If your goal is to use apps to buy cryptocurrencies and maybe hold them for a while before selling, you need somewhere safe to store the coins purchased. This is where mobile wallet apps come in. They help users store their coins safely where they get to hold their private keys.
Other apps help crypto enthusiasts interact with various communities online. The importance of such apps cannot be understated as one can get inside intel on what is going on within a specific project. On the same apps, you can access experts and their opinions, which can inform your investment decisions if you are an investor. Traders can also access various exclusive groups where they can get trading tips from gurus.
Some apps keep the user updated with the latest news and developments within the cryptocurrency sector. These news apps are crucial for anyone who is keenly following the cryptocurrency market since they help them stay updated on the latest ongoings.
Security apps help secure various applications or crypto accounts you may hold. They help store login and authentication codes safely, thereby securing your funds.
Most cryptocurrency apps can be found on Google's Play Store, which caters to Android users, and Apple's App Store for iOS users. You can access them by visiting the respective store, searching, and downloading the app to your phone. Once the app is downloaded, it will be installed automatically.
Ensure you check the app's ratings and what past users have to say about the app.
If it's a trading app/wallet or any other that needs signing up, you will need to create an account to use it. Enter your personal information, including name, email address, phone number (if required) and set a strong password.
For money handling apps, you will have to verify your account by uploading a photo of your government-issued ID or passport. Every detail has to check out for the account to be verified. Once the process is complete, you can fund the account using various supported methods and start buying/selling cryptocurrencies.
Most of the normal processes are relatively easy since these apps are designed with simplicity in mind. Processes like funding the account, withdrawing, and sending tokens to other wallets are relatively straightforward.
Other apps will not require signing up to use them, especially those that track news. For apps that allow the user to interact with various communities, you have to create an account if you don't have one on the platform. Here you don't have to verify your account.
Advantages & Disadvantages of Using a Cryptocurrency App
Pros
Buy crypto easily through trading apps.
Manage your portfolio with ease.
Track your trades without stress.
Stay informed on the latest market happenings.
Get in touch with various crypto communities.
React to the crypto market in real-time.
Secure your cryptocurrencies with ease.
Stay updated on the latest development of your crypto project.
Cons
Some apps might be buggy.
Some may put your phone in danger of getting infected with viruses.
How to Choose a Cryptocurrency App
There are a few factors you need to consider when choosing the right cryptocurrency apps. The applications you decide to download and install on your smartphone have to help you achieve the goal you are working towards.
If you are looking for an easy way to buy/sell cryptocurrencies, you will have to invest some time reviewing some of the best apps available in the market that get the job done.
You might be looking to trade financial instruments attached to crypto assets, which allow you to speculate and profit on price movements. Then an app that will enable you to trade CFDs will serve you right. If your goal is to simply stay informed on the latest market happenings, then a news app will serve the purpose.
If you want to secure your cryptocurrency holdings, then downloading a secure wallet app where you get to hold your private keys, and one that allows you to spend your coins as you wish will be ideal.
To cut a long story short, the app you choose needs to meet your core needs. Additionally, you have to consider the design and usability of the app. Is it user friendly or complicated and likely to cause you a headache? Does the app support the payment methods like Bitcoin and Ethereum that you prefer? And how does it function? Is it efficient? The last thing you want is a buggy application that will waste your time.
Security is another crucial factor to check and can't be understated. If the app will hold your funds, then it has to meet the highest security standards. Some apps can also result in downloading viruses and malware to your mobile device, which can put other applications installed at risk. Therefore you have to check if the app you are installing is the real one or an imitation. The play store verifies real apps, and even user ratings and reviews will inform you what you are dealing with.
3 Steps to Using a Cryptocurrency App
1
Step 1: Choose a Cryptocurrency App
The first step is choosing a cryptocurrency app that serves your core needs. Once you have established what you are trying to achieve, then look for an app that helps you attain the goal. Proceed to search and download the app.
2
Step 2: Signing up on a Cryptocurrency App
Once the app is installed on your smartphone, it's time to sign up. For apps that require one to create an account to continue using them, ensure you do so by entering personal details such as name, email address, phone number and setting a strong password.
3
Step 3: Deposit initial amount and start using Cryptocurrency App
For trading apps, once signed in, you can make the initial deposit by accessing various payment modes supported on the app. Some apps will require you to verify your identity before continuing to trade or even store your cryptocurrency. Therefore, complete the procedure by uploading a photo of your official ID or passport, and you are good to go. Other apps such as news apps will not require such elaborate identity verification process.
Conclusion
Cryptocurrency apps are designed to simplify life for the cryptocurrency user. The app you opt to install on your smartphone has to help you achieve the goal you have in mind when searching for the application. If your objective is to find an easy way to trade, store your crypto, communicate with others in the space, keep you updated on the latest developments, then apps provide an easy way to do so. Ensure that you check reviews and compare various features before using an app.
Frequently Asked Questions
Crypto trading apps, news apps, wallets, socialising apps, and many more.

This depends on the goal you are trying to achieve, as explained in the guide above.

How efficient the app is, its security, usability etc.

As long as you are dealing with a reputable crypto app, then the data should be safe.

No. Different apps serve various purposes.

Most apps will incorporate all the features of a site. But an app is developed as a condensed and lighter version and may limit some features.

Yes. That is possible as long as you have specified where you would like to withdraw.

No. Simple apps such as news apps that do not handle money will not require any registration or verification.