Lets take a deeper look into both brokers
Minimum Deposit:
Coins:
Regulation:
Asset Coverage:
Trading Platforms:
Free Demo:
Unique Features:
our pick
$100
ADA, AXS, BCHA, BTC, CRYPTO, CRYPTO10, DOT, EOS, ETH, FIL, LINK, LTC, MATIC, MIOTA, NEO, SOL, UNI, VET, XLM
ASIC, FCA, FSA, ISA, MAS, cysec-250-14-regulator
Web Based Trading Platform, Mobile Trading Platform, Plus500, Webtrader
CFDs on BTC, ETH, LTC, NEO, XRP, IOTA, EOS, BAB, ADA, TRX, XMR, No need to open a crypto exchange account or use a special wallet, Regulated Broker - FCA, ASIC, CySEC (license number 250/14)
Trade Now
77% of retail investor accounts lose money when trading CFDs with this provider. You should consider whether you can afford to take the high risk of losing your money.
$1
What is Trading 212?
Trading 212 is a fintech trading platform based in the UK. It launched in 2004, making it 17 years old as of 2021. The platform made a lot of effort to be extremely user-friendly and easy to navigate, and it brought commission-free trading, so that traders would have more money to trade with, and less money would go on fees. It offers numerous assets, such as stocks, commodities, ETFs, indices, forex, and alike. So far, it attracted over 1.5 million traders from all over the world.
What is Plus500?
Plus500 is a broker that features numerous CFDs, most of which are available for leveraged trading. These CFDs use a wide variety of assets and their underlying assets, including stocks, commodities, shares, and even cryptocurrencies.Like Trading 212, Plus500 also offers zero commission fees, in order to make trading accessible and attractive to users. The company was founded in Israel in 2008, and it was one of the first, if not the first broker to offer crypto products with the introduction of Bitcoin CFD in 2013.
Comparing Customer Support
Ever since brokers and trading companies started providing services to retail traders, the importance of customer support has been quite big. Most retail traders are newcomers who are engaging in trading for the first time, which is why it is extra important for their first experience to be as smooth and as seamless as possible. But, since it is their first encounter with trading, they may run into issues or complications of some other kind, which is why the customer support needs to be there to help them out.
Trading 212 Support
Trading 212 offers an easy way to contact its customer support, which is via email. While a lot of other brokers also feature things like live chat, phone calls, or the ticket system—a good thing about Trading 212 is that it is very dedicated to providing support, and so users can expect to see a reply to their questions fairly quickly. The email-based support is available 24/7, which means that you can contact the support team at any time, and get a reply fairly quickly.
On top of that, it also offers guides and tutorials on its website, alongside a rather thorough FAQ section.
Plus500 Support?
Plus500 support is known as very reliable, starting from the help center where users can look up frequently asked questions about a wide variety of things on the platform. It also contains guides on how to deposit funds, details about the fee structure, and answers to many common questions.
However, sometimes, people cannot find the answer they seek, or they might have a more uncommon issue. For those situations, Plus500 offers a live chat that users can use to instantly connect to a customer service representative. In addition to that, the company also offers an email address for less urgent matters, so that live chat would be reserved for the most crucial of issues. Email is a good thing to use for those who simply need an answer to a certain question or some similar non-urgent matter.
Available Crypto Trading Markets
One thing to note about trading platforms and brokerage services is that each one is completely unique. That means that they all have different aspects, starting from quality to the number and type of supported assets, and more. With the crypto industry being the hot topic for years now, let's see how these two brokers handle the topic of digital currencies.
Fiat to Crypto Trading Pairs
Starting with Trading 212, the company doesn't support cryptocurrencies anymore. While unfortunate, it was necessary to remove them from its service due to a new change in the UK regulators' policy. With it being regulatory compliant, Trading 212 had to obey and remove digital currencies. Someday, they might be returned, provided that the regulators withdraw the ban, but for now, they are simply not supported.
As for Plus500, it does offer crypto CFDs, but it doesn't allow users to purchase cryptocurrencies with fiat on its platform. In other words, you can invest in a crypto derivative, but not buy coins directly. In order to do that, you are better off going to an exchange and purchasing coins there.
Crypto to Crypto Trading Pairs
Unfortunately, the platforms do not offer crypto-to-crypto trading. For Trading 212, the reason is the same as for the previous segment—the company is simply prevented from doing it due to crypto laws in the UK. As for Plus500, this is a CFD-oriented broker, meaning that trading crypto assets is not among its goals, and so they are not supported.
What Spreads Do They Offer?
Next up, we have spreads—the difference between the assets' real price and the one offered by the broker when it comes to buying or selling. The difference between the two prices is paid by the trader, and that is how companies make a profit. When it comes to users, however, it is in their interest to find a broker with the tightest possible spreads, so that they would pay less in the end. There are two types of spreads:
Variable Spreads
Variable spreads are the flexible kind, and that means that the amount you have to pay moves up and down with the market. They are preferred by most users as they usually have to pay less which allows them to achieve a better total price. Unfortunately, neither of these two brokers offers this kind of spread.
Fixed Spreads
As the name suggests, fixed spreads are a lot more predictable. Since they don't change, you will always know how much you will end up having to pay. The downside is that they are not as low as variable spreads, so keep that in mind. Both Plus500 and Trading 212 have opted to use fixed spreads on their platforms. For example, Plus500 features forex spreads that go from 0.8 for EURUSD to 1.5 for EURGBP, while other pairs are typically in between. Spreads for commodities are significantly lower, from 0.04 for US oil and UK oil, to 0.29 for Gold. As for Trading 212, the average spread cost during peak trading hours is 1.4 pips, which includes the built-in fees. Other than that, spreads can go even higher for certain commodities or forex pairs. For example, GBPUSD spread is 2 pips, while Oil spread is 5 pips. EURUSD and EURGBP spreads are below average, sitting at 1.2 pips, so it really depends on the asset/pair that you are interested in.
Trading 212 vs Plus500: Security
Next, we need to address the security of trading platforms. Security is probably the most important aspect, since it is your money at stake here. Once you deposit the money to the platform in order to trade, you need to know that it will be safe, or at least, that you will be compensated for any losses you may suffer during a hacking attack or some other type of incident.
Authentication
Know Your Customer (KYC) is a way of protecting your account by verifying your identity. Essentially, the company conducting the KYC needs to know your personal information, and it requires you to prove your identity, address, phone number etc.
That way, it can better protect you and ensure that its clients don't engage in criminal activities, such as money laundering or terrorism financing.
Plus500 requires you to submit a variety of private information, including your name, date of birth, your country, address, as well as questions about your past trading experiences, income and savings. It is nothing you can't answer, although it might take you a bit of time to submit all of this data and finally get to trading.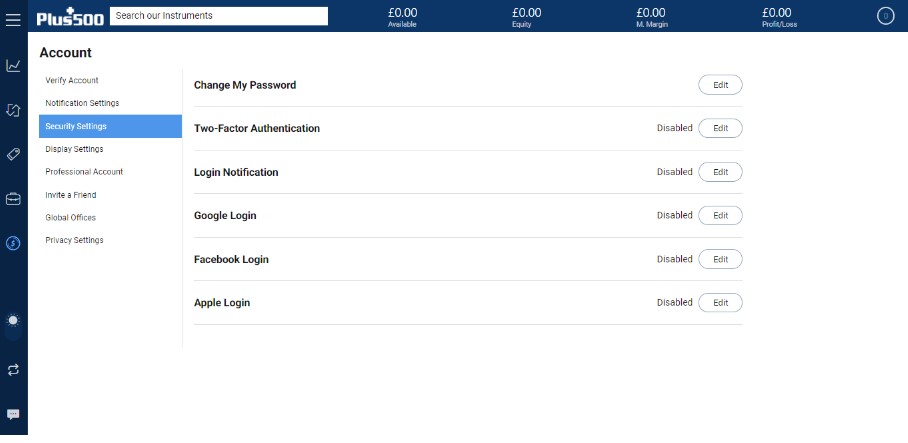 Source: https://www.plus500.com/
Trading 212 takes a similar approach, presenting you with a lengthy list of questions that you need to answer in order to be verified and get access to trading. The process is not that long, but it does require you to submit documents to provide proof of identity, address, and even a selfie that will confirm your identity.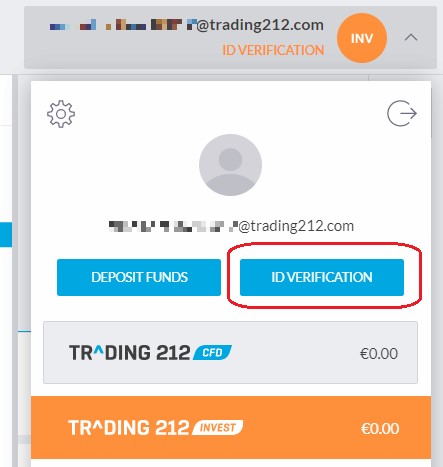 Source: Trading212
Regulation
Speaking of regulations, it is critically important for traders to only use regulated brokerages. By using a regulated platform, you are reducing the odds of being scammed out of your money by fraudsters, and you are ensuring that the platform you are using has proper security. In order for platforms to receive the green light from the regulators, they need to be up to a certain standard when it comes to security, and if the platform has the right licenses, that means that it meets the requirements.
Licensing
Plus500
Cyprus- Cyprus Securities and Exchange Commission (CySEC)
Australia - Financial Sector Conduct Authority (FSCA), Financial Markets Association (FMA), Australian Securities and Investments Commission (ASIC)
UK - Financial Conduct Authority (FCA)
Singapore - Monetary Authority of Singapore (MAS)
Seychelles - Financial Services Authority (FSA)
Trading 212
UK - Financial Conduct Authority (FCA)
Bulgaria - Financial Supervision Commission (FSC)
Countries Available
Trading 212
Trading212 is accepting traders from 100 countries around the globe. Some of them are Poland, Romania, Germany, UK, UAE and Japan. However, there are a few countries which are not allowed, such as the US, China, and Canada.
Plus500
Andorra, Argentina, Australia, Austria, Bahrain, Bulgaria, Chile, Costa Rica, Croatia, Cyprus, Czech Republic, Denmark, Estonia, Finland, France, Germany, Gibraltar, Greece, Hungary, Iceland, Ireland, Isle of Man, Israel, Italy, Kuwait, Latvia, Liechtenstein, Lithuania, Luxembourg, Malaysia, Malta, Mexico, Monaco, Netherlands, New Zealand, Norway, Oman, Poland, Portugal, Qatar Romania, Saudi Arabia, Slovakia, Slovenia, South Africa, Spain, Sweden, Switzerland, United Kingdom, Uruguay
Fees
Fees are a common sight on trading platforms which often charge you for using their service. A lot of companies make a profit by using fees, so it is not surprising if you encounter them. However, since the trading industry is an extremely competitive one, and there are countless brokers out there, many of them tend to eliminate the fees for deposits, withdrawals, and sometimes, even inactivity fees. That way, traders feel more comfortable using the platforms, and they engage more, which eventually results in the companies profiting from spreads, as explained before.
Withdrawal and Deposit Fees
If you use Plus500, you can deposit the money via credit cards, PayPal, and several other options, including bank transfers, which is cheaper from the transactional point of view, although it takes longer for the funds to arrive. Also, keep in mind that it has a $10 inactivity fee if you don't trade for 3 months, so make sure to either withdraw the funds if you don't want to trade anymore, or to conduct a trade every once in a while to postpone the fee.
As for Trading 212, the company charges no fees for deposits, withdrawals, or inactivity fees. There are also no trading fees for ETFs and stocks, although you will find that forex trading does come with hefty fees, which are built into the spread. In the end, the spread cost tends to go up to 1.9 during the most active trading hours.
Can I use leverage on Trading 212? How is it different from Plus500?
Yes, Trading 212 offers leverage up to 1:30 if you are a retail account user, while professional accounts get access to a much higher 1:500 leverage. On Plus500, on the other hand, leveraged trading is significantly lower. Cryptocurrency-based CFD trading, for example, only goes up to 1:2.
Can I use Margin Trading on Both Platforms?
Yes, margin trading is available on both platforms. Just keep in mind that, while margin trading brings a much greater reward if you get it right, it also brings significantly greater risk. It was structured in a way that will have you lose your investment if the market ends up moving strongly against you. This is why it is never advised to trade with the money you can't afford to use. In fact, this is a major rule for trading, in general, but it is especially important when it comes to margin trading.
Liquidity
Liquidity also plays a big part when it comes to determining the quality of the platform, as it decides how quickly you can sell assets that you wish to sell, and at the time when you need the sale to take place. Platforms that have high liquidity can help you sell immediately, while those with low liquidity will require you to wait. If volatile assets are involved, then every second counts.
Fortunately, both of these platforms are quite well known and popular, so liquidity is not an issue.
Which Broker is More User-Friendly?
Finally, let's talk about user-friendliness of brokers. This is our last, but still very important topic, as user-friendliness determines whether or not people will choose to stay with the platform. Over the past few years, trading has started to become increasingly popular, which means that countless new traders are coming into the industry. Most of them are first-time traders, with no experience or any knowledge.
This is why it is important for the platforms to be simple to navigate and intuitive, as traders might be intimidated otherwise. Basically, the easier the platform is to understand and use, the greater the chance that traders will stay. Of course, experts can use more advanced equipment, which is why many brokers split their accounts into retail and professional, so that everyone can get the tools they require.
Platform Interface and User Experience: Plus500
Here you can see a comparison in the screenshots below for the differences between the two platforms.
Its settings are also very well-organised and easy to understand. It is easy to enable or disable various features.
Platform Interface and User Experience: Trading 212
The company is actually making a point of simplifying things as much as possible, and it only takes three short steps to buy stocks upon registering.
Trading 212 vs Plus500: Comparison Summary
If you are new to trading and wish to gain some experience, then these two brokers are a good place to begin your investment journey. They are excellent for all popular trading instruments, and you can count on them to offer the best trading conditions, top security, user-friendly platforms, trading with leverage, high liquidity and tight spreads.
In the end, you can't go wrong with any of these two platforms, although you might be limited regarding which one you can access, depending on where you live.
See Also Our Other Comparison Guides
etoro vs bux
etoro vs trading 212
etoro vs degiro
trading 212 vs plus500
etoro vs webull
etoro vs oanda
etoro vs xm
binance vs etoro
Frequently Asked Questions
Plus500 is completely free to register on and start using, although it does have an inactivity fee of $10 that it charges for every three consecutive months of inactivity.

Yes, Plus500 is a good choice for novice traders, as it is generally perceived as very user-friendly and easy to understand, with no complicated tools and extra content cluttering its pages.

Trading 212 is a legitimate platform. It is regulated and licensed by top regulatory bodies, and this makes the platform highly secure and safe.

Absolutely. Simply go to the Manage Funds tab and then Withdraw Funds within your trading account. You can then fill out the withdrawal form, and that will be it.