eToro or XM: Which Broker Should You Trade With?
vs.
See the breakdown below
Lets take a deeper look into both brokers
Minimum Deposit:
Coins:
Regulation:
Asset Coverage:
Trading Platforms:
Free Demo:
Unique Features:
our pick
$10
eToro Mobile Trading Platform, eToro Trading Platform
Accepts customers from the USA, Offers 15 crypto coins to buy&sell including BTC, LTC, ETC, NEO and more, Trade on the world's leading social trading and investing platform
$5
What is eToro?
eToro is one of the biggest and best-known brokers in the world, offering crypto and traditional assets alike. The company was founded way back in 2006, and it started actively getting into cryptocurrency around the bull run of 2017, when demand for crypto products started to grow. The company has listed as many as 120 different cryptos to its platform.
eToro grew to an immense size over the years, servicing over 20 million registered users in 2021. It has offices in London and Israel, and it is among the leading brokers in the world.
What is XM?
XM is a broker company that was founded in 2009. In the 12 years following its launch, the firm has grown to become a large and well-established international investment and trading company. It has over 5 million clients, with over 25 secure payment methods, 16 full-feature trading platforms, and it supports over 30 languages.
It also dedicates a lot of time to hosting seminars around the world for the purpose of educating traders, allowing them to make better trading decisions, and offering a simple, refreshing approach to trading various assets.
Comparing Customer Support
Customer support is one of the most important parts of any trading company, including brokerages. Users might have questions or they may run into an issue that they are uncertain of and in such situations, good quality customer service is of great importance.
eToro Support
eToro's customer support is quite satisfactory. The company has created a dedicated help centre where all kinds of frequently asked questions are answered. It also features a section with guides on how to use its services and products, such as copy trading, wallet and deposits/withdrawals.
For any issue that is not covered by the FAQs or guides, however, users can contact the customer support directly via tickets and describe the issue in their own words. The only troublesome part of customer support is that they might take as long as two weeks to respond. While this is typically not the case, this is the maximum amount of time that the broker has mentioned on the platform. Although, it should be noted that it does make an effort to solve the most troublesome issues as soon as possible.
XM Support
XM has a pretty good customer service that is available 24/5, and is available via live chat, email, and for those who prefer to deal with issues via a phone call—it also offers the choice to call the company at any point during the five working days every week.
Of course, users are encouraged to check out its FAQ page and guides on various details if they have any question that might be among the commonly asked ones. But, for more serious matters, customer support is one email, message, or phone call away.
Available Crypto Trading Markets
It is important for new users to remember that not every broker offers access to the same assets. This is why users should check out what markets are available before committing to any particular broker service.
Fiat to Crypto Trading Pairs
eToro allows users to purchase cryptocurrencies on its platform in exchange for fiat, and store them within its integrated wallet. That way, users can quickly buy and sell coins, and exchange them back into fiat if need be. The platform supports a number of fiat currencies, including the US dollar (USD), Euro (EUR), Canadian dollar (CAD), Australian dollar (AUD), Japanese yen (JPY), and Swiss franc (CHF).
As for XM, it, unfortunately, does not allow users to purchase cryptocurrencies on its platform, but it has a number of crypto CFDs for users who might be interested in buying crypto derivatives.
Crypto to Crypto Trading Pairs
Unfortunately, neither of the two platforms offers crypto-to-crypto trading. This is still something new for most brokers, and it is best done on cryptocurrency exchanges. It will likely become a part of brokers' services someday, but for the time being, it is not supported on either eToro or XM.
What Spreads Do They Offer?
As you may know, spreads are a common way in which companies like these earn profit. They represent the difference between the asset's price and the price that platforms are willing to pay during purchases or sales. The difference is paid by traders, and the platforms collect them in order to earn money. There are two types of spreads that you may encounter:
Variable Spreads
Variable spreads are essentially fees that move in sync with the market. The advantage here is that they tend to offer the best buy and sell prices at the time when the orders are being executed. That way, traders get to achieve better prices, and greater earnings. XM operates with variable spreads and the company explained that the reason behind this is that fixed spreads are usually higher than variable spreads.
Fixed Spreads
Fixed spreads, on the other hand, are always the same, as the name suggests. The disadvantage here is that they are often more expensive than variable spreads, but the advantage is that the users will always know how much they will have to pay, which allows them greater precision when it comes to risk management.
eToro vs XM: Security
Security is of vital importance for all trading businesses. Security matters because centralised companies and services also act as custodians for the deposited money, or purchased assets. One example is eToro's crypto wallet, where you can store your coins after buying them. With that in mind, let's see how these two firms handle security.
Authentication
Both platforms require users to verify their identities upon registration, meaning that they have to go through a KYC procedure. This is necessary for several reasons. First of all, it protects the users, as it gives the company more information about them, allowing it to spot suspicious activity and prevent potential theft of user funds.
Next, it helps prevent illegal activities like money laundering or terrorism financing. Finally, regulated brokers such as eToro and XM are obligated by the law to conduct KYC, so they simply must do it in order to stay in business.
eToro will ask you for various details, such as name, address, and you will also be required to verify your phone number.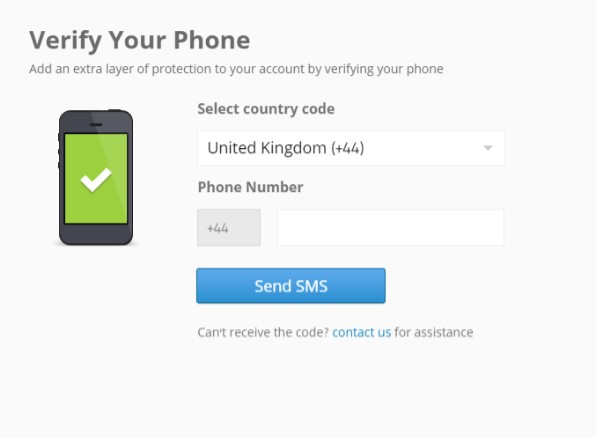 Source: https://www.etoro.com/
In addition, it will also require you to answer certain questions regarding your occupation and source(s) of income, financial background, investment goals, and more.
XM will require similar details, including identification documents and proof of address, plus potentially some additional documentation that may be requested in special cases. This may include a bank account statement copy.
This company will also require you to verify your phone number during the registration process itself.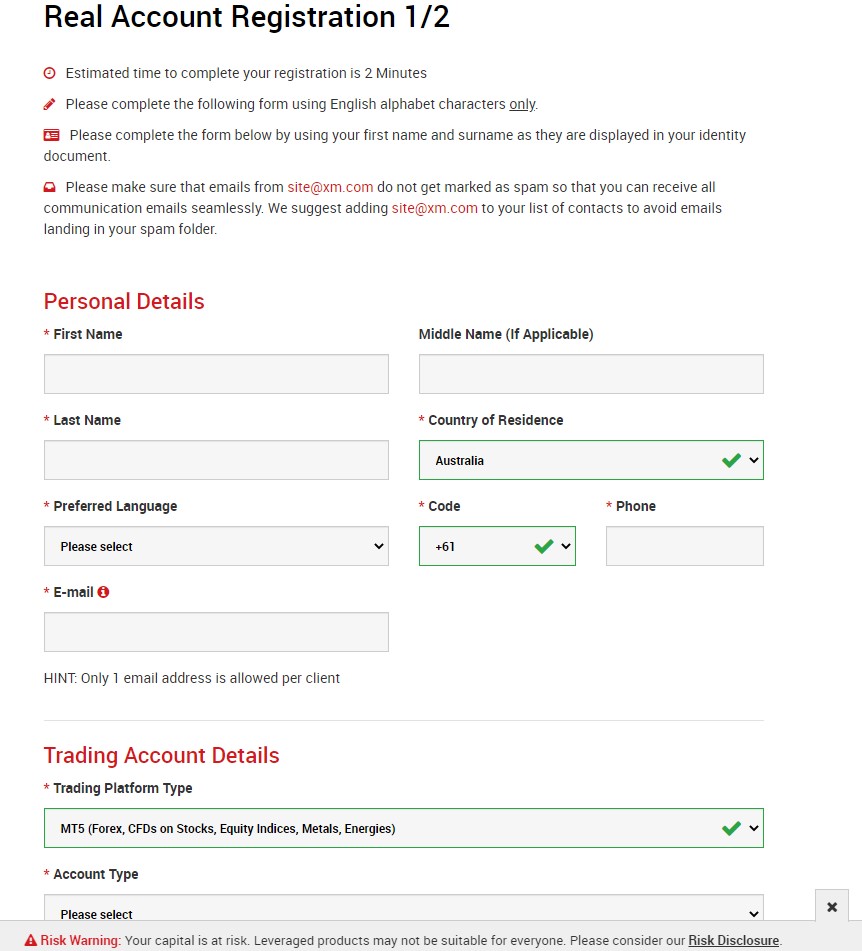 Source: https://www.xm.com/
Regulation
Both platforms are regulated by relevant financial bodies, which is vital for companies and users alike. This aspect is important for companies because it contributes to their reputation as legitimate and reliable financial companies, while users know that their funds will be safe due to high security standards that the platforms are obligated to meet in order to get the necessary licenses from regulators.
Licensing
eToro
UK - FCA
Cyprus - CySEC
US - FinCEN
Australia - ASICe
Seychelles - FSA
XM
Belize — International Financial Services Commission
Cyprus — CySEC
Australia — ASICe
Countries Available
eToro
eToro is available in the following countries at the time of writing: Algeria, Andorra, Angola, Argentina, Australia, Austria, Azerbaijan, Bahrain, Bangladesh, Belgium, Bolivia, Brazil, Bulgaria, Chile, Colombia, Costa Rica, Croatia, Cyprus, Czechia (Czech Republic), Denmark, Dominican Republic, Ecuador, Egypt, Eritrea, Estonia, Finland, France, Georgia, Germany, Gibraltar, Greece, Holy See, Hungary, Iceland, Ireland, Israel, Italy, Jordan, Kazakhstan, Kenya, Kuwait, Latvia, Liechtenstein, Lithuania, Luxembourg, Malaysia, Malta, Mexico, Monaco, Netherlands, New Zealand, Norway, Oman, Peru, Philippines, Poland, Portugal, Qatar, Romania, Senegal, Seychelles, Singapore, Slovakia, Slovenia, South Korea, Spain, Sweden, Switzerland, Thailand, Ukraine, United Arab Emirates, United Kingdom, United States (some states), Uruguay, Uzbekistan and Vietnam.
XM
XM is available in the following countries at the time of writing: Australia, Germany, Hong Kong, India, Ireland, Malaysia, Netherlands, Singapore, South Africa, UAE and the UK.
Fees
Fees are another aspect that traders need to keep in mind when assessing and choosing a broker. Every broker has its own unique fee structure, and some may charge more, less, or nothing at all for things like deposits, withdrawals, or even trading itself.
Withdrawal and Deposit Fees
When it comes to eToro, the company lets its users make their purchases with credit and debit cards. Transactions themselves cost zero fees, but there are still network fees that have to be made for the crypto projects whose coins users are buying or selling. Also, users should keep in mind that there is an inactivity fee for accounts that are not active for 12 months or longer. The fee is $10 per year.
As for XM, it charges no withdrawal fees, although it does have low trading fees for CFDs. As for fees involving forex and stock indexes, they are fairly average, going from $8.1 to $10.6 and there is also an annual inactivity fee of $15 for accounts that don't see any activity for a year or longer..
Can I use leverage on eToro? How is it different from XM?
Yes, eToro does offer trading with leverage. In fact, it is extremely good for leveraged trading, as it allows users with professional accounts to trade with 1:400 leverage, which can help them secure massive profits if they get their trading right, and win.
XM also offers trading with leverage, with a free short-term credit allowance whenever the users trade with leverage. That way, they can buy amounts that exceed their account value. However, it should be noted that XM shall monitor the leverage ratio that clients apply to their account. The company allows users to choose any leverage on a scale from 1:1 to 888:1, even beating eToro's offering.
Can I use Margin Trading on Both Platforms?
Yes, users are allowed to engage in margin trading on both of these platforms. This can be very beneficial during the large and fast market swings for particularly volatile assets, such as cryptocurrency. Unfortunately, XM doesn't support cryptocurrency itself, but margin trading is still available for other assets.
Liquidity
Liquidity is a crucial component of any and all platforms that work with money and assets that can be invested in, as it decides whether or not the assets can be sold or bought quickly. The most popular assets usually have the highest liquidity, as they are constantly flowing in and out of the platform.
Since both broker services are fairly popular, with millions of users per platform, it is safe to say that their liquidity is not something you should worry about.
Which Broker is More User-Friendly?
eToro is a very user-friendly platform that is very easy to use and navigate.
Platform Interface and User Experience: XM
Like eToro, this platform also offers a very easy way to navigate and find exactly what you are looking for in a matter of seconds.
eToro vs XM: Comparison Summary
In this comparison, we have taken an in-depth look at two major brokers—eToro and XM. Both companies are over a decade old, with eToro being a few years older. Regardless, both companies have had more than enough time to become the leaders in the brokerage sector, which they did quite efficiently.
From what we have seen, they have great customer services, they offer different kinds of spreads, and while eToro offers the ability to also buy cryptocurrencies, both platforms have a wide variety of assets that you can choose from.
They are both user-friendly and easy to navigate, but since they don't exactly offer the exact same assets, you are likely to choose one over the other depending on what kind of assets you are pursuing.
See Also our Other Comparison Guides
etoro vs bux
etoro vs trading 212
etoro vs degiro
trading 212 vs plus500
etoro vs webull
etoro vs oanda
etoro vs xm
binance vs etoro
Frequently Asked Questions
Yes, XM is a very user-friendly platform with a $5 minimum deposit, so pretty much anyone can get started on it easily, provided that they live in a country that the broker supports.

It will depend on the method you use. Withdrawal requests are usually processed within 24 hours, with the possibility of receiving money on the same day for payments made via e-wallet. As for wire transfers or credit/debit card payments, it may take 2-5 business days.

It is difficult to say that one platform is better than the other when they do not offer the same assets. In the end, it all comes down to what type of assets you wish to trade.

Both platforms are legitimate brokers that allow you to make a profit provided that you have sufficient knowledge and experience in trading. However, note that it is just as easy, if not easier, to lose money by making a bad call while trading. No broker is 100% risk-free, as this is simply the way trading works.