Lets take a deeper look into both brokers
Minimum Deposit:
Coins:
Regulation:
Asset Coverage:
Trading Platforms:
Free Demo:
Unique Features:
our pick
$10
eToro Mobile Trading Platform, eToro Trading Platform
Accepts customers from the USA, Offers 15 crypto coins to buy&sell including BTC, LTC, ETC, NEO and more, Trade on the world's leading social trading and investing platform
$0
Buy crypto ETFs and ETNs, Our awarded software is made for every type of investor, combining a user-friendly interface with a wide variety of option, Fundamental analysis tools at your fingertips
What is eToro?
eToro is a major international brokerage platform that also offers cryptocurrency trading. It was founded by Yoni Assi, who still acts as its CEO, in 2006. The platform is based in Israel, where its main office can be found, with another branch operating in London. The company has seen a lot of popularity due to its rich offering (over 120 cryptocurrencies), ease of use, low minimum deposits and more. Not only that, but it is also a popular service for copy traders and others who enjoy social trading. Over the years, it has become a popular trading platform.
What is DEGIRO?
DEGIRO is among the fastest-growing online brokers in Europe, and this popularity is quite understandable, given that the company offers a variety of very attractive features. The main one, of course, is that it offers institutional fees to retail traders. DEGIRO launched its service in 2013 in the Netherlands, but it quickly started spreading its service to other countries. At the time of writing (August 2021), the company operates in 18 European countries, with a vision of empowering people to become smart and self-directed investors.
Comparing Customer Support
Let's start our comparison of these two brokers by talking about their respective customer support services. As you know, customer support can be of dire importance for any issues or questions that users may have, and so it is imperative for them to be able to access the companies' dedicated support teams in an easy way and find the help they require.
eToro Support
eToro is well-known for having a very good level of customer support. It has a dedicated help centre that helps traders with solutions to common issues, guides, answers to frequently asked questions, and general explanations of how various things involving its service work.
Accessing its support team is also fairly easy, and all that users need to do is submit a support ticket. This allows them to specify what area of the platform they are having trouble with, and also accompany the ticket with a message containing details regarding the problem. The team promises to respond within 14 days.
DEGIRO support
DEGIRO also offers quite a few options when it comes to answering customer questions, including a FAQ section, as well as the ability to get in contact with the customer support team. For less urgent, common questions, users are directed to its help centre, while they also have the ability to contact customer service via email.
The service invites users to ask their questions at any point 24/7. In addition, when it comes to urgent matters, users can also phone the service directly, and reach its trading desk.
Available Crypto Trading Markets
Obviously, not all brokers offer identical services, otherwise, there wouldn't be so many of them. Both eToro and DEGIRO have their unique approach to trading, and that includes the available cryptocurrencies. So, if you are looking for a broker for a specific coin, your first step is to find out where the coin you wish to trade can be found.
Fiat to Crypto Trading Pairs
eToro offers a variety of cryptocurrencies paired against numerous fiat currencies, through its integrated wallet platform. That way, users don't have to deposit cryptocurrencies bought elsewhere in order to trade on its platform — they can simply deposit fiat and buy crypto within the platform. The supported fiat currencies include EUR (Euro), GBP (British Pound Sterling), JPY (Japanese yen), NZD (New Zealand dollar), AUD (Australian dollar), CAD (Canadian dollar) and CHF (Swiss franc).
As for DEGIRO, the company doesn't offer cryptocurrency trading. Instead, it focuses on stocks, forex and alike. Users can still buy cryptocurrency companies' stocks, such as Coinbase shares, but cryptos themselves are not included.
Crypto to Crypto Trading Pairs
When it comes to crypto to crypto trading, unfortunately, neither of these platforms will be of much help. eToro doesn't offer crypto to crypto trading, while DEGIRO does not allow trading cryptocurrencies at all.
What Spreads Do They Offer?
Both eToro and DEGIRO make a profit off of user trading by charging user spreads. Spreads are the difference between the asset's real price and the price that the platform is offering to buy or sell the asset at. This difference is paid by the trader, and it then goes to the broker, allowing it to fund further development, maintain its service, pay its developers and other team members, and more.
Variable Spreads
These are spreads where the fees move in sync with the market. Essentially, they aim to offer the best buy and sell prices available at the time of the order's execution. That, in turn, allows the trader to get a better price. Neither eToro nor DEGIRO offer this type of spread.
Fixed Spreads
Fixed Spreads are always the same. The brokers that use this type of spread usually set a fairly competitive rate. While fixed spreads have the advantage of allowing traders to know the cost of their trade beforehand which helps in managing risk properly, they cannot offer as good prices as variable spreads.
eToro vs Degiro: Security
Security is one of the key concepts in trading, whether we are talking about crypto or traditional markets. Trading platforms deal with money and as such, they have to be as secure as possible in order to keep your funds and sensitive information safe. So, let's see how these platforms compare when it comes to matters like:
Authentication
We are pleased to see that both eToro and DEGIRO require you to go through a KYC procedure in order to access their features. In fact, on DEGIRO, KYC is conducted immediately after registration, and you have to complete it to access any of its features, or even see the markets.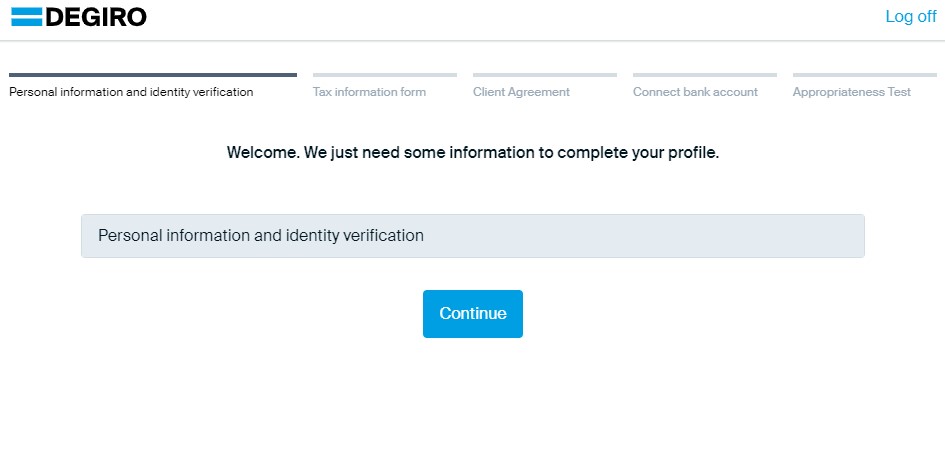 Source: https://www.degiro.eu/
eToro has similar requirements, although most of them come down to answering a few simple questions regarding past experiences in trading, financial background and investment goals. Of course, you also have to verify your phone number.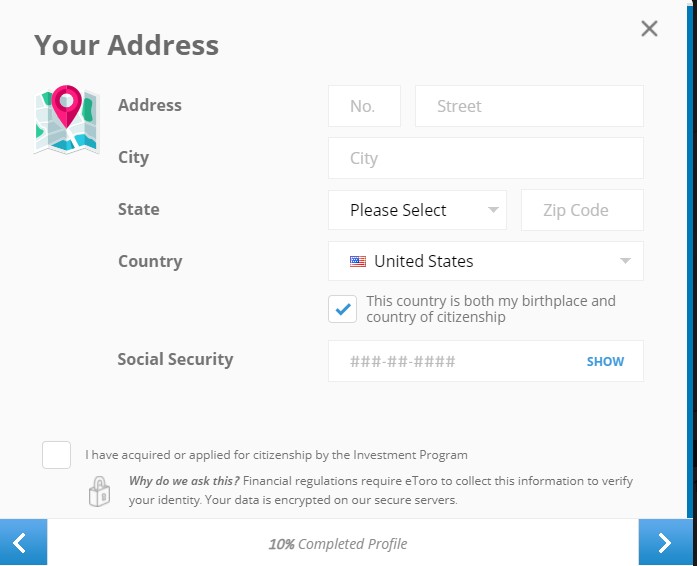 Source: https://www.etoro.com/
While many see this as a bothersome chore, keep in mind that it was all introduced for your protection. It is better to spend a few minutes filling out these forms, than to lose your money to a hacker who happened to stumble upon your email address and may use it to steal your funds.
Regulation
Both platforms are fully regulated and supervised by competent authorities, which should not be surprising — brokers are bound by law to be regulatory compliant in order to provide their services. This is why you should only ever use regulated brokers, and stay away from any unregulated company of this kind, as there is a high likelihood that it is a scam.
Licensing
Naturally, both companies are accredited by a number of financial bodies in the nations where they offer their services.
For example, eToro is licensed by:
FCA in the UK
CySEC in Cyprus
FinCEN in the US
ASICe in Australia
FSA in Seychelles
Meanwhile, DEGIRO is licensed by:
BaFin in Germany
AFM in the Netherlands
ECB (European Central Bank)
Countries Available
eToro
eToro is available in the following countries at the time of writing: Algeria, Andorra, Angola, Argentina, Australia, Austria, Azerbaijan, Bahrain, Bangladesh, Belgium, Bolivia, Brazil, Bulgaria, Chile, Colombia, Costa Rica, Croatia, Cyprus, Czechia (Czech Republic), Denmark, Dominican Republic, Ecuador, Egypt, Eritrea, Estonia, Finland, France, Georgia, Germany, Gibraltar, Greece, Holy See, Hungary, Iceland, Ireland, Israel, Italy, Jordan, Kazakhstan, Kenya, Kuwait, Latvia, Liechtenstein, Lithuania, Luxembourg, Malaysia, Malta, Mexico, Monaco, Netherlands, New Zealand, Norway, Oman, Peru, Philippines, Poland, Portugal, Qatar, Romania, Senegal, Seychelles, Singapore, Slovakia, Slovenia, South Korea, Spain, Sweden, Switzerland, Thailand, Ukraine, United Arab Emirates, United Kingdom, United States* (some states), Uruguay, Uzbekistan and Vietnam
DEGIRO
Degiro is available in these countries at the time of writing: Austria, Czechia, Denmark, Finland, France, Germany, Greece, Hungary, Ireland, Italy, Netherlands, Norway, Poland, Portugal, Spain, Sweden, Switzerland and the United Kingdom.
Fees
Next, let's talk about fees, as fees are another major factor that will likely help you decide which broker you wish to use. Every platform charges fees but not all of them charge their fees for the same things, nor do they charge the same amount, so deciding which platform you wish to use could very well depend on what they are charging for, and what amount do they want you to pay.
Withdrawal and Deposit Fees
When it comes to eToro, you can buy crypto, stocks, and other assets via your credit and debit card at zero fees per transaction. This is one of the reasons why eToro has been so popular among users from all over the world. But, keep in mind that there will be associated network fees that need to be paid whenever you transfer cryptocurrencies. This is out of eToro's hands, however, since you are paying to the miners — not the platform.
DEGIRO, on the other hand, offers either bank transfers or instant deposits via payment gateways that may vary from country to country. The service doesn't seem to charge deposit or withdrawal fees, although using third-party methods to move money might still result in some sort of fees being paid.
Can I use leverage on eToro? How is it different from DEGIRO?
Both eToro and DEGIRO offer trading with leverage. DEGIRO offers maximum leverage of 1:300, which is excellent, although only available for professional account traders. Meanwhile, maximum leverage on eToro is even higher than that 1:400, also for professional accounts only.
Can I use Martin Trading on Both Platforms?
Yes, both platforms offer margin trading, with relatively similar terms. eToro is well known for having margin trading available for certain products, such as its CFDs. DEGIRO has a specific service dedicated to margin trading, called Debit Money. It is available for Active, Trader and Day Trader profiles. Note that eToro does offer CFD margin trading, but it is not available in the US.
Liquidity
Liquidity is highly important when it comes to trading, especially when it comes to cryptocurrencies. Considering how volatile the market is and how quickly the prices change, even the smallest delay can have significant consequences. This is why it is important for the broker of your choice to have high liquidity.
eToro's liquidity is excellent, considering that it has over 20 million users. Meanwhile, DEGIRO doesn't offer cryptocurrency trading, and all of its other products are not as volatile, so liquidity is more than satisfactory on this platform, also.
Which Broker is More User Friendly?
The user-friendliness of the platform you will choose is another very important factor that will determine how much you will gain from it.
eToro's platform is very easy to understand and navigate, with an intuitive layout, and no difficult and complicated charts, indicators etc. that would only serve to confuse new traders. While they have their purpose, they are only really useful to professionals, who tend to seek them out at other platforms.
DEGIRO does offer charts and additional tools for price analysis, although they are not as complicated as they are on many other platforms, so it would be possible for new traders to still find their way around with ease. However, keep in mind that DEGIRO doesn't support crypto trading, so this platform will only be useful to you if you wish to trade ETFs, stocks, bonds, and alike.
Platform Interface and User Experience: eToro
Here you can see a comparison in the screenshots below for the differences  between the two platforms.
As you can see, depositing funds is also very simple, and it can be accessed with a click of a button, which will take you to the deposit window.
Platform Interface and User Experience: DEGIRO
You can also use DEGIRO to check out any asset's performance, as it offers a simple chart that can help you notice patterns and analyse the price.
eToro vs DEGIRO: Comparison Summary
In the end, both of these platforms offer genuinely good service. There are obvious differences, such as some that we have stressed throughout this comparison. For example, eToro lets you buy cryptocurrencies with fiat and at zero fees, while DEGIRO is focusing more on ETFs and stocks.
Both are easy to contact, they offer trading with leverage, and they are fairly simple to navigate and use. Both are reliable and reputable companies, so you won't really make a mistake by choosing one over the other. The only question is — what kinds of assets are you after?
See Also Our Other Comparison Guides
etoro vs bux
etoro vs degiro
etoro vs webull
etoro vs oanda
etoro vs xm
binance vs etoro
Frequently Asked Questions
If you wish to trade crypto assets, eToro is your only choice out of the two. If, however, you wish to trade other types of assets available on both platforms, then both are equally functional, although it should be noted that eToro is a bit simpler to use.

Both are licensed and regulated, with top-notch security, so you don't have to worry about security and trustworthiness between the two.

eToro offers zero-fee trading for specific assets, but not for all of them, so make sure to check whether or not the assets you wish to trade is on the list of the ones that are free before you commit.

DEGIRO has support for languages of all countries that it services, including English.