How To Buy Ripple | Ultimate Guide To Buy XRP
Ripple (XRP)
...
Ripple is a decentralised peer-to-peer (P2P) network with the primary objective to provide a quick and affordable international payment infrastructure to financial institutions. It allows users to transfer money digitally, whether it is through fiat money or cryptocurrencies such as Ethereum or Bitcoin. It works through an open-source platform called RippleNet that is powered by a server network to ensure swift and economical transactions.
RippleNet has its cryptocurrency token denoted by XRP, and at the time of writing, it is valued at $0.232 with a market capitalisation exceeding $23 billion. All of the XRP tokens are pre-mined and are used to signify the transfer of money through RippleNet.
5 Steps to Buy Ripple with eToro Now
Buying any cryptocurrency with eToro is easy, simply follow the steps below:
Sign up for free with eToro, entering your details in the required fields.

Fill out the questionnaire, this is both educational for you and eToro.

Click 'Deposit', you'll then be asked how you want to fund your account.

Choose your required payment method, follow the simple steps to link your payment.

Enter the amount you want to deposit and you're good to go!
Our Recommended Platform to Buy Ripple
If you are on this help page to find out how to buy Ripple (XRP), you might already be aware of the basics that you need to go through to purchase XRP. If not, you can continue reading the article to learn everything about buying XRP as we have combined the latest information and trends in this guide.
Those who want to jump right in can consider some of the leading cryptocurrency platforms that we have handpicked after reviewing a multitude of aspects.
Min. Deposit
$50
Promotion
Accepts customers from the USA
Offers 15 crypto coins to buy&sell including BTC, LTC, ETC, NEO and more
Trade on the world's leading social trading and investing platform
Description:
eToro offers a wide range of cryptos, such as Bitcoin, XRP and others, alongside crypto/fiat and crypto/crypto pairs. eToro users can connect with, learn from, and copy or get copied by other users.
Payment Methods
Bank Transfer, Wire Transfer
Full regulations list:
CySEC, FCA
Where to Buy Ripple in 2021
Before you consider the selection of your exchange or platform, you need to understand a few nuanced but important differences. When we talk about 'buying Ripple,' there are multiple ways to do so. Based on your strategy, you can purchase XRP, or you can buy financial instruments that are investment drivers.
To make it even clearer, if you want to hold on to your XRP for months, or even years, because you believe the price of XRP will increase in the distant future, it is a better idea for you to buy the XRP tokens from a crypto exchange directly. You will also need to store them in a safe software or hardware wallet to ensure long-term security. This way, you will be able to retrieve or access your XRP coins when you think the time has come to take your profit.
On the other hand, if you are more inclined towards a short or medium-term profiting strategy, buying financial instruments for XRP is a more practical alternative. In this case, you don't actually buy currency but speculate on the price movement. For instance, you can buy XRP Contract for Difference (CFD) if you believe that the price will go up in the next few hours or a couple of days. Once the price has hit the ceiling, in your estimation, you can sell the CFD to keep your profits. This removes the hassle of paying a lot of transaction and network fees, along with having a dedicated crypto wallet. Moreover, buying and selling CFDs is much quicker and more convenient.
Whatever approach you take, ensure that you are only investing what you can afford to lose. The cryptocurrency market, as a whole, is highly volatile, especially in the short term, and you can lose all of your working capital in a matter of hours. That's why it is a better strategy to invest in different class assets and currencies to manage your risk.
What is Ripple Protocol Consensus Algorithm (RPCA)?
Ripple Protocol Consensus Algorithm (RPCA) is the network's way of processing transactions. Ripple does not have a normal blockchain. Therefore, it has developed its own patented technology to verify transactions. RPCA requires that all the nodes involved in a transaction agree for a transaction to go through, rather than linking all of the transaction blocks together, as per a traditional blockchain.
Buying Ripple in Your Country
There are always factors to consider when planning to invest into the world of cryptocurrencies. One of these key factors is which country (or even state) that you're purchasing from – as not all countries or areas allow the buying and selling of any cryptocurrencies. Banks are also another key factor restricting any sort of fiat to cryptocurrency transaction. In certain banks, it is against their policy to send money to a crypto exchange. You have to figure out another way of paying for your coins. Also, certain nations have banned sending money to accounts in countries that they consider a threat to their national security or sovereignty. In fact, some exchanges and trading platforms will only accept individuals from a certain jurisdiction. Alongside this, even if you're accepted, sometimes the language you speak makes it difficult to navigate across the cryptocurrency world. English is normally always an option, but if it's not your native tongue, then there are many platforms out there that don't cater to you.
Min. Deposit
$50
Promotion
Accepts customers from the USA
Offers 15 crypto coins to buy&sell including BTC, LTC, ETC, NEO and more
Trade on the world's leading social trading and investing platform
Description:
eToro offers a wide range of cryptos, such as Bitcoin, XRP and others, alongside crypto/fiat and crypto/crypto pairs. eToro users can connect with, learn from, and copy or get copied by other users.
Payment Methods
Bank Transfer, Wire Transfer
Full regulations list:
CySEC, FCA
Min. Deposit
$1
Promotion
The world's largest cryptocurrency exchange with over 2bn daily users
Innovative trading platform offering enormous range of crypto coins
Supports over 60 methods of payment including PayPal
Description:
Binance has grown exponentially since it was founded in 2017 and is now one of, if not the biggest cryptocurrency exchanges on the market.
Payment Methods
1Pay, 2C2P, 3d Secure Credit Card, ACH, ANELIK, Abaqoos, AdvCash, AlertPay, Alfa-Click
Algocharge, AliPay, American Express, Apple Pay, AstroPay, BPAY, Bank Link, Bank Transfer, Bank Wire, Baofoo, BitGold, BitPay, Bitcoin, Boleto, Bonds, Borneo Exchanger, Bradesco, CEX.io Mobile App, CFDs, CSS System, CUPS, CartaSi, Carte Bleu, Carte Bleue, Cash, CashU, Cashier Order, Check, Check (UK only), China UinonPay, China Union Pay, China UnionPay, ClickandBuy, Commodities, Contact, Contact Z, Credit Card, Cryptocurrencies, Currencies, DCPay, DIXIPAY, Dankort, Debit Card, Dengi Online, DineroMail, DirectPay, Dotpay, E-dinar, ELV, ENets, EPS, ETFs, EXCARD, Easy2Pay, EcoPayz, Ecommpay, Ecurrencyzone, EgoPay, Emerchant Pay, Eprotections, EstroPay, Ethereum, Euro Bank Account, Euteller, Express Dotpay, Express Polish Post Office 24/7, Express Zabka Market, Ezeebill, Ezybonds, FasaPay, Fastapay, Fastbank, Faster Payments, FilsPay, Forex, GTBank, Gate2Shop, Giropay, GlobalCollect, GlobalPAY, GlobePay, Gluepay, Halcash, I-Account, IPS, Ideal, Indices, Individual US State License(s), Indonesia Exchanger, InstaBill, Instadebit, IntellectMoney, Interswitch, Investmate, Itukar, KNET, Klarna, LaoForexBoard, LavaPay, Lion Payment, LiqPay, Litecoin, Lobanet, MOTO, MT4, MT5, Mailing Cash, Market Maker, Masari, Mastercard, MegaTransfer, Mister Cash, Mobile Trading App, Mobile Trading Platform, Moneta, Money Bookers, Money Order, MoneyBookers, MoneyGram, MoneyPolo, Multibanco, NETBANX, Nab, Namecoin, Neosurf, NetPay, OKPAY, OMT, OmahPoin, OnPay.ru, Online Naira, OrangePay, PAYSEC, POLi, POLi & BPay, PYEER, PagoEfectivo, Paxum, Pay Nova, PayCo, PayPal, PayRetailers, PayWeb, Payeer, Payoneer, Payonline, Payvision, Payza, Perfect Money, PocketMoni, Postbank, Powercash 21, Prepaid MasterCard, Prepaid MasterCard (I-Account), Prepaid MasterCard (Intercash), Prepaid MasterCard (Payoneer), Privat 24, Przelewy24, QIWI, RBK Money, Rapid Transfer, RegularPay, SEPA, Safecharge, SafetyPay, SahibExchange, Shilling, SmartPay, Sofort, SolidTrust Pay, SorexPay, Sporopay, Stock Certificate, Stocks, Swish, Teleingreso, Thailand Exchanger, Ticketsurf, Todito Cash, Trade Interceptor, Transact Europe Payment, Trazus, TrustPay, Trustly, UAE Exchange, UPayCard, USD, Ukash, Unet, UnionPay, Unistream, Uphold, Verve, Vietnam Exchanger, Visa, VixiPay, VoguePay, Vouchers, Wallet One, WeChat, Web Based Trading Platform, WebMoney, WebPay, Webtrader, Western Union, Wire Transfer, Wirecard, Yandex, Yandex Money, Yemadai, YuuPay, Z-Payment, Zenith, Array, cTrader, dinpay, eCard, eCheck, eKonto, ePay bg, ePayments Transfer, eToro Mobile Trading Platform, eToro Trading Platform, eTranzact, iPay, mPay, neteller, paysafecard, postepay, skrill, unichange.me
Min. Deposit
$20
Promotion
Margin Trading with full legal compliance
Description:
Cex.io offers exchange of fiat currency for Bitcoin Ethereum, Tether, and 23 other cryptocurrencies, as well as Bitcoin/Ethereum trading against the USD.
Payment Methods
Credit Card, Cryptocurrencies, Debit Card, Wire Transfer, skrill
How to Buy Ripple with a Broker
Traders and investors who want their investment to do well are quite selective about choosing their trading platforms. They want to invest in platforms that aren't only regulated and well-reputed but deliver the convenience of trade, low transaction charges, exceptional customer service, and security. You can also rely on online reviews and testimonials to judge the reputation of a trading platform.
You want to focus on your investment strategies and earn profits. Any trading platform where technical issues or poor customer service are present will give you a poor investing experience that can hamper your progress.
1. Register with the Broker
Generally, the signing up process on most of the brokerages is a simple and straightforward process. For instance, eToro only asks for your username, email, and password to get you started. The password is required to be strong and should at least have 6 to 20 characters with at least one uppercase letter, special character, and digit. Few brokers also allow you to register with them using your Google or Facebook account for further simplification of the process.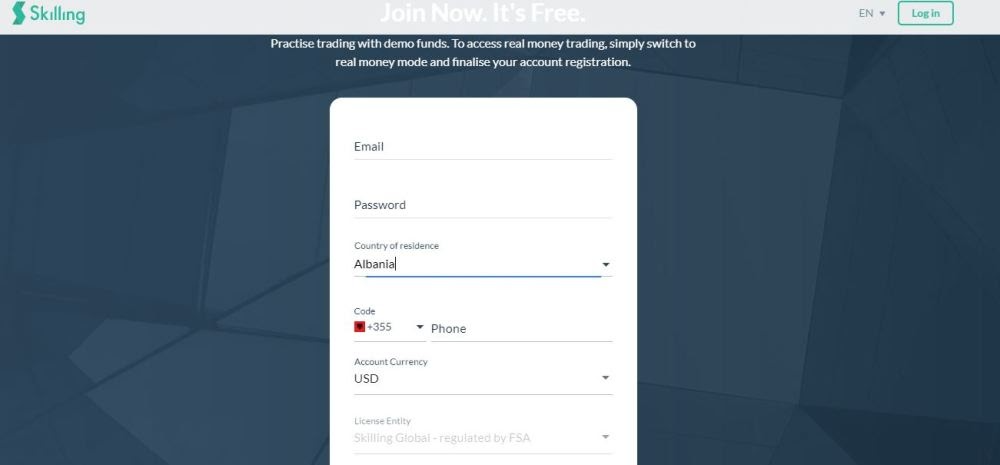 2. Verify Your Identity (KYC Process)
Any regulated broker is required by law to verify the individual identity of the investor or trader signing up on their platform. This is known as Know Your Customer (KYC) regulation which is supposed to counter money laundering efforts and provide a safe investment environment to the users of the platform. This isn't only about the broker, but it also ensures your personal information and funds remain safe and secure.
In order to complete the verification (KYC) process, you will need to deliver some personal information to the broker such as an official ID, passport, driving license, proof of residence, and perhaps proof of your income. It may take some time to complete the process, but it is designed for your safety.
3. Deposit Funds with your Preferred Payment Method
Once you have gone through the registration and verification processes, it is time to deposit your initial sum, which will act as your working capital. Many trading platforms offer a wide range of payment modes, including direct bank transfer, debit and credit card, and e-payment methods. You will need to take multiple factors into account before you decide your payment method—top factors including cost of transaction, deposits, and withdrawals along with speed and accessibility.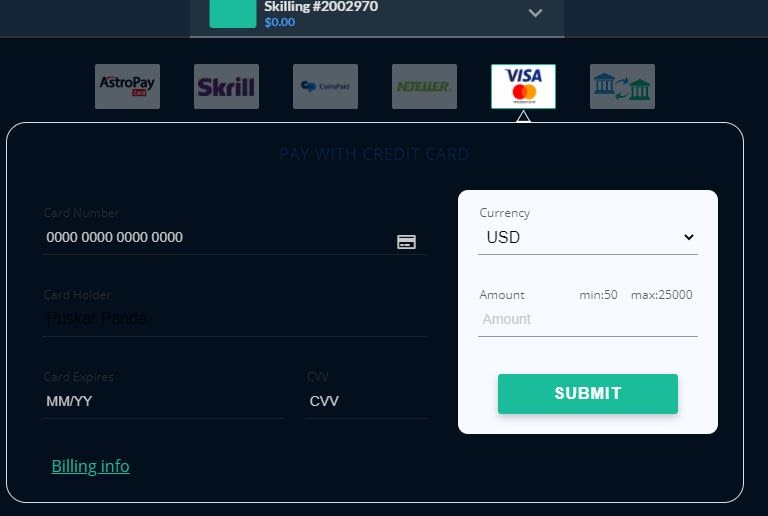 For instance, many people love to use PayPal, but often that option isn't available. Some traders are ready to pay through their bank card, which may cost them a little extra but also reduces transaction time. Before you finalise your payment method, read everything about the fee structure, and charges carefully, especially the fine prints.
4. Open a Position to Long/Short XRP
Prior to opening your short or long position on XRP, you need to develop a basic understanding of both. Investors who believe that the price of XRP will increase are bulls, and they open long positions so they can earn profit as the price of XRP continues to rise. On the other hand, traders who think that the price of Ripple (XRP) will decrease are denoted as bears, and they open short positions so they can benefit from XRP's falling price.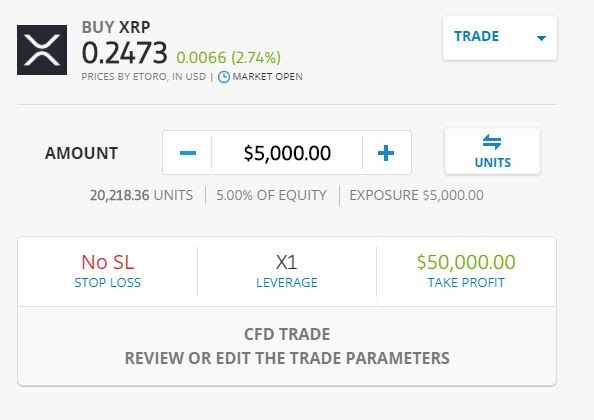 Once you have developed a fundamental understanding of these investment strategies, it will be easier for you to know whether you want to go long or short. Most of the leading trading platforms that we recommend, such as Plus500 or eToro, offer risk minimisation features which you can use to your benefit, including stop loss and take profit features. Some of the trading platforms, including eToro, have now started to allow you to buy XRP tokens directly from them and hold them in your dedicated crypto wallet. This enables you to purchase Ripple through a regulated platform.
5. Close Your Position
If you have understood risk management, you will know how to set stop loss and take profit limits as they enable you to close your positions in an automated manner without your intervention while providing you with complete control over your investments.
The limits are only there to manage your risk, and you have the full autonomy to close a position when you believe that you have earned enough profit from the trade and keeping it open would be highly risky. Similarly, you can also close the position before the price hits your specific low if you believe it won't fall any further.
We recommend that you read all the guidance material and content related to opening and closing positions available on this platform before you start investing in XRP or other cryptocurrencies.
How to Buy Ripple with an Exchange
Buying XRP through a cryptocurrency exchange is preferable when you want to hold on to your Ripple tokens for a longer-term. This strategy is ideal for traders who believe that XRP will continue to improve in terms of its price or people who want to contribute towards the Ripple blockchain goals. Choosing an exchange isn't different from choosing a broker, as you will have to review a multitude of factors.
Apart from evaluating exchanges for their regulatory compliance and reputation, you also need to figure out what it'll cost you to buy, sell, or trade XRP on the exchange. Similarly, you should also take into account the convenience of the platform, customer support, security measures, and overall reliability. You should always keep in mind that not all exchanges adhere to the regulations and industry best practices and while they may offer more incentives, they also pose a greater risk to your personal information as well as funds.
1. Set up a Ripple Wallet
Before you purchase XRP, make sure that you have a dedicated software or cold wallet to store your coins. This may appear to be a daunting task, but cryptocurrency space has evolved, and these processes are now easier and more straightforward than you can imagine. Depending on the amount of time you desire to hold your Ripple currency, you can choose different types of wallets, including the following:
Exchange / Web Wallets - These are the most convenient but least secure option to store your XRP for longer durations. Some exchanges have additional security measures in place, but they still don't have the safety cushion of a dedicated wallet.

Desktop / Mobile Wallets - You can get software wallets for both your desktop PC and smartphone (iOS and Android). These provide a wide range of features and reasonable security.

Hardware Wallets - Also called cold wallets, these are the ideal storing solution for your XRP tokens. They have the hardware to store your digital assets securely, and they are completely disconnected from the internet. They look like flash drives so you can secure them or take them anywhere with you.
As an investor, you also have a responsibility to make sure that your funds are secure. Ensure that you are using two-factor authentication (2FA), different passwords for different accounts, and passphrase protection.
2. Choose and Join an Exchange that sells Ripple
There are many leading cryptocurrency exchanges, including Binance, CEX.io, Coinmama, and Coinbase that offer XRP and other cryptocurrencies. Analyse all of these exchanges and find out which one meets your needs the best.
You have to keep in mind that different exchanges have different sign-up processes depending on the regulations they comply with. Some will only ask for basic information, while others will thoroughly verify your identity by requiring documentation. Regulated exchanges are much safer than unregulated ones.
3. Choose Your Payment Methods to Buy Ripple
Once you have selected your crypto exchange, it is time to review the different payment methods offered by it and which one will suit your needs the best. For instance, you can use wire transfer, debit card, and other e-payment methods to buy XRP, but you'll need to take speed, convenience, and fees into account.
You can also integrate your bank account with the exchange to make the payment process much more seamless. Your fiat currency will always be ready to be used for purchasing XRP or any other tokens you might want to buy. Regardless of the payment mode you pick, it is a smart idea to use an exchange that verifies everything, so you know you are purchasing Ripple from a trustworthy exchange.
4. Place an Order to Buy Ripple
In order to buy an altcoin like Ripple, you may need to buy a more popular currency like Bitcoin or Ethereum first depending on the exchange you are on. Some exchanges will directly sell XRP for conventional payment methods, but some might not.
For starters, select your fiat currency before you decide how much XRP you want to buy. There is generally a calculator that tells you how much XRP you'll be able to purchase with that amount. Once you have selected your currency and the amount, you can send your purchase request through. If your 2FA is enabled, you may receive an OTP for transaction authentication purposes. Once done, XRP will show up in your account.
5. Safely Storing Your XRP in a Wallet
If you don't want to keep your XRP for long, then it is fine to leave it in the exchange's account or wallet. This way you won't have to incur withdrawal charges as well. However, if you want it to hold for a longer period, say more than a week, then it is better to transfer the funds to a dedicated wallet. To transfer the funds to your wallet, you will need the public key which you will type into the 'recipient address' text box and determine the amount you want to transfer to your wallet.
Once again if you have enabled 2FA, you might receive One Time Password (OTP) for transaction verification. Keep in mind that some exchanges like Binance do not allow you to transfer your XRP within 24 hours of your purchase.
Should You Buy or Trade Ripple?
Do not forget that buying and trading XRP are two completely different things. Buying XRP from an exchange is different from trading XRP through a broker. You have to understand what your underlying purpose of the investment is to ensure you're on the right platform.
What's the Difference Between a Ripple Exchange and a Broker?
A Ripple exchange is a platform that enables you to 'exchange' popular cryptocurrencies such as Bitcoin and Ethereum for other altcoins. Hence, the name 'cryptocurrency exchange'. If you want to hold long-term positions and want to get the best exchange rates, then consider using a cryptocurrency exchange.
If your purpose is to generate a second income that can complement your primary income, then trading is a better option. For this, you will need to rely on a crypto broker where you can quickly buy and sell financial instruments related to XRP such as Futures, Options, and Contract for Differences (CFDs). In this scenario, you look to capitalise on the volatility of the cryptocurrency market to make short term gains. You can also leverage your trades but do not use that option unless you have mastered the art of investing.
Ripple: Long Vs Short Term Investment
Long term investment occurs when you firmly believe that the price of XRP will continue to go up for weeks and even months, so you hold on to the coin in the long run. Or you simply believe in the project and want it to succeed, so you hold XRP to make a contribution. For such people, crypto exchange is a better option.
Short term investment happens when you are not looking for long term future prospects of the currency. You just want to use the short-term volatility of XRP to earn profits and get out. That's when a reputable and regulatory compliant broker makes for a smart choice. This way, you won't need to set up a wallet and transfer your tokens to and from your exchange's account.
3 Tips to Buy Ripple
Now that you have developed a fundamental understanding of how the process of buying XRP works, let's take this moment to share some brief but valuable tips with you.
Choose the Right Time and Do Your Own Research on XRP
Do not rely on a single source to predict how the price of XRP will move in the future. Read the opinions of different influencers and analysts, evaluate new developments, and keep an eye on the news to make your own mind. It's also important to choose the right moment to buy-in.
Comparing Costs to Buy Ripple
Many new investors underestimate the cost and expenses of trading XRP and other cryptocurrencies. Including spread, commissions, transaction charges, withdrawal fee, and deposit fee, the cost racks up pretty quickly and can eat into your profits. Before you invest in XRP, make sure your chances of hitting net positive are high.
Safety & Security when Buying Ripple
Once again, another factor that doesn't get the attention it should. Make sure that you are following the best investment practices, mitigating your risk, complying with industry protocols, and using security features like 2FA, passphrases, and more to keep your XRP safe and secure.
What is the Best Payment Method to Buy Ripple?
Buy Ripple with Cash - First, you need to buy Bitcoin with cash through an ATM, and then exchange it for XRP. It is an inconvenient method.

Buy Ripple with Credit/Debit Card - One of the most popular methods to buy XRP although a bit on the expensive side.

Buy Ripple with Bank Transfer - Convenient and affordable but comparatively slow relative to other methods.

Buy Ripple with Bitcoin - Simply exchange Bitcoin for Ripple.

Buy Ripple with PayPal - Quick and economical but limited availability depending on the region.
Other Ways to Buy Ripple
The aforementioned ways are the most popular to buy Ripple and trade XRP on different platforms. At this point, you are far more prepared to buy XRP and invest in cryptocurrencies that you were before reading this guide. We will conclude this guide with some lesser-known options that can also be used to acquire Ripple.
Peer-to-Peer (P2P) Exchanges - These are platforms that connect buyers and sellers of cryptocurrencies. Instead of dealing with the platform, you can directly deal with the individual buyer. The benefit here is that you can set your own terms and conditions to find the right deal. Make sure to check the reviews of the buyer before you invest in XRP.

Since Ripple tokens are pre-mined, you cannot earn them through a mining process.
So, that's where we will conclude for now and will add new information as it comes in. You are now ready to start your XRP journey. Remember that we have already reviewed a wide range of exchanges and trading platforms to pick the top brokers and exchanges for you. They are some of the most highly reputed and trustworthy services in the cryptocurrency sphere.
Buying Ripple with USD
US dollars are the most popular fiat currency to use when buying ripple and other cryptocurrencies, nearly all exchanges that offer fiat transactions do accept USD as an option. Likewise, brokers that you can buy ripple through also accept USD as their primary currency, making it very easy to buy using dollars. It also doesn't matter where you are based because cryptocurrencies aren't tied to any country or government, so as long as you have some dollars you will be able to buy ripple. We'd always recommend you sticking to brokers due to the regulatory oversight they have, there is simply less risk attached to a broker than an exchange (however there is still risk associated to both given the volatility of the cryptocurrency market). Our preferred providers to use when buying ripple with USD are:
Frequently Asked Questions
That's definitely possible. Some of our recommended exchanges do not deduct any transaction fee or commission, but you might incur other charges.

Buying XRP means you own the token - the digital asset. Trading XRP usually means you hold a financial instrument based on your price speculation, and once you close the trade, you keep the difference whether it's a profit or a loss.

That's totally up to you. Before you make a move, we recommend you thoroughly read our guide and keep an eye on what analysts are saying.

It's different for different trading platforms and exchanges. Since the price is quite low right now, you can buy 4 XRP tokens for a dollar.

Apart from the countries that have outright banned cryptocurrencies and their trading, Ripple is legally purchasable and tradeable.
Alternative Cryptocurrencies