Lets take a deeper look into both brokers
Minimum Deposit:
Coins:
Regulation:
Asset Coverage:
Trading Platforms:
Free Demo:
Unique Features:
our pick
$100
ADA, AXS, BCHA, BTC, CRYPTO, CRYPTO10, DOT, EOS, ETH, FIL, LINK, LTC, MATIC, MIOTA, NEO, SOL, UNI, VET, XLM
ASIC, FCA, FSA, ISA, MAS, cysec-250-14-regulator
Web Based Trading Platform, Mobile Trading Platform, Plus500, Webtrader
CFDs on BTC, ETH, LTC, NEO, XRP, IOTA, EOS, BAB, ADA, TRX, XMR, No need to open a crypto exchange account or use a special wallet, Regulated Broker - FCA, ASIC, CySEC (license number 250/14)
Trade Now
77% of retail investor accounts lose money when trading CFDs with this provider. You should consider whether you can afford to take the high risk of losing your money.
$10
BCH, BTC, CRYPTO, DASH, EOS, ETC, ETH, LTC, OMG, QTUM, TRX, XLM, XRP, ZEC
What is IQ Option?
IQ Option is a trading platform that offers a variety of financial instruments. The company has a rich offering that includes binary options, exchange traded funds (ETFs), stocks, commodities, forex and crypto.
It is a relatively new company compared with most other top brokers, as it was founded in 2013 in Cyprus. However, it has been eight years since then, so we can't really say that it is an inexperienced firm. On the contrary, the broker saw a rapid rise to become one of the most popular trading platforms in the world, now boasting 48 million users.
What is Plus500?
Plus500 is a popular broker that offers a wide variety of CFDs, and it features numerous leverage options for short-term and long-term trading alike. For anyone who wishes to trade derivatives of stocks, commodities, shares or even cryptocurrencies, Plus500 has something to offer. However, that is not where its benefits end.
Comparing Customer Support
When it comes to comparing different brokers, the first thing to note is their customer support and its quality. This is important, as it's the service you will turn to for help if you ever encounter any issues with the platform.
IQ Option Support
In terms of customer support, IQ Option has several different methods of providing help and assistance. Its customers can contact it via email, a phone call or live chat. The phone number is toll-free for a number of countries, including the UK, Brazil, South Africa, India, Singapore, Thailand, Colombia, Australia, Mexico, Portugal, Spain, Argentina and Chile.
Plus500 Support
When it comes to Plus500, it has a very detailed and convenient help page that offers answers and guides for a number of commonly asked questions and potential issues that are not overly serious or urgent.
Available Crypto Trading Markets
Next up, we should talk about the available crypto trading markets. Since cryptocurrency has seen an impressive rate of adoption in recent years, a lot of brokers have been working on adding it to their offerings.
Fiat to Crypto Trading Pairs
Unfortunately, neither IQ Option nor Plus500 allow you to purchase cryptocurrencies on their platforms directly. Instead, both of them require you to turn to a third party for buying coins with fiat currencies, and then come to their platforms with already purchased coins.
Crypto to Crypto Trading Pairs
As mentioned, both platforms will require you to buy cryptocurrencies on some other platform and there are no crypto exchange services or trading pairs for digital coins. Both IQ Option and Plus500 only deal in crypto contracts for difference (CFDs), which are crypto derivatives contracts that don't require you to actually buy and own digital coins.
What Spreads Do They Offer?
As you may know, spreads represent the difference between the actual price of an asset and the price that the broker is willing to accept during purchases or sales. For a lot of brokers, this is their primary way of earning a profit, since many of them have given up on deposit and withdrawal fees, or in some cases, even trading fees, in order to appear more competitive and attractive to new users.
Variable Spreads
Variable spreads can change and go up or down depending on market conditions and liquidity. This is the type that IQ Option uses, and its biggest advantage is the fact that traders usually get a better price as a result.
Fixed Spreads
Plus500, on the other hand, uses fixed spreads. These are always the same, regardless of what happens with the market. While it often turns out that traders pay more than what they would end up paying for variable spreads, many find comfort in certainty, as it means that there will be no surprises for them when the time comes to pay up.
IQ Option vs Plus500: Security
Security is vital for any broker. Not just for brokers, in fact, but for any service that works with money in any way, even if it is nothing more than an online shop. With that in mind, let's see how safe IQ Option and Plus500 are to handle your funds.
Authentication
Authentication is the process of verifying your account, and it is done by going through a KYC procedure. Both Plus500 and IQ Option require you to do this in order to trade.
Like most brokers, Plus500 requires you to verify your name, date of birth, country, address and it even asks multiple questions regarding your trading experience, income etc.
It should also be noted that you don't have to create an account from scratch when registering, as it lets you log in with a number of existing social media and email accounts.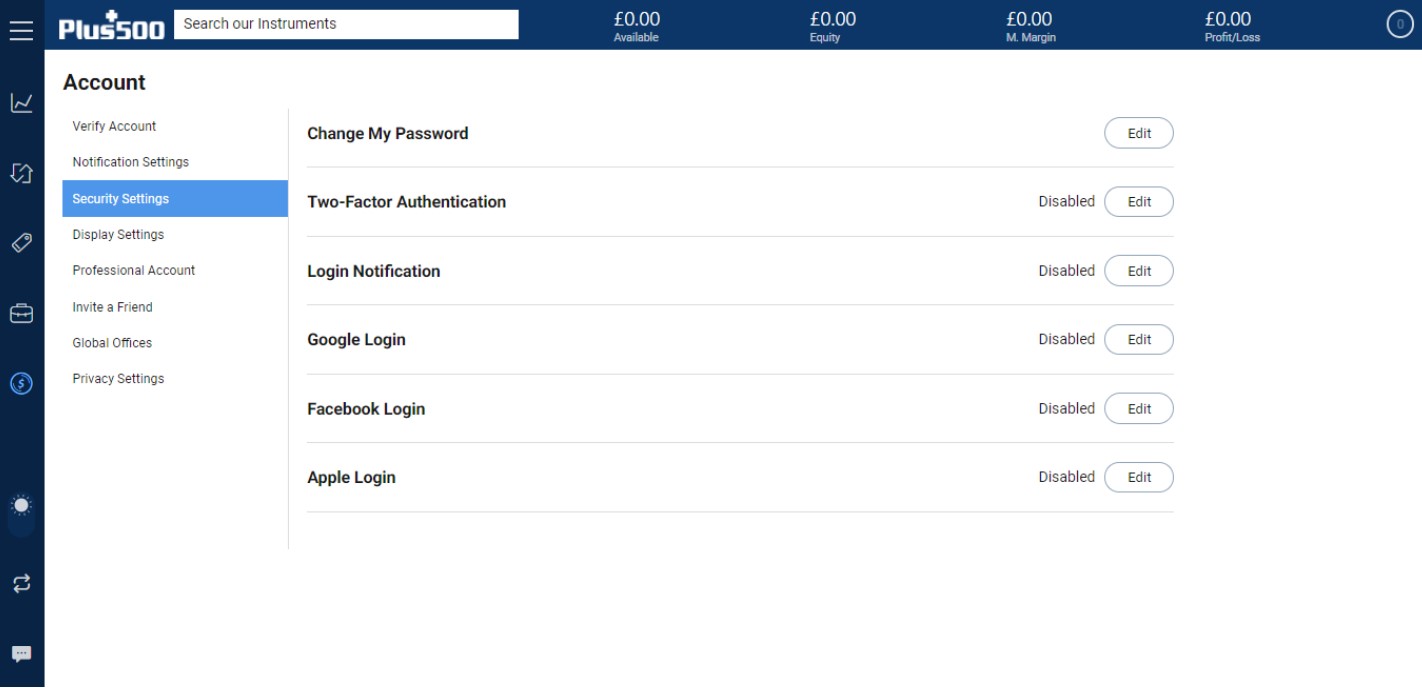 Source: https://www.plus500.com/
As mentioned, most of the brokers have similar requirements when it comes to KYC, so IQ Option has similar questions. It will ask you to confirm your email, phone number, personal data and provide proof of identity, which can include a passport, ID or driver's licence.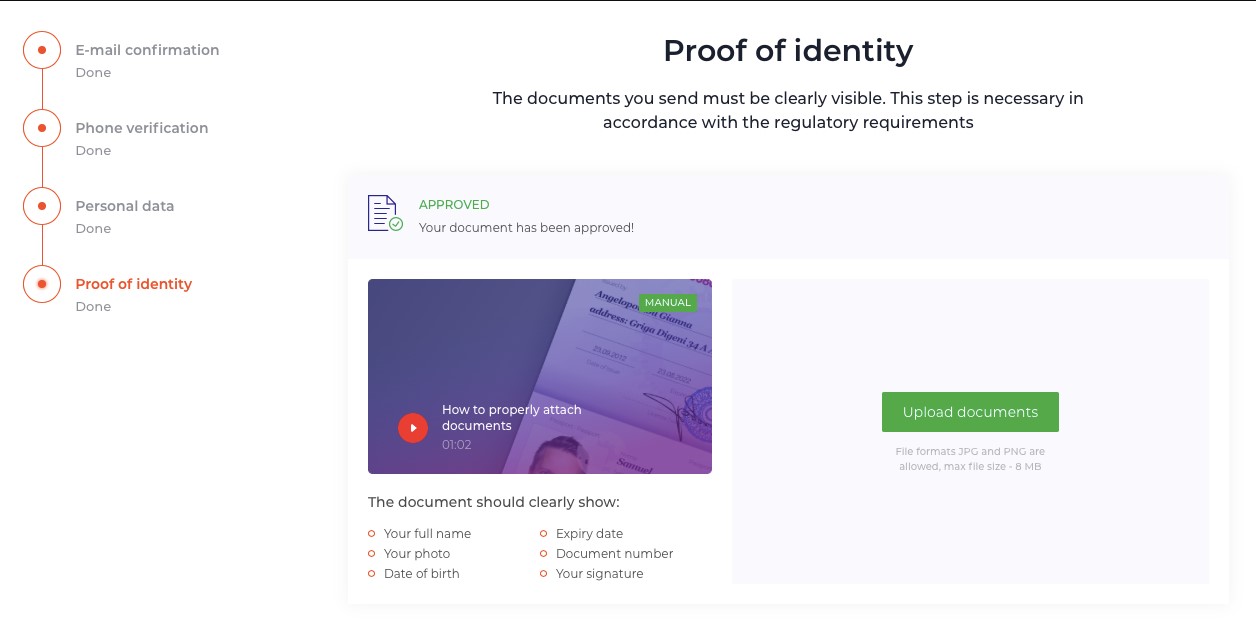 Source:https://iqtradingpro.com/wp-content/uploads/2019/09/provide-your-identity-proving-documents-at-iq-option.png
Regulation
Both of these platforms serve users globally, and as such, they have been regulated by all the relevant financial regulators that ensure that the platforms operate according to the laws of those countries.
Licensing
Plus500
Cyprus — CySEC
Australia — AUFSCA, FMA, ASIC
UK — FCA
Singapore — MAS
Seychelles — FSA
IQ Option
Cyprus — CySec
Seychelles — FSA
Countries Available
IQ Option
Angola, Anguilla, Argentina, Bahamas, Bangladesh, Sri Lanka, Belize, Bermuda, Bolivia, Botswana, Brazil, Cameroon, Cayman Islands, Chile, China, Colombia, Costa Rica, Cuba, DR Congo, Dominica, Ecuador, Egypt, El Salvador, Ethiopia, Fiji, Gambia, Ghana, Gibraltar, Grenada, Guatemala, Guine-Bissau, Guinea Ecuatorial, Guyana, Honduras, India, Indonesia, Ivory Coast, Jamaica, Kenya, Lesotho, Liberia, Malawi, Mauritius, Mexico, Mocambique, Morocco, Mozambique, Myanmar, Namibia, New Zealand, Nicaragua, Nigeria, Pakistan, Panama, Papua New Guinea, Paraguay, Peru, Philippines, Puerto Rico, Republica Dominicana, Rwanda, Sao Tome e Principe, Seychelles, Sierra Leone, Singapore, Solomon Islands, South Africa, St. Lucia, Swaziland, Tanzania, Thailand, Tonga, Trinidad and Tobago, Uganda, Uruguay, Vanuatu, Venezuela, Vietnam, Zambia, Zimbabwe, Panama, the UAE, the UK
Plus500
Andorra, Argentina, Australia, Austria, Bahrain, Bulgaria, Chile, Costa Rica, Croatia, Cyprus, Czech Republic, Denmark, Estonia, Finland, France, Germany, Gibraltar, Greece, Hungary, Iceland, Ireland, Isle of Man, Israel, Italy, Kuwait, Latvia, Liechtenstein, Lithuania, Luxembourg, Malaysia, Malta, Mexico, Monaco, Netherlands, New Zealand, Norway, Oman, Poland, Portugal, Qatar Romania, Saudi Arabia, Slovakia, Slovenia, South Africa, Spain, Sweden, Switzerland, United Kingdom, Uruguay
Fees
Fees are how financial services earn money. That makes them inevitable. But it is in your best interest to know which services require you to pay the least, which is why you should be aware of the fees that each broker charges, so you have a clearer picture of where you can earn the most and pay the least.
Withdrawal and Deposit Fees
IQ Option doesn't charge deposit or withdrawal fees, regardless of the amount. However, users are only entitled to three free withdrawals per month. Also, there might still be some fees when withdrawing money via certain payment methods, but those are charged by the banks, card providers and the like, not the company. Plus500 also doesn't charge withdrawal or deposit fees, but has an inactivity fee of $10 per quarter.
Can I use leverage on IQ Option? How is it different from Plus500?
IQ option does have trading with leverage, although it is different for each asset. For example, leverage for Bitcoin CFDs is 100x, while leverage on indices is even higher — 150x. Things get even more complicated when it comes to Forex, where most users can take leverage as high as 1,000x, while Europeans can only use 30x leverage. Leverage on Plus500 also varies. There is 5x leverage available on shares CFDs, 30x on Forex CFDs and up to 30x on crypto CFDs.
Can I use Margin Trading on Both Platforms?
Yes, margin trading is available on both platforms, although it is only recommended for experienced users. As you might be aware, margin trading offers great opportunities to earn much greater rewards but it also amplifies the risks.
Liquidity
Liquidity is important when choosing a broker, since it can make a big difference when it comes to reacting quickly enough to make a profit. Fortunately, both of these firms are old and popular enough to have more than decent liquidity.
Which Broker is More User-Friendly?
This aspect might be the most important thing from the user's perspective. Most people will first notice the platform's looks, and the way it feels when using it.
Platform Interface and User Experience: Plus500
Here you can see a comparison in the screenshots below for the differences between the two platforms.
The platform's UI itself is also very clear, with a lot of white spaces, charts and a side bar that allows users to navigate easily.
Platform Interface and User Experience: IQ Option
It has a special For Traders tab that features everything that the site has to offer other than the markets themselves.
IQ Option vs Plus500: Comparison Summary
In conclusion, we can say that it is not surprising that these two brokers have thrived, and even managed to climb to the top. Despite the fact that they don't work with cryptocurrencies themselves, they still offer crypto CFDs, which can be a safe haven for crypto traders during difficult bearish months and years.
Both platforms are regulated and have low spreads, but beginners may find Plus500 preferable for its clear user interface and demo account feature. IQ Option isn't difficult to use either though, and its market data and higher leverage may make it the broker of choice for those wanting to do slightly more advanced trading.
See Also Our Other Comparison Guides
etoro vs bux
etoro vs trading 212
etoro vs degiro
trading 212 vs plus500
etoro vs webull
etoro vs oanda
etoro vs xm
binance vs etoro
Frequently Asked Questions
Yes, IQ Option is a legitimate trading platform that has been around for a long time. It services over 48 million clients, according to its own website, and it is licensed by multiple financial regulators.

Essentially, there is no limit to how much you can withdraw from the IQ Option website. The only existing rule is that you cannot withdraw less than $2. Withdrawal limits on Plus500 depend on the payment method and the platform may charge $10 for more than five withdrawals in one month.

IQ Option is available in numerous European and non-European countries, but unfortunately, the US is not one of them.

Yes, Plus500 is pretty good for beginner traders, due to low spreads, almost no fees, a good selection of available assets, user-friendliness and many other reasons.