eToro vs Webull: Which Broker Should You Trade With?
vs.
See the breakdown below
Lets take a deeper look into both brokers
Minimum Deposit:
Coins:
Regulation:
Asset Coverage:
Trading Platforms:
Free Demo:
Unique Features:
our pick
$10
eToro Mobile Trading Platform, eToro Trading Platform
Accepts customers from the USA, Offers 15 crypto coins to buy&sell including BTC, LTC, ETC, NEO and more, Trade on the world's leading social trading and investing platform
$1
ADA, ALGO, ATOM, AVAX, BAT, BCH, BTC, CRV, CRYPTO, DASH, DOGE, ETC, ETH, FTM, GRT, LINK, LRC, LTC, LUNA, MANA, MATIC, REN, SHIB, SOL, XLM, ZEC
What is eToro?
eToro is a popular broker and trading platform that features both traditional and cryptocurrency assets. The platform is one of the most user-friendly ones available for new users and experienced professionals alike. The company has been involved with the cryptocurrency industry for several years now, ever since the bull run of 2017. It has offices in London and Israel, and it currently has over 20 million users, showing that its popularity and user count continue to grow alongside one another.
Over the last few years, the company has listed over 120 cryptocurrencies, all of which are available for purchase on the platform itself, in exchange for fiat or other digital coins. In addition to that, eToro also offers social trading, where users get to copy trade — i.e. earn profits by copying more experienced traders and investors.
What is Webull?
Webull is a financial company that keeps its customers at heart. With the internet at its foundation, the company is very tech-oriented. Essentially, it believes in combining technology with finance and providing reliable, professional, intelligent and efficient products and services. However, it is well aware that the market would not exist without the individuals that make it up, which is why it believes that these individuals should be empowered with better opportunities, technology, lower costs of trading and more.
The company now offers users the chance to invest in thousands of companies and fractional shares with as little as $5. Apart from stocks, it also supports options, exchange-traded funds (ETFs) and American depository receipts (ADRs), as well as cryptocurrencies.
Comparing Customer Support
When choosing a broker, there are numerous things to keep in mind and compare that can be of crucial importance later on. One such thing is their customer support. Having competent customer service at your disposal that can answer your questions and offer aid is crucial.
eToro Support
When it comes to eToro, the company's customer service is very reliable and competent. eToro features a dedicated Help Center, to which most users are directed to if they simply have a question about how things work. All frequently asked questions (FAQs) are addressed there. In addition to that, eToro also offers guides for all of its services and products, such as help with copy trading, deposits, withdrawals, wallet support and even registration and verification.
If, however, the user has a more complex issue, they can always get in touch with the customer support team directly by submitting a support ticket. The tickets are well organised, allowing users to point out the area that they have found troublesome, and even describe the issue in their own words.
But, since this is not live chat, the answer may not arrive immediately. In fact, the support team has given itself a very generous 2-week deadline to respond. But, in their defence, they do tend to address more critical matters first.
Webull Support
Webull, on the other hand, offers 24/7 online help, and it has an extensive page dedicated to FAQs. If the FAQs can't resolve your issue, the company offers three different methods of contacting customer support directly. Users can opt for a live chat function available in the app and on the website, or they can call the service directly on by phone, or, alternatively, they can send an email.
Email is undoubtedly the slowest of the three methods of contacting support, but it does allow users to attach photos of their issue, and explain it in detail. Phone calls and live chat work much faster, provided that there is a customer service team member available to answer.
Available Crypto Trading Markets
Another aspect to pay attention to when it comes to choosing a broker is what crypto trading markets it has to offer. Of course, if you prefer investing in traditional assets in addition to crypto, then finding mixed brokers is the best thing to do.
Fiat to crypto Trading Pairs
eToro supports fiat to crypto trading, which means that you can use fiat money to buy cryptocurrencies on its platform. The company supports several traditional currencies, including USD, GBP, AUD, CAD, EUR and JPY.
Webull also lets you buy cryptocurrencies with fiat, although it only seems to support USD at this time.
Crypto to Crypto Trading Pairs
Unfortunately, crypto to crypto trading pairs are not supported on either of these two brokers right now, which is understandable. Cryptos are still far from mainstream so the feature to trade one cryptocurrency against another is not yet supported by many brokers as it requires work, liquidity and more in order for it to function properly.
While the feature will likely arrive in due time, it is currently not available on eToro or Webull.
What spreads do they offer?
Some brokers tend to make an earning by charging their users spreads. As you may know, spreads are the difference between the asset's price, and what the platform is willing to let you buy it or sell it for. This difference comes out of the traders' pockets, and goes directly to the platform as a portion of their revenue.
Variable Spreads
Variable spreads are the first type of spreads that brokers tend to charge. Essentially, these are fees that move in sync with the market. Brokers can offer the best buy/sell prices whenever the order is executed, which allows traders to get a better price and make more money for themselves.
Webull charges this type of spread, while eToro does not.
Fixed Spreads
The second type of spread is fixed spreads, which is the kind that eToro offers. These spreads are always the same, and usually, the brokers set a competitive rate to get the necessary edge against the competition. With so many brokers around, they need to be innovative and charge low amounts in order to be chosen and recommended by other users.
eToro vs Webull: Security
The next aspect you absolutely need to pay close attention to is the security of the broker. Every service that works with money needs to employ the best and most advanced security features in order to protect its investors and their funds from hackers and scammers.
So, let's see how these two brokers compare here.
Authentication
First, we have authentication. In other words, after registering on the brokers' platforms, you will be required to verify your identity and, in doing so, go through a KYC process. Both platforms require you to do this in order to trade, not only because they are obligated to do so by the law, but also for the protection of other users.
On both platforms, users are required to provide information such as their address details, some sort of a government ID with a clear photo, and personal data that can confirm their identities. Users may also be required to answer a simple question on trading platforms like eToro, just so that the company can assess their knowledge of the fundamentals. eToro will also likely ask about its users' financial backgrounds, their investment goals and expected earnings, occupation and source(s) of income, and the like.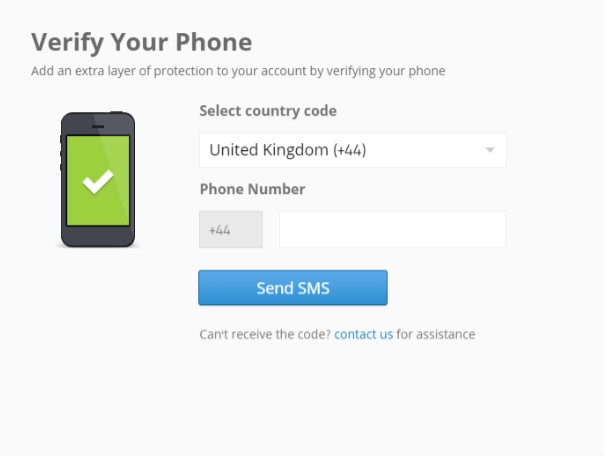 While it is bothersome to answer all of these questions, you only need to do it once and you will be done. On the other hand, providing this data will secure your account, as it will help the broker notice any irregularities.
Webull is also known for asking similar questions, regarding your approximate annual income, total net worth and such.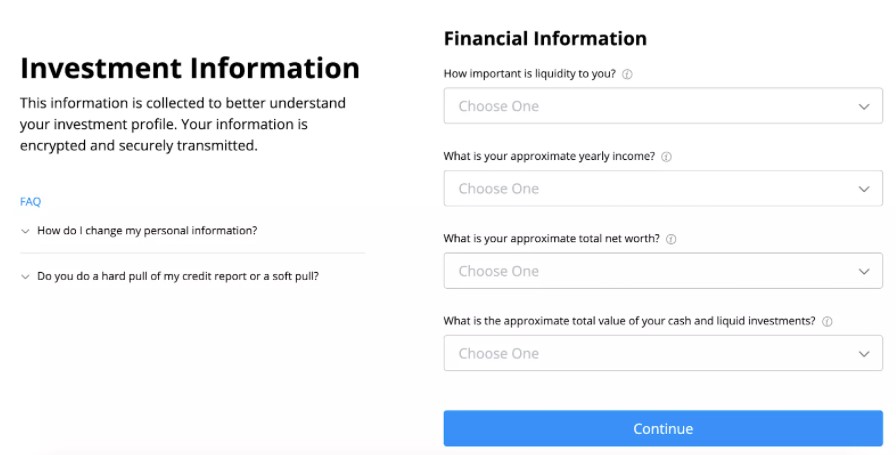 In the end, both platforms have authentication procedures which are pretty straightforward and there for your own protection.
Regulation
Fortunately, both platforms are fully regulated by the relevant financial regulators, which means that you should be perfectly safe using either of them. In fact, you should only ever use regulated platforms, as they likely have the highest security standards, and have been confirmed to be legitimate by the regulators. If a platform cannot prove its compliance and offer its licences, it might be a scam.
Licensing
Speaking of licences, let's see which regulators these two firms are licensed by.
eToro
Webull
Countries available
You should check that a broker operates in your country before signing up, but at time of writing, the brokers being compared offer services in the following countries.
eToro
Algeria, Andorra, Angola, Argentina, Australia, Austria, Azerbaijan, Bahrain, Bangladesh, Belgium, Bolivia, Brazil, Bulgaria, Chile, Colombia, Costa Rica, Croatia, Cyprus, Czechia (Czech Republic), Denmark, Dominican Republic, Ecuador, Egypt, Eritrea, Estonia, Finland, France, Georgia, Germany, Gibraltar, Greece, Holy See, Hungary, Iceland, Ireland, Israel, Italy, Jordan, Kazakhstan, Kenya, Kuwait, Latvia, Liechtenstein, Lithuania, Luxembourg, Malaysia, Malta, Mexico, Monaco, Netherlands, New Zealand, Norway, Oman, Peru, Philippines, Poland, Portugal, Qatar, Romania, Senegal, Seychelles, Singapore, Slovakia, Slovenia, South Korea, Spain, Sweden, Switzerland, Thailand, Ukraine, United Arab Emirates, United Kingdom, United States* (some states), Uruguay, Uzbekistan and Vietnam
Webull
Brazil, China, India, Japan, Korea, Malaysia, the Philippines, Turkey and United States
Fees
Brokers can charge you for a lot of things, including deposits, withdrawals, trading fees, inactivity fees, conversion fees and more. So, knowing what they might ask you to pay for in advance is a very valuable piece of information. After researching the matter, here is what we found.
Withdrawal and Deposit Fees
Starting with eToro, we have found that users can make purchases with their credit and debit cards and the platform will charge zero fees for crypto transactions. However, users can still expect to pay network fees to every cryptocurrency's respective blockchain, or rather, its miners.
As for Webull, the only available method of depositing money is via bank transfer, which can be extremely expensive for non-US residents. The company doesn't charge commission or inactivity fees, which is a great benefit, but there are daily short selling fees, with the price depending on, for example, the market value of the borrowed shares and the stock loan rate.
Can I use leverage on eToro? How is this different from Webull?
Leverage can provide traders with greater reward — but also greater risk. Both eToro and Webull offer trading with leverage, although Webull's offering is rather limited in this department. Users can access leverage of up to 1:4 day-trade and 1:2 overnight buying power with their margin account. However, to even access leveraged trading, you need at least $2,000.
On the other hand, we have eToro, which lets you access a variety of leveraged trading options, with professional accounts being able to access up to 1:400 buying power, which is miles above what Webull offers.
Can I use Margin Trading on Both Platforms?
Yes, you can engage in margin trading on both platforms, although on Webull, you have to request to upgrade your account to a margin account via the app.
Liquidity
Next, traders also need to check out the liquidity before committing to a broker, as liquidity is crucial for processing trades on platforms. Having ample liquidity available can often make a difference between profits and losses, or profits and greater profits, depending on the price behavior. This is especially true for cryptocurrencies, which are extremely volatile.
Both eToro and Webull have pretty good liquidity levels, as both are fairly popular platforms.
Which Broker is More User Friendly?
We will now be considering how user friendly these brokers are. Which has the better user experience will likely be a personal preference as beginners and seasoned traders tend to want different things from their broker platforms.
Platform Interface and User Experience: eToro
Here you can see a comparison in the screenshots below for the differences between the two platforms.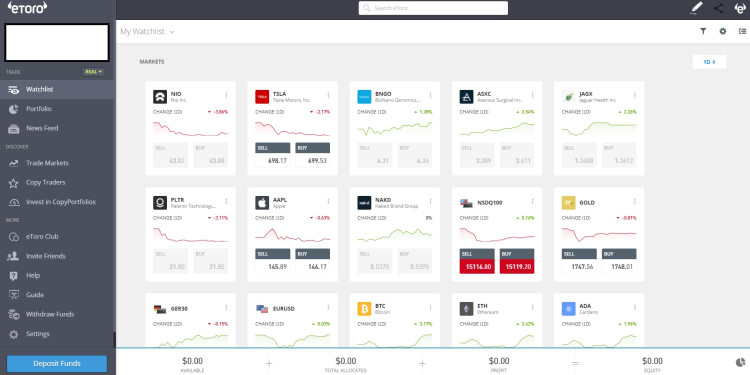 eToro also lets you easily select assets to track and add to your watchlist, so that you can quickly find them and see how they are performing at any given time.
eToro vs Webull: Comparison Summary
So far, we have seen that both eToro and Webull are pretty good choices as far as crypto trading brokers are concerned. Both support multiple cryptocurrencies, although eToro has more trading pairs against fiat currencies than Webull.
Both are pretty simple to use, with Webull being a bit less novice-friendly due to its tendency to offer some more advanced tools that would be useful to more advanced users. Other than that, eToro offers a bit more on its platform, such as many different kinds of accounts, auto trading, social trading, trade signals and more.
But, both are regulated, licensed and easy to use. Webull definitely leads when it comes to the ease of contacting its customer support, as well as the variety of methods that you can use, and the fact that its minimum deposit is $0 is a huge advantage.
In conclusion, those who are less confident in their own trading strategies may favour eToro for its copy trading feature, while more advanced users might prefer Webull for its analysis tools.
See Also Our Other Comparison Guides
etoro vs bux
etoro vs trading 212
etoro vs degiro
trading 212 vs plus500
etoro vs oanda
etoro vs xm
binance vs etoro
Frequently Asked Questions
Webull allows you to access Bitcoin, Dogecoin, Cardano, Ethereum, Litecoin, Bitcoin Cash, Ethereum Classic, DASH, Stellar and Zcash.

eToro is one of the biggest brokers for cryptocurrencies, and it supports over 120 of them, which is significantly more than Webull. But, Webull could keep adding new coins and increase its offering over time too.

Webull is a broker owned by Fumi Technology, which is a Chinese holding company.

Webull allows you withdraw your funds through wire transfers. eToro withdrawals are made in the same way as your deposit — either credit card, PayPal or bank transfer.