How to Buy Stellar Lumens (XLM) - A Beginner's Guide
Stellar (XLM)
...
Stellar is a an open-source, decentralised network with the capability of storing and transferring any type of digital or conventional asset including fiat and cryptocurrencies. 
Established in 2014, the Stellar network supports compatibility with digital representations of all types of currencies. It also has its native token referred to as Lumen and is denoted by the initials XLM.
The network has been designed to deliver quick, secure, and affordable payment transfers across international borders. This page will guide you through the process of how you can buy Stellar Lumens and also provide other vital information to help you make your decision. 
5 Steps to Buy Stellar with eToro Now
Buying any cryptocurrency with eToro is easy, simply follow the steps below:
Sign up for free with eToro, entering your details in the required fields.

Fill out the questionnaire, this is both educational for you and eToro.

Click 'Deposit', you'll then be asked how you want to fund your account.

Choose your required payment method, follow the simple steps to link your payment.

Enter the amount you want to deposit and you're good to go!
Our Recommended Platform to Buy Stellar
If you are a beginner in the cryptocurrency space who needs to learn about how to purchase Stellar, you should continue going through the guide as we present all the essentials of buying Stellar Lumens (XLM) in a thorough manner. If you are already aware of the crypto trading fundamentals, then we have compiled a list of the top trading platforms and crypto exchanges taking multiple aspects of service into account.
Most Popular
Min. Deposit
$10
Promotion
Accepts customers from the USA
Deposit $100 and get a $10 bonus!* Build a diversified portfolio with crypto, stocks, and ETFs — all in one place.
Trade on the world's leading social trading and investing platform
Description:
eToro offers a wide range of cryptos, such as Bitcoin, XRP and others, alongside crypto/fiat and crypto/crypto pairs. eToro users can connect with, learn from, and copy or get copied by other users.
Payment Methods
Bank Transfer, Wire Transfer
Full regulations list:
CySEC, FCA
Where to Buy Stellar Lumens in 2022?
People who have never invested in cryptocurrencies believe that the only way to buy Stellar Lumens or XLM coins is by paying for the tokens and owning them. While it's a legitimate way to invest in cryptocurrencies, there are other methods to invest in XLM that are used for different strategies and investment goals. You don't necessarily need to own XLM in order to make profits from the coin. 
If your investment strategy is to earn short to midterm earnings, you should look into trading various financial instruments such as Futures, Options and Contracts for Differences (CFDs). They are easy to buy, and you won't need to manage the whole process of buying and holding Stellar tokens. Rather, you will essentially speculate on the cost of XLM tokens, and once you believe the cryptocurrency has hit its top value, you can sell your financial instruments such as CFDs by closing your position. 
However, if you want a long-term investment strategy as the main priority and you need to store your Stellar Lumens coins for a longer period, then buying the tokens is more advantageous. Rather than relying on a broker, you should pick a cryptocurrency exchange where you can purchase the Stellar tokens and store them safely in your wallet. This way you can hold them for quite a long time and sell them when you believe that you can earn the maximum profit.
Remember that digital currency speculation can be as risky as other customary ventures, particularly since the prices of these tokens are volatile. That is the reason it is quite critical to guarantee that you are broadening your investment portfolio by putting your capital into various digital forms of money and assets. It will assist you in dealing with your risk and streamline your gains. 
Most Popular
Min. Deposit
$10
Promotion
Accepts customers from the USA
Deposit $100 and get a $10 bonus!* Build a diversified portfolio with crypto, stocks, and ETFs — all in one place.
Trade on the world's leading social trading and investing platform
Description:
eToro offers a wide range of cryptos, such as Bitcoin, XRP and others, alongside crypto/fiat and crypto/crypto pairs. eToro users can connect with, learn from, and copy or get copied by other users.
Payment Methods
Bank Transfer, Wire Transfer
Full regulations list:
CySEC, FCA
Min. Deposit
$0
Promotion
Description:
World's longest-standing crypto exchange. Since 2011 Bitstamp has been providing a secure and reliable trading venue to over four million individuals and a range of institutional partners.
Min. Deposit
$1
Promotion
The world's largest cryptocurrency exchange with over 2bn daily users
Innovative trading platform offering enormous range of crypto coins
Supports over 60 methods of payment including PayPal
Description:
Binance has grown exponentially since it was founded in 2017 and is now one of, if not the biggest cryptocurrency exchanges on the market.
Payment Methods
1Pay, 2C2P, 3d Secure Credit Card, ACH, ANELIK, Abaqoos, AdvCash, AlertPay, Alfa-Click
Algocharge, AliPay, American Express, Apple Pay, AstroPay, BPAY, Bank Link, Bank Transfer, Bank Wire, Baofoo, BitGold, BitPay, Bitcoin, Boleto, Bonds, Borneo Exchanger, Bradesco, CEX.io Mobile App, CFDs, CSS System, CUPS, CartaSi, Carte Bleu, Carte Bleue, Cash, CashU, Cashier Order, Check, Check (UK only), China UinonPay, China Union Pay, China UnionPay, ClickandBuy, Commodities, Contact, Contact Z, Credit Card, Cryptocurrencies, Currencies, DCPay, DIXIPAY, Dankort, Debit Card, Dengi Online, DineroMail, DirectPay, Dotpay, E-dinar, ELV, ENets, EPS, ETFs, EXCARD, Easy2Pay, EcoPayz, Ecommpay, Ecurrencyzone, EgoPay, Emerchant Pay, Eprotections, EstroPay, Ethereum, Euro Bank Account, Euteller, Express Dotpay, Express Polish Post Office 24/7, Express Zabka Market, Ezeebill, Ezybonds, FasaPay, Fastapay, Fastbank, Faster Payments, FilsPay, Forex, GTBank, Gate2Shop, Giropay, GlobalCollect, GlobalPAY, GlobePay, Gluepay, Google Pay, Halcash, I-Account, IPS, Ideal, Indices, Individual US State License(s), Indonesia Exchanger, InstaBill, Instadebit, IntellectMoney, Interswitch, Investmate, Investmate, Itukar, KNET, Klarna, LaoForexBoard, LavaPay, Lion Payment, LiqPay, Litecoin, Lobanet, MOTO, MT4, MT5, Mailing Cash, Market Maker, Masari, Mastercard, MegaTransfer, Mister Cash, Mobile Trading App, Mobile Trading Platform, Moneta, Money Bookers, Money Order, MoneyBookers, MoneyGram, MoneyPolo, Multibanco, NETBANX, Nab, Namecoin, Neosurf, NetPay, OKPAY, OMT, OmahPoin, OnPay.ru, Online Naira, OrangePay, PAYSEC, POLi, POLi & BPay, PYEER, PagoEfectivo, Paxum, Pay Nova, PayCo, PayPal, PayRetailers, PayWeb, Payeer, Payoneer, Payonline, Payvision, Payza, Perfect Money, PocketMoni, Postbank, Powercash 21, Prepaid MasterCard, Prepaid MasterCard (I-Account), Prepaid MasterCard (Intercash), Prepaid MasterCard (Payoneer), Privat 24, Przelewy24, QIWI, RBK Money, Rapid Transfer, RegularPay, SEPA, Safecharge, SafetyPay, SahibExchange, Shilling, SmartPay, Sofort, SolidTrust Pay, SorexPay, Sporopay, Stock Certificate, Stocks, Swish, Teleingreso, Thailand Exchanger, Ticketsurf, Todito Cash, Trade Interceptor, Transact Europe Payment, Trazus, TrustPay, Trustly, UAE Exchange, UPayCard, USD, Ukash, Unet, UnionPay, Unistream, Uphold, Verve, Vietnam Exchanger, Visa, VixiPay, VoguePay, Vouchers, Wallet One, WeChat, Web Based Trading Platform, WebMoney, WebPay, Webtrader, Western Union, Wire Transfer, Wirecard, Yandex, Yandex Money, Yemadai, YuuPay, Z-Payment, Zenith, cTrader, dinpay, eCard, eCheck, eKonto, ePay bg, ePayments Transfer, eToro Mobile Trading Platform, eToro Trading Platform, eTranzact, iPay, mPay, neteller, paysafecard, postepay, skrill, unichange.me
How to Buy Stellar Lumens With a Broker
When you are hoping to trade XLM, you should be particular about the broker you pick. You need to buy and sell through a service that has extraordinary goodwill and maintains regulatory compliance. Aside from that, you should also consider other venture experience related factors, for example, the security of your data and assets alongside ease of use, dependability, transactional costs, and operational expenses. Ensure to check the online feedback and reviews composed by genuine clients to guarantee that you are placing your trust in the right broker service.
A subpar brokerage experience can genuinely hamper your trading as you will be more concerned about managing operational and administrative issues rather than focussing all of your energies on trading. Here is a five-step process to start trading on any of our recommended cryptocurrency brokerage websites.
1. Register With the Broker
With regards to enrolling your account with a crypto broker, you should simply give basic personal data. For instance, eToro, which is the leading copy trading platform, just requires your username, email ID, and a solid password that needs to include at least one capitalised letter, a digit, and a special character such as a dollar sign. The password should be 6 to 20 characters in length. There are a few exchanges that enable you to sign up on their platform and trade through your social media accounts such as Facebook and Google.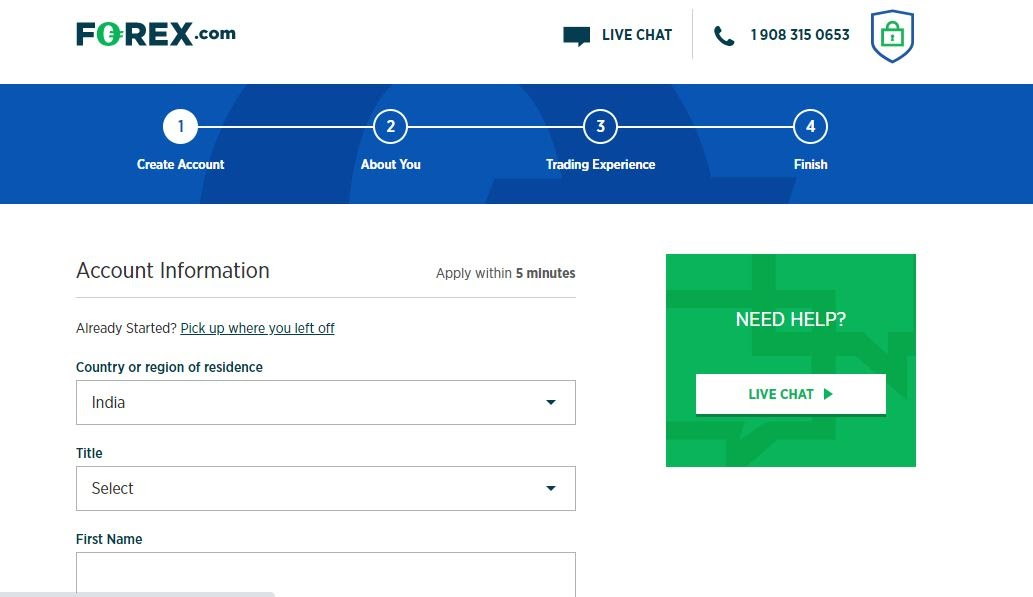 2. Verify Your Identity (KYC Process)
Brokers that abide by the regulations need to conform to Know Your Customer (KYC) and Anti-Money Laundering (AML) guidelines to guarantee the security of clients. That is the reason your trading platform will request that you give documentation that identifies you personally. They may ask for a copy of your driving permit or some other type of ID. Your broker is legally bound to uphold these rules as these guidelines ensure the security of your personal and financial data.
Obviously, this way, it may take somewhat longer than you expect, but it's for your advantage. When your personal and payment information is verified by the intermediary, you will be ready to trade.
3. Deposit Funds With Your Preferred Payment Method
After you have joined and completed the identity verification process, it is the ideal opportunity for you to deposit your working capital. Various brokers have a multitude of payment methods and different minimum deposit requirements. Trading platforms generally offer a wide assortment of payment options, including wire transfer, bank cards, and other online payment methods. You need to think about user-friendliness, availability, cost, and transaction speed before you select your payment method.
For instance, numerous investors might want to go with PayPal, but because of some administrative complexities, the payment mode isn't accessible on numerous broker websites. In the same manner, a few traders may wish to utilise their credit or debit card to transfer their working capital which can be relatively costly, but at the same time, it is fast and quite convenient. It relies upon you what you like and how you'd prefer to trade.
4. Open a Position to Long/Short Stellar
Prior to opening a short or long position on Stellar , you need to fully develop an understanding of what the two positions mean. A long position is opened by bulls or financial investors who feel that the price of XLM will keep on rising, so they purchase and hold onto the coins to receive the gains in the long term. Interestingly, short positions are opened by bears or traders who have a more pessimistic belief that the price of Stellar tokens will fall and they will have the option to bring in earnings by benefiting from that decrease in price.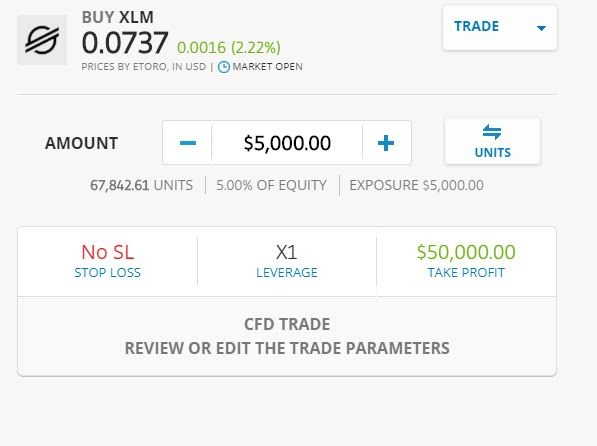 After you have learned the contrast between the short and long positions, you will be in a greatly improved position to know whether you should short or long XLM tokens. Remember that the top brokers that are recommended by us, for example, eToro has risk mitigation features which include setting up stop loss and take profit features.
5. Close Your Position
In order to limit your risk, you have to consistently identify and specify your stop loss and take profit limits as they permit you to consequently close your positions when a specific price floor or price ceiling is reached. This allows you to deal with your risk while giving you authority over your trading matters.
Do not forget that these limitations are set up to maximise your profit while minimising the risk of loss. You are in control of the trade, and if you need to close the position sooner, you are permitted to do so. For example, if you think that your open trade on XLM has made enough earnings for now, and keeping it open will make it more vulnerable to risk, you can exit the position and cash your profits.
It is suggested that you experience our assistive and help material, particularly related to opening and closing trading positions before you begin trading or purchasing XLM or some other tokens.
How to Buy Stellar Lumens With an Exchange
If your strategy is to hold your XLM tokens for long, it is suggested that you utilise a cryptocurrency exchange rather than relying on a broker for trading through instruments. As referenced before, this method is for those investors who are playing the long game or need to exhibit their contribution to the blockchain by investing in their native token and supporting development and growth. Whatever the reason may be for such a long-term strategy, you have to pick the crypto exchange cautiously to guarantee that you are getting the best experience.
Much the same as you'd consider various factors while picking a broker, you should also consider different features before you select a crypto exchange. These may include service quality consistency, reputation, cost of buying and selling XLM, transactional costs, dependability, security, and client assistance. Remember that some crypto exchanges aren't regulatory compliant and may sound promising, but they also pose more risk to your investment.
1. Set up a Stellar Wallet
You can't go on a cryptocurrency exchange and purchase Stellar simply like that, particularly if you are hoping to hold on to it for some time. You will require a cryptocurrency wallet that will guarantee the security of your XLM coins. It might appear to be a bit complex, but it is quite a simple process. Depending upon your investment goals and strategy, you can select different crypto wallets, including:
Exchange/Web Wallets – These are the most convenient and easy to access wallets as they are built into your Stellar exchange or trading platform's account, or you can log into them through a browser. However, the security aspect isn't that strong as your coins are stored on a server that is exposed to cyberattacks at all times.

Desktop/Mobile Wallets – These are software wallets that you can get for your mobile as well as PC devices. Software wallets often offer support across the board for all operating systems, including Windows, macOS, iOS, Android, and Linux.

Hardware Wallets – These wallets are also called 'cold wallets' since they are completely disconnected from any network. They feature built-in security-oriented hardware that keeps your XLM tokens safe.
Apart from relying on these wallets, you also need to be mindful of your responsibilities as an investor to keep your funds safe. Use different and strong passwords, enable two-factor authentication, use passphrases, and don't write down anything on your computer that can be accessed through the internet.
2. Choose and Join an Exchange That Sells Stellar
With regards to crypto exchanges, there are numerous mainstream services that we recommend, including Coinmama, Coinbase, Binance, and CEX.io. Not only can you purchase Stellar Lumens on such exchanges but also a wide range of other altcoins as well. Ensure that you assess the advantages and disadvantages of each crypto exchange before you make your final choice. When making such a decision, you should also consider a wide scope of elements, for example, transaction charges, deposit and withdrawal charges, client assistance, ease of use, service quality, and regulatory adherence to ensure that you are making the right decision.
3. Choose Your Payment Methods to Buy Stellar Lumens
Crypto exchanges offer a wide range of payment modes, and you have to assess every one of them to ensure that you are picking the most affordable and convenient one. It also depends on what features you prefer the most. For example, if you want affordability, you can choose wire transfer, but it's rather slow. However, if you want quicker deposits, you can use your debit or credit card, but it is also expensive. There are pros and cons of each payment mode, and you need to weigh them all.
Some crypto exchanges also allow you to connect your bank account with an exchange account. This way, you always have access to your conventional money to buy Stellar Lumens.
4. Place an Order to Buy Stellar Lumens
If you are looking to purchase XLM, you may need to buy a more popular token like Bitcoin or Ethereum first on the exchange. Few reputed cryptocurrency exchanges will allow you to buy Stellar directly without having to deal with any other cryptocurrency.
To submit an order, simply use your fiat money while ensuring that the exchange rates are reasonable and then choose the amount of XLM coins you need to purchase. An automatic calculator will tell you the amount of XLM you can buy with the sum that you've set up. When you're fulfilled, you can submit your buy demand and the coins will appear in your account in no time. If your 2FA is enabled, you will have to provide the one time password to process the transaction.
5. Safely Storing Your Stellar in a Wallet
If you are into short or midterm trading and will be holding XLM for a few days, it is alright to use your exchange wallet as it will spare you withdrawal expenses. If you need to hold your Stellar tokens for long, you have to move them to your software or hardware wallet to ensure better security. You should enter the public key in the beneficiary or recipient field and put in the sum that you want to move to your wallet.
If your two-factor authentication is on, you should enter the one time code before your transfer is processed.
Should You Buy or Trade Stellar Lumens?
This is a decision that no one but you can make. Basically, remember that purchasing XLM tokens implies that you will really own the token. You can sell, trade, store, and exchange it whenever you want. For this purpose, a crypto exchange is a better option. On the other hand, trading is generally about speculating on XLM price through financial instruments which are held for a short period of time. This is where brokers or trading platforms make for a superior fit.
What's the Difference Between a Stellar Exchange and a Broker?
A cryptocurrency exchange is a platform where you can buy less popular altcoins like Stellar for more popular ones like Ethereum and Bitcoin. You can buy XLM tokens and hold them until you wish to cash out.
On the other hand, brokerages are trading platforms that allow you to speculate on the price of XLM through a multitude of financial instruments, most popular being CFDs. You purchase CFDs for XLM if you expect the price to go up and then close your position once you believe that the price has hit the ceiling. Many brokers also allow leveraged trading, which means that you can invest more than your capital. For example, if you have $10, a leveraged position of x5 will mean that you can theoretically invest $50. However, keep in mind that while the upside is more here, your risk is much greater too. Experienced traders should practise this.
Long Vs Short Term Investment
Two types of investors carry out long term investment in Stellar – one group of traders are those who believe that there is a lot of potential in the concept and that will continue to drive the price growth while the second group of traders are those individuals who stand behind the principles of the blockchain and want to show their financial support. For long term investment, cryptocurrency exchanges are a better platform.
Temporary investment or shorting is made by the investors who essentially need to utilise the unpredictability of the market to earn fast gains. They are not keen on the long haul potential of the XLM coin. For such clients, regulatory compliant brokers are an ideal platform.
Pros and Cons of Buying Stellar Lumens
Pros
An altruistic goal: It is typical with cryptocurrencies to have goals that have little if anything to do with the average person. The guiding aim in Stellar's many features is to provide affordable and reliable money transfer to the common person.
Not-for-Profit: On top of its noble goal is its not-for-profit status. Most crypto investors focus on the money, which has led to the over-valuing of many digital assets. Stellar founders also do not share in the proceeds of the network. Therefore, there is a limited risk of the coin failing due to failure to meet investors' bottom line.
Effective partnerships: Stellar has forged working relationships with other corporations to launch its service in different regions. The most notable one is its recent partnership with IBM. It has also partnered with Flutterwave, Coins.ph, ICICI Bank, and Tempo Money to further its services in Africa, Southeast Asia, India, and Europe, respectively.
Inflationary currency: Stellar has promised to keep generating more XLM to ensure a 1% inflation each year. The goal is to avoid hoarding the coins as is common with other cryptocurrencies.
Cons
Market share: Stellar Lumens' primary limitation is that it does not enjoy the same market share as Bitcoin, Ethereum, Litecoin, and other major coins. Consequently, one can only purchase it using fiat currency on specific exchanges such as CEX.io, Kraken, and Coinbase among others.
Inflation rates: XLM is not worth investing in if you are looking for coins to hoard with the hope the prices get better. Stellar has already programmed the value of the coins to depreciate annually. Consequently, you can only hold them for a short duration and use them as soon as you get an opportunity.
What Are the Fees Involved in Buying Stellar Lumens?
Exchanges charge fees based on the percentage of the total transaction, and it is always dependent on the method of payment. Below are details on the different types of fees you'll encounter.
Transaction fees: These are the charges you pay for exchanging coins or fiat currency for your chosen coin. An example is exchanging Ethereum for XLM or XLM to USD. It varies from exchange to exchange.
Deposit fees: These are mainly the charges you pay an exchange for depositing fiat currency or cryptocurrencies on its account. It also includes the charges by the payment method you are using such as a debit card, credit card and bank transfers, among others.
Withdrawal fees: Nearly all exchanges and trading platforms charge fees on all withdrawals to another platform, coin wallet or bank account. These change depending on both withdrawal type and exchange/broker platform.
It is crucial to analyse the entire fee structure of an exchange or brokerage before settling for it. Some platforms use hidden fees to make up for the low initial fees at one that you first see. Trading platforms have better payment methods and fees than exchanges, meaning it's usually far easier to start investing in cryptocurrency on a broker platform.
3 Tips to Buy Stellar Lumens
Now that you have grasped the fundamentals of buying Stellar Lumens both through the exchanges and the brokerage websites, it is now time to learn a few tips about investing in XLM and other cryptocurrencies.
Choose the Right Time and Do Your Own Research
Try not to depend on a single information source. Go through various articles from a wide variety of industry analysts and take a position on the price developments. This way, you will be in a superior situation to create fruitful trading plans.
Comparing Costs to Buy Stellar Lumens
Beginner financial investors aren't cautious enough to review the cost and expense structures that wind up tearing up their earnings. Continuously analyse the expenses across various exchanges, including commissions, spreads, exchange charges, store/withdrawal charges, and other fees.
Safety and Security When
As a financial investor, you have a responsibility for guaranteeing the security of your XLM tokens. Ensure that you have the best wallet, and you are limiting your risk through a diversified portfolio. Try not to debilitate features like 2FA and passphrase insurance.
What Is the Best Payment Method for Buying Stellar Lumens
Buy Stellar with Cash - You are required to purchase Bitcoin first with Cash through ATM, and afterwards, you can exchange it for Stellar.

Buy Stellar with Credit Card/Debit Card - One of the easiest to understand and quick techniques to purchase Stellar although a bit higher on the fee side.

Buy Stellar with Bank Transfer - Easy and affordable. However, it can be slower than other payment methods.

Buy Stellar with Bitcoin - Just trade Bitcoin for Stellar Lumens.

Buy Stellar with PayPal - Swift and reasonable yet restricted and contingent on the region.
Other Ways to Buy Stellar
You can purchase Stellar utilising the previously mentioned methods, but there are other lesser-known sources that you can use to buy XLM tokens. Despite the fact that these may not be as advantageous as the traditional exchanges, these are still dependable.
Peer-to-Peer (P2P) Exchanges – These are the third-party websites that connect individual buyers and sellers of Stellar who can agree upon their own set of terms and conditions. It gives buyers more versatility, and they can buy directly from a person. This also allows them to choose their terms and payment mode with ease.

Stellar tokens cannot be mined as of now.
Since we have pretty much covered all the crucial aspects of buying Stellar, you are more prepared than ever to begin your first purchase of XLM tokens.
Frequently Asked Questions
It is possible to purchase Stellar without paying a commission through many exchanges that we have recommended.

Buying is when you purchase and own the XLM coin for long-term investment. You are free to sell, trade, hold, and exchange it in whatever way you want. Trading is when you engage in price speculation through financial instruments to make a quick profit. You don't need to own and store the XLM tokens.

It is one of those decisions that you need to make on your own after doing your own research and going through all the assistive material, news, latest trends, and observing price movements.

Since the price of the Stellar token is $0.73 at the moment, you don't really need to think about the minimum buying limit. You can have more than 100 XLM tokens for $10.

Except for a few countries that have banned cryptocurrencies and their trading, Stellar can be purchased and traded legally everywhere else.
Alternative Cryptocurrencies