Unable to load latest pricing data, please try again later.
Start trading with Trezor.io
Go offline and hold your coins
Trezor Wallet Review | Pros And Cons 2022
TREZOR is one of the most popular crypto hardware wallets on the market. But what exactly is it?
Trezor is simply a pocket USB vault where you can safely store a a wide range of your favourite cryptocurrencies.
In this article, we test, analyse and review the different hardware wallets offered by TREZOR, providing in-depth information so readers can make an informed decision.
Trezor Review Overview
With its flagship launched in 2014, TREZOR is not only one of the few brands that have kept itself relevant over time, but arguably the top option in the crypto hardware wallets niche. Trezor offers two different USB devices: Trezor One & Trezor Model T. These "cold wallets" are essentially peripheral devices with high-standard security features for storing multiple cryptocurrencies.
In a nutshell, these cold wallets store private keys offline, keeping hackers away from your crypto funds as your keys are not only encrypted but never leave the device or connect to the Internet.
What is TREZOR?
TREZOR is the first hardware wallet created for storing cryptocurrencies securely and robustly. It was designed in 2013 by SatoshiLabs, which started its commercialisation in early 2014. In addition to "a bulletproof cryptocurrency wallet, TREZOR is also a secure device for storing passwords, accounts, and emails."
The "Trezor Wallet" was the first hardware wallet introduced by "TREZOR" in 2014. The brand introduced two different models afterwards, as stated above. Essentially, they are key-sized USB devices similar to a security-token peripheral or a pen drive with a small built-in display for better user experience and at hand information. You can easily connect your wallet to your computer via USD cable and manage your crypto holdings from the TREZOR desktop application.
It is important to note, though, that even though the device connects to your computer, your private keys never leave the device and don't connect to the Internet. Your private keys, accountable for signing up transactions, remain siloed from any device or system, including the TREZOR app itself. By storing this key information in a "secure element" or hardware chip, this little vault will keep your cryptocurrencies safe, even from other devices that might be compromised. Or at least that's what the theory says.
"[A] hardware wallet is a special type of security device allowing users to store their cryptocurrency holdings. Trezor is the world's first and most secure cryptocurrency hardware wallet. It enables you to make secure payments and manage cryptocurrencies without exposing any sensitive information to a potentially compromised computer."
Why do People like TREZOR Wallet?
History has proved exchanges to be somewhat vulnerable to hackers and unexpected events. While crypto exchanges do their best to keep themselves up to par with the latest cyber-security standards, vulnerabilities are not completely off the table and your crypto funds can't be 100% secure when "hot storage" is involved.
That's the main reason for the popularity of TREZOR and other competitors in the crypto cold storage niche. People not only want to trade cryptocurrencies but many users look for raising the bar in terms of security and that's exactly when Trezor comes into place. Its unblemished reputation has allegedly onboarded more than 800,000 users. If you are a crypto enthusiast and you spend money on a wallet to keep your cash and cards, a hardware wallet might be the next obvious stage.
What Wallets from Trezor are Available?
As advanced in our Trezor review overview, Trezor has two different models for sale: TREZOR One & TREZOR Model T. Each one has its own vantage points and Trezor One may be suitable for users that want to take the first leap into the cold storage universe, which allows you to store your private keys offline. On the other hand, the Trezor Model T is aimed to satisfy the needs of advanced users that look for outstanding security features, being significantly more pricey than the "One" model.
Trezor One
TREZOR One is the flagship device of the SatoshiLabs child company. It comes in two colours and presents quite a useful screen for transactions, even better than that of its competitor, the Ledger Nano S. It prevents possible viruses on your computer from stealing your personal information and funds. TREZOR One works through its USB 2.0 port and is compatible with Windows, Linux and OS X (10.8 or higher). As we have already mentioned, it uses security techniques that completely isolate your private keys, and the green light for transactions is given through a physical security PIN.
Trezor Model T
If you want to expand the cryptocurrency options available and get a fiction-like security system, then the innovative Trezor Model T might be your best choice. This alternative model also includes new layers of security and other more advanced features.
Announced in November 2017, TREZOR Model T has arrived priced slightly higher than the brand's flagship product, but with additional features that can pay off for some more-advanced users. As in the first model, your private keys remain absolutely isolated, but a more friendly user interface featuring a touch-screen and additional features (such as the storage of additional cryptocurrencies like Ripple) are included.
Trezor Model T is also the first hardware wallet to use Shamir Backup, also known as SLIP39.
Trezor Pros and Cons
Pros
A hardware wallet is undoubtedly the best way to store your cryptocurrencies securely and Trezor has proven to be one of the top choices in the industry.
With more than 1,000 crypto coins available, you won't run out of options when it comes to storing not only Bitcoin but almost every single popular cryptocurrency out there.
Its seamless integration with MEW (MyEtherWallet), makes it easier and safer to store ERC20.
Easy GUI built-in the device and friendly application to perform your crypto transactions.
As if it wasn't enough, Trezor devices come with non-crypto features such as a "password manager," which will come handy for any type of user.
Cons
Unlike online wallets, you have to invest a significant amount to get a TREZOR One/Model T. However, it is money well-spent for anyone considering crypto investments.
Users might need to learn new concepts such as "security seeds."
Trezor wallets aren't fully hierarchically deterministic.
Buying a Trezor Wallet
In this section, you will learn how to buy a Trezor wallet in your region. Once received, you will also need to follow the instructions to set up, a process that takes up to 10 minutes.
How to Order your Trezor Wallet
Are you convinced to buy a Trezor wallet? The first step consists of choosing one of the two models available and find a local provider. For better security, we recommend that you purchase it online through the official TREZOR website, which ships to virtually every country in the world.
Depending on your region, there might be shipping costs involved, but free shipping is available in several countries. You can have a quick a look before checking out and proceed with the payment. Please use the buttons below to visit the official website and order your Trezor wallet.
TREZOR At A Glance
So, how does a TREZOR wallet looks? It is a fairly small device with a USB cable and a built-in display where users will be able to see key information. Here's a sneak peek of what you will receive a few days after your online order: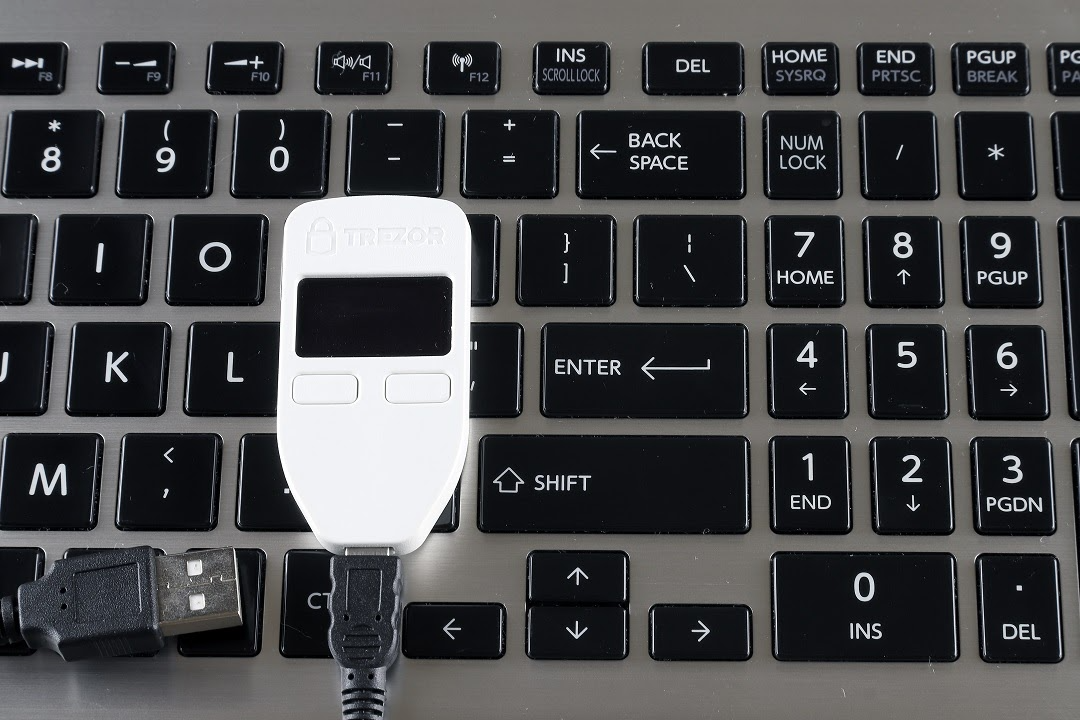 Apart from the small display, users will have two buttons at hand, which serve as a trusted point to perform certain transactions such as sending cryptocurrencies to an external wallet. To avoid any unlikely security breach, users will need to confirm transactions physically. Lukasz Stefanski / Shutterstock.com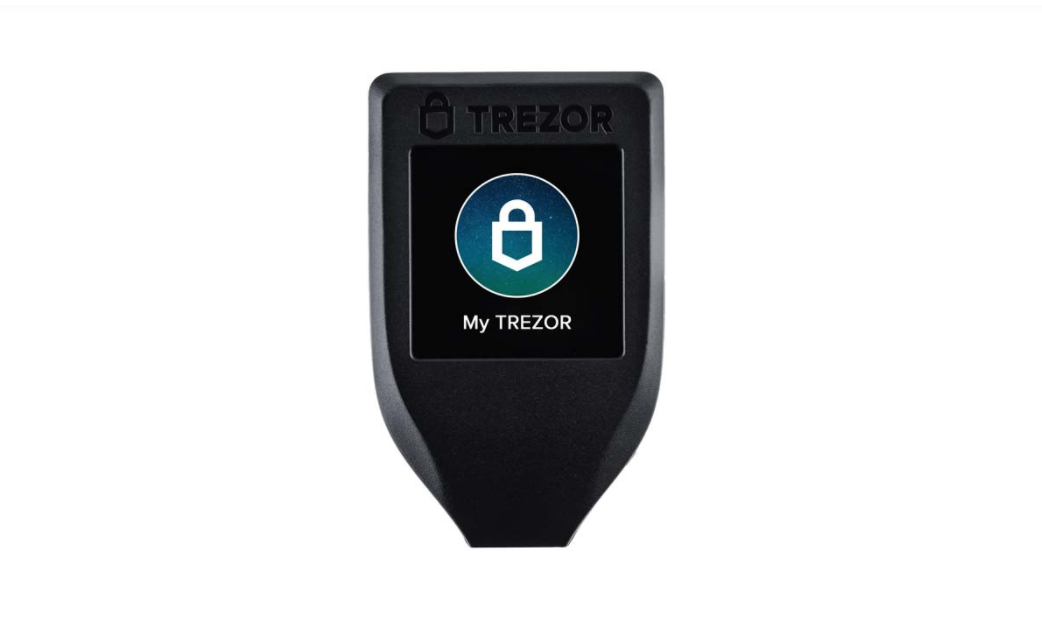 In contrast, TREZOR Model T wallet is a bit smaller, features a touchscreen display, additional security features such as the Shamir back-up and a bigger list of available cryptocurrencies, including important choices like Ripple's XRP or Monero. Source: TREZOR website.
How to Set Up your TREZOR Wallet
Have you already got your package and want to know what to do next? As this is a hardware wallet, you don't really need to sign up into an online system or follow a KYC/ID verification process. However, you will need to follow a set of instructions and best practices to set up your device for the first time:
Before unboxing your device, TREZOR recommends users to make sure the hologram seal is authentic by comparing it to a video on their official website. Please make sure that the box is properly sealed before continuing; otherwise, please contact their customer support immediately.

Connect your Trezor device to your computer using the provided USB cable.

Download and install Trezor Bridge, the app that will allow your computer to communicate with your device. Please note that you'll be able to interface it with Google Chrome via the online Trezor Wallet. If you're going to use the latter, it is advisable to verify SSL connection and certificates and—if they're legitimate—bookmarking the website.

Install the latest firmware: Your device will come without a pre-installed firmware, making sure that it is installed when you set up your device for the first time.

Create a new wallet: by clicking on "Create Wallet", the device will generate a unique main seed holding all your cryptocurrencies accounts and keys.

The back-up seed: you will have access to a unique combination of words known as "seed." Store this information securely as this is the only way to get access back to your funds in case you lose your physical device. You will also be asked to name your device.

Choose a secure PIN: it will be used to shield your Trezor wallet and authorise transactions. A 4 to 6 digits PIN is recommended.
How to Send and Receive Crypto Funds
Sending and receiving crypto funds into your different accounts is a pretty straightforward process, and the UI will guide you through the process. However, here are some tips and overall steps you should follow:
Use the drop-down list in the top left corner to switch between cryptocurrencies. Now, you will be able to send or receive funds in the selected crypto.

Browse the multiple tabs to perform different operations, including "Receive", "Send" and "Transactions". Always remember to NOT mix up public addresses from different cryptocurrencies.
Our Review of TREZOR Wallet
Now that we've explained the process to set up your TREZOR wallets, let's review different aspects of these devices. After this Trezor review, you will probably have more than enough information to make an informed decision.
TREZOR Main Features
More than 1,000 cryptocurrencies available to store, send and receive.

Built-in display (monochrome with 2 buttons in Trezor One, full-colour touchscreen in Model T.)

Advanced Security: This device is CE and RoHS certified, meeting all minimum standards for quality and reliability.

Protect your digital identity through a password manager, the SSH protocol, the GNU Privacy Guard (GPG) encryption tool, two-factor authentication (U2F), FIDO2 authentication* and Shamit backup*.

Support for third-party applications like CoinPayments, BitPay and MyEtherWallet.

Quick setup: you can quickly register your device in a private and risk-free environment.

Restore: In the event of loss, you can restore all your account information using the 12/24 word mnemonic sequence (passphrase seed) that you will create on your first use, through the BIP32 / 39/44 standards.

USB 2.0 or USB C*.

Hierarchical deterministic wallets: TREZOR uses hierarchical deterministic wallets (HD wallets), which allow the device to manage multiple bitcoin accounts with multiple addresses through the main seed.

Bitcoin-only firmware.
*Only available on Trezor Model T.
What cryptocurrencies can be stored in your TREZOR wallet?
As shown above, TREZOR wallets support more than 1,000 cryptocurrencies and tokens. Listing them all is out of the scope of this review, so we'll keep it simple by shortlisting the top coins you can store in your Trezor wallet:
TREZOR Wallet Prices
As hardware wallets gain popularity, they become more affordable, which is the case of the TREZOR devices. As of September 2020, Trezor One price starts at $55 (USD) or €48.76 (EUR), as per the official website. In contrast, Trezor Model T can be purchased for 169.99 USD (149 EUR.)
Please bear in mind that these are the standard prices, but you can get discounts with 3-pack bundles or pay even more if you go for exclusive releases like the "Trezor One Metallic." In our opinion, Trezor wallet costs are affordable and quite reasonable for what you get. Nonetheless, the Model T is suitable for more advanced users with much bigger crypto holdings leading to more complex needs.
Is TREZOR Wallet Suitable for Beginners?
Both TREZOR Wallets feature an incredibly simple user interface that will guide any beginner into the cold storage world in the blink of an eye. These devices are perfectly suitable for beginners but bear in mind that you will need to get familiar with different concepts such as the "main seed" and follow best practices to get the most of your hardware wallet.
Even though its target audience is somewhat experienced users with significant crypto holdings, beginners can also take advantage of the security features offered by TREZOR.
TREZOR Security
TREZOR keeps up-to-date with the latest security standard in digital holdings and features an open community, where any user can contribute with any spotted threats or security breaches and be rewarded for it.
Amongst the security features offered by TREZOR, the devices run on a "closed source microprocessor chip," making them no different from a closed secure element chip. The first time you connect your Trezor device to a computer, you will get a clean install of the firmware, which is protected by a digital signature by SatoshiLabs.
TREZOR also supports advanced security features such as as the Shamir Backup (Model T), BIP39 passphrases, protected bootloader and disabled JTAG, isolated private keys, PIN verification for any transaction, hierarchical deterministic bitcoin-only firmware or encryption via CPG.
Is TREZOR Wallet a Legit and Safe Option to Store your Cryptocurrencies?
TREZOR is the first hardware wallet and holds great support from the crypto community, making it one of the safest and most robust options to store these digital assets. TREZOR One is possibly the device of choice for the majority of users, with all the necessary security features to keep your crypto assets safe. Our review of TREZOR is very positive; however, these types of devices have limitations for those who operate daily and need quick access to their funds.
Thus, Trezor wallets are designed especially for crypto mid-term and long-term holders, traders with bigger holdings where safety is a priority. According to the research we have done, the opinions on this wallet are significantly positive. In the different blogs and websites, users review TREZOR as a reliable and safe device, and the vast majority of users are satisfied with their investment.
However, you should always be aware of your share of responsibility and keep up-to-date with the best security practices, trying to avoid exploits like phishing schemes, malicious software or other security breaches that might compromise the security of your funds.
Frequently Asked Questions
Although privacy is not sold as a selling point of TREZOR, it is one of the features that draw the attention of many users. By ordering the wallet online or in a store, you will need to provide your full name and address, so it is not 100% anonymous. Despite this, you will be able to get your Trezor wallet up and running directly without completing any KYC (ID verification) process whatsoever. Therefore, you will hold more privacy compared to a regulated online exchange/brokers.

The main difference is obviously the price. At the time of writing, the Trezor Model T is 3 times more expensive than the "One" device. But is it worth it? You will get additional security features like the Shamir backup ("a method of splitting the seed into multiple unique shares"), a more friendly user interface with touchscreen capabilities, additional cryptocurrencies like Ripple or Tezos (including Tezos baking through Simple Staking wallet compatibility.) If you're really going to use these additional features and your holdings are continuously growing, then the Model T might be your best choice; however, TREZOR One is a way more affordable option and suitable wallet for most of the common uses.

Even though it is a very remote possibility, there's still a chance that your crypto funds might be compromised. Most of the security breaches come from the users themselves, but there have been a few occasions when issues were spotted on the TREZOR devices or servers. Any big hacking event has occurred so far, though, and your crypto funds will be secure if you keep the recommended security practices

Yes! Trezor supports many third-party applications and you will be able to stake many crypto assets held in your Trezor One or Trezor Model T devices. To check for support of any particular crypto coin, we suggest you refer directly to the TREZOR official wiki, where you will find first-hand recommendations and step-by-step guides.

Not at all. However, you will still need to take the "Network Fees" into account when transferring Bitcoin and other cryptocurrency funds. These are mainly miner fees that you will pay regardless of the wallet you use.
Company Information
Account Information