Litcoin Guide | Learn Everything About LTC
Litecoin (LTC)
...
Litecoin is a decentralised peer-to-peer blockchain that has been invented to enable quick and near-zero fee payments all across the globe in a secure manner. It is an open-source project with no central authorities having control over it.
Litecoin was created as a hard-fork of the Bitcoin blockchain. Its community felt that the pioneering digital currency, Bitcoin, had lost much of its intended use as an everyday global payments system due to high network fees and lengthy transaction times. Litecoin (LTC) was therefore created to align with the original philosophy put forth by the mysterious Satoshi Nakamoto. In this article you will learn what is Litecoin and how it works.
What is Litecoin?
Litecoin, created in 2011, is meant to be the lighter variant of Bitcoin to allow quick and affordable payments. It's almost four times as fast as Bitcoin in terms of payment processing. Litecoin is built to ensure enhanced scalability for quicker growth. In many ways, Litecoin is also identical to bitcoin, and that's precisely why a silver coin often denotes it as opposed to Bitcoin's gold. The primary objective of Litecoin is to establish a global payment system so that people can receive and send funds anywhere they want without any involvement of intermediaries.
Litecoin has a native token which is denoted by the abbreviation LTC, and at the time of writing, LTC is priced at $47.87 with a market ca of just over $3.1 billion.
Litecoin Blockchain Vs Bitcoin Blockchain
As LTC is essentially a fork of bitcoin core (BTC), they are in most regards technically nearly identical. With substantial industry support, trade volume and liquidity, litecoin is commonly referred to as a proven medium of commerce complementary to bitcoin. However, litecoin does have some technical differences compared to bitcoin:
the litecoin blockchain aims to process a block every 2.5 minutes, rather than Bitcoin's 10 minutes, which allows for faster transaction confirmation of almost four times.
the litecoin network has a target of 84 million Litecoins, whereas bitcoin's target is 21 million BTC.
litecoin miners use a diiferent proof of work hashing algorithm –scrypt- whereas bitcoin uses the SHA-256 hashing algorithm. Scrypt requires more resources and it's therefore generally accepted to be the best deterrent for malicious, brute force attacks on a network; but, mining hardware for scrypt is also more expensive. For those interested Litecoins 'Top Hashers', see how many Litecoins they can earn per day.
the litecoin blockchain also uses a slightly modified graphical user interface (GUI) compared to bitcoin.
Because the LTC blockchain is capable of handling higher transaction volume than its counterpart bitcoin, merchants get faster confirmation times.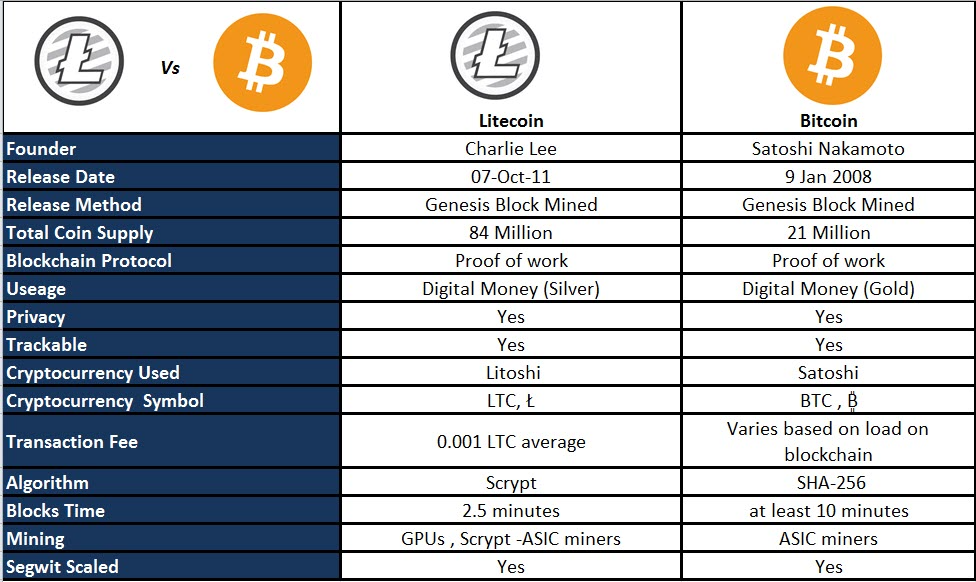 And, due to more frequent block generation, the network supports more transactions without a need to modify the software in the future. Litecoin's wallet encryption allows you to secure your wallet, so that you can view transactions and your account balance, but are required to enter your password before spending litecoins; this provides protection from wallet-stealing viruses and trojans. In May 2017, Litecoin became the first of the top cryptocurrencies to adopt Segregated Witness (SegWit). Also during May 2017, history was made when the first Lightning Network transaction –which uses off-blockchain SegWit protocols- was completed through the litecoin network; transferring 0.00000001 LTC from Zurich to San Francisco in under one second.
Litecoin creator
The litecoin founder is Charlie Lee, a former Google employee. He released the litecoin blockchain via an open-source client on GitHub on 7 October 2011 and it went live shortly thereafter on the 13th.
Is Litecoin a Type of Money?
Although there are more than 5,000 merchants that accept LTC as a valid payment mode, it cannot be considered as a true replacement of money due to the lack of universal acceptance and absolute liquidity. However, Litecoin can be used at many retail and e-commerce stores as the foundation has been successful at establishing many strategic partnerships.
Is it Legally Recognized?
The short answer is yes. Litecoin is a decentralised open-source peer to peer cryptocurrency project that has been released under the MIT/X11 license. Regional regulations would vary from country to country, however, barring countries that have put an absolute ban on cryptocurrencies, Litecoin has been trading on all of the trading platforms and exchanges that adhere to KYC and AML regulations.
What Do People Use Litecoin For?
It has been almost a decade since LTC was launched so there are many applications for the cryptocurrency that you can benefit from.
LTC can be used to send payments anywhere in the world, both regionally and internationally, in a secure, quick, and reliable manner.

LTC can also act as your currency replacement since 5,000+ brick and mortar, as well as online merchants, accept the token as a payment mode.

Litecoin can be used to make both short and long term investments by traders and investors who are looking to earn profits.

LTC can be bought to store your capital in a decentralised blockchain that is not controlled by any government or central authority.
What Merchants Accept Litecoin?
Since its inception, Litecoin hasn't only gained popularity across the globe as a payment method but also struck a multitude of strategic partnerships that have allowed the LTC project to be accepted by thousands of merchants all over the world. Some of the high profile merchants include the following:
CoinPayments - It is a service that enables businesses and merchants to accept LTC and other altcoins as a valid payment mode.

Ellenet - It is an IT service company that accepts LTC to provide its wide range of technological solutions to the clients.

Miami Dolphins - Since the partnership between Litecoin Foundation and Miami Dolphins, the team fans can use LTC to purchase tickets and merchandise.

Cryptopet - Here you can buy apparels as well as accessories for your feline and canine friends.

Cheapair - If you are looking for hotel bookings, flights, car rentals and want to pay with your LTC, this is the service you'd want to use.

Re/Max - A London-based real estate service that accepts LTC for buying and renting properties apart from other cryptocurrencies.

CryptoGames - An online gambling and gaming website that accepts LTC and offers a wide range of games for your entertainment.
The Technology behind Litecoin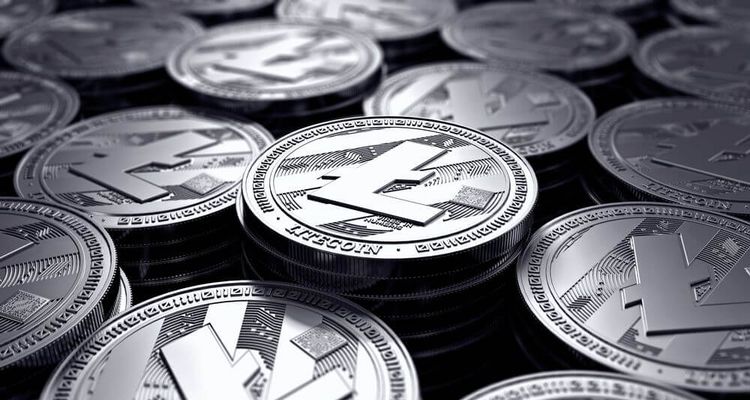 Litecoin has been created on the basis of the Bitcoin protocol, but it distinguishes itself in terms of deploying different hashing algorithms, block transaction duration, hard cap, and a multitude of other factors. LTCwas released through GitHub, which is an open-source code client. By deploying a different method, Litecoin prioritises transaction verification time which is close to 2.5 minutes for every block. It means that the network has the capability of processing transactions at a much greater speed compared to the Bitcoin protocol.
How it All Started - The History of Litecoin
Litecoin was created in 2011, when a former Google employee, Charlie Lee, laid the groundwork for Litecoin Foundation. He saw the limitations present within the bitcoin network, such as slow processing speed and transaction verification time. Lee used a different approach to create a lighter version of the currency, and that's why the currency was named as LTC with a native token referred to as LTC. The transaction time was cut down by 75% to make Litecoin more adaptable for mainstream use.
Mining Litecoin - How Are New Coins Created?
Litecoin differs from Bitcoin when it comes to mining new tokens. Instead of the traditional proof-of-work protocol, it uses a memory-intensive proof-of-work mining protocol called Scrypt which enables regular hardware to mine LTC tokens. It means that everyone with a Windows PC or a Mac can mine LTC without requiring special and highly expensive GPUs and other hardware such as ASIC. That kind of hardware isn't required for mining LTC.
In the initial phase, LTC blockchain rewarded 50 tokens, but in 2015 it was cut down to 25 tokens. The reward will continue to decrease by 50% every year as LTC blockchain reaches the hard cap of 84 million tokens.
Supply - How Many Coins Are Available, What if They Run Out?
Litecoin Foundation has put a hard cap on the maximum supply of LTC tokens which is at 84,000,000 LTC. Currently, the total and circulating supply of tokens has reached almost 75% of the hard cap and is around the figure of just above 65.5 million. When the hard cap is reached, there will be no more coins to mine, and the market forces such as demand and supply, competition from other cryptocurrencies, and regulatory environment will determine the fate of LTC in terms of its price.
Decentralisation - What does it mean?
In the context of blockchain and cryptocurrency, decentralisation simply means that there is no central authority or no single individual who yields absolute or decisive influence over the matters of a blockchain or its cryptocurrency. Instead, it is the people, contributors, and stakeholders of the project who use voting as a means of making influential decisions to make the process more democratic and transparent. This governance approach is called decentralization.
Litecoin as an Investment
Just like any other cryptocurrency, Litecoin is also susceptible to sudden surges and unforeseen volatility. It means that it can be a great source of investment for short-term traders and investors who can use these surges to their benefit. However, on the other hand, the same volatility can also wipe out your capital in a matter of minutes. That's why, when you are investing in LTC, make sure that you have done your research and have taken steps to de-risk your investment by investing in different coins - that is by having a diverse portfolio.
Why Should You Invest?
There are a wide variety of reasons why you would want to invest in LTC or any other token for that matter. Please ensure that you understand your underlying cause of investment so you can choose the adequate strategy for investment. Some of these reasons are listed below:
You may want to invest in LTC or other altcoins to generate a source of secondary income that can complement your primary income.

You may want to park your disposable income in a decentralised asset or environment that's not under the influence of the government.

You are looking to make a long-term return on your investment by holding LTC for months or even years.

You may believe in the LTC project and want to become one of the contributing stakeholders.
Price and Volatility - Why is the Price So Volatile?
Being a decentralised project means that all the market forces have an impact on the price of LTC, which leads to volatility. It is the same phenomenon that's observed with other cryptocurrencies. From the latest technological developments and new altcoin entrants to social acceptance and influencers' opinions, anything can drive the price trend upwards and downwards in a matter of hours. The same volatility is also used by many traders to earn profits by smart investing.
Where to Buy Litecoin
Being one of the first cryptocurrency projects, Litecoin is available on a wide range of crypto exchanges and trading platforms. However, you need to take different factors into account before choosing a platform to buy LTC. These factors include user-friendliness of the platform, transaction charges, customer support, and reputation. Some of our top favourite crypto exchanges include the following:
eToro – When it comes to copy trading platforms, eToro is second to none. With a wide range of cryptocurrency CFDs, user-friendly experience, affordable transaction charges, and expert crypto advice, you can't go wrong with eToro.

FXTB – Although created primarily for dealing in forex trading as the name suggests, FXTB has leveraged its good reputation to become one of the leading cryptocurrency platforms where you can buy LTC and many other cryptocurrencies with ease.
Where to Store Litecoin
The safest way to store your Litecoin is a cryptocurrency wallet and not your exchange account. This is why you need to invest in a good crypto wallet if you are going to hold your LTC tokens for a long time or you want to get into serious or professional cryptocurrency trading.
What Are Crypto Wallets?
Cryptocurrency wallets come either in the form of hardware gadgets like flash drives or software applications that you can install on your computer or smartphone. They have special features related to trading, security, and storage that help to ensure that your LTC tokens stay safe and secure from any vulnerability.
What Types of Wallets Are Available?
There are different types of wallets available on the market, including the following:
Web Wallet
Web wallets are usually those that are present within the account of a cryptocurrency exchange where you can log into them using secure credentials. They provide better accessibility and are user-friendly but don't offer a lot of security features.
Mobile Wallet
Mobile wallets ensure greater portability for those traders who want to buy, sell, and trade on the go. They come in the form of iOS or Android apps which can be installed on your phone. They are user-friendly and offer better security as compared to web wallets. LoafWallet and Jaxx are good mobile options for storing LTC.
Desktop Wallet
These are desktop applications that can be installed on your Windows PC or iMac to store your LTC. They offer better security features and come with a built-in trading option that can come in quite handy. Exodus and Atomic Wallets are good options if you want a desktop wallet.
Hardware Wallet
When security is your absolute priority, you need to go for a hardware wallet that is in complete disconnect with the outer world since it has no internet connection ability. Moreover, they are also secured with 2FA and special passphrases to ensure better security. Ledger Nano S/X and Trezor are good choices for storing LTC.
Wallet Combinations
You also have the option to use a combination of different wallets since many of them can be interconnected with each other. This way, you get the best of security, user-friendliness, features, reliability, and convenience—for example, Ledger Nano S in combination with Atomic wallet.
Storing Your Wallet on an Exchange - Potential Upsides & Downsides
While there is nothing wrong with holding your LTC in exchange's wallet, they are not secure by design. The website can go down at any time, making it impossible for you to access your funds. Similarly, high profile websites are often the victim of security breaches which means that you run the risk of losing your coins. That's why it's always better to hold your coins in a dedicated wallet.
Frequently Asked Questions
If you want the best of security, then go with the hardware wallets such as Ledger Nano S or X or Trezor. Otherwise, Atomic Wallet, Jaxx, or Exodus can also be a good software option

Litecoin uses Scrypt proof-of-work protocol which means that regular computers running Windows or macOS can be used to mine LTC.

If you are going to invest in LTC, do your research, read expert reviews, and also diversify your portfolio by investing in different coins.

Litecoin is one of the most widely accepted cryptocurrencies apart from Bitcoin and can be used at thousands of retail and e-commerce stores for shopping.

Absolutely! Litecoin blockchain is a decentralised network which cannot be influenced by any single individual or a central authority like a government or a powerful organisation.
Alternative Cryptocurrencies