Unable to load latest pricing data, please try again later.
1xBit Casino supports 52 languages
Supports 24 currencies like Bitcoin, Ethereum, Litecoin, Monero, Dogecoin
Enormous welcome bonuses of up to 7 BTC
1xBit Crypto Casino Review 2022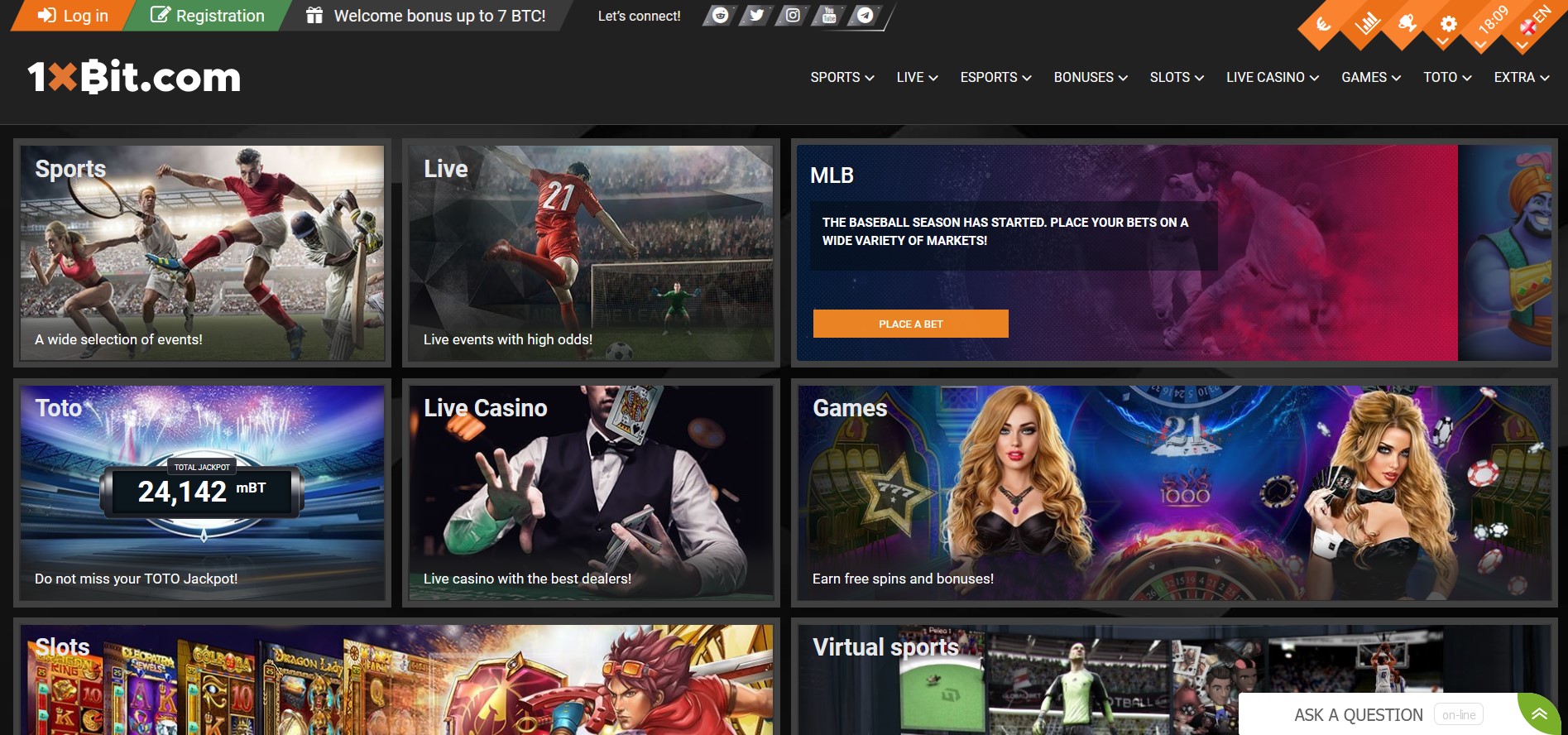 The growth of cryptocurrency is disrupting traditional industries. One such is the online gambling scene. New-age crypto casinos are rising to provide new and exciting gambling experiences that transcend many of the limitations of traditional ones.
While several crypto casinos have risen in recent years, 1xBit stands out as a leader in the space. The gambling platform integrates cryptocurrency with online betting and digital casinos, making it a crypto-native experience available to users in several countries.
This review dives into the nuts and bolts of 1xBit. It explores its most interesting features and games, how it works, how deposits and withdrawals work with crypto, and how to sign up.
What is 1xBit?
1xBit is a betting nerve centre with access to a plethora of sports games, tournaments, video games, political events, online casinos, slots, and other gambling games. The website runs a sportsbook that records bets for sporting events and pays winners. Users can place bets on all sporting matches listed on the website and play over 600 games.
The company was founded in 2016 by a team of sports and casino gamblers with years of professional experience and cryptocurrency enthusiasts/developers. The site started as a sports betting platform but has grown to include numerous games, casinos, and events.
How Does 1xBit Work?
All games, casinos, and betting on 1xBit is done through their website which is accessible on both desktop and mobile. When you register or log in and fund your account, you immediately get access to the platform's entire offerings.
You can place bets on sports matches like football, volleyball, horse racing, athletics, diving, and a long list of other major sports. Major tournaments like the Fifa World Cup are also available.
If slots are more your thing, 1xBit lists over 53 virtual slot games, many of which are provably fair. Not all games are made by 1xBit. The platform supports games by independent developers. Many of the games on the website are made by top-tier developers in the gambling games space.
For those who love the thrill of real-time bets, a Live section on the website allows you to place bets on games as they unfold. You also have access to a dashboard where you can place bets on all your favourite live games at the same time.
You'll need to deposit crypto to your account to access these features. 1xBet accepts deposits in over 30 cryptos that you can either send from an external wallet or buy using fiat thanks to integrated fiat on-ramps.
How to Use 1xBit
1. Create an account
To create an account, click on the Registration icon at the top left side of the screen. Enter your email address, password, and promo code (if you have one) in the input fields. You will receive a verification email with a link to verify your email and activate your account.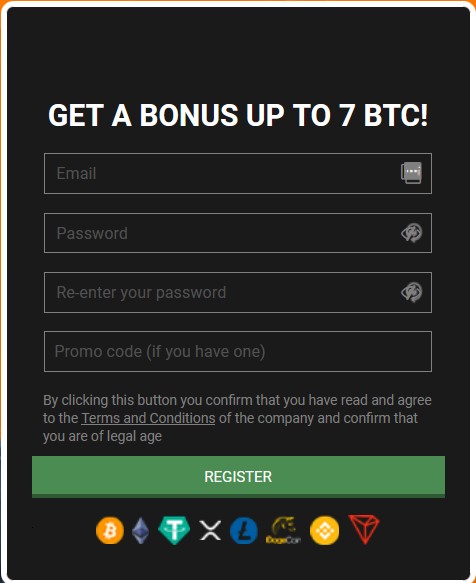 2. Submit KYC documents (if you want to)
While submitting KYC documents is not required to use the platform or withdraw funds, it is necessary if you wish to participate in bonuses, including the welcome bonus. To pass KYC, submit a verifiable ID and a proof of address document like a utility bill with your address clearly shown.
3. Transfer funds to your account
After submitting KYC documents, deposit cryptocurrencies into your account. The minimum deposit amount is the equivalent monetary value of 0.001BTC payable in any supported crypto. 1xBit does not charge deposit fees but your crypto's blockchain network will charge a transaction fee. Ensure that you can afford the fees for the network you're using. For example, Ethereum network fees are too high for the retail user at the time of writing. Also, use crypto that doesn't have network congestion issues so your funds get to your account within minutes.
4. Access games
1xBit's entire suite of games, events, and matches is now available to you to play.
Top Trending Games on 1xBit to Play Right Now
Game 1 – Mega Moolah
This Microgaming slot invites you to go on the safari of a lifetime, and hunt huge wins. The king of the jungle, the lion, pays off particularly well on this slot, and Mega Moolah promises five reels and 25 pay lines of wild times. One of the more feature-packed slots available, the free spins bonus and four-tiered progressive jackpot are particularly popular aspects of this game. Mega Moolah is a great way for keen slots players to make mega-money.
Game 2 – Dead or Alive
Dead or Alive features all the sounds and sights of the Wild West, and has proven to be an exciting and popular addition to the world of slots. Included in Dead or Alive are many of this era of history's most infamous characters, and you'll encounter all manner of gunfights, wanted posters, and various Western paraphernalia. There are 12 Free Spins as a maximum reward on Dead or Alive, with the potential to win 3,000 times your stake. This is a barnstorming slot and one that brings both high prizes and excitement.
Game 3 – Satoshi's Secret
A third popular slot at 1xBit is one that is particularly appropriate for a casino focused on cryptocurrency. Satoshi's Secret from Endorphina references the founder of Bitcoin, who has remained somewhat anonymous since his digital currency went supernova. Satoshi's Secret is a novel and challenging slot, which is sure to garner attention with cryptocurrency fans. Six reels - a rarity in slots - and 20 pay lines fall in a matrix-like framework, and the gameplay is some of the most advanced in the slots niche.
Key Features and Offerings
Betting Games
1xBit offers an abundance of games to bet on across various categories. The major categories include
Sports
1xBit offers a broad list of sporting matches to bet on that range from
Football

Alpine Skiing

Horse Racing

Beach Volleyball

Crossfit

Basketball

Streetball

Athletics

Poker

American Football

Golf

Greyhound Racing

Badminton

Rugby

Chess and many more
You can access these settings by clicking on the Sports tabs and navigating to the left window pane.
Tournaments
Major football tournaments like the FIFA World Cup, Russian League, La Liga, Italy Serie A, the English Premier League, and others are available to bet on. While these tournaments are seasonal, there are enough of them to provide continuous betting opportunities.
UFC
Ultimate Fighting Championship (UFC) match schedules are available to place pre-live bets or live bets.
eSports
Sporting tournaments are not the only available ones to bet on. Tournaments of your favourite video games ranging from Dota2 to Fortnite, CS:GO, Brawl Stars, League of Legends, Valorant, FIFA, Clash Royale, and Pes are also available. You can bet on teams before or during live matches.
Live
The platform features a Live Betting function that allows you to place bets on matches in real-time. This feature expands to a dashboard where you can pull ongoing events from various sections and bet on them simultaneously.
Casino Games
Slots
The casino games are digital versions of games you'd find in a traditional casino. This mostly involves various types and versions of slots including
3D Slots

Baccarat

Bingo

Blackjack

Cascade

Cluster

Crash

Drops & Wins

Hold and Win

Jackpot Game

Keno

Megaways

Poker

Roulette
There are over 52 slot games across these categories.
Live Casino
The live casino is a real-time virtual casino with dealers running popular games like blackjack, roulette, baccarat, spin wheels, super six, and more. These casinos are run and managed by independent services connected to 1xBit, so you may want to check them out first before engaging. Nevertheless, they are top-tier service providers in the space.
Games
Asides from slots, 1xBit also offers games that you can play and win money by staking some capital. These games include
Solitaire

Lucky slot

Money wheel

Wild west gold

Eastern nights

Red dog

Dominos

Reels of wealth

Muffins and a lot more
Some of these games differ significantly from others so you always have a variety of options in case you get tired of one specific game format.
Crypto Deposits
Because of 1xBit's crypto-native nature, you can deposit any of 24 supported cryptos to your account. Withdrawals are also via crypto and both deposits and withdrawals are free of charge, although, with crypto, network fees always apply.
Deposit and Withdrawal Limits
The Minimum deposit/withdrawal amount is 1 mBTC (Milibit) which is 0.001BTC.

There is no maximum deposit or withdrawal limit.
Supported Cryptocurrencies
Some major cryptos accepted as deposit currencies include:
Bitcoin

Ethereum

Litecoin

Dash

Dogecoin

Zcash

Bitcoin Gold

Siacoin

Ethereum Classic

Bitcoin Cash

Monero

Tron

Ripple

USDC

True USD

Tether
Promotions and Bonuses
1xBit runs several bonuses and promotional programs to entice users to interact with the games and reward loyal players. The first bonus you'll come across is the Welcome Deposit Bonus which gives up to 100% of your initial deposit, provided certain conditions are met.
The welcome bonus includes
First deposit (100% cashback up to 1 BTC)

Second deposit (50% cashback up to 1 BTC)

Third deposit (100% cashback up to 2 BTC)

Fourth deposit (50% cashback up to 3 BTC)
The bonus conditions include:
A deposit of at least 5 BTC.

Players must be registered and pass KYC.

Players must deposit more than once.

Users must give consent to receive bonuses in the "take part in bonus offers" section of their accounts.

The second, third, and fourth deposits must be equal to or above the previous one in monetary value.
The Welcome Bonus also includes an opportunity to earn 7 BTC if you gamble up to 40x the initial deposited amount within 30 days.
1xBit also runs recurring bonus programs found within the Bonus section. These bonuses (including the welcome bonus) may change with time so visit the bonus page periodically to remain aware of current bonuses.
Mobile App
Users can access their accounts and play their favourite games on the go with the mobile app built for Android and IOS.
Is 1xBit Safe?
Being one of the more established crypto online casinos with a six-year operating record, 1xBit is one of the safer options.
We also looked at client testimonials on social media and other independent review platforms and found that the consensus was positive.
Also, 1xBit leverages cutting-edge security measures such as SSL encryption to provide some reassurance that your funds and data are kept safe. As an added security measure, you can set up two-factor authentication on your account.
Factors to Consider Before Using 1xBit
Regulation and Security
1xBit is regulated by the Curacao Internet Gaming Association (CIGA). This means that they are beholden to the laws of the Curacao region and must provide industry-standard security and operate within industry best practices.
The platform employs leading-edge security measures to protect customer funds and data and is willing to help with any security concerns via its dedicated security email, [email protected]
Fees and Costs
1xBit does not charge deposits or withdrawal fees, however, the crypto networks used usually charge transaction fees. Hence it's best to choose cryptos with low network fees.
Unfortunately, networks like those of Bitcoin and Ethereum can be congested and expensive, respectively. Luckily, there are 24 different cryptos to choose from.
Customer Support
There is a chat box at the bottom right corner of the screen that connects you with customer support. The pop-up lists several popular issues and their solutions, but if yours isn't listed, type it into the input field.
For more hands-on cases, you can call a consultant or send an email to the support team.
Pros & Cons of 1xBit
Pros
The mouth-watering welcome bonus (100% match up to 7 BTC)
Accepts crypto deposits and withdrawals
Simple and intuitive platform
Regulated by the Curacao Internet Gaming Association (CIGA)
Features provably fair games
Periodical promotions and bonuses
Bonus points for participating in games
Cons
Not available in all countries
Reasons to use 1xBit
Betting Opportunities
1xBit offers a total of about 600 games including casinos, tournaments, and other opportunities like Toto. This means that you have several opportunities to play and win. The variety also attracts different types of gamblers from around the world, creating a vibrant community of players.
Flexible Payment Methods
Crypto deposits create a cheap, fast method of payment available to everyone in any part of the world. 1xBit supports 24 cryptos and provides crypto on-ramps so more traditional users can buy crypto on-site with a credit card.
Bonus Programs
New users get up to a 100% deposit bonus when signing up and a list of other bonuses throughout their stay. In the Bonus section of the home screen, you'll find bonus programs specific to betting and casinos so whatever your preference, there's probably a bonus program you can take advantage of.
The platform also runs a promo code store where you can use bonus points to buy crypto, get more lucky wheel spins, get more turns or advantages in games, and much more.
Conclusion: Should You Use 1xBit?
If a platform that provides various games, employs industry betting standards and integrates cryptocurrency for payment flexibility, then 1xBit is an excellent choice. The platform is a hub of over 600 games from numerous developers that provide a streamlined gambling experience.
When it comes to security, 1xBit implements top-of-the-line security measures with SSL encryption and two-factor authentication. Their KYC process is also quick and easy although they also allow for anonymous accounts.
For users who prefer playing games on the go, the mobile app works for both Android and IOS devices and offers the same level of access and security as the desktop website.
Customer support is also adequate as the team is available 24/7 to cater to your needs. If your problem is a quick and easy one, you don't have to wait for customer service, you can get solutions through the chat box at the bottom right of the screen.
Ultimately, 1xBit is a promising option suitable for players of all experience levels.
Frequently Asked Questions
Yes. 1XBit supports over 60 major languages, however, customer support is rendered mostly in English.

Yes. You can bet on popular esports games and tournaments like Fortnight, Valorant, CS:GO, and Dota2 both before the match and in real-time.

Yes. The platform is simple to understand and the UI is easy to use. Everything is accessible from their website in clearly defined categories.

Yes. 1xBit is a legitimate company regulated by a government agency. They are subject to laws and regulations that traditional casinos and betting sites are subject to.

Start by creating an account using your email address. Then, you can submit KYC documents if you wish, but the platform does not mandate it. Next, deposit funds via crypto into your account and navigate to the Sports, eSports, Games, or Casino tab to access games and betting functionalities.

You may need to visit their Faqs page to find out what countries are restricted. However, one good way to tell is if you can access the site. If you enter the web domain and are denied access, it means it is restricted in your current country.
Company Information
Account Information