Lets take a deeper look into both brokers
Minimum Deposit:
Coins:
Regulation:
Asset Coverage:
Trading Platforms:
Free Demo:
Unique Features:
our pick
$10
eToro Mobile Trading Platform, eToro Trading Platform
Accepts customers from the USA, Offers 15 crypto coins to buy&sell including BTC, LTC, ETC, NEO and more, Trade on the world's leading social trading and investing platform
$100
ADA, AXS, BCHA, BTC, CRYPTO, CRYPTO10, DOT, EOS, ETH, FIL, LINK, LTC, MATIC, MIOTA, NEO, SOL, UNI, VET, XLM
ASIC, FCA, FSA, ISA, MAS, cysec-250-14-regulator
Web Based Trading Platform, Mobile Trading Platform, Plus500, Webtrader
CFDs on BTC, ETH, LTC, NEO, XRP, IOTA, EOS, BAB, ADA, TRX, XMR, No need to open a crypto exchange account or use a special wallet, Regulated Broker - FCA, ASIC, CySEC (license number 250/14)
What is eToro?
With an impressive expansion to its crypto offerings during the last bull run in 2017, eToro is one of the leading cryptocurrency trading platforms available to traders today. With offices in London and Israel, the firm recently passed the milestone of 20 million registered users earlier this year and is set to continue on its growth trajectory by going public.
Founded in Israel, 2006 by CEO Yoni Assi, eToro is one of the leading brokerage platforms offering cryptocurrency trading on the market today, with over 120 cryptocurrencies available to buy and sell. eToro also features a free copy trader service where users can automatically copy the same trades as expert eToro traders.
What is Plus500?
Featuring a number of leverage options for long and short term trading, Plus500 offers CFD (contracts for difference) for a wide range of stocks, shares, commodities and cryptocurrencies.
Along with zero commission fees, low spreads and a well-engineered platform to process a high volume of orders, Plus500 is one of the first go-to options out there for traders looking to buy cryptocurrencies today. Founded in Israel in 2008, the company became the very first to offer Bitcoin CFD products five years later in 2013 — setting itself apart from other available exchanges on the market by getting ahead of the game.
Comparing Customer Support
When comparing trading platforms, one of the best places to start is to take a look at their customer service. Trading platforms are complicated and mistakes can happen with balance issues, order overloading and liquidity issues. Having a great customer service is a vital part of how brokers can earn and retain the trust and business of their customers.
eToro Support
eToro is known for having a good level of customer support, with a dedicated Help Centre to aid traders with frequently asked questions and guides to all of the site's products and services, including help with registration, Copy Trading, deposits and withdrawals, and wallet support.
Additionally, customers can easily get in touch with eToro by submitting a support ticket. Here, users are able to specify the area they are having trouble with — be it deposits, their balance, or other technical issues — and then write up a message to send along to the eToro support team. eToro then promises to get back to customers within 14 days with an answer to their query where the next steps to resolving the issue can be taken. This may be too long depending on the issue, but we trust that eToro has a way to prioritise their most urgent requests.
Plus500 Support
Similar to eToro, Plus500 offers a help page where customers can find answers to a number of frequently asked questions, such as deposits, fees and charges, support for opening an account, trading and withdrawals.
Plus500 also features a live chat function where users can instantly connect with a customer service representative to get instant support - setting itself above eToro in terms of accessibility to support.
For more non-urgent inquiries, the platform has an email forum that customers can fill in to write out their query in the provided box after selecting the appropriate section from deposit related issues, changes of address, or technical problems that may have been encountered by customers.
Available Crypto Trading Markets
Not all cryptocurrency trading platforms are alike, with their listings of crypto assets differing from platform to platform. Therefore it's important to bear this in mind and understand that traders may require accounts for multiple platforms so they can buy the coins they are looking for.
Fiat to Crypto Trading Pairs
eToro offers a way to buy crypto using its integrated wallet platform. This allows traders to quickly purchase their initial crtypto balance using their local currency. Supported currencies include the USD, GBP, EUR and AUD.
On the other hand, purchasing cryptocurrencies for Plus500 requires using a third party, such as Coinbase, to make your initial purchase before sending these funds to your Plus500 account to begin trading.
Crypto to Crypto Trading Pairs
For Plus500, you will need to send your cryptocurrency from a third party as the platform does not feature a cryptocurrency exchange service or trading pairs to cryptocurrencies.
Likewise, although you may purchase crypto with your bank card, eToro also doesn't offer crypto-to-crypto trading pairs, instead pairing cryptos with the USD.
What Spreads Do They Offer?
eToro and Plus500 both charge their users spreads. Spreads are essentially the difference between an asset's price and what the platform is willing to buy or sell it for. Traders pay this difference, which is how these platforms earn their money.
Variable Spreads
Variable spreads are fees that move in sync with the market, offering the best buy and sell prices available at the time that the order is executed, which can allow traders to get a better price than a fixed spread. In the case of eToro and Plus500 these are not applicable as they use a fixed spread structure.
Fixed Spreads
Fixed spreads are always the same, usually set a competitive rate. The advantage of a fixed rate is that traders can factor in this cost reliably with their trades.
eToro Vs Plus500: Security
Strong security is important for trading platforms as they are taking custody of their users' money while they trade. This makes them the target of hackers and scammers who may attempt to fraudulently steal user funds or even launch a large scale attack on the platform itself, as happened to the ill-fated Cryptopia in 2019.
Authentication
Both platforms require customers to provide KYC information in order to access the full features of the platform. This is to prevent money laundering and fraudulent behaviour on the part of its users.
For eToro, users are first required to provide their address details, following which they are asked to give their years of trading experience to access their suitability for using the platform.
Users are then required to answer a simple question on trading to test their knowledge of the fundamentals, along with questions on financial background, investment goals, sources of income and occupation.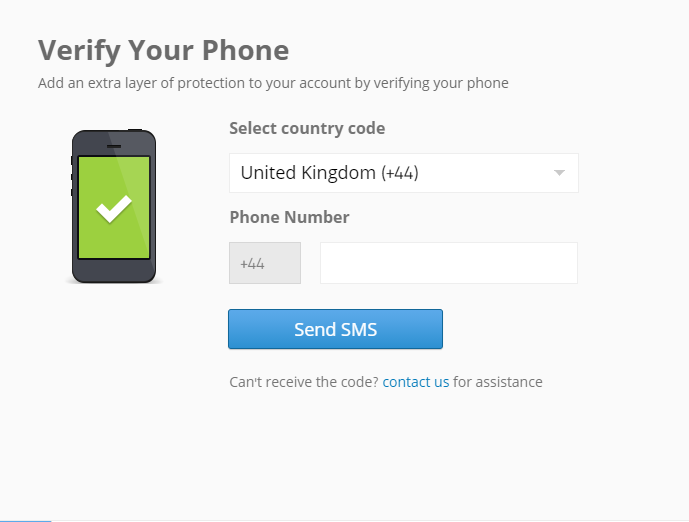 Image caption: eToro 2FA sign up page
Finally, users are asked to verify their mobile phone number. This in order to protect your account, as a hacker would need access to your phone in order to gain access, making it much harder to access and steal your funds.
Plus500 features similar measures, with questions on users' name, date of birth, country of residence, address details and questions on your trading experience.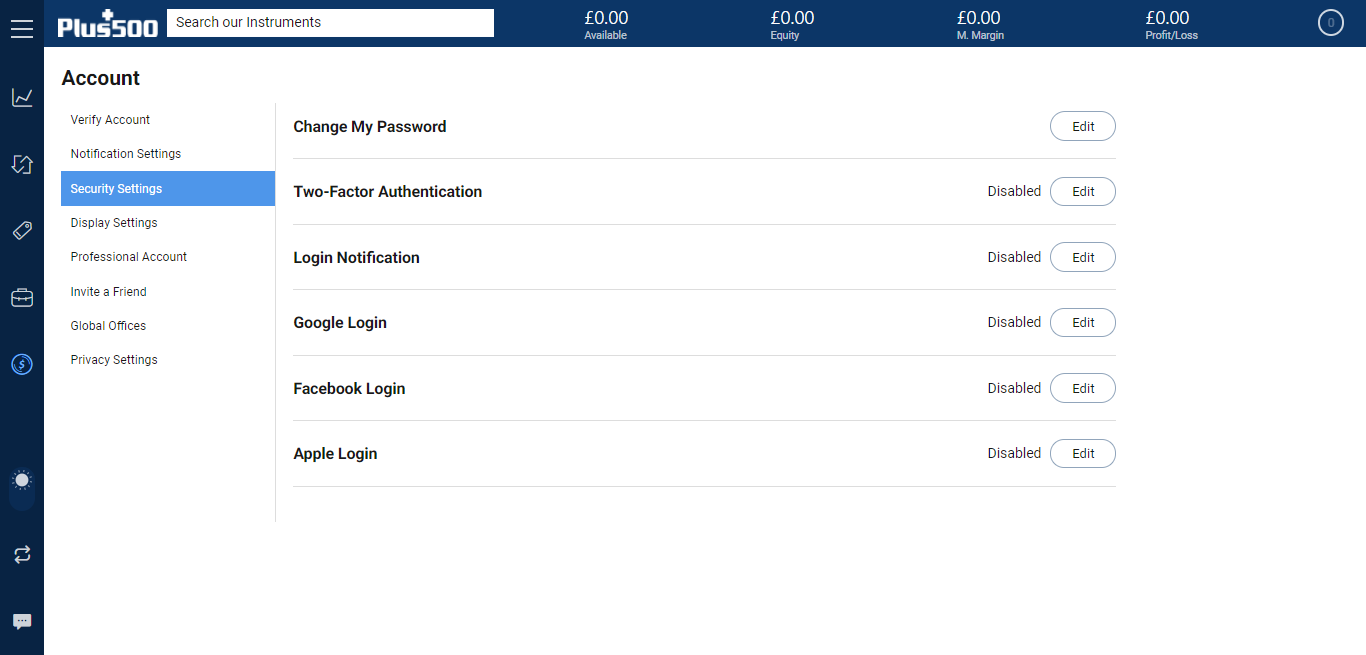 Image caption Security features on Plus500
Unlike eToro, Plus500 also asks for details on yearly income and any savings that traders may have.
After the process is completed, users can choose to add 2FA security to their account, however we feel that eToro has got it right here by making this a mandatory requirement to open an account.
Regulation
Both platforms are fully accredited and regulated by the relevant financial bodies. This is vital for trading platforms to establish trust with their users; after all they are taking custody of their cash, so there needs to be assurances that the money will be returned if requested.
Licencing
Boh exchanges are accredited by numerous financial bodis in the countries they operate in.
Plus500
Cyprus- CySEC
Australia - AUFSCA, FMA, ASIC
UK - FCA
Singapore - MAS
Seychelles - FSA
eToro
UK - FCA
Cyprus - CySEC
US - FinCEN
Australia - ASICe
Seychelles - FSA
Countries Available
eToro
Angola, Argentina, Australia, Austria, Azerbaijan, Bahrain, Belgium, Bolivia, Brazil, Bulgaria, Cayman Islands, Chile, Colombia, Côte d'Ivoire, Croatia, Cyprus, Czechia, Denmark, Dominican Republic, Ecuador, Estonia, Finland, Georgia, Germany, Gibraltar, Greece, Guernsey, Hungary, Iceland, India, Ireland, Israel, Italy, Jordan, Kazakhstan, Kenya, Kuwait, Latvia, Liechtenstein, Lithuania, Luxembourg, Macau, Malaysia, Malta, Mexico, Morocco, New Zealand, Norway, Oman, Peru, Philippines, Poland, Portugal, Qatar, Romania, Russia, Saudi Arabia, Senegal, Singapore, Slovakia, Slovenia, South Africa, South Korea, Spain, Sweden, Switzerland, Taiwan, Thailand, Ukraine, United Arab Emirates, United Kingdom, United States, Uruguay, Vietnam
Plus 500
Andorra, Argentina, Australia, Austria, Bahrain, Bulgaria, Chile, Costa Rica, Croatia, Cyprus, Czech Republic, Denmark, Estonia, Finland, France, Germany, Gibraltar, Greece, Hungary, Iceland, Ireland, Isle of Man, Israel, Italy, Kuwait, Latvia, Liechtenstein, Lithuania, Luxembourg, Malaysia, Malta, Mexico, Monaco, Netherlands, New Zealand, Norway, Oman, Poland, Portugal, Qatar Romania, Saudi Arabia, Slovakia, Slovenia, South Africa, Spain, Sweden, Switzerland, United Kingdom, Uruguay
Fees
One of the major ways to distinguish between different brokers is to take a look at their fees. Trading platforms will all claim to offer the "best fees" as this is one of the main ways they can distinguish themselves from their competitors.
Withdrawal and Deposit Fees
With eToro, users can make purchases using their credit or debit card. The platform charges zero fees for transactions, however there will be associated network fees that must be paid for all cryptocurrency transfers/purchases.
Plus500 on the other hand does not offer the option to purchase cryptocurrency with a credit or debit card, so these must be sent to your account from a third party. Unfortunately Plus 500 charges an inactivity fee of $10 if the account remains unused for three months or more, so be sure to move your inactive funds if you wish to avoid this fee.
Can I use leverage on eToro? How is this different from Plus500?
Both eToro and Plus500 offer leveraged trading. Plus500 offers leverage for up to 1:2 on cryptocurrency. This means if you had £100 to trade with, you could leverage your funds to double at £200.
eToro also offers leveraged trading options, with professional accounts being offered up to 1:400.
Can I Use Margin Trading on Both Platforms?
Margin trading is available on both eToro and Plus500.
Liquidity
In order to process trades for high-frequency trading platforms, it is vital that there is ample liquidity available to complete the trades as near as possible to their execution price as possible.
eToro and Plus500 both have good levels of liquidity as they are both very popular platforms, with eToro recently hitting 20 million users and Plus500 claiming to be the "UK's Number one CFD trader".
Which broker is more user friendly?
A good user interface is vital to stand out from the crowded market of brokers users can find online today. eToro and Plus500 differ in their approach to creating user-friendly features, as they are both designed with different objectives in mind; here we will compare the two.
For beginners, we would recommend using eToro. It has an easy to understand layout and isn't cluttered with trading charts and indicators that you might not need yet.
For users that want access to trading charts, professional indicators and advanced margin trading, we would recommend Plus500.
Platform Interface and User Experience: eToro
Here you can see a comparison in the screenshots below for the differences between the two platforms.
Platform Interface and User Experience: Plus500
Users can also easily set up their security features by following the navigation tool on the left-hand side of the screen.
eToro Vs Plus500: Comparison Summary
In summary, we would recommend using either platform, depending on your objectives and experience level.
For beginners, eToro is a much simpler platform to use thanks to its social trading capabilities and simplified user interface.
Plus500 on the other hand is much better suited to more advanced traders who wish to make use of all of the charts and technical indicators.
Both platforms are well-recommended, however we would strongly suggest that you only invest money that you can afford to lose due to the high risk of losing your money with high-frequency trading.
See Also Our Other Comparison Guides
etoro vs bux
etoro vs degiro
etoro vs webull
etoro vs oanda
etoro vs xm
binance vs etoro
Frequently Asked Questions
If you are looking to trade crypto assets for the first time we would recommend that you first work out what your trading objectives are. If, for instance, you have some previous trading experience with stocks and shares, we would recommend using Plus500 due to its advanced trading tools. However, for traders that already have their own trading tools or are looking for a more simplified approach, we would say that eToro is an excellent place to start your trading journey.

To add Bitcoin to your Plus500 trading account you will need to purchase this on another platform, such as Binance or eToro, and send your funds to your Plus500 account. You can do this by following the "deposit" page on the Plus500 platform to find your address and copy and paste it to where you wish to send it from.

The main differences between the two platforms are the amount of leverage they offer, their user interface and their availability — depending on your country of residence.

Both platforms are fully regulated by financial bodies in the UK, Australia, Cyprus and Seychelles, so both can be trusted to not have any hidden fees or "overloading" problems as can be seen on unregulated exchanges.