How To Buy Ethereum Classic | Ultimate Guide To Buy ETC
Ethereum Classic (ETC)
...
Ethereum Classic is a decentralised, anti-censorship, and permissionless blockchain that continues to maintain the original Ethereum source code that was initiated in 2015. The DAO controversy led the Ethereum blockchain to split into two separate projects referred to as Ethereum and Ethereum Classic. The split was rooted in ideological differences between the team members. Ethereum Classic aims for exactly the same objectives as Ethereum - that is, to create a public platform where developers can run decentralised apps (dApps) and smart contracts.
The infrastructure of the cryptocurrency is operated on the unaltered version of the original Ethereum blockchain putting the integrity of the code above anything else. The team believes that hard forks are a deviation from the primary principle of any blockchain, and absolute immutability must be maintained at all costs. Ethereum Classic's token is denoted by ETC which, at the time of writing, was trading at $5.15 with a market capitalisation of above $600 million.
5 Steps to Buy Ethereum Classic with eToro Now
Buying any cryptocurrency with eToro is easy, simply follow the steps below:
Sign up for free with eToro, entering your details in the required fields.

Fill out the questionnaire, this is both educational for you and eToro.

Click 'Deposit', you'll then be asked how you want to fund your account.

Choose your required payment method, follow the simple steps to link your payment.

Enter the amount you want to deposit and you're good to go!
Our Recommended Platform to Buy Ethereum Classic
If you are just here to learn about our recommended trading platforms and exchanges, then you may already be aware of the basics of cryptocurrencies, including Ethereum Classic. If that's the case, you can go ahead and find out more about our favourite platforms for buying and trading ETC. We have taken into account a number of factors including transactional expenses, features, ease of using the interface, customer support, and regulatory compliance for shortlisting the exchanges and the trading platforms.
However, if you are just a beginner, then you need to continue to read this guide to develop a robust understanding of ETC trading fundamentals.
Min. Deposit
$50
Promotion
Accepts customers from the USA
Offers 15 crypto coins to buy&sell including BTC, LTC, ETC, NEO and more
Trade on the world's leading social trading and investing platform
Description:
eToro offers a wide range of cryptos, such as Bitcoin, XRP and others, alongside crypto/fiat and crypto/crypto pairs. eToro users can connect with, learn from, and copy or get copied by other users.
Payment Methods
Bank Transfer, Wire Transfer
Full regulations list:
CySEC, FCA
Where to Buy Ethereum Classic in 2021
When you are thinking of buying Ethereum Classic, you should know that there are two ways to do so. The first approach involves purchasing ETC tokens that you can store in your cryptocurrency wallet, sell them any time you want, or exchange them for any other altcoin. The second approach is to invest in the financial instruments of the ETC token such as Futures, Contract for Differences (CFDs), and Options to make money through price speculation. You can open and close your trading positions according to your investment strategy.
Now the question arises as to when should you use the first approach? Well, it is a better idea to purchase the tokens and hold them if your investment strategy is long-term oriented. For instance, if you believe in the Ethereum Classic venture and want to support them by owning tokens or if you believe that the project will be successful in the coming years, you should go for a long-term approach. That's when cryptocurrency exchanges are more adequate platforms to buy ETC coins as you can own them until it is the right time to sell.
However, if your investment strategy is short-term oriented, and you just want to make money on a day to day basis by exploiting the crypto market volatility. You can simply purchase an instrument like CFD by opening a position and closing it whenever you want. There is no hassle of owning and securely holding ETC tokens and worrying about transaction costs. For this purpose, trading platforms or brokers are a more adequate choice. They offer different kinds of financial instruments for a wide range of assets, including conventional and digital.
Remember that investing in cryptocurrencies is similar to investing in foreign exchange, and you have to be cautious and manage your risk. Instead of investing all of your capital in a single token such as ETC, you should identify multiple promising currencies and invest in them accordingly to diversify your principal investment. This way, even if you lose money on one token, you can make up for the losses by profiting from the other tokens.
Min. Deposit
$50
Promotion
Accepts customers from the USA
Offers 15 crypto coins to buy&sell including BTC, LTC, ETC, NEO and more
Trade on the world's leading social trading and investing platform
Description:
eToro offers a wide range of cryptos, such as Bitcoin, XRP and others, alongside crypto/fiat and crypto/crypto pairs. eToro users can connect with, learn from, and copy or get copied by other users.
Payment Methods
Bank Transfer, Wire Transfer
Full regulations list:
CySEC, FCA
Min. Deposit
$1
Promotion
The world's largest cryptocurrency exchange with over 2bn daily users
Innovative trading platform offering enormous range of crypto coins
Supports over 60 methods of payment including PayPal
Description:
Binance has grown exponentially since it was founded in 2017 and is now one of, if not the biggest cryptocurrency exchanges on the market.
Payment Methods
1Pay, 2C2P, 3d Secure Credit Card, ACH, ANELIK, Abaqoos, AdvCash, AlertPay, Alfa-Click
Algocharge, AliPay, American Express, Apple Pay, AstroPay, BPAY, Bank Link, Bank Transfer, Bank Wire, Baofoo, BitGold, BitPay, Bitcoin, Boleto, Bonds, Borneo Exchanger, Bradesco, CEX.io Mobile App, CFDs, CSS System, CUPS, CartaSi, Carte Bleu, Carte Bleue, Cash, CashU, Cashier Order, Check, Check (UK only), China UinonPay, China Union Pay, China UnionPay, ClickandBuy, Commodities, Contact, Contact Z, Credit Card, Cryptocurrencies, Currencies, DCPay, DIXIPAY, Dankort, Debit Card, Dengi Online, DineroMail, DirectPay, Dotpay, E-dinar, ELV, ENets, EPS, ETFs, EXCARD, Easy2Pay, EcoPayz, Ecommpay, Ecurrencyzone, EgoPay, Emerchant Pay, Eprotections, EstroPay, Ethereum, Euro Bank Account, Euteller, Express Dotpay, Express Polish Post Office 24/7, Express Zabka Market, Ezeebill, Ezybonds, FasaPay, Fastapay, Fastbank, Faster Payments, FilsPay, Forex, GTBank, Gate2Shop, Giropay, GlobalCollect, GlobalPAY, GlobePay, Gluepay, Halcash, I-Account, IPS, Ideal, Indices, Individual US State License(s), Indonesia Exchanger, InstaBill, Instadebit, IntellectMoney, Interswitch, Investmate, Itukar, KNET, Klarna, LaoForexBoard, LavaPay, Lion Payment, LiqPay, Litecoin, Lobanet, MOTO, MT4, MT5, Mailing Cash, Market Maker, Masari, Mastercard, MegaTransfer, Mister Cash, Mobile Trading App, Mobile Trading Platform, Moneta, Money Bookers, Money Order, MoneyBookers, MoneyGram, MoneyPolo, Multibanco, NETBANX, Nab, Namecoin, Neosurf, NetPay, OKPAY, OMT, OmahPoin, OnPay.ru, Online Naira, OrangePay, PAYSEC, POLi, POLi & BPay, PYEER, PagoEfectivo, Paxum, Pay Nova, PayCo, PayPal, PayRetailers, PayWeb, Payeer, Payoneer, Payonline, Payvision, Payza, Perfect Money, PocketMoni, Postbank, Powercash 21, Prepaid MasterCard, Prepaid MasterCard (I-Account), Prepaid MasterCard (Intercash), Prepaid MasterCard (Payoneer), Privat 24, Przelewy24, QIWI, RBK Money, Rapid Transfer, RegularPay, SEPA, Safecharge, SafetyPay, SahibExchange, Shilling, SmartPay, Sofort, SolidTrust Pay, SorexPay, Sporopay, Stock Certificate, Stocks, Swish, Teleingreso, Thailand Exchanger, Ticketsurf, Todito Cash, Trade Interceptor, Transact Europe Payment, Trazus, TrustPay, Trustly, UAE Exchange, UPayCard, USD, Ukash, Unet, UnionPay, Unistream, Uphold, Verve, Vietnam Exchanger, Visa, VixiPay, VoguePay, Vouchers, Wallet One, WeChat, Web Based Trading Platform, WebMoney, WebPay, Webtrader, Western Union, Wire Transfer, Wirecard, Yandex, Yandex Money, Yemadai, YuuPay, Z-Payment, Zenith, Array, cTrader, dinpay, eCard, eCheck, eKonto, ePay bg, ePayments Transfer, eToro Mobile Trading Platform, eToro Trading Platform, eTranzact, iPay, mPay, neteller, paysafecard, postepay, skrill, unichange.me
How to Buy Ethereum Classic With a Broker
Choosing a trading platform or a broker is an important decision as you need to take a multitude of factors into account including regulatory compliance, reputation, platform features, commissions and other expenses, and client support.
1. Register With the Broker
Once you have reviewed multiple brokers, it is time for you to sign up. Many of the top brokerage websites that we recommend, for example, eToro, don't demand a lot of personal information. All you need to provide is your name, email address, and a strong password. Make sure that your password is a combination of uppercase and lowercase letters and includes at least one digit and a special character. Some trading platforms will also facilitate you by allowing you to sign up using your social media accounts.
2. Verify Your Identity (KYC Process)
We understand that you might not be very welcoming of this process. Still, you need to keep in mind that regulatory compliance doesn't only enable the broker to keep data and funds safe. Regardless, it also allows you to have a safe investment environment where you don't have to worry about money laundering, tax evasion, tax fraud, and other illegal activities. All leading trading platforms adhere to Know Your Customer (KYC) and Anti-Money Laundering (AML) regulation for the same reason.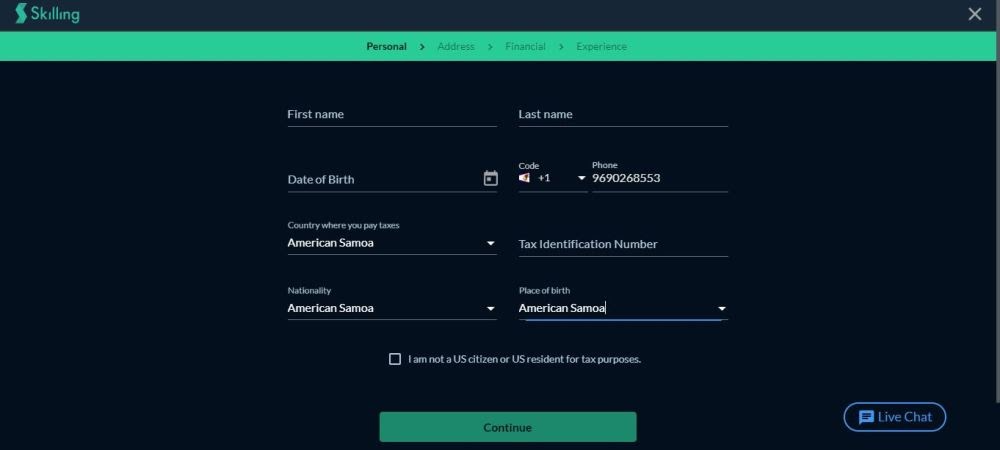 That's why the broker will ask you to provide a document that will validate your identity. It could be anything from your driver's permit to a utility bill. This will ensure that your ETC tokens remain safe.
3. Deposit Funds With Your Preferred Payment Method
All major brokers offer a wide variety of payment modes but don't get impressed by the quantity. You need to figure out which payment method is the most accessible, financially viable, secure, and convenient method for you. Keep in mind that some payment modes are slow while others are quick and process the funds in real-time. You will need to find a balance between cost, convenience, and reliability. For example, if you go with a wire transfer, it is highly economical and reliable, but the money will take days to show up in your account.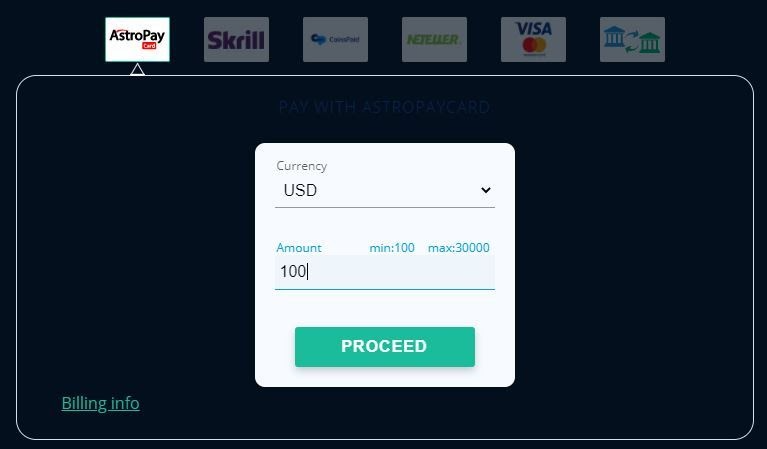 We also recommend that you begin your trading with the minimum deposit amount instead of attempting to go big. When it comes to crypto trading, forget the go big or go home cliché. Start small and then build up your profits and take a percentage of your profits out for savings.
4. Open Your Position to Long/Short ETC
Before you open a position, you have to be aware of what short and long positions mean. Short positions are opened by those investors who are referred to as bears, and they expect the price of the ETC token to decline in the near future. On the other hand, a long position is opened by the traders who either believe in the token or think that the price will rise in the future. They are called bulls. Once you have a proper understanding of how both short and long positions work, you will be in a much better position to invest in ETC.
Keep in mind that all the major brokerage websites also offer you risk minimisation features. The two critical features you must know about are 'stop-loss' and 'take profit'. They allow you to set limits so that the platform can automatically close the position when a certain limit is reached.
5. Close Your Position
Although stop loss and take profit features can be used to manage your risk, they don't take away any control from you. It means that if you want to close the trade before your defined limits are reached, you are free to do so. These features are there to ensure that you don't lose more capital than you can afford to.
Once you believe that the long position (you had opened) has made sufficient gains and keeping it open will just invite more risk, you can close it even if it hasn't hit the take profit limit. The same can be done with the short position if you think that the ETC token has hit the floor and won't fall further.
How to Buy Ethereum Classic With an Exchange
Relying on cryptocurrency exchanges is the ideal choice when you are going after a long-term investment. Just like you have to consider many factors when determining your broker, you will also need to take a multitude of factors into account to finalise your preferred exchange including user-friendliness, cost of transactions, holding fees, withdrawal and deposit charges, and customer support. Keep in mind that many exchanges are not regulated and offer quite tempting returns; however, they are more exposed to risk as well.
1. Set up an Ethereum Classic Wallet
When you are going for a long-term investment approach, you need to get a dedicated cold or software wallet to hold your ETC tokens securely. It is not exactly a complicated process, and you can self-educate yourself on how to transfer coins from the exchange's wallet to your personal wallet. Since ETC is an ERC-20 based token, you can store it on a wide range of wallets including the following:
Exchange/Web Wallets – Wallets that can be accessed through a website, come in the form of a browser extension, or are integrated in an exchange are called web wallets. They are the most convenient to use, but the least secure as well.
Software Wallets – These come in the form of either the desktop software or mobile applications and offer reasonable security along with the luxury of portability. You can take your coins anywhere with you and trade anywhere you want.
Hardware Wallets – If you want to secure your ETC tokens for months, then the best choice for you are hardware wallets. They look like flash drives and have dedicated hardware as well as software features to keep your tokens safe. These are portable and highly secure.
2. Choose and Join an Exchange That Sells Ethereum Classic
When you are looking to sign up on an exchange, there are many leading services such as Binance, Coinbase, and CEX.io. You need to evaluate the pros and cons to ensure that the one you choose meets your requirements in the best way possible. For instance, there are exchanges where fees might be a bit high, but their security and service quality would be better. Similarly, there are exchanges where trading fees are low, but other aspects are subpar. It's your duty to assess all the factors, go through online reviews, check regulatory compliance, and other aspects to ensure that the exchange you're choosing is the right fit for you.
3. Choose Your Payment Methods to Buy Ethereum Classic
Just like the trading platforms that give you a wide range of payment methods, so do the top crypto exchanges. Instead of getting overwhelmed, you need to identify the payment mode that will keep your transaction expenses minimal, offer reasonable speed and convenience, and ensure secure transfer of funds. You may also need to find out if a certain payment method is accessible in your region or not. For instance, many traders would love to use PayPal, but due to regulatory limitations, its availability is quite restricted to only a few regions.
4. Place an Order to Buy Ethereum Classic
When it is time to buy Ethereum Classic (ETC), you might not be able to do so directly. You will need to purchase another popular token like Bitcoin or Ethereum, and then you can go on to exchange it for ETC. There are a few exchanges that will let you buy ETC directly, but they can be quite expensive. To place the order, you should choose your preferred fiat currency and the amount. A calculator will display the number of ETC tokens that you can buy for that amount. If you are satisfied, you can send the purchase order through. Otherwise, you can make adjustments to your order.
Remember that if you have enabled two-factor authentication on your account, you will also receive a one-time password (OTP) that you will need to enter to process the transaction.
5. Safely Storing Your Ethereum Classic (ETC)
After you have purchased ETC, you can transfer it to your wallet by providing the public key associated with your tokens. Keeping your ETC coins in the exchange's wallet might be fine if you are going to have them for a couple of days, but if you are going to hold them for a longer period, say for weeks or months, then a cold wallet is a must. The website can become a victim of cyberattacks or may experience technical issues which can lead to locking of assets.
Should You Buy or Trade Ethereum Classic?
It totally depends on your investment strategy and expectations. It is a good idea to buy Ethereum Classic if you want to hold it for a long duration. However, if you just want to make money off the market volatility on a daily basis, then it's a better idea to trade Ethereum Classic through financial instruments since it reduces the hassle of dealing with wallets and transaction-related expenses.
What's the Difference Between an Ethereum Classic Exchange and a Broker?
A cryptocurrency exchange is a service offered to traders through a website where they can purchase all types of digital currencies with other cryptocurrencies like Bitcoin and Ethereum. You can basically exchange any popular cryptocurrency for another, and that's why it is called a crypto exchange. It is a suitable platform for those investors who are looking to invest in ETC in the long haul.
On the other hand, brokers or trading platforms are services that allow investors to speculate on the price of ETC using financial instruments like CFDs. You can open and close your position within seconds to make the most of the volatility of the crypto market. These brokers are better suited for traders who want to invest in short-term and want to generate a passive income.
Long Vs Short Term Investment
Long-term investment in Ethereum Classic should be undertaken by those traders or investors who believe that the price of the coin will continue to rise in the coming months or who believe in the Ethereum Classic project. Such traders should rely on crypto exchanges to buy ETC so that they can store, exchange, sell, or hold ETC tokens the way they want.
Short-term investment in ETC is made by those traders who are looking for an alternative source of income or want to make day-trading their profession. It is highly profit-oriented as a trader attempts to make money by opening short-lived positions. For such kinds of investments, trading platforms like eToro or brokerage services are a better fit.
Pros and Cons of Buying Ethereum Classic
Pros
Strong History: Ethereum Classic is not only established but also has a plan for its future. Creating a cap on the maximum coins is part of its strategy to ensure its stability in the market.
Cons
Lack of Regulation: Most of the exchanges platforms are not under any regulation increasing the risk of scamming and hacking.
Highly Volatile: The effects of overall volatility are even more significant on individual coins such as Ethereum Classic because they are a smaller coin than the top 3.
What Are the Fees Involved in Buying Ethereum Classic?
Transaction fees: These are the fees charged for every transaction, their total value depends on the total number of operations you need to get your coins. Some exchanges allow you to buy directly using fiat currency, while in others you have to purchase Bitcoin then convert it to ETC.
Deposit fees: These are the charges you pay when you deposit fiat currency or cryptocurrencies into an exchange. Some exchanges such as Bittrex do not charge deposit fees. The fees also vary depending on the payment method you use.
Withdrawal fees: Nearly all exchanges charge a fee when you withdraw your coins or money from their wallets.
Spreads and commissions: This the additional value that an exchange adds on the coin. The spread ranges between 0.2% to as high as 1% in some exchanges. Coinbase, for example, has a spread of 0.5%. Therefore, if the price of ETC is £100, it displays £100.5.
3 Tips to Buy Ethereum Classic
If you have read the guide to this point, you must have understood the basics of ETC trading and cryptocurrency trading in general. You are now in a much better position to start trading, and we have a few tips for you, which you shouldn't forget.
Choose the Right Time and Do Your Own Research
Don't believe in a single source of news and learn everything about the coin that you are going to invest in. Keep an eye on the news and see what the experts, especially opinion leaders and influencers, are saying about the coin. Don't buy when there's a price rally since the market correction is more likely to consume your capital. Pick a low spot and wait until there's an upward tick.
Comparing Costs to Buy Ethereum Classic
It is often an overlooked metric of cryptocurrency investment, especially by amateur investors. You need to keep track of the costs of trading while buying your ETC tokens. There are multiple types of fees, including spreads, commissions, and other expenses that can reduce your profit. Pick the right platform and payment method to ensure that your profit margins aren't affected heavily.
Safety and Security
If you are going to get into the crypto investment game, you need to learn how to ensure the security of your funds and ETC tokens. Choose different passwords for different accounts, pick strong passwords, enable 2FA, use passphrases, and ensure that you check addresses carefully every time you are purchasing or transferring funds, whether fiat or crypto.
What is the Best Payment Method for Buying Ethereum Classic?
Buy Ethereum Classic with Cash - First, you need to buy Bitcoin using your cash through a Bitcoin ATM, and then you can exchange it for ETC. a popular method to buy ETC but quite drawn out and tedious.

Buy Ethereum Classic with Credit/Debit Card – One of the most mainstream payment methods to buy Ethereum Classic but a bit on the expensive side. Secure and convenient.

Buy Ethereum Classic with Bank Transfer – Highly convenient and economical as far as transaction charges are concerned; however, it is slow and the deposits take some time to reflect in the account.

Buy Ethereum Classic with Bitcoin – Simply exchange Bitcoin for Ethereum Classic.

Buy Ethereum Classic with PayPal – Swift and efficient payment mode but restricted accessibility.
Other Ways to Buy Ethereum Classic
The above methods to buy ETC coins are mainstream. They are highly reliable, secure, and offer convenience to you as an investor. However, there are some other ways you can get your hands onto the Ethereum Classic. These are rather unconventional or lesser-known ways to buy ETC. If you don't want to go through an exchange or a broker, following are your options:
Peer-to-Peer (P2P) Exchanges – They are exactly what they sound like. A platform where buyers connect with sellers and decide their own set of terms. This way, you can find a seller that offers your preferred payment method, amount of coins, and other requirements. However, you need to be careful and must check the reviews of the seller before buying.

You can also use ETC mining to get the tokens in the form of a reward. Since it is based on the proof-of-work protocol, you will need immense computational power to find the right hashes.
Frequently Asked Questions
Many of the trading platforms and exchanges that we have suggested offer ETC tokens for free without asking for any commissions. You might need to pay other related expenses.

When you purchase ETC, you own the tokens outright. You can sell, hold, or exchange them whenever you want. Trading involves no ownership of the ETC token; instead, you speculate on the price through financial instruments and try to earn a quick profit.

Try not to purchase ETC during price surges as the market corrects itself shortly afterwards. The best moment to buy can only be determined by you. That's why you need to do your homework by going through all of our guidance material, listening to the experts, and keeping an eye on the news.

The best exchanges that we suggest to our users include CEX.io, eToro, Binance, Coinbase, and more. We've made these recommendations after evaluating a multitude of service quality aspects.

Barring the regions and nations which have banned cryptocurrencies and their trading, ETC is legally available and tradeable.

It is not recommended as they may be able to offer better incentives and features since they are not complying with any laws, but they are also leaving you exposed to more risk. Moreover, unregulated platforms generally attract illegal activity which creates an unsafe environment for investing in ETC or other tokens.
Alternative Cryptocurrencies