Dash Guide | Learn Everything About DASH
Dash (DASH)
...
DASH aims to become a viable alternative to fiat currencies even though it is not an exact replica of Bitcoin. In many ways, the digital asset is a typical cryptocurrency, and it follows in Bitcoin's footsteps improving upon the shortcomings of Bitcoin. Dash originated as a hard fork from Bitcoin.   
Even though Dash is not seeking to reinvent the wheel, it has improved upon some real and potential Bitcoin flaws. InstantSend, PrivateSend, Chainlock, and Sporks are some of the key features through which DASH differentiates itself from other fiat and cryptocurrencies. These features help to improve transaction speed and also ensure privacy, which many people tend to look for in a viable digital currency. 
What is DASH?
DASH (formerly known as Xcoin/Darkcoin) is a digital currency on the DASH blockchain that facilitates fast (real-time or almost instant), and private transactions. You can use DASH to:
Make an in-store purchase,

Execute global transfers,

Engage in online retailing, and/or

Send anonymous transactions.
InstandSend bypasses miners and as a result, the transaction is quick and in real-time which is why DASH is preferred as a payment currency. PrivateSend allows completely anonymous payments by utilising the unspent DASH.
Chainlock and Sporks provide security features. Chainlock protects against 51% attacks while Sporks allows for updating the blockchain through hard forks or soft forks in a phased manner.
How dash works
Dash is based on bitcoin software, but it has a two tier network that improves it. Dash allows you to remain anonymous while you make transactions, similar to cash. When bitcoin is used, the identity of transactions can be traced back to the blockchain by anyone with an Internet connection. But when dash is used, the anonymization technology of the dash network makes it impossible to trace transactions. Dash ensures privacy through the use of a mixing protocol over an innovative decentralized network of servers called Masternodes. A further improvement over bitcoin is the speed of transactions; bitcoin speeds may vary and be slow at times because confirmations are all done by miners. But, in the case of dash, transactions are almost instantly confirmed by the masternodes network.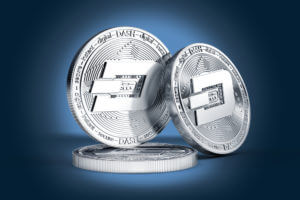 The dash blockchain is a two tier system; it comprises the proof-of-work activities and rewards normally associated with miners –similar to the bitcoin network- and additionally, it also rewards users for running and maintaining special masternodes servers. Masternodes enable the following services:
InstantSend allows for near-instant transactions. Dash InstantSend transactions are fully confirmed within four seconds.
PrivateSend gives financial privacy by obscuring the source of funds on the blockchain.
Governance and Treasury allows stakeholders in dash to determine the direction of the project and devotes 10% of the block reward to development of the project and ecosystem (the annual budget is +$6.7 million).
Dash Evolution will make using cryptocurrency as easy as using PayPal.
Dash creator - white paper
The dash founder –Evan Duffield - has explained the concept of the dash coin –what is dash and the functioning of the dash network- in a whitepaper which is available online.
Is DASH a type of money?
As an important altcoin, Dash is a type of money. The cryptocurrency digital cash (or Dash) was forked from the Bitcoin protocol. Like Bitcoin that is widely accepted as a type of money globally, DASH also falls in the same category due to similarities with Bitcoin.
DASH use cases also show that it is a type of money. You can use it to send money anywhere in the world within 24 hours.
Over 40 million merchants across the globe accept it as a form of payment for their products and services. As seen on the network's official sites, several online companies also accept DASH.
Is it legally recognized?
Even though several countries have either banned or declared DASH as illegal, the future of the digital currency remains bright. China, where cryptocurrency was banned in the early days of the digital currency revolution, authorities are now interested in the idea.
In India, where the central bank (Reserve Bank of India or RBI) issued a circular asking banks not to deal or provide services to crypto exchanges, the Supreme Court of India ruled that the order/circular was disproportionate. According to the three-judge bench, the RBI failed to substantiate the ban.
Many countries do not have any specific law in place that governs the use of cryptocurrencies including DASH. Some of these are Albania, Colombia, Argentina, Kenya, Kosovo, Tanzania, Peru, The United Arab Emirates, and Mauritius. Therefore, from a legal perspective, the lack of legislation implies that the cryptocurrency is considered as legal. In order to declare an activity as illegal (for example, cryptocurrency trading), there should be some specific law that declares the activity as illegal.
However, Dash does not qualify as a legal tender in some jurisdictions given its decentralized nature.
What do people use DASH for?
Many people consider cryptocurrencies as a route to investment. While that is true for many cryptocurrency investors, DASH has other purposes as well.
You can use the coin to make international payments, transact with various merchants, and to pay debts.
What merchants accept DASH?
Many people cannot appreciate the value of a currency that does not have widespread acceptance among businesses. The basic use of money is to get vital goods and services. DASH is so popular because many companies across the world accept it readily. Some of these merchants are:
eGifter sells gift cards that you can send to others by email, mail, text, or even a physical delivery. The portal allows you to easily print a gift card. eGifter customers can also win eGifter Points with their purchases that provide additional discounts.
Travala.com enables you to book hotels, homes, and flights in your home or office's comfort. You can reach their 24/7 customer support team and choose your worldwide destinations. Moreover, the online merchant offers real value rewards through their innovative, and tokenized incentive programs.
This online service offers a secure and encrypted tunnel that supports online traffic flow. The VPN ensures that no one sees through the tunnel or gets their hands on your internet data. It can also keep your browsing history private.
This online service delivers smart Dedicated and Cloud VPS hosting with exceptional focus on enhancing customer experience. Snel.com offers a range of other IT services and customised options for its customers.
The Technology Behind DASH
The crypto market heavily relies on advanced technology. The sphere is characterized by innovations and technological solutions that are unique and drastically different from each other.
How it all started-The history of DASH
Though DASH is working hard today towards becoming a preferred medium for day-to-day transactions, its original aspirations did not align with this objective. In the early days of the coin, when it was known as 'Xcoin, and later Darkcoin,' it placed a lot of premium on privacy and anonymity.
In 2015, the network changed focus and was rebranded as "DASH." Evan Duffield, the founder, saw the lack of anonymity and low transaction speed in Bitcoin as significant weaknesses and suggested that the developers focus on improving it. When the proposal was rejected, he embarked on developing a new altcoin.
Evan Duffield released a new altcoin and named it 'Xcoin' in January 2014. Shortly afterwards, the name was changed to 'Darkcoin,' which received bad press as media houses promoted the idea that the coin was being used in the dark web markets. By March 2015, the team had mined about 1.9 million coins, but the focus on anonymity was limiting the coin's success, and it was further rebranded to 'DASH,' which stands for digital cash. The Dash team added several new features, such as Masternodes.
After the rebranding, the price of DASH began to grow steadily. In 2017, the platform witnessed the most significant growth but the gains declined in early 2018. Nevertheless, the market capitalization as of April 2018 was still stable at approximately $4.3 billion. DASH has been successful in retaining its position as a preferred payment mechanism across the world and features among the top 50 cryptocurrencies across the world.
Dash is open-source and governed by a community even though the original team is still very much involved in the project. The Dash Core Group is in charge of managing significant operations of the team. It confirmed the launch of Dash Platform version 0.14 about two months ago. The group approves money to finance the network's operations every month.
The Dash Investment Foundation, a team that makes the currency denominated business equity investments and business loans within the blockchain, has recently purchased gold. It is using it to introduce the Dash-to-gold rebalancing strategy.
Mining DASH-How are new coins created?
The process of mining Dash begins with setting up a computer, securely connecting it to the internet, and then leaving it alone to perform calculations. Millions of people are making transactions across the world and recording them. The only challenge is that some of them can attempt to dupe the system.
The good news is that the Dash blockchain uses Proof of Work consensus technology and miners to prevent it.
As a miner, your computer gets a mathematical problem to solve. Other miners get it too at the same time. If you solve the problem first, you create a new block and earn DASH for the effort. Of course, you will be competing with other miners.
After successfully creating a block, the blockchain verifies whether your ledger version matches their own. If it does, the blockchain reaches a consensus and the rewards are handed out. A part of the reward from mining is allocated to the Dash community for governance and funding.
Supply-How many coins are available, what if they run out?
At the time of writing, CoinMarketCap indicates that there is a circulating supply of 9,710,213 DASH. The maximum supply is 18,900,000 DASH, and the market price is 72.96 USD. The market cap is 708 451, 927 USD.
The available supply cannot run out, but no mining will continue once the maximum supply is reached. However, if the blockchain is altered, the mining can continue. The Dash community can choose to stop mining to allow the forces of supply and demand to increase this digital currency price.
The value of deflationary-based currencies is always steadily increasing, which encourages investors to hold it (Tron or TRX is an inflation-based cryptocurrency). Many people use them to purchase various goods and services for this reason. The price of Dash has been fluctuating depending on various market forces, as we have seen in this article. The Dash Investment Foundation has introduced the Dash-to-gold rebalancing strategy. As such, its volatility also closely mimics that of gold.
Decentralization-What does it mean?
Decentralization is the process of sending and receiving money without the involvement of a third-party. DASH is a decentralized currency given the limited interference from third-parties.
A decentralized autonomous organization governs the network and facilitates the decision-making process via masternodes which host blockchain copies, relay messages, and validate transactions. Moreover, masternodes act as shareholders. They vote on proposals for improving service delivery on Dash's ecosystem. Standard nodes and miners are also a part of the governance structure.
The miners rely on the proof of work algorithm, which embraces the consensus-building principle.
Due to decentralization, DASH is a global currency and local economic factors do not influence its value. At the same time, users of DASH also have the power to influence the management of the platform.
DASH as an Investment
DASH can be used as a prospect for investment, given its potential to increase in value. Once all the coins are mined, the demand will likely be more than the supply. As such, in the future, some investors could make more money. But Investors need to consider the coin's volatility before making an investment decision. Since cryptocurrencies have different use cases, you need to consider the unique features of DASH before participating in the network or investing in the coin.
Why should you invest?
Investing in DASH can be the right way of growing your finances. When you buy the coins and hold them, you can reap many benefits if the currency's value increases later. If this is your goal, you should evaluate the volatility of the coin and opt for a strategy or approach that can provide you with the most returns.
Investing in a decentralized system is best suited for those who intend to cushion their finances from bank failures and destructive economic policies.
Price and volatility-Why is the price so volatile
The prices of all cryptocurrencies, including DASH, are volatile due to speculation. When traders speculate an increase in the value of the coin, many of them buy it.
They do the opposite if the projects are not favourable. These activities can destabilize the forces of demand and supply and lead to price fluctuation.
Volatility carries significant risk, and investors should mitigate them by not investing more than they can afford to lose. A clever and experienced cryptocurrency trader can take advantage of this volatility and adopt a strategy of buying low and selling high to reap quick profits.
Where to buy DASH
Not all crypto exchanges offer similar features. So, when you want to buy DASH, start by looking for an exchange that can best serve your requirements. Consider the trading fees and the fiat pairs offered by the exchange before you start purchasing DASH. We have short-listed a few of our favourite exchanges here that you can consider:
eToro features over 1,000 assets that you can choose from. The social trading platform was established in 2007, and it has taken measures since then to make the buying and selling of cryptos, including Dash, easy for everyone. Millions of people also choose the broker because it is secure, responsible, and educational.
ForexTB (FXTB) is a web-based trading platform that is suitable for beginners.
Advanced traders may want more advanced features. But if all you want is to trade DASH, FXTB is a secure and regulatory compliant broker that will serve your needs.
Where to Store DASH
To store DASH, you need a suitable wallet. Many brokers and crypto exchanges automatically provide this service, but it is necessary to understand the pros and cons of different wallet types fully to choose the best wallet.
What are wallets?
Crypto Wallets are software or devices that are designed to store digital currencies securely and anonymously. The best ones are safe and allow you to manage and transfer currencies with ease whenever you want.
What types of wallets are available?
Read on for the main types of wallets available for DASH. Pay attention to the pros and cons of each type of wallet before you select the one that is best suited for your needs.
Web Wallet
These are the wallets that cryptocurrency exchanges and brokerages offer on their online platforms. They are affordable and easy to use. However, since the wallets are always available online, hackers often target them. The exchange may also declare bankruptcy leaving your funds at risk.
Mobile Wallet
Mobile wallets are similar to web wallets. The only difference is that they are used on mobile devices like mobile phones, or tablets. You can access them remotely from anywhere. Besides, you can enhance their security by installing the necessary security protocols. However, if you lose your phone (or if it is stolen), others can access the wallet and steal your DASH.
Examples of mobile wallets are:
Jaxx Liberty

Coinomi

DASH wallet

DASH Core iOS

Paytomat

Edge
Desktop wallet
As the name suggests, the software is designed for use on desktops. They are less convenient since you cannot access the wallet without a desktop.
But you can make them more secure by installing a range of security arrangements like 2FA.
Examples of desktop wallets are:
Exodus

DASH Electrum

DASH Core

Atomic

Guarda
Hardware wallet
These physical devices are equipped with specialized software that stores your cryptocurrencies in an offline environment. Hardware wallets are, therefore, cold wallets and offer the best security. But they need to be purchased and are not available for free. New and inexperienced users may also struggle to use them.
Examples of hardware wallets are:
Ledger Nano S

Trezor

KeepKey
Wallet combinations
Some wallets such as the Ledger Nano S can be interlinked with Ledger's native app Ledger Live or other DASH apps to increase safety and convenience.
Storing your wallet on an exchange, the potential upside and downside
A cryptocurrency exchange provides wallets where you can store your money. They are cheap and easy to access. Storing cryptocurrency on an exchange allows a user to trade at any time.
The possible demerit is a lack of security. If the exchange is hacked, the funds in an exchanges' wallet will also be compromised. If the exchange declares bankruptcy or faces legal issues, a user may experience restrictions or lose all funds (worst case scenario).
Dash Reviews
"…Dash has continued to build on the original invention of Bitcoin, to add more value to the original code." – Invest It In "Dash is undoubtedly a speculative investment that has a great potential of becoming the next bitcoin." – Bitcoin Exchange Guide "Investors Who Missed Bitcoin Rally Go for Dash…" – Bloomberg
Frequently Asked Questions
Yes. Bitcoin can be considered as one of the main competitors of DASH due to the introduction of the Lighting Network. Bitcoin Cash and Litecoin are also aiming to become a media for daily transactions.

He wanted to overcome the shortfalls of Bitcoin, i.e. low transaction speed and a lack of privacy.

Dash was launched in January 2014, and by April 2018, its market capitalization was already $4.3 billion.

The algorithm has a special hash function known as "X11." It consists of eleven hash algorithms that are required for completing the PoW. It provides maximum security with fewer nodes.

Masternodes provide "InstantSend," which bypasses mining, and "PrivateSend," which uses the un-spent DASH of the user before executing a transaction.
Alternative Cryptocurrencies