Lets take a deeper look into both brokers
Minimum Deposit:
Coins:
Regulation:
Asset Coverage:
Trading Platforms:
Free Demo:
Unique Features:
our pick
$10
eToro Mobile Trading Platform, eToro Trading Platform
Accepts customers from the USA, Offers 15 crypto coins to buy&sell including BTC, LTC, ETC, NEO and more, Trade on the world's leading social trading and investing platform
$100
BCH, BTC, CRYPTO, ETH, LTC
CFTC, FCA, IIROC, MAS, NFA
Bonds, Commodities, Indices
MT4, fxTrade, Autochartist
24/7 trading when the markets are open, Trade the four big names in crypto- Bitcoin, Ethereum, Litecoin and Bitcoin Cash, Premium MT4 and MT5 with suite of bespoke trading tools and indicators
What is eToro?
In the world of brokers, eToro is one of the better-known names. The platform is available in over 80 countries around the world, where it offers all kinds of assets, from traditional ones to digital currencies. eToro has been around for 15 years now, after being founded in 2006 in Israel. Since then, it has also opened an office in London, and over the last few years in particular it saw rapid expansion.
What is OANDA?
OANDA is one of the older brokers still active today, with a history that stretches back more than 20 years. It first emerged in 1997, when its first data feed went live. Since then, it has been functioning as a currency exchange information provider, and over time, it turned its business into an award-winning global enterprise. Essentially, it has kept its focus on currency trading, currency data solutions and trading technologies.
Comparing Customer Support
Customer support is a crucial part of every broker's service, as it needs to be there for users when they encounter issues, or find some aspect of the service too confusing.
eToro Support
eToro is generally well-known for excellent customer support that is reliable, competent and simple to reach. The platform doesn't have a live chat, but it does have a ticket system that allows users to quickly and easily select the aspect that they are having trouble with and describe the issue in their own words.
OANDA Support
OANDA's support page is actually extremely well set up. Once you get to its Contact Us page, you will be presented with two options — FAQ support and Global Offices. For more serious issues, you can go to the Global Offices section, where you will be presented with contact details for Asian, European and North American offices.
Available Crypto Trading Markets
Naturally, not all crypto trading platforms are the same. Let's see how these two compare when it comes to their support of digital currencies.
Fiat to Crypto Trading Pairs
When it comes to buying crypto in exchange for fiat, eToro is a clear way to go here. The company currently supports over 120 cryptocurrencies, all of which are paired against fiat such as the US dollar (USD), Canadian dollar (CAD), Australian dollar (AUD), Euro (EUR), Swiss franc (CHF) or Japanese yen (JPY).
As for OANDA, it doesn't list cryptocurrencies on its platform, but it does have Bitcoin CFDs, if you are willing to invest in a crypto derivatives contract instead of actual coins.
Crypto to Crypto Trading Pairs
Unfortunately, neither eToro nor OANDA offer crypto-to-crypto trading. eToro only has fiat-to-crypto, while OANDA only offers Bitcoin CFDs.
What Spreads Do They Offer?
Spreads are the difference between the price of an asset, and the price which the platform is offering when you engage in buying or selling. You, as a trader, pay this difference, and that's how the platforms generate revenue for providing their other services to you. Spreads can be variable or fixed.
Variable Spreads
Variable spreads are the first of the two types, and they essentially include spreads that move up and down with the price. As such, they are often a better option, as you are not asked to pay too high a spread if the price action is not that good. Both eToro and OANDA use variable spreads.
Fixed Spreads
Fixed spreads are the second type, which always remain the same, whether your earnings are high or low. The advantage of using this approach is that you always know how much you will have to pay, whereas variable spreads can change depending on what is happening with the market, so there is always a bit of uncertainty there.
eToro vs OANDA: Security
Obviously, the security of your funds is the single most important thing when using a broker. Using a secure broker means going through a KYC procedure, using two-factor authentication, setting up a strong password, etc.
Authentication
Authentication refers to verifying your identity and going through a KYC procedure. This is a common practice for most brokers these days, and it is typically a good thing to do, aside from being obligatory. eToro will require you to submit information such as your address, documents that confirm your identity and address, and you even have to verify your phone number.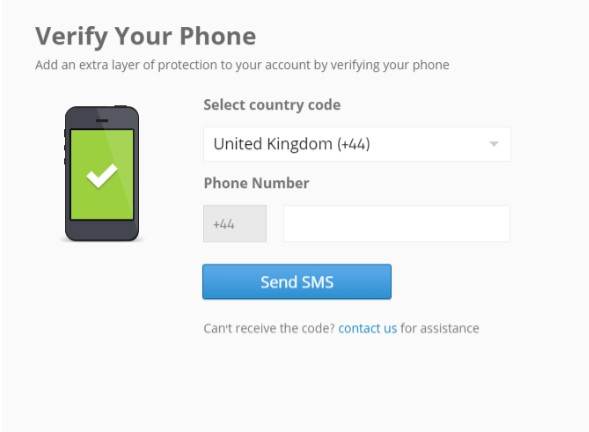 Source: https://www.etoro.com/
Interestingly, while eToro does require you to complete KYC, OANDA does not. All you need to do is complete its application form, fund your account and start trading.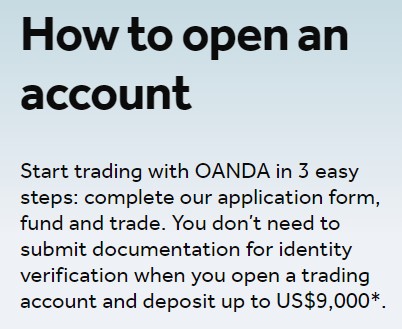 Source: https://www.oanda.com/bvi-en/cfds/how-open-account/
Still, its registration form is rather thorough.

Source: https://www.oanda.com/apply/
Regulation
As established brokers that have been around for years, decades even, both of these platforms are fully regulated by relevant financial bodies.
Licensing
eToro
UK — FCA
Cyprus — CySEC
US — FinCEN
Australia — ASIC
Seychelles — FSA
OANDA
BVI — FSC
US — CTFC
EU — FCA
Canada — IIROC
Australia — ASIC
Asia — MAS
Japan — FAS
Countries Available
You should always check before signing up with a broker that it offers services in your country. At time of writing, eToro and OANDA operate in the following countries.
eToro
Algeria, Andorra, Angola, Argentina, Australia, Austria, Azerbaijan, Bahrain, Bangladesh, Belgium, Bolivia, Brazil, Bulgaria, Chile, Colombia, Costa Rica, Croatia, Cyprus, Czechia (Czech Republic), Denmark, Dominican Republic, Ecuador, Egypt, Eritrea, Estonia, Finland, France, Georgia, Germany, Gibraltar, Greece, Holy See, Hungary, Iceland, Ireland, Israel, Italy, Jordan, Kazakhstan, Kenya, Kuwait, Latvia, Liechtenstein, Lithuania, Luxembourg, Malaysia, Malta, Mexico, Monaco, Netherlands, New Zealand, Norway, Oman, Peru, Philippines, Poland, Portugal, Qatar, Romania, Senegal, Seychelles, Singapore, Slovakia, Slovenia, South Korea, Spain, Sweden, Switzerland, Thailand, Ukraine, United Arab Emirates, United Kingdom, United States* (some states), Uruguay, Uzbekistan and Vietnam
OANDA
Argentina, Armenia, Australia, Austria, Bahrain, Belgium, Bolivia, Botswana, Brazil, Bulgaria, Cameroon, Canada, Chile, China, Colombia, Costa Rica, Croatia, Cuba, Cyprus, Czechia, Denmark, Dominican Republic, Ecuador, Egypt, Estonia, Finland, France, Germany, Greece, Guatemala, Guyana, Haiti, Honduras, Hong Kong, Hungary, Iceland, India, Indonesia, Ireland, Israel, Italy, Ivory Coast, Jamaica, Japan, Jordan, Kenya, Kuwait, Latvia, Liechtenstein, Lithuania, Luxembourg, Macao, Madagascar, Malaysia, Mali, Malta, Mexico, Moldova, Monaco, Montenegro, Morocco, Mozambique, Netherlands, New Zealand, Niger, Nigeria, Norway, Oman, Other Caribbean islands, Panama, Paraguay, Peru, Philippines, Poland, Portugal, Puerto Rico, Qatar, Russia, Saudi Arabia, Senegal, Serbia, Singapore, Slovakia, Slovenia, South Africa, South Korea, Spain, Sweden, Switzerland, Taiwan, Thailand, Tunisia, Turkey, Uganda, Ukraine, United Arab Emirates, United Kingdom, United States, Uruguay, Venezuela, Vietnam, Zambia and Zimbabwe,
Fees
Another important factor to consider before selecting a broker is which fees they charge and how much those fees are.
Withdrawal and Deposit Fees
When it comes to fees, OANDA is generally thought to be slightly better than the industry's standard. Its forex fees are low, although it should be mentioned that they are built into the spread, so they aren't being paid for separately.
As for eToro, it depends on the asset of your choice. There are no deposit or withdrawal fees, but there may or may not be trading fees, based on the asset.
Can I use leverage on eToro? How is it different from OANDA?
Yes, eToro does offer trading with leverage, and so does OANDA. On eToro, professional accounts are offered leverage of up to 400:1. Meanwhile, OANDA's leverage is up to 100:1 for professionals, but it depends on the type of asset.
Can I Use Margin Trading on Both Platforms?
Yes, both platforms support margin trading, meaning that users can enter into trades larger than their account balance. OANDA specifies that there are special margin tiers for certain instruments, which mean that the applicable margin rate is higher the larger the position that the trader holds over a certain size.

Source: https://www.oanda.com/bvi-en/cfds/spreads-margin/
Liquidity
Another aspect that should be mentioned is liquidity, as liquidity can determine how quickly you can buy or sell the desired asset and make a profit. Fortunately, both eToro and OANDA are very old, reputable and popular brokers, which allows them to enjoy excellent liquidity.
Which Broker is More User-Friendly?
While neither of these platforms is particularly difficult to figure out, we still believe that eToro is easier to navigate, as navigation is simply more natural. The platform's design is excellent, and you can reach most corners of the service from the navigation bar on the left-hand side of your screen.
That doesn't mean that OANDA is difficult to navigate, of course. But, we believe that eToro simply does it a bit better. In the end, it is up to you to decide.
Platform Interface and User Experience: eToro
Here you can see a comparison in the screenshots below for the differences  between the two platforms.
If you wish to look into different assets and markets, eToro has you covered, as everything is clearly labelled and neatly organised.
Platform Interface and User Experience: OANDA
The demo account is very easy to use as well, and you can set it up through Facebook Messenger or Telegram, which will result in something like this:
eToro vs OANDA: Comparison Summary
At this point, you should be pretty familiar with both OANDA and eToro, and capable of deciding which platform fits your needs best.
OANDA does have its own advantages, such as low fees built into spreads, no minimum deposit, and the lack of a need to upload documentation to prove your identity as long as you deposit less than $9,000.
eToro might be a more user-friendly platform, however, which makes it a better option for new traders who are struggling to find their way in the world of trading for the first time, and don't want to end up on an intimidating platform meant for more experienced members of the trading sector.
See Also Our Other Comparison Guides
etoro vs bux
etoro vs trading 212
etoro vs degiro
trading 212 vs plus500
etoro vs webull
etoro vs xm
binance vs etoro
Frequently Asked Questions
Yes, OANDA has been around for almost 25 years, and no broker sticks around for that long if it is not good enough to satisfy its users' needs. Meanwhile, eToro has attracted more than 20 million users from over 140 countries, which speaks to its quality

OANDA has a rich selection of forex trading pairs, and most traders turn to it for this purpose. The broker has been focusing on forex for decades, so it has an excellent offering, a lot of experience, and is generally considered to be one of the best options in the field.

The minimum deposit on eToro is $50. OANDA doesn't have a minimum deposit, so you can literally start trading with a penny, and work your way up. Take note, however, that if you decide to deposit over $9,000, you will have to verify your identity.

Opening an account on eToro is free, and there are no ticketing or management fees. There are no trading fees for certain assets, while there is a withdrawal fee of $5 for any amount. Note that FX rates do apply on non-USD deposits and withdrawals.