Lets take a deeper look into both brokers
Minimum Deposit:
Coins:
Regulation:
Asset Coverage:
Trading Platforms:
Free Demo:
Unique Features:
our pick
$10
eToro Mobile Trading Platform, eToro Trading Platform
Accepts customers from the USA, Offers 15 crypto coins to buy&sell including BTC, LTC, ETC, NEO and more, Trade on the world's leading social trading and investing platform
$1
What is eToro?
eToro is one of the world's largest brokers. It was founded in Israel in 2006, focusing on a variety of different assets. It allows users to access over 120 different coins that can be bought or sold on its platform. This crypto coverage brought even more users, resulting in eToro now servicing more than 20 million people across the globe. Given this year's rapid price surge, eToro is likely to end up attracting a lot more people in future.
What is Trading 212?
Trading 212 is a UK-based fintech trading platform that was launched even before eToro, in 2004. The company's goal is to make online trading more accessible to regular traders, although its aim is to serve everyone to the best of its capability.
The platform offers a wide variety of assets, too, including forex, stocks, indices, commodities, ETFs, and more. The company claims to have over 1.5 million clients and holds up to 3 billion pounds worth of client assets. It also says that it executes over 1.5 million orders daily.
Comparing Customer Support
One of the first things to talk about when comparing two brokers is their customer support service. Customer support is one of the most important things for most businesses, as its competence determines whether or not users will stick around.
eToro Support
When it comes to eToro and its customer support, it has been described as very good by many online testimonials. The company has an extensive Help Center, filled with guides, FAQs, and various others methods of covering some of the burning questions, important explanations, and necessary demonstrations on how to use the broker's service.
However, eToro also allows users support via chat and they can also submit a ticket detailing their issue. On top of that, it also gives itself a two-week deadline to reply, which is a lot of waiting for any issue. But, to be fair, the company does give priority to more urgent matters.
Trading 212 support
Similarly to eToro, Trading 212 only offers a single method to establish contact with its customer support, that being its email address. There is no live chat, nor phone support for users who prefer to discuss their issues via a phone call. On the positive side, email support works pretty well, and the company's support team responds quickly, with relevant information, and they are available 24/7, which is a pleasant surprise.
It also features plenty of educational videos, tutorials on how different aspects of the trading platform work, as well as a demo account that users can use to practice their trading.
Available Crypto Trading Markets
Next, let's discuss available crypto trading markets. The first thing to note here is that not all platforms are the same, which means that they may offer only a few crypto assets, plenty of them, or none at all. With that being the case, you can't just go to any broker in order to buy or sell cryptocurrencies — you need to know exactly which one offers the assets you are interested in.
Fiat to Crypto Trading Pairs
Since it added support for digital currencies, eToro has been allowing users the ability to purchase or sell digital coins on its platform directly. Over the last four years, it has been actively adding assets, and it currently features over 120, so users have quite a decent selection of the most popular coins. They are paired against fiat currencies such as the US dollar (USD), Canadian dollar (CAD), Australian dollar (AUD), Euro (EUR), Japanese yen (JPY), and Swiss franc (CHF).
As for Trading 212, it, unfortunately, doesn't support cryptocurrencies at all, so you cannot buy them with fiat currencies.
Crypto to Crypto Trading Pairs
As mentioned, Trading 212 doesn't support crypto.
eToro only lets you buy cryptos with fiat, but not exchange it for other cryptos. Keep in mind that this could change in the future.
What Spreads Do They Offer?
As you likely know, spreads are the difference between the asset's actual price and the price that your broker of choice will offer to buy or sell. The difference between the two is paid by the user, and it represents one of the main sources of income for the platforms. However, from the users' point of view, the goal is to find the platform with the lowest spreads.
Variable Spreads
Variable spread is the kind of spread that moves in sync with the market. This allows users to often get the best prices when buying or selling, but there is also a disadvantage of not knowing just how much you are going to have to pay. Neither Trading 212 nor eToro use this kind of spread.
Fixed Spreads
As the name suggests, fixed spreads are always the same, and while they tend to be more expensive than variable spreads, the advantage is that there will be no surprise when it comes to paying them. In other words, you will know in advance how much to set aside for the spread. Both brokers in this comparison prefer this type of spread to variable spread.
eToro vs Trading 212: Security
Another highly important feature is security. You should only use platforms that are as secure as possible. Your money's worth is undoubtedly perfectly clear to you, but the worth of your data can be even greater. This is why users are typically advised to always only use regulated platforms, since their security is typically high in order to meet the requirements set up by the regulators.
Authentication
The most common process to ensure security is the Know Your Customer (KYC) procedure, or identity verification. It is a process where the broker requests that you provide a number of details about yourself — your personal information. This serves several purposes. It helps the company learn about you so it can protect you if it notices suspicious activity on your account. It can also help prevent financial crimes, like terrorism financing, money laundering, tax evasion, and alike.
eToro, for example, requires you to answer a number of questions after providing your personal details. These may be your past trading experiences, your annual income, the amount you plan to use for trading, and more. It even needs you to verify your phone number.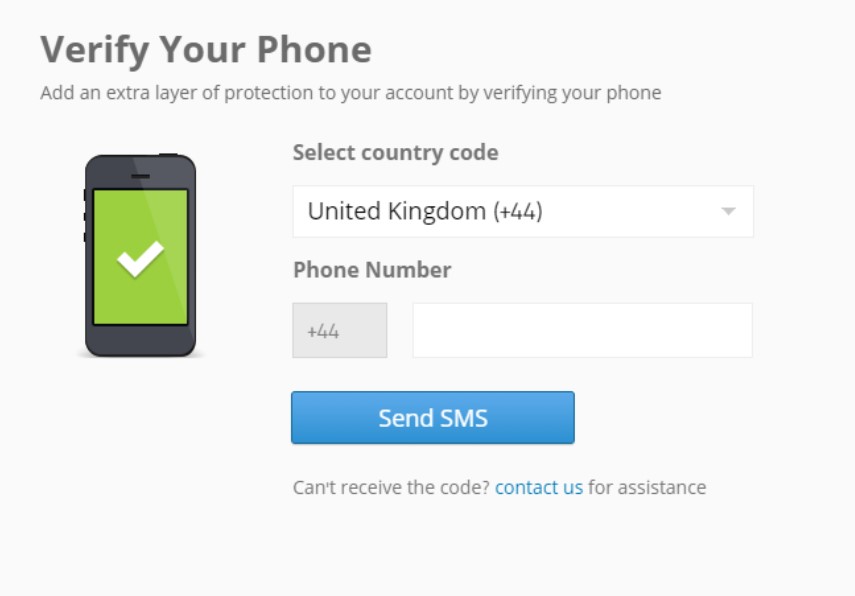 Source: https://www.etoro.com/
Trading 212 also has a lengthy list of questions before you get verified and are allowed to trade without limits, and you will find the ID verification button right next to the Deposit Funds button.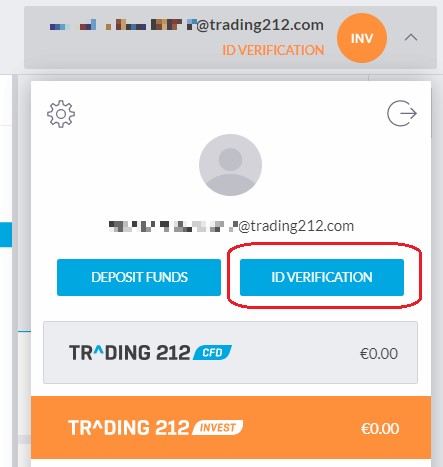 Source: Trading212
Regulation
Naturally, it is extremely important for a broker to be regulated, and for users to only use regulated brokers. There are actually several reasons why you should only go for regulated brokers. For example, their security is up to the highest standard, which matters a lot, given that they work with your money. Next, brokers need to be regulatory compliant in all countries around the world, it helps in maintaining security and also helps to eliminate financial crimes.
Also, using unregulated brokers is not only a bad idea because they might have poor security, but also because in many cases, unregulated companies turn out to be scams that are only after the users' money.
Licensing
eToro
UK - Financial Conduct Authority (FCA)
Cyprus - Cyprus Securities and Exchange Commission (CySEC)
US - Financial Crimes Enforcement Network (FinCEN)
Australia - Australian Securities and Investments Commission (ASIC)
Seychelles - Financial Services Authority (FSA)
Trading 212
UK - Financial Conduct Authority (FCA)
Bulgaria - Financial Supervision Commission (FSC)
Countries Available
eToro
eToro is available in the following countries at the time of writing.
Angola, Argentina, Australia, Austria, Azerbaijan, Bahrain, Belgium, Bolivia, Brazil, Bulgaria, Cayman Islands, Chile, Colombia, Côte d'Ivoire, Croatia, Cyprus, Czechia, Denmark, Dominican Republic, Ecuador, Estonia, Finland, Georgia, Germany, Gibraltar, Greece, Guernsey, Hungary, Iceland, India, Ireland, Israel, Italy, Jordan, Kazakhstan, Kenya, Kuwait, Latvia, Liechtenstein, Lithuania, Luxembourg, Macau, Malaysia, Malta, Mexico, Morocco, New Zealand, Norway, Oman, Peru, Philippines, Poland, Portugal, Qatar, Romania, Russia, Saudi Arabia, Senegal, Singapore, Slovakia, Slovenia, South Africa, South Korea, Spain, Sweden, Switzerland, Taiwan, Thailand, Ukraine, United Arab Emirates, United Kingdom, United States, Uruguay and Vietnam.
Trading 212
Trading212 is available for almost 100 countries around the world including Germany, Romania, UAE, Poland, UK and Netherland. However, it does not provide services in a few countries such as the US, China, and Canada.
Fees
Fees are not exactly a trader's favourite part of using a broker, but they are necessary when it comes to crypto, as you typically have to pay for using the coin's blockchain service, rather than the broker itself. Some brokers require you to pay their fee in addition to the blockchain fee, which does end up being expensive, particularly if said broker also has deposit fees, withdrawal fees, inactivity fees, and alike. But, this is only another reason to educate yourself on your broker before you engage in trading on its platform.
Withdrawal and Deposit fees
Speaking on fees, eToro actually has a great deal here, as it allows users to purchase assets via their debit or credit card. In this case, the platform charges zero fees for transactions, which is a great way for users to save up money. However, if they purchase crypto assets, there will still be fees that need to be paid to the blockchain network, in order to have the transactions processed, and coins delivered.
A similar deal can be found for stocks and ETFs on Trading 212, as the company charges no fees for deposits, withdrawals, or even the inactivity fee. However, it does have forex fees, and those tend to be quite high. They are built into the spread, with the average spread cost being 1.9 pips during the busiest trading hours.
Can I use leverage on eToro? How is it different from Trading 212?
Yes, eToro offers trading with leverage, with the leverage for professional accounts being quite high — 1:400. Trading 212, on the other hand, offers an even better deal, with leverage up to 1:500 for professional accounts. However, basic retail accounts can only use leverage up to 1:30, which is still pretty good for a standard retail rate.
Can I use Margin Trading on Both Platforms?
Yes. Both platforms support margin trading, with trading 212 offering a margin requirement for each product. What this means is that you are required to deposit a minimum amount, known as margin, to trade using the borrowed funds from the broker. But if you are not careful, you will lose the entire investment you have deposited in your account if the price of the asset that you traded moves significantly against your prediction. On the other hand, if you happen to get it right, the rewards will be multiple times higher than what you could earn if you traded without the margin.
Liquidity
As you may know, liquidity is also an important topic for platforms like crypto exchanges and brokers, as it determines how quickly users can buy or sell coins. While liquidity goes beyond the crypto industry, cryptos are probably the most dependent on it, as their price is changing rapidly and very strongly. As a result, users need to be able to react right away and have their trade closed as quickly as possible.
Fortunately, both of these platforms are very well-known and very popular, so we don't expect you will encounter liquidity issues, even when it comes to digital coins.
Which Broker is More User-Friendly?
The last thing to discuss in our comparison is the user-friendliness of the brokers we are comparing. User-friendliness is just as important a factor as any other we have talked about up until now. This makes it all the more important for the broker's platform to be simple to use and not feature too advanced options.
Platform Interface and User Experience: eToro
Here you can see a comparison in the screenshots below for the differences between the two platforms.
All that remains is to check out what the platforms actually look like and how that impacts user experience. Starting with eToro, it is very simple to get around thanks to the navigation sidebar on the left side of the screen. It tracks you no matter where you go on the website, allowing for easy navigation between pages and services.
The company's markets section is also quite neatly organised, allowing you to quickly find the type of assets you are looking for, or even a specific asset you might need.
All that remains is to check out what the platforms actually look like and how that impacts user experience. Starting with eToro, it is very simple to get around thanks to the navigation sidebar on the left side of the screen. It tracks you no matter where you go on the website, allowing for easy navigation between pages and services.
Platform Interface and User Experience: Trading 212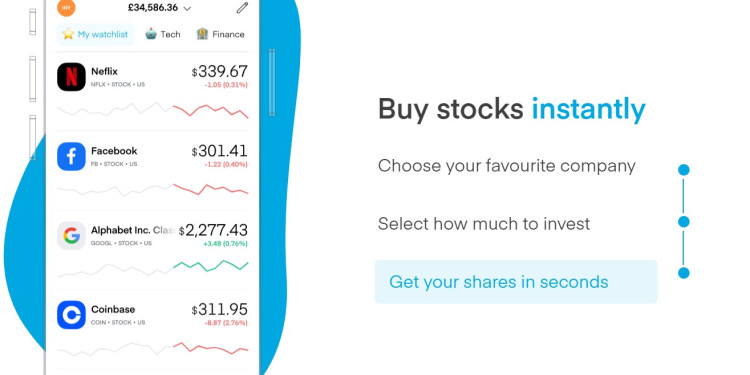 From there, you can buy stocks instantly in only three short steps, as the platform itself has demonstrated a quick and easy guide.
eToro vs Trading 212: Comparison Summary
In the end, we have seen that both of these platforms are quite old, quite reliable and reputable, and rich with a variety of assets. Unfortunately, Trading 212 doesn't support cryptocurrencies as of last year due to the regulatory issues in the UK. eToro, on the other hand, does let its users buy crypto directly, which is a good way to get into the crypto industry.
Both platforms are very clean, easy to navigate, and user-friendly. They are also both licensed and regulated by the highest financial authorities, which makes them safe and worthy of your trust.
See Also Our Other Guides
etoro vs bux
etoro vs trading 212
etoro vs degiro
trading 212 vs plus500
etoro vs webull
etoro vs oanda
etoro vs xm
binance vs etoro
Frequently Asked Questions
Identity verification consists of providing personal information, a copy of a valid ID document, such as your passport or driving license, or a national identity card for non-UK users. On top of that, you need to provide a valid proof of address document and a selfie.

Trading 212 offers numerous ways of depositing money, such as bank transfers, instant bank transfers, credit cards, debit cards, Skrill, Dotpay, Giropay, Carte Bleue, and Direct eBanking, among others.

Technically, the platform should be safe enough, although you should not take any chances. eToro has suffered data leaks in the past, after all. To ensure the maximum safety of your assets, you should withdraw them to your private wallet.

The minimum first deposit depends on the country you live in and the nature of your account. Retail accounts only pay $25, while corporate accounts work differently. For numerous countries, it is only $50. However, when it comes to bank deposits, they must be at least $500.