Neo Price Index – Real-time NEO rate
Neo Price Live Performance Indicators
Neo (NEO)
...
Neo Price Summary
NEO is a coin that used to be very popular in China and earned the nickname 'Chinese Ethereum' at one point. Like EOS, many believed it could become the Ethereum Killer, and it was EOS and Ethereum's major rival a few years back. Unfortunately, over time, the coin started getting less and less attention, which eventually resulted in NEO sinking to the 45th spot on the list of largest cryptos. Its market cap is still in the billions and is currently at around $3b but NEO is hardly as popular as it used to be.
Its price, on the other hand, has seen a considerable increase this year, even though it did not even come close to breaking its former ATH. In 2021, NEO started with the price of $14, only to surge to $60 by early April. Less than three weeks later, the coin doubled its price, going beyond $120. However, the price corrected soon after and dropped back below $90. But this was not the end for NEO and the price went beyond $120 in only a few weeks.
Unfortunately, after the Bitcoin price crashed in mid-May, the entire market followed BTC's footsteps, and that included NEO. The coin did make several strong support levels along the way, but it mattered little, as they all failed to preserve its price action which led to a massive drop to $30. One good thing is that $30 seems to be its new bottom, which is still twice as high as its starting price from January 2021.
NEO Price History
Over the last few years, NEO seems to have dedicated itself to development, establishing partnerships and acquiring participants for its ecosystem. The project definitely didn't die, nor did it come to a standstill. Just last week, it announced the 21 members of its initial Neo Council. Before that, it created a Neo Frontier Launchpad, which has attracted a lot of positive feedback.
This string of good developments is likely the reason why the coin's price currently sits at $30, after growing by 5.55% in the last 24 hours.
In its past, however, its price has been relatively stable, reaching bottom after the bull run of 2017/2018, and then launching a few short-term surges from there over the years. As mentioned, in 2021, it joined the bull run that took it to $120 and slightly beyond. However, in early 2018, the coin climbed nearly to $200, reaching an ATH at $196.85. This is still its record to this day, but this only shows that NEO has the potential to go much higher than where it is right now—all it needs is some attention from crypto investors.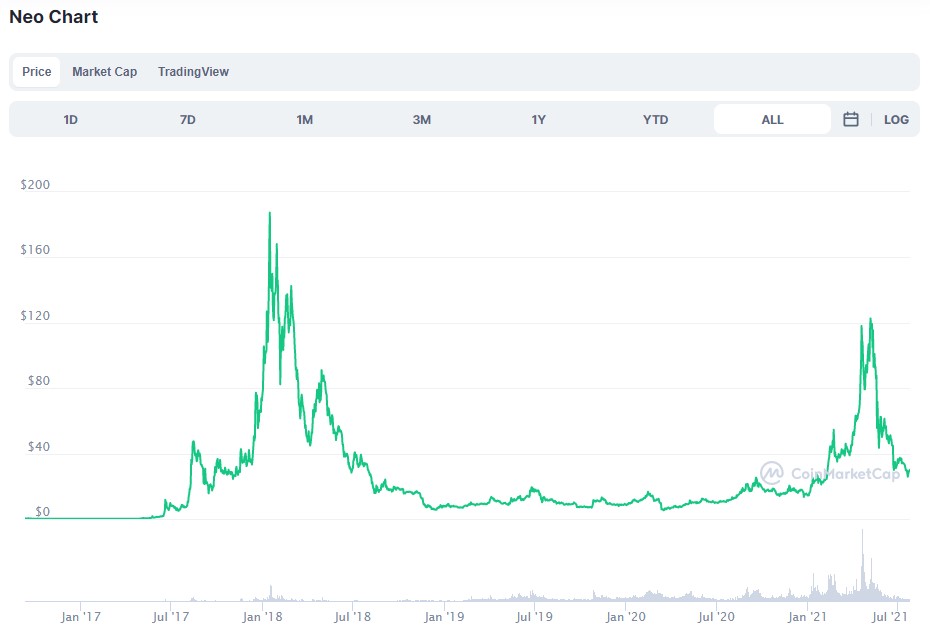 NEO price chart. Source: Trading View
NEO Price Prediction
When it comes to the future of any cryptocurrency's price including NEO's, there is little that can be said with any amount of certainty. As many are likely well aware, cryptocurrency trading comes with a lot of risks because no one can ever tell what the price is going to do next.
Of course, crypto trading is more than just betting, meaning that it is still possible to make some predictions based on current trends, probability and past performance. With that said, it is clear that NEO has the potential to grow which is evident, both from the growth it has displayed earlier this year, as well as from the amount of development it has seen in recent weeks and months.
How high it can go is another matter. But NEO seems to have found a new bottom at $30, which is noticeably above its lowest price as it was in 2020 and years before. So there is some amount of progress regarding its price. The project seems to be more focused on its ecosystem and products such as its launchpad, which is a good thing. Its blockchain is certainly faster and more scalable than that of Ethereum, and it has done a lot of work to boost transparency and decentralisation.
While it can hardly be called a top coin in this day and age, coins have sunk and returned to heights in the past, so there is no reason why Neo wouldn't be able to do the same if it makes the right move.
Expert Tip on the Price of NEO

"

NEO is a project whose unique feature revolves around its continuous development. The project is aware of how technology matures over time, and it wishes to mature with it. As it becomes more and more futureproof, it waits for the increase in demand that it will be able to handle, unlike many of its peers, which would be overwhelmed in case of mass adoption. With that said, it is clear that NEO's price is very undervalued, despite the fact that its technology has always impressed researchers that were looking into it.

"
About Neo
Neo is a project co-founded by Erik Zhang and Da Hongfei. It describes itself as a rapidly growing and developing ecosystem that wishes to become the base for the next generation of the internet. In other words, it is trying to bring forth a new economy surrounding digital payments, assets, and even identities, mixing it all together.
It was the first public blockchain launched in China, going live in early 2014 as an open-source platform Antshares. However, by 2017, it had changed its name to NEO. The coin sees the flaws of the crypto and blockchain sector and it aims to resolve them as much as possible, making blockchain more open and lowering barriers to entry.
Neo Value Compared to Other Cryptocurrencies
Frequently Asked Questions
In theory, yes. NEO has shown that it can go quite high up, even though each surge that came after January 2018 has been fairly mild other than the 2021 bull run. This only shows that NEO will move seriously during a market-wide rally.

On its own, NEO is far less volatile than most other cryptocurrencies. However, as a digital asset with no real-world asset to back it up, yes, NEO's price is subject to volatility.

NEO has been at the bottom for over a month now, but even when its price is low, it is significantly higher than the lowest point from last year.

Since NEO does seem to have found a bottom, most analysts believe the coin should recover soon. However, there are still risks, and it is possible that the bottom could be breached in a particularly bad scenario, where NEO could keep sinking.

NEO achieved an ATH of $196.85 in the bull run of 2018.