How To Mine Bitcoin Cash - Step-by-Step Guide
Bitcoin Cash (BCH)
...
Cryptocurrency networks that use Proof of Work (PoW) algorithms to verify transactions, enhance decentralisation, and maintain network security rely on Mining. 
Mining Bitcoin Cash (BCH) and Bitcoin are essentially similar operations, save for the difference in block size limit.
It's a process anyone can participate in by committing computing power to solve complex mathematical problems. In return, 'miners' earn a reward in the form of new coins. So, mining plays a crucial role in how a PoW blockchain creates new coins. In this article, we explain all you need to know about how to mine Bitcoin Cash.
Our Quick Guide to Mine Bitcoin Cash
Set up a Bitcoin Cash wallet
Before you begin, you'll first need to set up a Bitcoin Cash wallet. This is where you are going to receive and store your mining rewards. It is therefore critical that the wallet you choose offers the highest level of security, with hardware wallets being the best option. You can also consider secure software wallet options. Ensure you back up your wallet keys.
Join a Mining Pool
Bitcoin Cash mining may not be viable if you decide to solo mine due to how complex and resource-intensive it has become. So for a beginner miner, the best shot is to join a BCH mining pool. "Pooling" allows you to collaborate with other miners by combining your computing power and then mining as one entity. This way you greatly increase the chances of solving the complex puzzle for a block reward.
Start Mining
You are now ready to mine and earn part of the 6.25 BCH mining reward. However, before you go ahead, ensure you are all set by going over your operation setup. Consider profitability, power supply, internet connection and cooling controls. These factors can greatly impact your mining success and it pays to be on top of each aspect. Once everything is in order, start mining.
Alternative Cryptocurrencies
Requirements – What do You Need to Start Mining Bitcoin Cash Today?
Mining is much like any other business engagement, where profitability depends on several variables unique to that venture. In Bitcoin Cash mining, these variables represent the requirements you need to have in place before you start, which include the type of hardware and software to choose. Here is what you need to know:
Popular Hardware and Mining Rigs for Bitcoin Cash
Choosing the right hardware is crucial whenever you want to mine cryptocurrency. Today, an ASIC miner is what you need to get the hash rate required to mine BCH. You need to note that hardware represents the biggest initial investment cost. With ASIC miners getting even more powerful, costs have gone up. A new one costs anywhere from $2,000 to over $7,000, with older models available at lower prices.
So, when considering an ASIC miner, pay attention to the cost, which by the way is relative to three other factors:
Hashing/Computing power (in hashes/second)
Power consumption
Efficiency
Hashing power is the number of hashes a hardware machine can dispense towards solving a block. It's measured per second and the higher the figure, the more powerful the machine and the more expensive.
Power consumption relates to how much electricity (energy) is needed to optimally run the miner. It is measured in terms of kilowatt-hours and can impact profit if it's too high. That's where you check the third factor, efficiency.
An ASIC miner that offers a high hash rate is what you need, but it wouldn't be if it leads to too much energy wastage.

Efficiency, therefore, tells you how much power must be used to get a single BCH coin. An efficient machine consumes less electricity compared to others when mining Bitcoin Cash.
If you have settled on a particular hardware machine, it's worth keeping in mind other related requirements:
Electricity: cheap and steady is best, having a backup is ideal.
Internet connectivity: 24/7 internet connection- an unstable connection will ruin your chances of success.
With that in mind, here are the top three Bitcoin Cash ASIC Miners today.
1. Antminer S19 Pro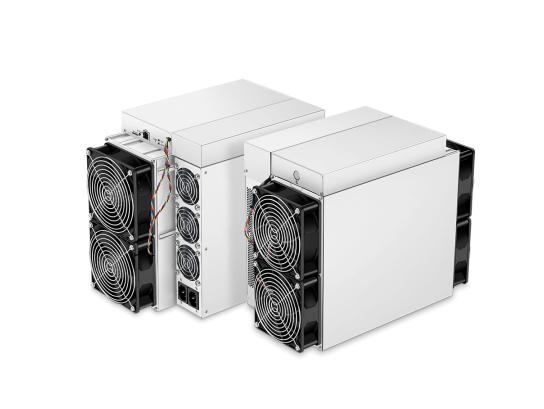 The Antminer S19 Pro. Source: Bitmain
The Antminer S19 Pro from Bitmain is a top ASIC miner from the world's leading ASIC makers. The S19 Pro offers 110 TH/s, with 3250W power consumption and efficiency of 0.03j/Gh. It's one of the most profitable as of February 2021, according to ASICMiner Value.
2. MicroBT's Whatsminer M30s++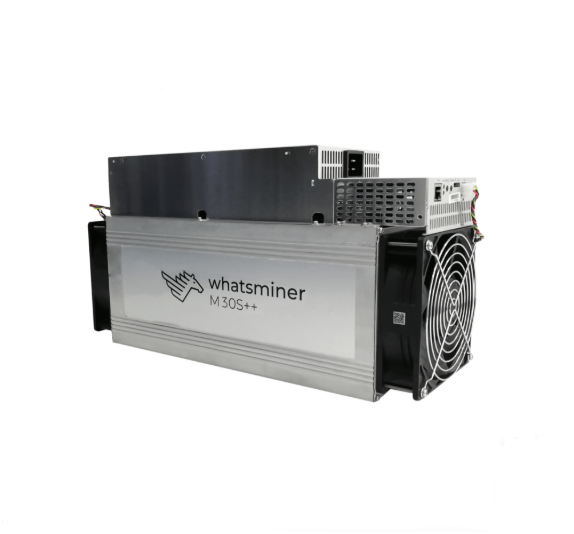 Whatsminer M30S++. Source: MicroBT
Whatsminer M30s++ from MicroBT is one of the latest and most powerful ASCI miners. It offers up to 112 TH/s, consumes energy at 3472W, and has an efficiency ratio of 0.031j/Gh.
3. Antminer T19
Antminer T19. Source: ASICMiner Value
The T19 delivers 84 TH/s, power consumption of 3150W, and an efficiency ratio of 0.038j/Gh. It is one of the most popular Bitcoin Cash ASIC miners and comes at a relatively cheaper price compared to the above alternatives.
Software
Software is another requirement you need to consider as you look to mine Bitcoin Cash. Mining software connects with your hardware tool to run the mining and will offer an interface for connecting with the network to monitor the process, checking profits and essentially keeping you in the loop regarding your venture.
Mining software applications are available both for desktop and mobile use, meaning you can also keep tabs on the operation while on the go.
Which software people use to mine Bitcoin Cash
There are several software applications you can choose from to mine Bitcoin Cash. However, the two most popular in the industry today are CGminer and BFGminer.
Both are command-line programs, which mean you can use the interface to get more into the mining process. But if you find the command-line interface (CLI) a bit more complex for you, don't worry at all. The EasyMiner is a great alternative that offers automated functionality and supports both self-mining (solo) and pool mining.
Note that most ASIC miners come pre-installed with software. If it's not, then do a little research to find one that's compatible with your hardware.
Can I Use my Personal Computer to Mine Bitcoin Cash?
Technically, you could and it was certainly so in the early days of mining. In those pioneer days, as was the case when Satoshi Nakamoto mined Bitcoin's genesis block in 2009, using CPUs was possible.
Then came GPUs and FPGAs, but by the time Bitcoin Cash launched after Bitcoin's hard fork in 2017, mining the SHA-256 algorithm had moved to ASICs (Application Specific Integrated Circuit). These are special computing devices built specifically for cryptocurrency mining.
Today, mining on a PC is practically an exercise in futility. You will make no returns at all, even if your computer was to miraculously survive the extreme heating bound to damage it within no time.
As noted above, mining Bitcoin Cash requires massive computing power, ever-increasing as the network approaches its 21 million supply cap. This is why mining Bitcoin Cash is mainly done by large mining farms. Individual miners looking to get a piece of the pie can have a better chance if they join a mining pool or do cloud mining.
Technical Knowledge Required to Mine Bitcoin Cash
You might need to grasp the meaning of a few widely used technical terms used in relation to Bitcoin Cash mining. This will help you understand how the whole process works, including how much reward you are going to earn. Here is a list of the most used technical terminology in BCH mining:
A mechanism in blockchain technology that allows for agreement between a distributed network of users or machines. For example, a Proof of Work consensus algorithm allows miners to agree on the validity of blocks before they are added to the blockchain.
It is a distributed record of all the transactions on the network which is organised in data blocks that are verified every 10 minutes. A miner gets rewarded when they secure the network by adding a valid block to the blockchain.
This refers to the amount of hashing power needed to solve a complex puzzle and verify a block of transactions. It's also called computing power and is measured in hashes per second. The more hashes per second a machine produces, the more powerful it is and the higher its chances of finding a block.
This is a time estimate coded in the protocol and which is how long miners take to verify blocks and add them to a distributed ledger. Bitcoin Cash has a block limit of 10 minutes.
This is a measure of how hard it is for a miner to find a new Bitcoin Cash block. It's also called a difficulty adjustment algorithm (DAA) and corresponds to how much hashing power a miner needs to mine a single block within the estimated block time. For Bitcoin, the difficulty adjusts every 2016 blocks, while BCH introduced an Emergency Difficult Adjustment (EDA) algorithm in November 2017. The latter also leverages a retarget of the last 144 blocks to adjust the difficulty.
A miner fee is a small amount of money users attach to the transaction to incentivise miners to process their transactions. These amounts add to the 6.25 BCH included in the block reward.
This is a set reward given to a miner(s) who solves the cryptographic puzzle on the network. Bitcoin Cash has a block reward of 6.25 BCH, which will cut in half during the next halving.
Joining a Bitcoin Cash Mining Pool
A Bitcoin Cash mining pool would give you the best chance to win part of the 6.25 BCH on offer as a reward for mining blocks. This is because mining pools combine the hashing power of several small miners to end up with a massive hold.
It is this "pooling" that makes it possible for smaller miners to compete against large mining farms that can install hundreds to thousands of ASIC miners.
There are several pools you can join, but it is advisable to research the provider before proceeding. Remember that a mining pool is in control of the mining and receives the reward before sharing it with individual contributors. As such, it's better to understand the terms and conditions before you join. These T&C include the fees, hash rate threshold and reward sharing.
Research into these aspects could help you avoid potential scams that only 'steal' your hash rate and do not pay you as promised.
You can also mine Bitcoin Cash by renting hashing power from a data centre, instead of setting up your own hardware. This is called cloud mining, a hands-free approach that allows a relatively easy way into mining cryptocurrencies. You only need to purchase a mining contract for the coin in question and commit to the cloud mining platform for a given period.
Here are the advantages and potential drawbacks of cloud mining:
Pros
No need to acquire, install or configure mining machines.
You don't have to worry about electricity costs.
No maintenance needs.
The fastest way for a novice miner to mine coins.
Cons
Risk of potential scams.
You need to commit to the contract's time, which is fixed.
Top Bitcoin Cash mining pools to check out are:
Antpool
ViaBTC
Slushpool
Poolin
F2Pool
Hashflare
Genesis Mining
How Profitable is Mining Bitcoin Cash?
To determine how profitable it might be for you to mine BCH, you need to consider the factors we mentioned earlier and which we recap below.
Hashing power
Power consumption
Cost of electricity
Pool fee
Bitcoin Cash price
You can determine if mining Bitcoin Cash will be profitable when you consider the hardware machine's computing power (output in Terahashes per second (TH/s) or Gigahashes per second (GH/s)).
You should also note the amount of power the hardware will consume, and the cost of electricity per kilowatt-hour (kWh). If you have joined a mining pool, find out how much fee you will pay and crucially, consider the price of Bitcoin Cash.
Let's assume you have settled on the Whatsminer M30S++, an SHA-256 miner that costs around $3,900 and packs 110TH/s, consumes 3472W and has an efficiency rate of 0.031j/Gh. The revenue per day will be $41.58 at the current BCH price of $684.
If you deduct pool fees of $0.42 and electricity costs of $8.33, daily profit comes to around $32.83.
A solo miner would need 103 days to mine 1 block and 16.5 days to mine 1 BCH using this device. ROI would take about 118 days. Note that how long it might take to mine a block using a given hash rate will rise or fall depending on adjustment in mining difficulty.
Overall, it is crucial that you undertake this step before you start mining because you can then determine whether it's worth it or not or whether to join a pool or do solo mining. Remember, you can calculate profitability quite easily using a Bitcoin Cash mining calculator.
I've Already Mined Bitcoin Cash, What Now?
Congratulations! You have not only earned 6.25 BCH but have done so while helping to secure the Bitcoin Cash network. It means you can go on to mine more.
Now, what do you do with the coins sent to your Bitcoin Cash wallet? You can either:
Sell the BCH coins immediately and earn a profit, or
Hold (hodl) the coins securely in your wallet and sell at a later date.
Selling Bitcoin Cash
If you decide to sell your coins, there are two ways to go about it. First, you can use a cryptocurrency exchange such as Coinbase or go to a peer-to-peer platform.
Cryptocurrency exchanges: An exchange will allow you to create an account and then proceed to sell the coins. The platform will charge you a fee for the transaction, which is one factor you need to consider. Other than that, ensure you use a reputable exchange that is likely to be more secure. Also remember that only keep coins on an exchange when you want to sell them immediately, otherwise keep them in a secure offline wallet.
Peer-to-Peer network: A P2P platform is one that provides a marketplace for buyers and sellers to meet and transact directly with one another. The essence is to find a buyer willing to match your asking price and once they pay into an escrow, you can send the coins to the wallet address they provide.
Saving Bitcoin Cash Coins in a Secure Wallet for the Long Run
If you don't want to sell your Bitcoin Cash immediately, then you'd probably do well "hodling" them. This is a long-term strategy that allows you to hold onto the BCH as long as possible, with the conviction that Bitcoin Cash is currently undervalued and will therefore be worth much more in the future.
As explained earlier, how safely you store your cryptocurrencies can be the difference between enjoying the fruits of your mining effort and allowing someone else an easy way into stealing them.
In short, to safely store your mined BCH coins, it is highly recommended that you use the most secure wallets. Our guide has helped narrow down your search with the following list of the top recommended Bitcoin Cash wallets.
Most Popular
Min. Deposit
$10
Promotion
Award-winning Cryptocurrency trading platform
60+ Cryptoassets available to invest in
Payment Methods:
Bank Transfer, Wire Transfer
Full Regulations:
CySEC, FCA
Cryptoasset investing is unregulated in most EU countries and the UK. No consumer protection. Your capital is at risk. CFD crypto trading is unavailable for clients residing in the UK and US.
Over 45 major blockchains supported
Go offline and hold your coins
Payment Methods:
Bitcoin, Credit Card
Frequently Asked Questions
Yes. You can mine successfully if you have a good ASIC miner and run the mining in a region with cheap electricity. However, note that price movements can impact profitability at a given time.

Yes, you can switch from mining Bitcoin to Bitcoin Cash with the same hardware and operation setup. This is because both coins run the SHA-256 mining algorithm.

6.25 BCH. The block reward reduces every four years during halving.

As of February 2021, there roughly 2.34 million BCH left.

Yes. You can get a cloud mining contract for Bitcoin Cash from some of the top cloud mining farms available in the market.

Yes, you can mine BCH with a graphics cards mining rig. However, mining difficulty means GPUs are less likely to compete with ASICs.