Litecoin Price Predictions & Forecasts 2020 | What Do the Experts Say?
Litecoin, considered by many to be the "silver" of the crypto industry, is a currency designed as a cheaper and lighter alternative to Bitcoin. It is not intended to compete with the leading digital currency, but to be an alternative for smaller and simpler transactions. It is one of the oldest cryptocurrencies, developed in 2011, and remains consistent among the most important today. After the 2018 bearish season, Litecoin's price began to show strong signs of recovery and picked up in the first half of 2019. In this article, we assess what Litecoin's prospects are in the medium and long term. Don't miss our technical and fundamental analysis that will give you some ideas about Litecoin's predictions for 2020.
Litecoin Price Predictions 2020: Bright Future for Litecoin?
Litecoin's credibility story dates back several years. It was one of the first projects in the crypto sphere and is one of the few that has remained strong in the face of adversity. Thus, Litecoin has not been out of the Top 10 of the CoinMarketCap for years, keeping its market capitalization at adequate levels. It maintains full compatibility with the Bitcoin API and has been the first to test some new technologies such as the Lightning Network and the segregated token solution. In this way, Litecoin is, to a certain extent, a pioneer in several technologies.
Its philosophy of giving added value to the industry instead of competing has served as part of the success of this project. After starting 2019 on the right foot and becoming one of the most profitable alternatives in the market (LTC gained more than 60% in the first weeks of the year), Litecoin's future looks increasingly bright. Managing Director Charlie Lee, who also ran Coinbase in its early days, continues to be active in the project and has stated on a number of tweets that Litecoin's developments are still on track. Despite the recovery, the altcoins suffered several setbacks during the second half of 2019, so what will be the situation in 2020?
Key Reasons for Litecoin's Future Growth in 2020
Below are some of the arguments that could support a continuation of the upward path taken by this cryptocurrency in 2019. Remember that other technical and external elements (e.g. regulations, macroeconomic data, etc.) could truncate this upward movement, so it is crucial to keep up with the news and keep track of technical indicators in our analysis.
The development team behind Litecoin is one of the strongest in the industry. LTC blockchain has been used to implement several new technologies that play a crucial role in the industry today. Its director, Charlie Lee, is one of the most influential people in the industry.

Litecoin's network is much more efficient than Bitcoin, making it the ideal alternative for smaller operations. The blocking time is reduced to 1/4 of that of BTC.

Although there is no official roadmap,

its CEO said in several recent interviews

that he is working directly on making the LTC more fungible. This plan would include the future incorporation of private transactions into the network.

Bitcoin's halving will reduce its miners' block rewards by 2020. These periods are often surrounded by positive movements in Bitcoin, which are sometimes reflected in other similar altcoins such as the LTC.

More and more payment processors are adding LTC to their digital asset offerings.

In rising seasons such as 2017, Litecoin's performance has been superior to that of its counterpart.
Litecoin Technical Analysis and Possible Scenarios (2019-2020)
Firstly, it is important to make clear that the technical analysis shown below was carried out on 20th December 2019. It is not possible to predict how Litecoin will perform in the future, but we can take a look at the most important indicators. One of the factors we can take advantage of is the previous historical record, which marked highs of up to $420 USD and drew several important support and resistance zones. Our technical analysis below serves simply as a guide for our readers and should not be considered as financial advice.
As both currency pairs differ in their behaviour, we will study the price of Litecoin against the US dollar (LTC/USD) and against Bitcoin (LTC/BTC). Both pairs have significant trading volume and are available on multiple financial platforms.
LTC/USD: Important Observations and Areas of Interest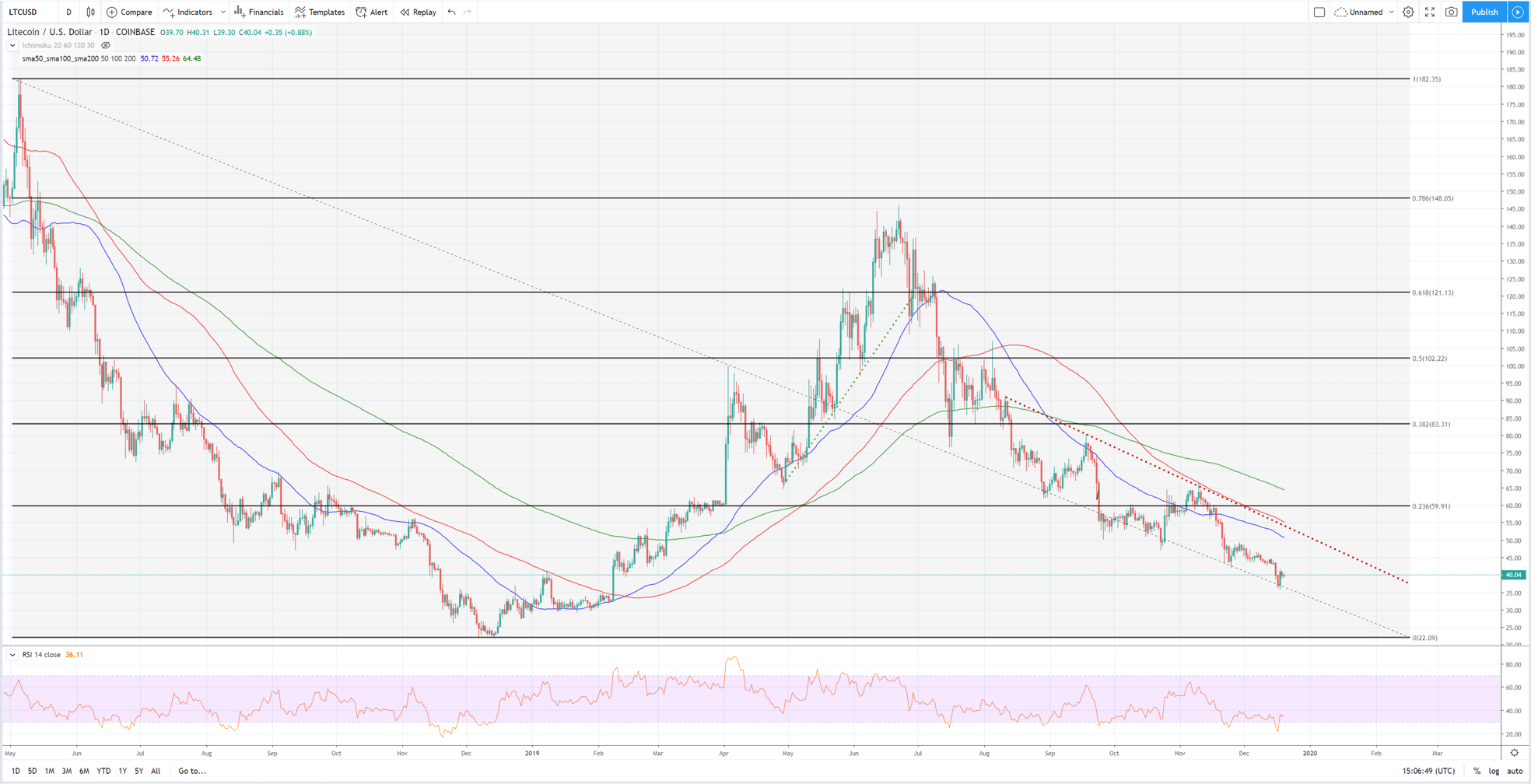 The graph shows several interesting elements that should be followed carefully:
It is important to mention that we have made a study with relatively large intervals (1 day) to evaluate medium-term scenarios.
The bullish market has been buying Litecoin since the beginning of 2019, which is clear from the increase in its price in the first half of that year. However, the bullish channel was broken in July and Litecoin entered a clear bearish trend, which is well defined by the Fibonacci diagonal line and the bearish guideline at the highs (red dotted line). This is precisely one of the references if you are looking for a breakout.
In addition to the FIB levels, which we discuss below, the LTC/USD chart respects very well, the moving averages (MA50, MA100, MA200) as S/R levels. For the analysis date, all correspond to intermediate resistance levels before touching clearer ranges.
A look at the Fibonacci retracements shows that the first level to be recapitalized corresponds to the 23.6% retracement. It is

above $59 USD

and is one of the most crucial factors when considering the 'bigger picture'.
If the bulls don't gain strength, Litecoin could hit the

2019 lows ($22 USD)

, where a lot of volatility was observed. There is another

intermediate S/R level near $40 USD

.
The bullish outlook is

simmering at $83

as a middle ground for a lot of bullish/bearish fighting. This is before touching the

psychological resistance of $100 USD

that Fibonacci technically marks as $102.
If you take more strength, the

bulls will go for the $150 USD

mark, and then test the high in our study:

$182 USD

.
As of the release date, the relative strength index is recovering from the oversold level. Bearish trading would be exhausted, but several elements of confirmation will be needed before the current trend can be turned around.
LTC/BTC: Important Observations and Areas of Interest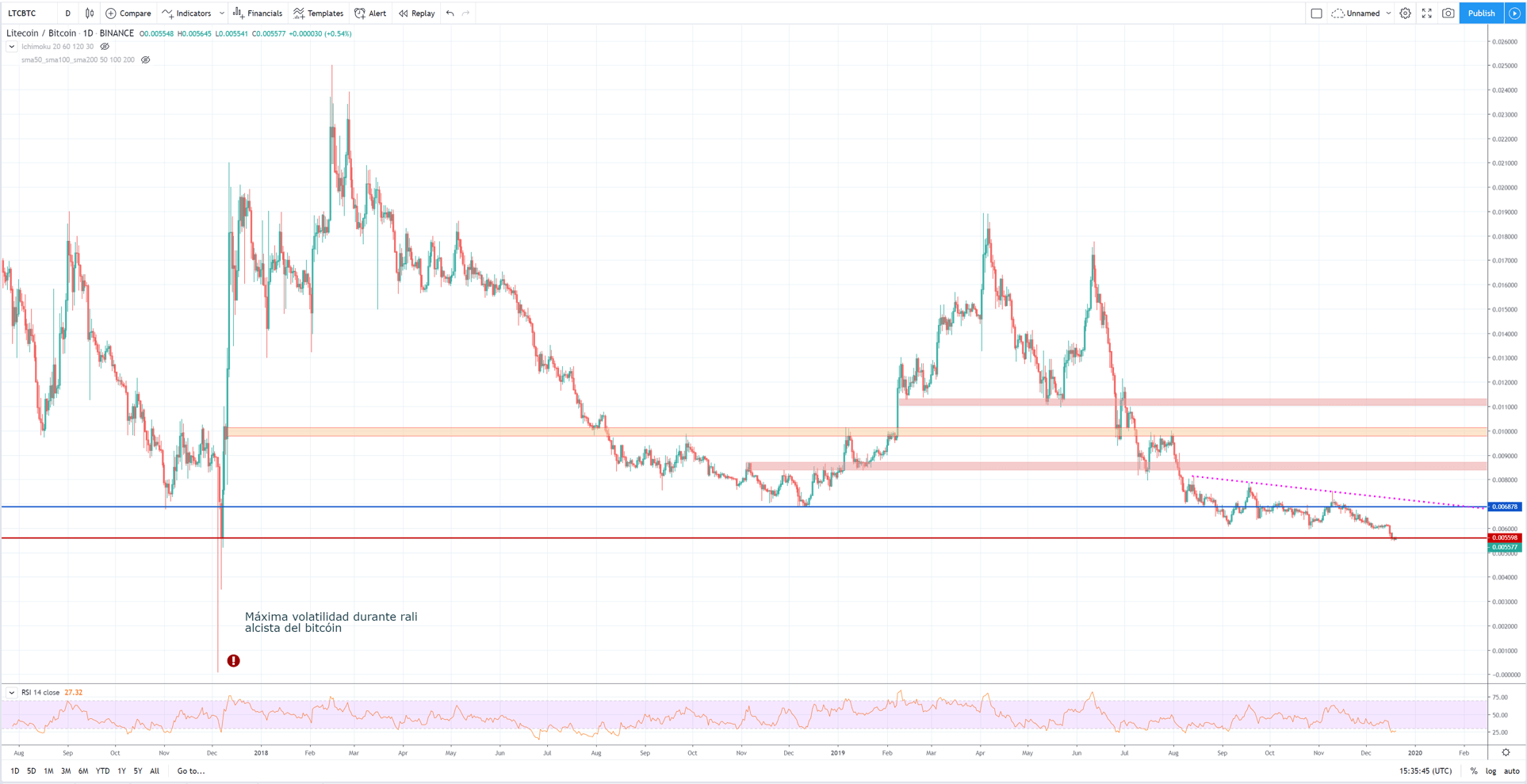 Another pair with great opportunities is the Litecoin vs. BTC price; however, it is even more volatile and difficult to trade, so we suggest proper risk management.
The intervals are also 1 day. It is clear that we are at the lowest level since December 2017, in a crucial support area for Litecoin. Support levels below the current one is lost from sight in our graph and in the Binance history. Consulting

Poloniex

data, we can see that

the next important support level is above 0.00444 BTC

.
For the date of analysis when this article was written, the RSI touches important oversold levels. If the bulls take the opportunity and inject buying interest, they will face a first resistance level that moves with volatility

around 0.00680 BTC

. Then, the bullish side would have to break the bearish trend line (pink dotted line).
From there on, the levels are less accurate and therefore we have marked multiple zones of interest.

The three rectangles in the graph represent significant resistance

– or S/R – levels in the LTC history.
One of the most obvious is above

the psychological region of 0.01 BTC

.
Other Technical Considerations and Projections for Litecoin
LTC minima in the last year: this cryptocurrency

fell to about $22 last December

. Its lows with respect to Bitcoin are recorded in the current days (December 2019).
Historical highs for Litecoin: Litecoin was one of the

highest earning cryptocurrencies

during the 2017 bullish season, registering

highs above $420

. In terms of BTC, it reached a high of

0.025 BTC in February 2018

. If a major bullish rally begins, one should keep an eye on these levels.
Analysing the characteristics of both charts, it is possible to see that Litecoin is approaching crucial areas for its future. This is where the bulls will have to enter with force to mark a definitive trend reversal, which could determine what the behaviour of Litecoin will be throughout 2020. Therefore, it is important to monitor its price action and response to the levels mentioned in the previous sections.
Expert Predictions about Litecoin's Future
Below are expert and enthusiastic predictions of the future price of Litecoin (LTC), some of which are very different, and all are highly speculative. Don't let any of these LTC price predictions cause a hype or dramatically change your outlook. Remember, the market for cryptocurrency is inexorably volatile, prices can go up at one time and down at another with wide variations. Therefore, analyse this information and contrast it with your own discernment and analysis.

The YouTube channel "Raiblocks Forecast" predicts that

Litecoin price

will be $712 USD by the end of 2020:

Longforecast.com is a website that specializes in providing long term financial forecasts using technical analysis. According to this website, Litecoin's price forecast for 2020 is

in the range of $17.43 to $33.02

. Thus, this website puts the balance on the downward side of the equation.

The uslifed group's Twitter account considers that this currency will reach $910.84 USD by the end of 2020:
Top 3 Possibility #Litecoin Price Prediction | #LTC Future Forecasthttps://t.co/BMzUio278h

— uslifed (@uslifed) June 5, 2018
Other Predictions Made After the Bearish Season
The Economic Forecasting Agency is more conservative. It states on its website that Litecoin would have a bullish performance in the future but sets a maximum value of $129 in 2020. This would be a more realistic outlook if there is not too much movement in the coming months.
Meanwhile, the CoinSwitch portal launches a $400 projection for 2020. But not everyone has a bullish outlook; the automated projection site WalletInvestor indicates that LTC could fall to $5.3 in 2020. However, none of the above-mentioned media is highly reliable or registered as a financial institution.
One of the few serious studies we have seen recently, was conducted by SatisGroup. According to the analysis, the estimate is bullish for LTC, but mild. It is expected to be above 65 USD in 2020 and to rise again in 2021, where it would reach $165 USD. Over a 10-year period (2028), they estimate that Litecoin will trade above $225.
Is this a Good Time to Invest in Litecoin?
At the time of writing, we are at a very difficult time to answer this question. The future of Litecoin will be determined by its current behaviour, as it will test whether it is able to maintain support and overcome resistances crucial to a rebound that would consistently change the current drop. However, Litecoin (LTC) proved to be one of the best performing crypto tokens in the first half of 2019, stabilizing and achieving a very significant recovery.
What do these Predictions Conclude about Litecoin's Future?
They conclude that Litecoin is a serious project that should not be overlooked. Despite being overshadowed by the hype of new cryptocurrencies, leading digital currencies often return to where they belong. Thus, LTC took over the 4th position of the CoinMarketCap, capitalizing on lost ground and returning to the limelight. At the time of writing, Litecoin is ranked 7th by market capitalization.
The token also proved to be one of the fastest recovering digital currencies in the first half of 2019. This builds the confidence of investors, who bet first on the more traditional and solid cryptocurrencies. However, LTC now faces new resistance in a not too optimistic market. It is therefore crucial to constantly monitor its price in order to find good entry points, and to remember that proper risk management can considerably improve the results of our investments.
Min. Deposit
$50
Exclusive promotion
Accepts customers from the USA
Offers 15 crypto coins to buy&sell including BTC, LTC, ETC, NEO and more
Trade on the world's leading social trading and investing platform
Description:
eToro offers a wide range of cryptos, such as Bitcoin, XRP and others, alongside crypto/fiat and crypto/crypto pairs. eToro users can connect with, learn from, and copy or get copied by other users.
Payment Methods
Bank Transfer, Wire Transfer
Full regulations list:
CySEC, FCA
Min. Deposit
$1
Exclusive promotion
The world's largest cryptocurrency exchange with over 2bn daily users
Innovative trading platform offering enormous range of crypto coins
Supports over 60 methods of payment including PayPal
Description:
Binance has grown exponentially since it was founded in 2017 and is now one of, if not the biggest cryptocurrency exchanges on the market.
Payment Methods
1Pay, 2C2P, 3d Secure Credit Card, ACH, ANELIK, Abaqoos, AdvCash, AlertPay, Alfa-Click
Algocharge, AliPay, American Express, Apple Pay, AstroPay, BPAY, Bank Link, Bank Transfer, Bank Wire, Baofoo, BitGold, BitPay, Bitcoin, Boleto, Bonds, Borneo Exchanger, Bradesco, CEX.io Mobile App, CFDs, CSS System, CUPS, CartaSi, Carte Bleu, Carte Bleue, Cash, CashU, Cashier Order, Check, Check (UK only), China UinonPay, China Union Pay, China UnionPay, ClickandBuy, Commodities, Contact, Contact Z, Credit Card, Cryptocurrencies, Currencies, DCPay, DIXIPAY, Dankort, Debit Card, Dengi Online, DineroMail, DirectPay, Dotpay, E-dinar, ELV, ENets, EPS, ETFs, EXCARD, Easy2Pay, EcoPayz, Ecommpay, Ecurrencyzone, EgoPay, Emerchant Pay, Eprotections, EstroPay, Ethereum, Euro Bank Account, Euteller, Express Dotpay, Express Polish Post Office 24/7, Express Zabka Market, Ezeebill, Ezybonds, FasaPay, Fastapay, Fastbank, Faster Payments, FilsPay, Forex, GTBank, Gate2Shop, Giropay, GlobalCollect, GlobalPAY, GlobePay, Gluepay, Halcash, I-Account, IPS, Ideal, Indices, Individual US State License(s), Indonesia Exchanger, InstaBill, Instadebit, IntellectMoney, Interswitch, Investmate, Itukar, KNET, Klarna, LaoForexBoard, LavaPay, Lion Payment, LiqPay, Litecoin, Lobanet, MOTO, MT4, MT5, Mailing Cash, Market Maker, Masari, Mastercard, MegaTransfer, Mister Cash, Mobile Trading App, Mobile Trading Platform, Moneta, Money Bookers, Money Order, MoneyBookers, MoneyGram, MoneyPolo, Multibanco, NETBANX, Nab, Namecoin, Neosurf, NetPay, OKPAY, OMT, OmahPoin, OnPay.ru, Online Naira, OrangePay, PAYSEC, POLi, POLi & BPay, PYEER, PagoEfectivo, Paxum, Pay Nova, PayCo, PayPal, PayRetailers, PayWeb, Payeer, Payoneer, Payonline, Payvision, Payza, Perfect Money, PocketMoni, Postbank, Powercash 21, Prepaid MasterCard, Prepaid MasterCard (I-Account), Prepaid MasterCard (Intercash), Prepaid MasterCard (Payoneer), Privat 24, Przelewy24, QIWI, RBK Money, Rapid Transfer, RegularPay, SEPA, Safecharge, SafetyPay, SahibExchange, Shilling, SmartPay, Sofort, SolidTrust Pay, SorexPay, Sporopay, Stock Certificate, Stocks, Swish, Teleingreso, Thailand Exchanger, Ticketsurf, Todito Cash, Trade Interceptor, Transact Europe Payment, Trazus, TrustPay, Trustly, UAE Exchange, UPayCard, USD, Ukash, Unet, UnionPay, Unistream, Uphold, Verve, Vietnam Exchanger, Visa, VixiPay, VoguePay, Vouchers, Wallet One, WeChat, Web Based Trading Platform, WebMoney, WebPay, Webtrader, Western Union, Wire Transfer, Wirecard, Yandex, Yandex Money, Yemadai, YuuPay, Z-Payment, Zenith, Array, cTrader, dinpay, eCard, eCheck, eKonto, ePay bg, ePayments Transfer, eToro Mobile Trading Platform, eToro Trading Platform, eTranzact, iPay, mPay, neteller, paysafecard, postepay, skrill, unichange.me
Min. Deposit
$20
Exclusive promotion
Margin Trading with full legal compliance
Description:
Cex.io offers exchange of fiat currency for Bitcoin Ethereum, Tether, and 23 other cryptocurrencies, as well as Bitcoin/Ethereum trading against the USD.
Payment Methods
Credit Card, Cryptocurrencies, Debit Card, Wire Transfer, skrill