New Superior Cryptocurrency DasCoin to be Accepted by 60 Million Merchants Worldwide & Enhance Security Standards
After a successful ICO, new cryptocurrency DasCoin is now in orbit around public exchange launch due April 27 and introduce an incorruptible, digital ledger system for optimally secure and reliable cryptocurrency exchanges over the Internet.
The problem
People mainly turn to cryptocurrency due to the available anonymity, which allows digital merchants to receive payment for their goods or services but not full disclosure of the buyer's name or bank account information. Although exciting, anonymity also creates insecure transactions that leave no room for recovering money that is lost, regardless of reason.
A second problem is cryptocurrency volatility and the commonplace fluctuations of popular cryptocurrencies that make for an unreliable marketplace and create doubt in the minds of merchants and consumers alike. Both are flaws in the system that Dascoin comes to correct.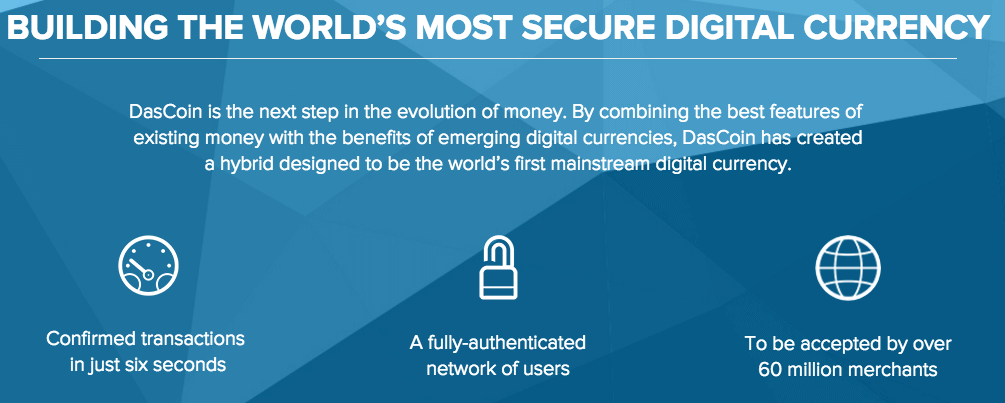 The solution
Helping to maintain a legal and secure system from a regulatory and technical standpoint is one of DasCoin's primary objectives. For that reason, it implements bank-level KYC (Know Your Client) processes to verify that customers are who they say they are and provide a secure transactional environment for exchanges to take place. That way, the Das ecosystem is made up of a network of verified individuals who can enjoy anonymous transactions that can, at the same time, be traceable if suspicious beyond reasonable doubt or comply with an official court order.
To combat the volatility issue, DasCoin calibrates emissions so that only a limited number of coins is released. Also, instead of a mining apparatus, DasCoin incorporates a licensing system. License packages are subject to a fixed amount of price and cycles while the objective is to increase the frequency factor as the network expands. Consequently, the price for all issued DasCoin will increase but its value will not experience dramatic falls or surges.
Features:
Speed – Transactions are validated in just 6 seconds.
High scalability – The system processed 100,000 transactions per second.
Security – Regulatory compliance and KYC authentication are fully aligned with AML and CFT standards. Also, the KYC authentication system ensures that every node is licensed and fully verified.
Decentralised digital wallet system – When the wallet is issued, no other person or authority other than the owner of the coin can control that coin (transfer, seize or confiscate).
Decentralised ecosystem – DasCoin uses blockchain cooperatively with a distributed network. The goal is to create an autonomous ecosystem that offers integrity, security, and performance to its users.
Seamless exchange – Low-cost (or no-cost) transactions are the result of bandwidth distribution, which determines the dynamic fee generation. This also creates a hard-to-beat performance and scale level.
Minted not Mined – The DasCoin minting process leads to significant reductions in energy consumption, unlike proof-of-work coins like bitcoin.
DasPay
DasPay is scheduled for launch June 2018. The platform will operate via card and smartphone and immediately connect more than 60 million merchants upon launch. The breakthrough is that the user will not be spending cryptocurrency via a pre-loaded mechanism rather than a debit method. This means that the user will have full control of the way value is transferred to their card in local currency. Potentially, there will be multiple card options that support multi-currency.
Michael Mathias, CEO and Founder of DasCoin, said: "Our focus is on DasCoin at the moment, but given that multi-currency cards are up and coming and fast as the card of choice, we are also working on featuring multiple cryptocurrencies shortly, which will be powerful and undeniably exciting."
About the company: DasCoin aspires to provide a more efficient, wider-distributed, better-calibrated system of value worldwide that does not rely on the declaration of a government or a commodity for support.
Get more information from:
DasCoin website: https://dascoin.com
Track DasCoin blocks in real time: dascoinexplorer.com
Whitepaper: https://media.dascoin.com/2018/02/DasCoin-White-Paper.pd
Get involved in social media with Twitter.
Connect to the Das ecosystem with a NetLeaders license.