How Do I Find Bitcoin ATMS Near Me?
Most people buy their bitcoins through online exchanges like Coinbase or eToro. Bitcoin ATMs however provide a very good and equally convenient alternative. Bitcoin ATMs also provide more privacy because often no documents are required to make a transaction.
How Bitcoin ATMs Work
Bitcoin ATMs work in a similar way as your bank ATM. There are a few differences however. To buy coins using a bitcoin ATM, all you have to do is insert a fiat currency such as the USD, Euro, or GBP into the machine.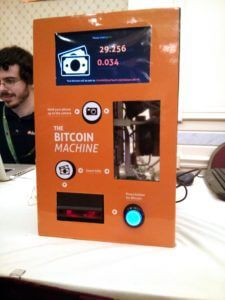 You can then scan the QR code containing your wallet address and voila, your bitcoin will be credited. In case you need a free bitcoin wallet, you can take a look at some of the best ones here.
No need to worry if you don't have a public bitcoin wallet. You can simply print a paper wallet containing your private keys directly from the ATM.
Can I withdraw cash from a bitcoin ATM? Of course.
Bitcoin ATM's come in different types. Some will allow you to sell your bitcoin and receive fiat currency.
Like cryptocurrency exchanges, bitcoin ATMs charge a fee for transactions. This is usually in the range of between 5-10%.
While they are growing in popularity, bitcoin ATMs are not yet as widespread as your traditional bank ATM.
You are probably asking; how do I find a bitcoin ATM near me? Chances of randomly bumping into these machines are very slim. Luckily, there are several applications that can pinpoint bitcoin ATM locations near you.
Let's take a look at some of the most popular sites and applications.
Coin ATM Radar
You can easily find bitcoin ATMs near you using the Coin ATM Radar. The app constantly tracks and updates new ATM machines when they are installed.
Coin Radar is available for both Android and iOS devices meaning you can find a bitcoin ATM anywhere in the world. Coin Radar operates more like Google Maps.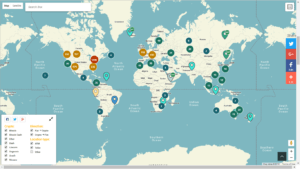 On the tab labelled "Find Bitcoin ATM Near Me" you can simply type "euro ATM near me" or "bitcoin ATM nearby" and explore the available options. The app will prioritize the nearest bitcoin ATM.
Bitcoin ATMs run out of cash once in a while. To spare yourself the inconvenience, you can be more specific with your query. You could for example type "bitcoin atm with cash near me," or "nearest bitcoin atm to me" on the bitcoin atm radar and it will give you the nearest bitcoin atm with cash. This is possible because some ATMs are automatically updated online.
You will get to see all details pertaining to that particular ATM including limits if any. Of course you will also receive directions.
There are several options for searching for ATMs using this app including by country, address etc.
Bitcoin ATM Map
This is another helpful site for finding bitcoin ATMs nearby. If you have used Google Maps before, you will have no trouble navigating this website.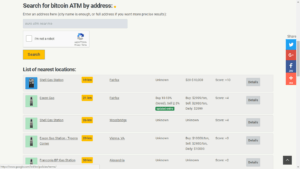 All you need to do is input your location and you will be presented with all bitcoin ATMs nearby. You can also choose whether you want to buy or sell crypto for fiat.
FindBitcoinATM
FindBitcoinATM is another useful site to find Bitcoin ATMs but mainly serves users in Australia.
Conclusion
Several Bitcoin ATM locators do exist. Most of them come with convenient and flexible search options to give you exactly what you want.
Some of them allow you to specify the exact fiat you want to withdraw in exchange for your bitcoin. You can thus search "euro atm near me"if you want to sell bitcoin for euros.