Ethereum rises to become the second biggest cryptocurrency by market cap
Ethereum has managed to knock off Ripple's XRP off the 2nd spot to become the 2nd biggest cryptocurrency. As of 11am (London Time) ETH's market cap hit $15,620,951,121 while XRP held just below at $14,886,894,143. Over the Christmas period on December 29th, ETH gained 15%, allowing it to close the gap to $1.2 billion. Then just a few days later, it closed the gap to just $700 million, as ETH continued to outperform its peers.
(Tradingview chart – Candles ETHUSD – Orange Line XRPUSD)
Looking at the technicals on the hourly chart you can see that the divergence between the two cryptocurrencies really kicked in since the new year. ETH moved up 21% while XRP staggered 0.81% higher since Christmas day. The indicator at the bottom is On Balance Volume this shows the amount of buying pressure in the market. As you can tell it is plotting a steady incline, this means as the price is rising so is the buying pressure in relation to the move. However, it is not as high as it was on 29th December and if we see any kind of reversal lower keep an eye on the indicator as it may give us clues to if the market is backing this ETH move, as if the indicator stays high as the price moves lower it could potentially insinuate that its only a minor retracted. Read our guide to buying Ethereum.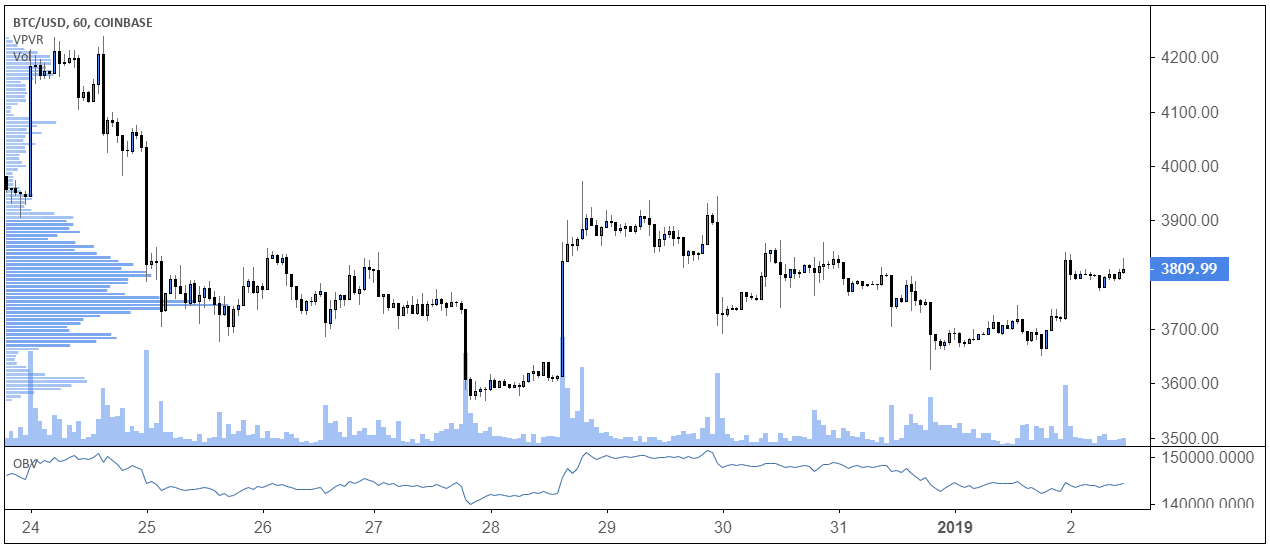 In comparison, the Bitcoin hourly chart is showing that over the festive period prices fell from around $4237 to £3812 today. The charts shows a large volume spike on 28th December after the market pushed prices from the low $3612.13 to $3860.96. On the plus side it has been recently published in UK press that the Indian government is about to embrace cryptocurrencies. Apparently, ministers have now started to come to terms with the prospect of digital assets having future use cases for India and its massive population. India had been on course to completely ban cryptocurrencies, with calls from the authorities to make ownership and trading of bitcoin illegal.It has been said that a task force has been put together to report back to the government and nothing official has been announced but watch this space carefully as it could have big implications to the digital currency space.