Bitcoin in consolidation mode as it fails to break $24k
Bitcoin (BTC) bull pressure has died out as the largest cryptocurrency by market cap couldn't break the $24,000 mark
The largest cryptocurrency by market cap retraced during its price discovery phase as it could not reach the $24,000 level. This triggered a short-term consolidation phase near the $23,000 level. Bitcoin bull pressure faded as the cryptocurrency approached $23,000, and it just briefly managed to break this level before retracing. However, bulls are still fighting to break $23,000, which is now considered an important resistance level that will decide its short-term future.
Bitcoin's overall outlook is quite bullish, but many analysts say that the move is overextended and may generate a pullback. When taking a look at its week-over-week performance, BTC has posted a gain of 20.34% (almost double in comparison to Ether's 9.68% gain). On the other hand, Ripple (XRP) also recovered as it recorded a 15.81% gain in the same period.
At the time of writing, BTC is trading for $23,000, a rise of 34.42% in a month.
BTC/USD
Taking a look at the daily chart, Bitcoin has had a couple of incredibly volatile days, but the coin has managed to post overall gains. However, the outlook has changed a bit in the past 24 hours as the cryptocurrency seems to have hit a wall at around $23,500. While the consolidation phase cannot be seen on the daily chart, Bitcoin is currently fighting to stay above the $23,000 mark.
Bitcoin's short-term future greatly depends on the outcome of the $23,000 pivot point fight. If the price manages to break above the pivot point, Bitcoin can approach the $24,000 level with confidence. However, if that doesn't happen, a minor pullback to $22,050 or a major pullback towards the $20,000 level is quite possible.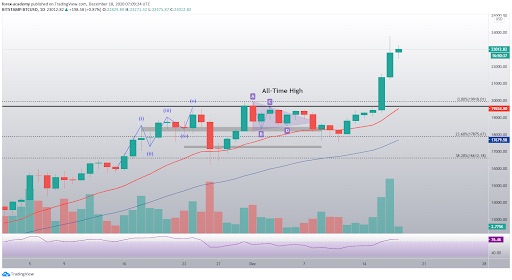 BTC/USD daily price chart. Source: TradingView
The technical overview shows that Bitcoin's RSI indicator is currently in the overbought territory, and slowly flattening. This is a good indicator of the price reaching its short-term peak. For RSI to be a solid indication of what can happen, the volume has to follow suit.
As mentioned above, Bitcoin's current bullish sentiment will be put to the test by the people who claim that the largest cryptocurrency by market cap needs a strong pullback to keep the price movement healthy.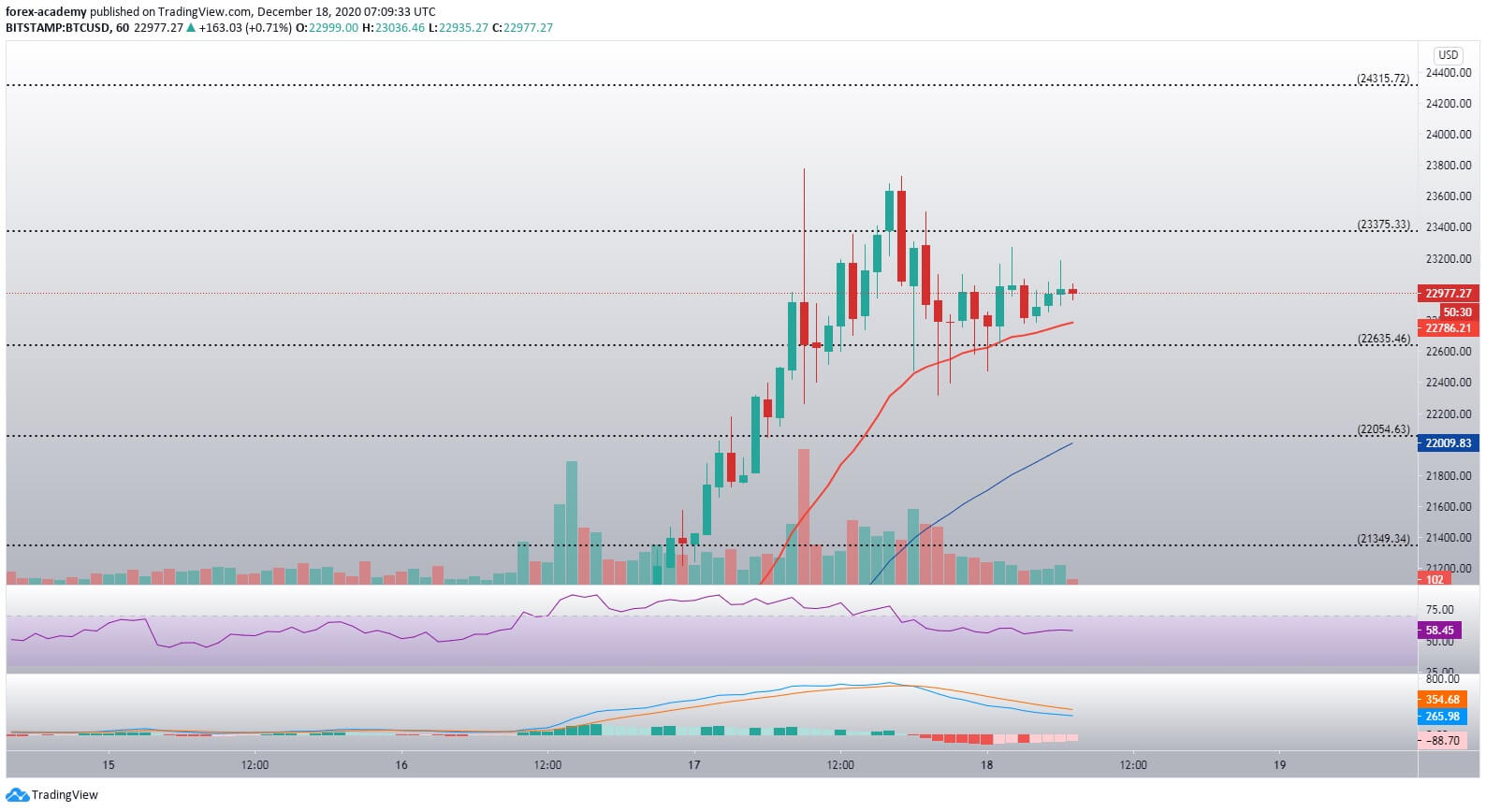 BTC/USD 1-hour chart. Source: TradingView
When taking a look at the 1-hour time-frame, we can see how Bitcoin is consolidating between $22,050—$23,375. The cryptocurrency's support is also backed by the 1-hour 21-period moving average. Any break of the aforementioned levels could be the start of a major move towards that side.