Bitcoin fighting for $18k as bears reenter the picture
Bitcoin (BTC) has dropped below $18,000 as a result of a broader market correction caused by an influx of sellers after a failed attempt of breaking the all-time high
Bitcoin's price has fallen below $18,000 yet again, after a failed attempt to break the $18,600 resistance level on December 9. While the fight for $18,000 is not over yet, the increase in seller pressure is more than evident as days go by, with more likelihood that Bitcoin will test its closest support levels.
Sentiment has been tilted towards the sell-side ever since the price failed to register a new all-time high with confidence, even though it technically posted a new all-time high on some exchanges. Despite the bearish sentiment, Bitcoin has outperformed the other top cryptocurrencies in the past seven days, posting a loss of 7.69%, while ETH and XRP managed to dip 9.41% and 10.17%, respectively.
At the time of writing, BTC is trading near the $17,850 mark, over 4.45% in the red on the monthly chart.
BTC/USD
Bitcoin's price has moved further down as the rebound from the all-time high levels continues. With Bitcoin bears stepping into the market, its price has been gradually decreasing and even dropping below the $18,000 mark. Low volume also seems to be a factor that's impending Bitcoin's price movement to the upside.
While the drop below this level might seem like an incredibly bearish short-term indicator, the Fib retracement on the daily chart is showing that the battle between bulls and bears is most likely not yet over, and that Bitcoin has to post a candle below $17,875 on the daily chart to be considered fully bearish.
Although the overall short-term bearishness surrounding Bitcoin is quite strong at the moment, even the worst-case scenario of BTC hitting $16,600 might not be so bad, as this level creates the opportunity for the creation of a double bottom structure on the daily time-frame.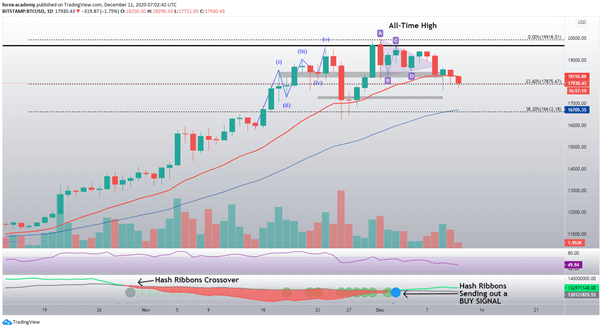 BTC/USD daily price chart. Source: TradingView
The technical picture shows that RSI has descended to a neutral level, while the Hash Ribbons indicator (one of the to-date most profitable indicators for BTC investors) has been showing a buy signal ever since 3 December.
It's also important to point out that a large CME gap is looming between $18,275 and $16,995.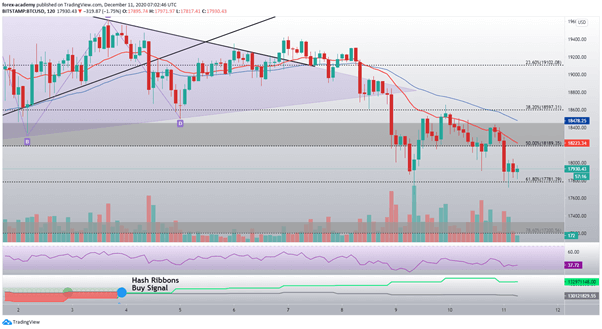 BTC/USD 2-hour chart. Source: TradingView
Taking a look at the 2-hour chart, Bitcoin is possibly creating a double bottom chart pattern as the 61.8% short-term Fib retracement held up to the selling pressure quite nicely.