Bitcoin (BTC), Stellar (XLM) & Ethereum Classic (ETC) price analysis 20th – 21st July: Are bulls losing steam?
Bitcoin (BTC)
In the last 7 days, Bitcoin (BTC) has gained significantly, and peaked at $7500. However, it seems to have slowed down just below the 55-day moving average. But volumes paint a bullish picture, and have been on the rise all through the week.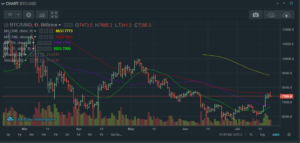 Therefore, there is a good chance that Bitcoin will break above the resistance level at $7700 over the weekend. This is supported the fact that in the day, Bitcoin (BTC) has broken above the 200-day moving average at $7600 in intra-day trading.
That's an indicator that there is strong momentum in the market to keep pushing up its price. If in the next 12 hours, bitcoin (BTC) stays above $7600, its value will rise to $8400 in the coming week.
However, if Bitcoin (BTC) fails to sustain above $7600, chances are that it could drop to around $7000. As such, to invest in bitcoin (BTC) at this point, watching the $7500 – $7600 price level is critical. It the level that could mark a reversal or a potential bull rally.
Stellar (XLM)
Stellar (XLM) has been one of the best performers in the week. That has mainly been driven by the possibility that it could be listed on Coinbase. This possibility has driven up sentiment, and pushed the price from a low of $0.18 to this week's high of $0.30.
Stellar (XLM) has also been supported by the fact that Bitcoin (BTC) has also surged significantly, hitting a high of $7600. However, in the day, Stellar seems to have lost some steam, and dropped to around $0.27.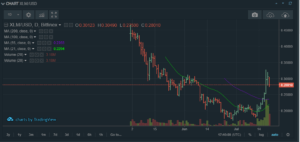 It is now trading below yesterday's low of $0.28. If Stellar closes the day below $0.27, it could enter into a short-term bear-run, one that could see it test $0.23, the short-term support level at the 55-day moving average.
As such, it's best to watch the day charts at this point. If it breaks back above $0.30, it will head into the weekend strongly bullish. Otherwise, it will be bearish through the weekend. It also makes sense to watch out for the price of bitcoin (BTC) since the market moves in tandem with it.
Ethereum Classic (ETC)
After last week's pump, Ethereum Classic (ETC) seems to have lost momentum. In the week, it has dropped from a high of 18 to its current price of $15.7.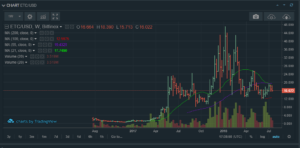 This could be attributed to the fact that the Coinbase listing news has already been absorbed in the market. However, from the intra-day charts, there is a good chance that ETC will reverse.
That's because it is trading along the 100-day moving average support level at $15.80. However, if it breaks below it, there is a good chance that it will be headed lower as the weekend starts. It could see Ethereum Classic (ETC) drop to $14.