Bitcoin (BTC), Ethereum (ETH) & Tron (TRX) price analysis – Altcoins Lose as BTC Dominance Approaches 50%
Bitcoin (BTC)
Bitcoin has been on a positive trajectory all through the week, having broken above $8400 a few days ago. However, in the last 48 hours, it has retraced to around $8100. This could be due to emerging news that the much anticipated ETF could be delayed after 5 others were delayed until September.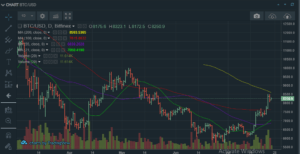 However, even with this retracement, bitcoin is still above the 100-day moving average support level at $7600. In the next 24 hours, there is a good chance that it could retest the $8500 price level the first resistance for Bitcoin to the upside.
However, if volumes were to rise within next 12 hours, Bitcoin (BTC) could break above this level and probably test $9000 in the course of the day. Therefore, bitcoin (BTC) is most likely going into the weekend on a high. The current price offers a perfect entry with a target of $9000 and a potential gain of more than $900.
However, in case it drops below this price there is a good chance that it would test $7500, the first major support level to the downside, though it's highly unlikely that it will get there in the very short-term.
Ethereum (ETH)
Like most altcoins, Ethereum (ETH) is yet to fully match up to bitcoin's momentum in the last few days. In the day, Ethereum (ETH) is trending higher, but it is still trading below the 55-day moving average at $498, a price it has been unable to break in the recent past.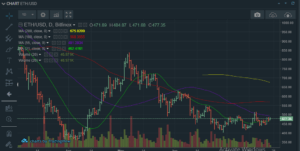 Going by its slow momentum in the last one week, there is every possibility that it is not about to break above this price level. Failure to do so will see Ethereum drop to around $448 in the next 24 hours.
The reason why Ethereum is underperforming at this point is due to the increased bullish sentiment around Bitcoin (BTC).
There is huge investor expectation that an approval of the bitcoin ETF by the SEC will attract institutional investors into bitcoin at the expense of the altcoins. Therefore, as bitcoin dominance approaches 50%, Ethereum and the rest of the altcoins will continue to show signs of weakness.
Tron (TRX)
Like all other altcoins, Tron (TRX) is underperforming compared to Bitcoin. In the day, it is trading in a weak uptrend below this week's high of $0.039. Volumes too are quite low, with very little money flowing into Tron (TRX) at this point. For this reason, there is a good chance that it could drop back to its recent low of $0.032.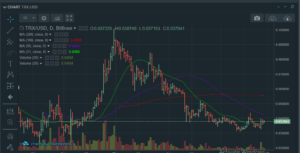 This market weakness is likely to continue all the way into the weekend, now that bitcoin's dominance is rising exponentially.
As long as money is flowing into Bitcoin (BTC), chances of a Tron (TRX) resurgence in the short-term are quite minimal. Nevertheless, it will rise in value over time, once the altcoins gain some momentum and follow Bitcoin's lead.