Bitcoin (BTC), Ethereum (ETH) & NEO (NEO) Price Analysis 6th – 7th July: Price Stable as Weekend Trading Starts
Bitcoin (BTC)
Friday trading is always an indicator of how the crypto market will perform over the weekend. That's why the first step to analyzing the price on a Friday is to look at the volumes. Speaking of which bitcoin's volumes intra-day are on the rise, after a slight drop yesterday.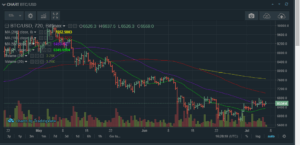 This indicates that money is moving into Bitcoin (BTC), even if it's not as heavy as last week's price pump.
Bitcoin's price has been ranging above the last 21-day moving average for the last 60 hours, and it's still holding strong above this level, in the last 6 hours of trading.
This means that this level, at $6300, is offering strong support for Bitcoin (BTC). It is also a positive indicator that bitcoin (BTC) could make further upside gains in the next 24-hours. If bitcoin (BTC) breaks above this range over the weekend, it could very well test $7600.
On the flipside, if volumes decline and the price breaks below $6300 along the 21-day moving average, it could head lower over the weekend and test $6180, a price at which, it has ranged in the past. It's a minor support level, one that could hold in a low volumes market.
Ethereum (ETH)
Unlike Bitcoin (BTC) Ethereum (ETH) has experienced a surge in buying volumes in the last 72 hours. This goes to show that investors expect Ethereum (ETH) to perform well over the weekend.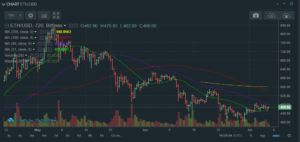 In terms of price, Ethereum (ETH) is trading steadily above the 21-day moving average. After testing this support level 12 hours ago, Ethereum (ETH) has bounced back and in the last 6–hours, has been trading higher, pushing from a low of $463 to a high of $470.
This means that there is an increased buying pressure in Ethereum (ETH) as we enter the weekend. If Ethereum (ETH) sustains above $460 in the next 6 to 12 hours, there is a good chance that it will surge higher in the next 24-hours, and test $486, which is a minor resistance level.
However, if it drops below this level, and volumes drop, Ethereum could go down to $450, a level that has shown some level of support in the past. At this point, volumes are the key determinant. If they drop, the price could drop too. The reverse also holds true.
NEO (NEO)
NEO (NEO) has been one of the best performers of the week, from a low of $26 a week ago, to a high of $48 two days ago.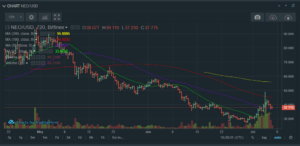 However, in the last 2 days, NEO (NEO) volumes have been dropping, and the price too has dropped from $48 to around $37. This could mean that investors are taking profits, after this price pump.
However, after sliding for several hours, NEO (NEO) is now trading above the highly significant 55-day moving average.
If NEO (NEO) doesn't break below this moving average, it could rise again over the weekend, and test $52, a major resistance level to the upside. However, a break below it could see NEO (NEO) drop to $30 over the weekend.