Buy Bitcoin in Thailand
Bitcoin's popularity and value has skyrocketed in the last year. Because of this, it's become a really attractive option for investors who see it as a way to make quick money and be part of a truly exciting movement.
Most Popular
Min. Deposit
$10
Promotion
Accepts customers from the USA
Deposit $100 and get a $10 bonus!* Build a diversified portfolio with crypto, stocks, and ETFs — all in one place.
Trade on the world's leading social trading and investing platform
Description:
eToro offers a wide range of cryptos, such as Bitcoin, XRP and others, alongside crypto/fiat and crypto/crypto pairs. eToro users can connect with, learn from, and copy or get copied by other users.
Payment Methods
Bank Transfer, Wire Transfer
Full regulations list:
CySEC, FCA
Cryptoasset investing is unregulated in some EU countries. No consumer protection. Your capital is at risk.
Min. Deposit
$0
Promotion
Description:
World's longest-standing crypto exchange. Since 2011 Bitstamp has been providing a secure and reliable trading venue to over four million individuals and a range of institutional partners.
Asia is one place where Bitcoin is really making a mark, and Thailand is no exception. At the time of writing, one Bitcoin is worth 465,395 Thai Baht.
That's a huge increase from its value only a few months ago.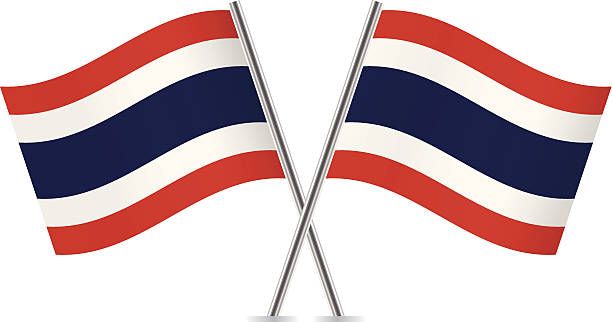 In Thailand, unlike many other Asian countries, the regulations around Bitcoin are quite relaxed. This makes it a great place to start trading Bitcoin safely, and if you want to trade Bitcoin, THB is accepted on a number of platforms.
Things to Know Before You Start
Regulations
The Thai government is actually rather pro-Bitcoin compared to many of its neighbours in Southeast Asia. Although the banks attempted to ban cryptocurrencies in 2013, the government forced them to relax these rules and allow trading.
This means that it's easy and safe to trade Bitcoin in Thailand, and many businesses in the country will accept it as payment. Bitcoin is not supposed to be used for foreign currency transactions, however.
Support and Community
Because of the government's relatively friendly approach to Bitcoin, there's a large crypto community in Thailand. Many companies accept payment in Bitcoins — for example the tour company Smiling Albino receives about 2% of all their payments in the digital currency.
There are also numerous bars and shops that accept payment in cryptocurrency, so if you want to purchase in Bitcoin, Thailand is ready for this. There are also a few Bitcoin ATMs scattered around the country, too. If you want to connect with other local Bitcoin enthusiasts, there are plenty of online resources like the Bitcoin Thailand group on Facebook and the Thai section of bitcoinforum.com.
Business is booming in the country; in fact only last week the volume of trades on Localbitcoins (a large peer to peer trading platform) in Thailand was 25 million baht. For people looking to trade Bitcoin, Thailand is becoming a real hub, and for people who wish to invest in Bitcoin, the Thai Baht (THB) fiat currency is becoming more accepted.
There's a fast-growing infrastructure and support system for Bitcoin in the country, and it's an exciting time. For anyone looking to invest in Bitcoin, Thailand is an attractive option.
Other cryptocurrencies
Bitcoin isn't the only cryptocurrency you can buy and sell in Thailand. It's the most well-known and valuable by far, so for newcomers it's probably the safest option for investment.
However, there are many other coins with highly promising futures. These include Ether (ETH), Ripple (XRP), and Litecoin (LTC).
There are many others, too, but it's wiser to stick to the more well-known and successful coins to avoid losing out. This guide will focus on Bitcoin, but many of the methods mentioned will work for other coins too.
How to buy Bitcoin in Thailand
There are several different options available to you if you want to purchase Bitcoin in Thailand. These have different advantages and disadvantages with different payment options, so consider these before making a decision. However, they're all perfectly good methods and are all safe if done properly.
The two main methods are to buy Bitcoin as a CFD and to use a cryptocurrency exchange to trade.
Buying Bitcoin as a CFD in Thailand
CFD, which stands for contracts for difference, is commonly used for trading stocks and shares. Recently, it's been adopted as a way to trade cryptocurrencies.
It's particularly good for beginners to Bitcoin trading, because it has low fees and is very user friendly. It's also more secure and regulated than other methods.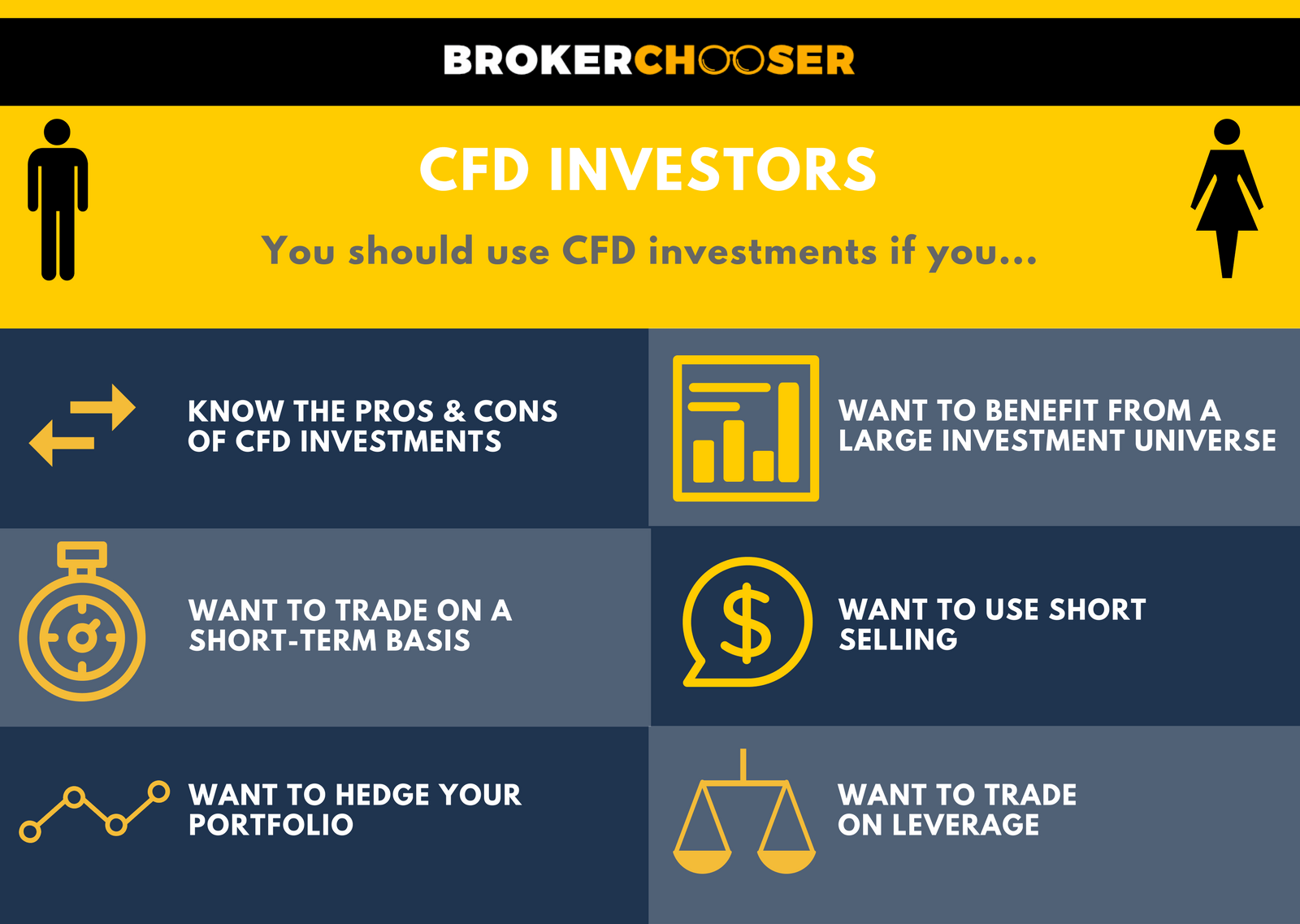 Why choose the CFD method?
You can trade on leverage, which means when you put down money for a trade it doesn't have to be the entire amount. It can be a fraction of the total trade amount, which allows you to share money between a number of trades.
Trading as a CFD exposes you to the liquidity of two markets. The result of this is you can buy and sell whenever you choose, instead of waiting for a buyer or seller to come along.
There's a lot of regulation in place. This is important if you lose money or fall victim to a scam —you'll get much more support and assistance with CFD trading compared to other methods of buying Bitcoin.
Usually fees are lower compared to exchanges.
Buying Bitcoin in Thailand with eToro
If you decide to trade Bitcoin as a CFD, one of the best platforms out there is eToro. It works all over the world, is easy to use, and has very low fees. It's the perfect place for someone without much prior experience to get into trading.
eToro also accepts a wide range of payment methods, and works with a number of different currencies. Using eToro to invest in Bitcoin in Thailand can be done in just a few steps.
Step One – open an account by heading to the eToro homepage and clicking 'Join Now'.

Fill out the form on the registration page with your name, username, and a password. Since you'll be using eToro for trading, it's important to make your password strong and secure.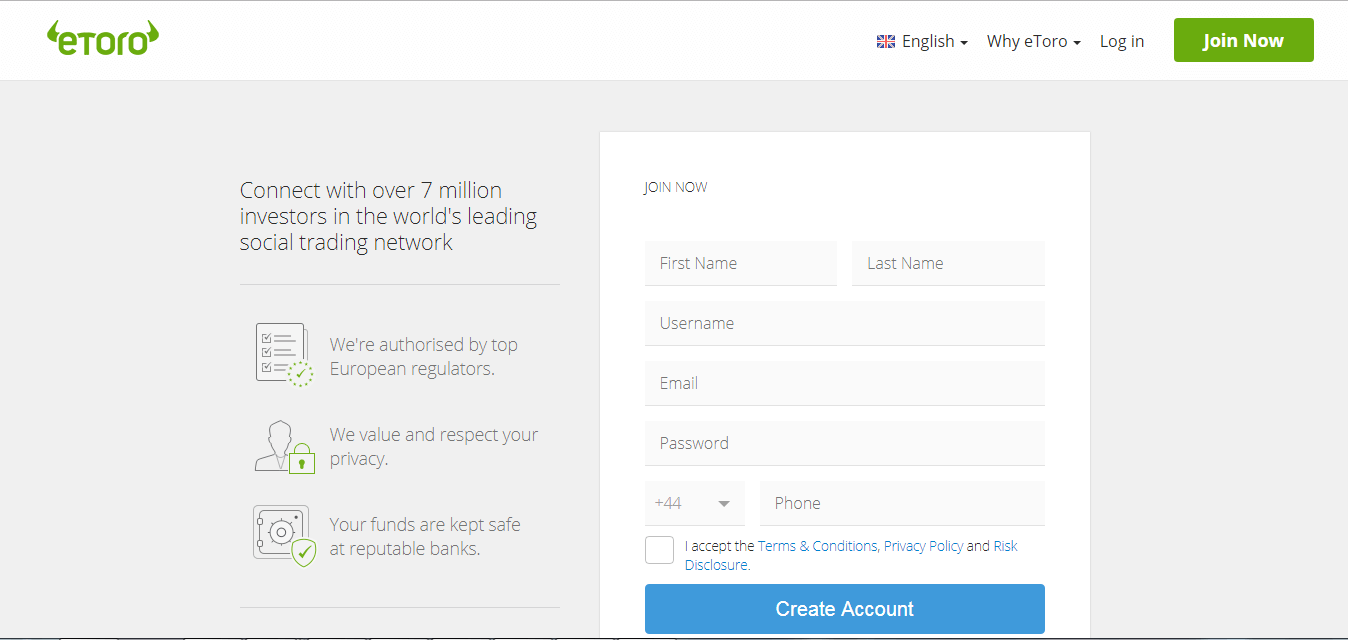 Step Two – after logging in, you'll be shown the home page which will look like this: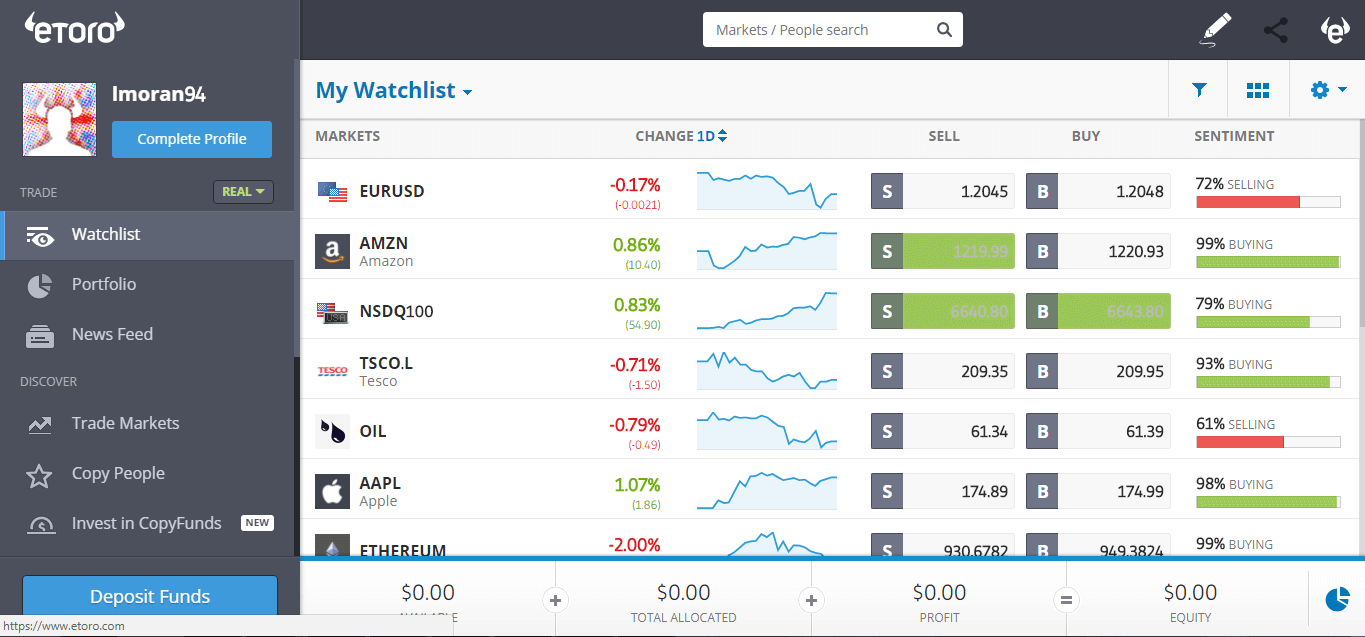 Before you start trading, you'll need to add some funds to your account. This can be done by clicking the blue 'Deposit Funds' button in the sidebar.
A payment screen will load, where you can specify how much money you wish to add to your account, along with your preferred payment method. eToro supports many different methods, including PayPal and wire transfer.
If you want to purchase Bitcoin THB isn't an option, but there are several other currencies you can use. Just use a calculator to figure out the correct amount. You'll need to verify your identification if you want to deposit more than 2000 euros but this isn't a difficult process.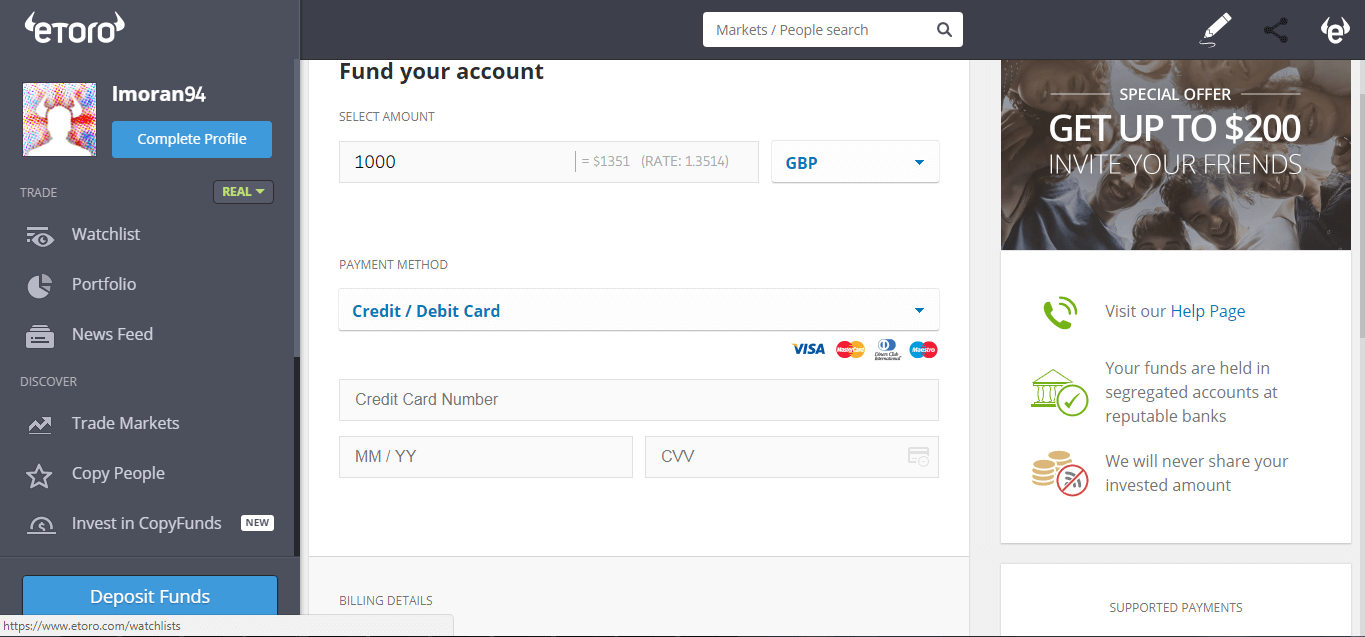 Fill in your billing details to move on to the next step.
Step Three – back on the home screen; select 'Trade Markets' in the sidebar to view all the markets you can access. The best option for trading Bitcoin is in the 'crypto' section on the drop-down menu. Select this.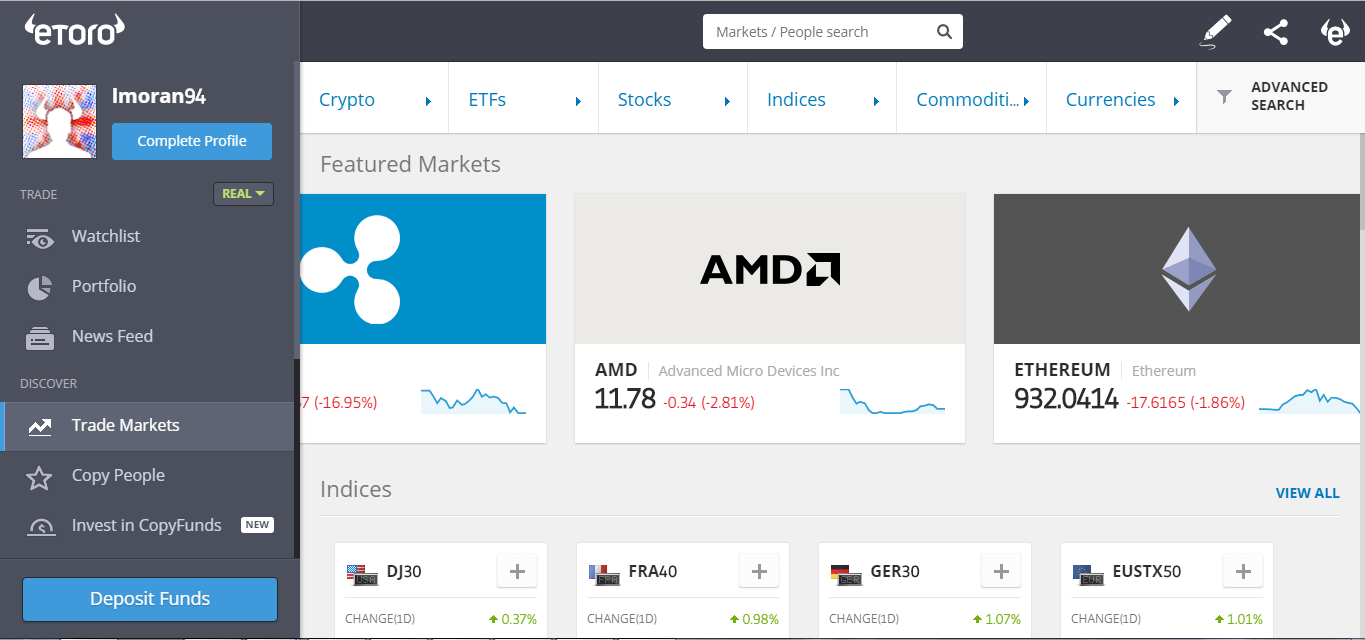 In the crypto section, find the Bitcoin market and click the letter 'B' next to Bitcoin's value in U.S. dollars to be taken to a payment screen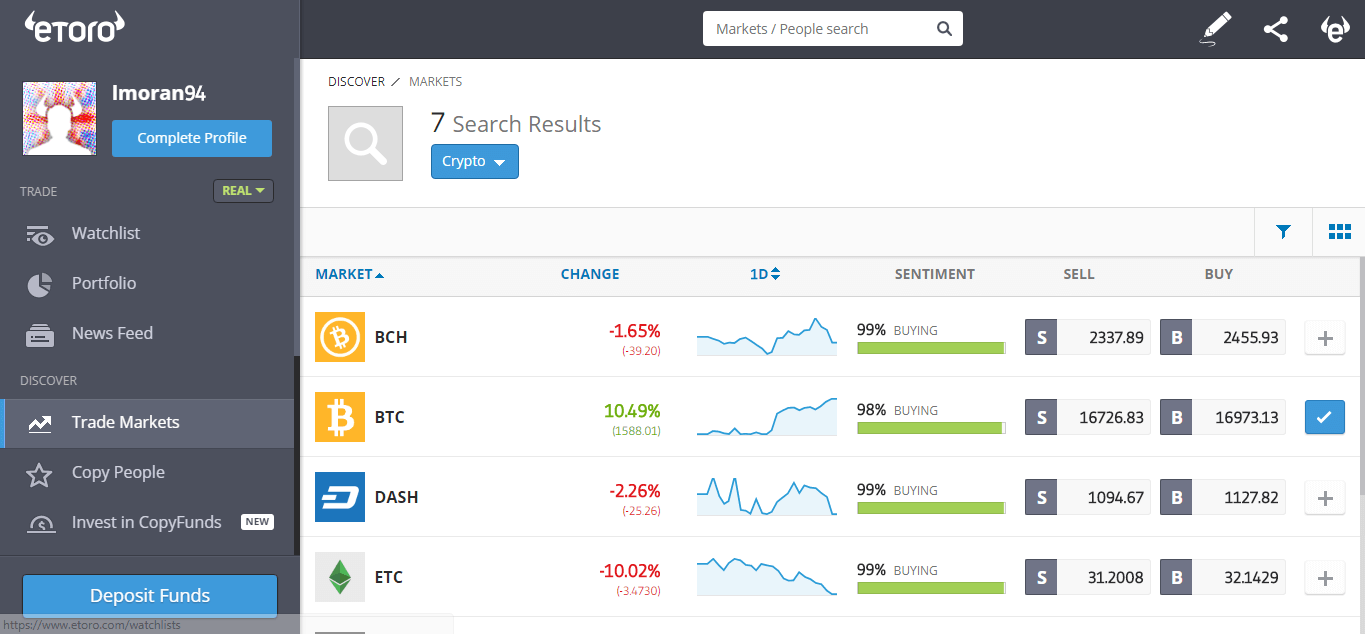 Here, you simply need to enter the amount you wish to purchase. You can also add a stop loss and take profit amount to automate the process and avoid losing more than you planned.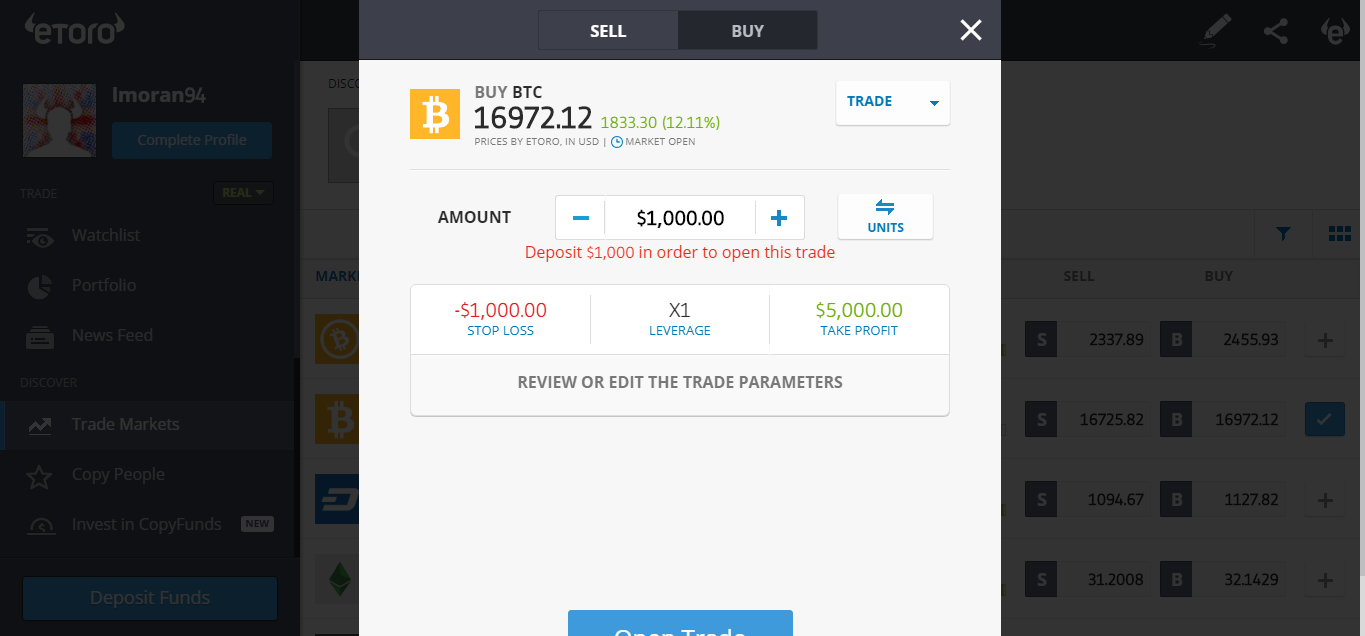 Hit 'Open Trade' to finish up. You've now completed the trade!
[flytonic-button text='Buy Bitcoin Now' linkurl='https://cointext.com/visit/etoro' size='reg' icon='none' bg_color='normal' text_color='lgt' ]
Buying directly from an exchange
CFDs are a quick, safe, and easy way for newcomers to trading to get involved with cryptocurrency. However, using this method you don't actually own any of the Bitcoin you purchase. For that, you need to buy the coins directly, and there are two main ways of doing this.
The first involves using a centralised Bitcoin exchange, which takes your money and then gives you Bitcoin that another user has sold. This is a safe way to buy Bitcoin because it's all controlled by a third party and you're unlikely to be scammed. However, these platforms often come with fees —if you use PayPal with Coinbase there's a commission fee of 3.75%.
Examples of these crypto exchanges are Coinbase and Kraken. They're highly rated and great options for anyone who's looking to buy some Bitcoin securely and easily, and who doesn't mind paying a bit extra. There are also some options unique to Thailand, such as bitcoin.co.th.
The other way to buy Bitcoin is to trade directly with another person on a P2P level. This requires you to be a bit more cautious to avoid being scammed by the person you're trading with, but it has lower fees and can be quicker.
For both of these methods, you need a few things before you get started, and the most important of these is a cryptocurrency wallet.
Cryptocurrency wallets
A cryptocurrency wallet isn't a 'wallet' in the traditional sense, because it doesn't contain any coins. It contains security keys which you can use to unlock your Bitcoin and authorise actions like buying and selling.
There are several different types of wallets with their own strengths and weaknesses. Here are some of the main types:
Online wallets, where your currency is stored online. These are normally opened automatically when you register with an online exchange. They're easy to use and access, but they're more vulnerable to hackers than wallets which are based off the internet.
Hardware wallets are one of the safest ways to store cryptocurrency because they're stored away from the computer. Usually the keys are kept on a removable disk drive and kept in a secure location.
Mobile wallets are stored on a smartphone, usually as part of an app. They're easy to access and can be used to pay for things on the go, for example in shops and restaurants. It's important to keep your phone safe and be aware of hackers when using this type of wallet.
Software wallets are stored on your computer, but not on the internet. This makes them mostly resistant to hackers, but still not quite as safe as a hardware wallet.
Buying Bitcoin with Localbitcoins
If you decide you want to buy Bitcoin directly from another person, one of the best resources out there is Localbitcoins.com. This platform is great because it has low fees, is easy to navigate, and has users all over the world. You can even meet with users and exchange cash for Bitcoin in real life (but be careful).
Step One – open an account with Localbitcoins by visiting the website and entering the required information. This includes your name, email address, and a password.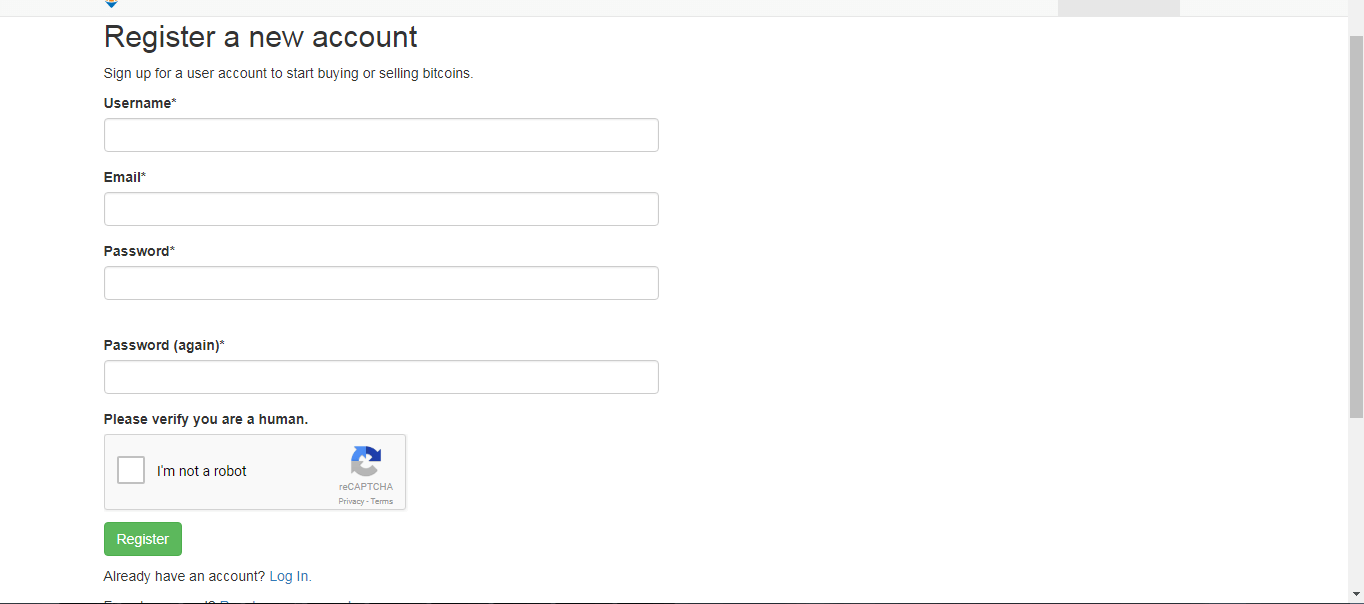 Step Two – once you have an account it's time to find someone who is selling Bitcoin. It might be easier to buy from people in your local area, so you can run a search to specify country, region, your preferred payment method, and how much you intend to buy.

You can also choose the currency you wish to use, and to buy Bitcoin online, the BTC/THB trading pair is an option with Localbitcoins.
Your search results will show a list of people who match the terms. The numbers next to their username are important because they show how reliable and trustworthy each user is. The % number shows their feedback score, and the number next to it shows how many successful trades they have completed.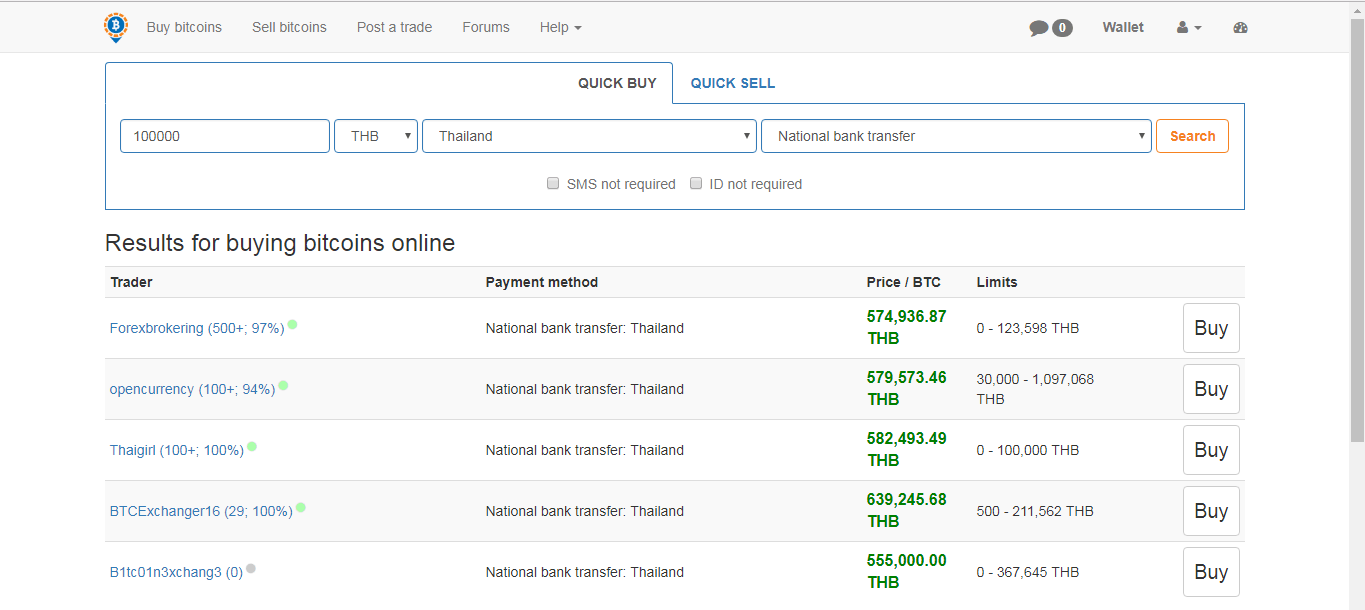 These two numbers should both be as high as possible to minimise the risk of being scammed or having an unpleasant experience. The colour next to each user's name shows how quickly they tend to reply. Green means they typically respond within 5 minutes, yellow within 30 minutes, and grey for more than 30 minutes. This is worth considering if you're in a hurry.
Step Three – buy some Bitcoin by finding a user you trust and clicking 'Buy' at the end of their row. This will take you to a screen where you can review the user, read the terms and conditions, and send a message to them.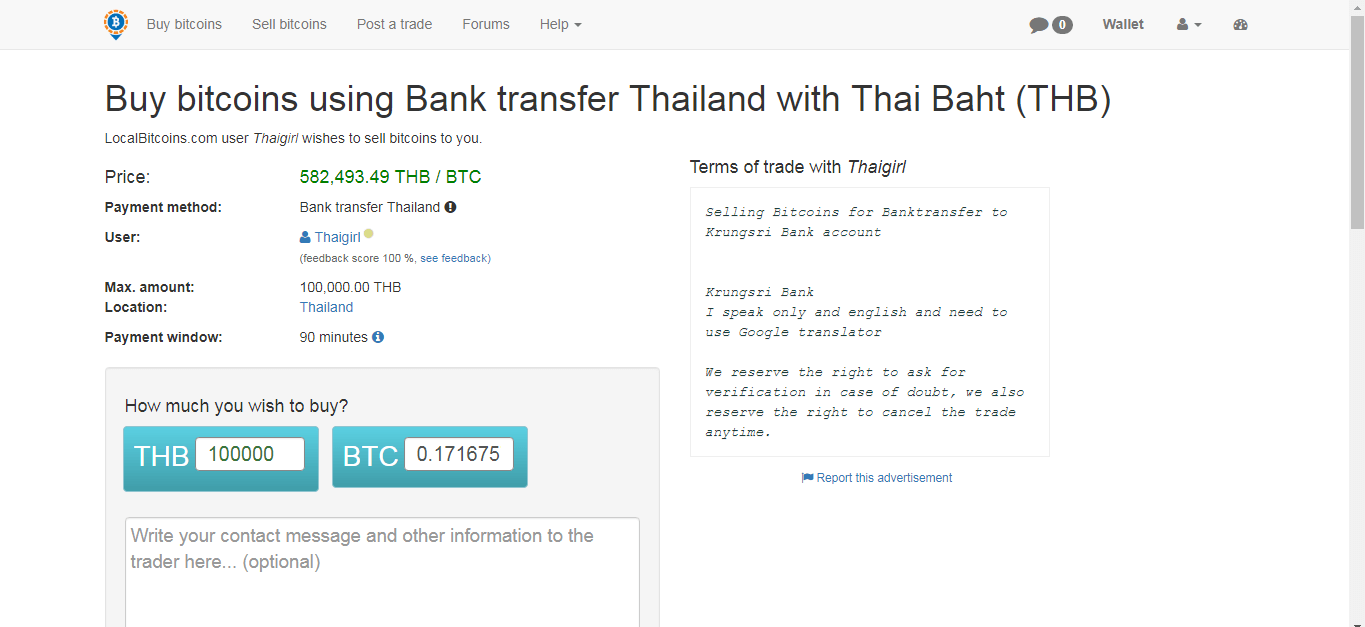 To finish the trade, enter the amount you want to buy and click 'Send Trade Request' which will lead you to a payment screen to finalise things.
Now you're all done, and have successfully bought Bitcoin from another person. Localbitcoins charges a small fee to pay Bitcoin miners, but is cheaper overall than traditional exchanges.
[flytonic-button text='Buy Bitcoin Now' linkurl='https://cointext.com/visit/localbitcoins ' size='reg' icon='none' bg_color='normal' text_color='lgt' ]
Thailand is a country that is open-minded regarding cryptocurrencies, and that makes it a good place to start trading. If you want to buy Bitcoin online Thailand is well-equipped, and this guide should give you all the information you need to get started.
Remember that laws change all the time when it comes to cryptocurrency, so stay updated and stay within the rules.