How to Buy Vechain (VET) - A Beginner's Guide
Vechain (VET)
...
VeChain is a blockchain-oriented platform that helps in making supply chain management much easier. Founded in 2015 by the former CIO of Louis Vuitton China to create a real-world applicable decentralised ecosystem for supply chain, Vechain gives every item a unique code or identity through RFID, QR Codes, or NFC, which assist through sensors to track and record the progress of each phase of product delivery.
The ability to streamline the supply chain and combat market frauds makes VET, the VeChain tokens, witness an increase in demand and you can buy VeChain easily using our guide. If interested in learning how to purchase VET, read on.
5 Steps to Buy Vechain Instantly!
Visit our recommended platform to buy Vechain by clicking the button below.

Enter your details in the required fields to create a new account.

Fund your account using your preferred payment method and confirm your new balance.

Choose Vechain and select a "Instant/Market Order" to buy it instantly.

Enter the amount you want to buy (you'll see the equivalent in VET) and confirm your order!
Our Recommended Platform to Buy Vechain (VET)
If you are familiar with investing in cryptocurrencies or how to buy and only need to know where to buy VeChain you can check the following list of our recommended platforms below.
However, if you are new to the crypto world and are unsure of how to go about buying VET, you can come back to this section later when you feel confident that you are ready to buy VeChain.
Most Popular
Min. Deposit
$10
Promotion
Accepts customers from the USA
Offers 15 crypto coins to buy&sell including BTC, LTC, ETC, NEO and more
Trade on the world's leading social trading and investing platform
Description:
eToro offers a wide range of cryptos, such as Bitcoin, XRP and others, alongside crypto/fiat and crypto/crypto pairs. eToro users can connect with, learn from, and copy or get copied by other users.
Payment Methods
Bank Transfer, Wire Transfer
Full regulations list:
CySEC, FCA
Where to Buy VeChain in 2022
To capture VeChain price fluctuations and generate a profit, there are two ways available for people who are interested in VET. The first option is to buy VET and the other one is to trade it. We would like to add here that you must not confuse yourself with VeChain Thor, or VETHO. While VET acts as the medium of exchange on the VeChain network, it is VETHO that acts like a "gas". The two-token system has been designed to ease fluctuation and price pressure on the main VET coin, therefore, you should concentrate on VET, not VETHO.
Buying VeChain tokens would require you to head over to an exchange platform that supports it. Analogous to any purchase you make, you will need to buy it and hold it in your VeChain wallet. Though this is the gist of it, there is a lot more going on behind it. You will first of all need to understand the concept of crypto wallets, what types are there, the security issues and pros and cons of each one, different methods of accessing the wallets (private keys, mnemonic phrases, passwords) and how to manage them.
If you consider all this not your cup of tea, you can always decide to trade VET rather than buy and hold it. Trading also allows you to use the VeChain price fluctuations to buy and sell and make profits. However, the difference here is that you buy and sell not the token, but different agreements with a broker that uses VET value and price as the fuel that drives the contracts. This frees you from the troubles associated with holding actual tokens.
CFDs, or Contracts for Difference, are a common example, where you agree to buy the contract that represents a specific VET quantity and token price. You can then, later on, close the contract when VeChain is up. The difference calculated is your profit made.
This way, you still get to benefit from the VET price movements, but you need not purchase VeChain or even learn how to buy VET at all.
Most Popular
Min. Deposit
$1
Promotion
The world's largest cryptocurrency exchange with over 2bn daily users
Innovative trading platform offering enormous range of crypto coins
Supports over 60 methods of payment including PayPal
Description:
Binance has grown exponentially since it was founded in 2017 and is now one of, if not the biggest cryptocurrency exchanges on the market.
Payment Methods
1Pay, 2C2P, 3d Secure Credit Card, ACH, ANELIK, Abaqoos, AdvCash, AlertPay, Alfa-Click
Algocharge, AliPay, American Express, Apple Pay, AstroPay, BPAY, Bank Link, Bank Transfer, Bank Wire, Baofoo, BitGold, BitPay, Bitcoin, Boleto, Bonds, Borneo Exchanger, Bradesco, CEX.io Mobile App, CFDs, CSS System, CUPS, CartaSi, Carte Bleu, Carte Bleue, Cash, CashU, Cashier Order, Check, Check (UK only), China UinonPay, China Union Pay, China UnionPay, ClickandBuy, Commodities, Contact, Contact Z, Credit Card, Cryptocurrencies, Currencies, DCPay, DIXIPAY, Dankort, Debit Card, Dengi Online, DineroMail, DirectPay, Dotpay, E-dinar, ELV, ENets, EPS, ETFs, EXCARD, Easy2Pay, EcoPayz, Ecommpay, Ecurrencyzone, EgoPay, Emerchant Pay, Eprotections, EstroPay, Ethereum, Euro Bank Account, Euteller, Express Dotpay, Express Polish Post Office 24/7, Express Zabka Market, Ezeebill, Ezybonds, FasaPay, Fastapay, Fastbank, Faster Payments, FilsPay, Forex, GTBank, Gate2Shop, Giropay, GlobalCollect, GlobalPAY, GlobePay, Gluepay, Halcash, I-Account, IPS, Ideal, Indices, Individual US State License(s), Indonesia Exchanger, InstaBill, Instadebit, IntellectMoney, Interswitch, Investmate, Investmate, Itukar, KNET, Klarna, LaoForexBoard, LavaPay, Lion Payment, LiqPay, Litecoin, Lobanet, MOTO, MT4, MT5, Mailing Cash, Market Maker, Masari, Mastercard, MegaTransfer, Mister Cash, Mobile Trading App, Mobile Trading Platform, Moneta, Money Bookers, Money Order, MoneyBookers, MoneyGram, MoneyPolo, Multibanco, NETBANX, Nab, Namecoin, Neosurf, NetPay, OKPAY, OMT, OmahPoin, OnPay.ru, Online Naira, OrangePay, PAYSEC, POLi, POLi & BPay, PYEER, PagoEfectivo, Paxum, Pay Nova, PayCo, PayPal, PayRetailers, PayWeb, Payeer, Payoneer, Payonline, Payvision, Payza, Perfect Money, PocketMoni, Postbank, Powercash 21, Prepaid MasterCard, Prepaid MasterCard (I-Account), Prepaid MasterCard (Intercash), Prepaid MasterCard (Payoneer), Privat 24, Przelewy24, QIWI, RBK Money, Rapid Transfer, RegularPay, SEPA, Safecharge, SafetyPay, SahibExchange, Shilling, SmartPay, Sofort, SolidTrust Pay, SorexPay, Sporopay, Stock Certificate, Stocks, Swish, Teleingreso, Thailand Exchanger, Ticketsurf, Todito Cash, Trade Interceptor, Transact Europe Payment, Trazus, TrustPay, Trustly, UAE Exchange, UPayCard, USD, Ukash, Unet, UnionPay, Unistream, Uphold, Verve, Vietnam Exchanger, Visa, VixiPay, VoguePay, Vouchers, Wallet One, WeChat, Web Based Trading Platform, WebMoney, WebPay, Webtrader, Western Union, Wire Transfer, Wirecard, Yandex, Yandex Money, Yemadai, YuuPay, Z-Payment, Zenith, cTrader, dinpay, eCard, eCheck, eKonto, ePay bg, ePayments Transfer, eToro Mobile Trading Platform, eToro Trading Platform, eTranzact, iPay, mPay, neteller, paysafecard, postepay, skrill, unichange.me
Min. Deposit
$30
Promotion
Accepts 70+ cryptocurrencies
Majority of cryptocurrencies are held in a secure Cold Storage
Buy cryptocurrencies instantly with your credit card
Description:
CoinGate is a Lithuanian-based fintech company founded in 2014. The payment gateway offers cryptocurrency payment processing services for businesses of any sizes. Permission-based account management, fiat payouts to the bank account and brand new email billing feature are just a few reasons why CoinGate has become a go-to payment processor for many.
Min. Deposit
$0
Promotion
Trade a variety of digital assets like Bitcoin, Ethereum, Solana, Dogecoin and 100's more with low trading fees
Stake FTT to get benefits
1% of all net fees will be donated to the world's more effective charities
Description:
FTX is a cryptocurrency exchange built by traders, for traders. FTX offers innovative products including industry-first derivatives, options, volatility products and leveraged tokens. We strive to develop a platform robust enough for professional trading firms and intuitive enough for first-time users.
How to Buy VeChain with a Broker
Even though using a VeChain broker may seem far easier than buying VET from an exchange, you will be handing over your hard-earned money and as such, it is necessary to select the right broker for the job that not only provides the safety of your money but can also guarantee your trading rights. There are several crypto brokers online that provide their services and it is easy to find the right one. All you have to do is to look for their compliance with laws and regulations and check out user feedback.
While selecting the broker that suits your needs, don't forget to have a look at their fee. Charges will vary from broker to broker and may not suit your profit needs. At the same time, don't forget to prioritise the cybersecurity offerings.
1. Register with the Broker
Any good broker will require you to register. This is not only to have your account so funds are not mixed but also to ensure compliance with relevant laws. The registration process will vary from broker to broker and platform to platform but is more or less the same at its core of requiring you to make a username and password to access it.
2. Verify your Identity (KYC Process)
Though the concept of cryptocurrencies was born from the need to separate finances from the control of a central authority, the truth is that currently there is no practical way to protect your rights and assets if you need to trade unless you give up your anonymity to comply with different financial laws. This also means that the broker platforms will need to follow rules set for them. KYC or AML checks are used to monitor legal compliance on trading platforms including thwarting attempts of illegal money movement.
To proceed you will need to upload specific information about yourself. This process may require you to upload information about yourself that can be used to verify that not only are you a legitimate person who is legally allowed to trade but at the same time allows the broker and authorities to keep a check on any money laundering or tax evasions.
3. Deposit Funds with your Preferred Payment Method
Since trading cryptocurrency is all about buying and selling contracts, you will need to transfer over any of the supported fiat currencies. The broker may support different methods of payment, such as credit or debit cards and even bank transfers.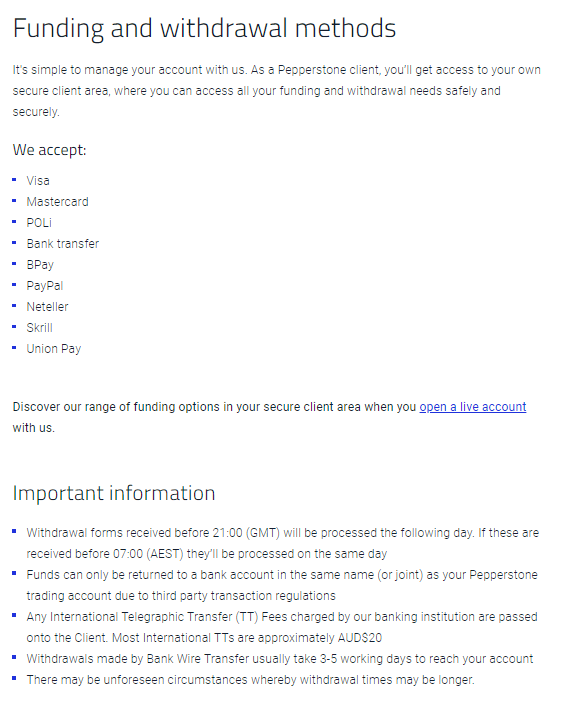 Pepperstone offers a wide range of funding options. If you are going to use a Mastercard or Visa enabled credit or debit card, you will need to enter the card details (card number, expiration date, CVV code). Using a bank transfer would require you to either go to your bank or use its online portal to send over fiat to the given bank account of the platform.
Each payment method will differ and have its advantages. In all cases, make sure your online security is at a maximum with an antivirus running and updated. Pro tip: transfer the minimum amount possible and see if it is credited to your account on the platform. This way you are sure all data was entered correctly. Once satisfied, transfer the full amount of fiat you intended to the trading platform.
4. Open a Position to Long/Short VeChain
As derivative trading platforms, brokers will be able to use complex clauses in different ways that you cannot in simply buying VET. The most often used are long and short positions.
Long positions are the equivalent of what you do in the normal buying of VeChain. You buy low and sell high, raking in profits from the difference in VET price. Taking a long position is profitable only if the market is bullish and on the rise.
You can always open a short position if the market is falling or if you are sure it is about to. Entering a short position means you are saying you want to bet on a bearish (negative) market. The contract runs in reverse, meaning you make profits as the market falls.
Using long and shorts allows you to generate steady revenue, no matter what the market situation is. Using different order types in conjunction can mean maximum profit chances. You can immediately enter a position using a market order using the going VeChain rate. If you want a specific rate, you can always use the Limit order that allows you to float your preferred price and quantity.
If your limit price and the market are different, your order can still get executed if a match is made. This means you cannot control when your order is placed. This is overcome by a stop-limit order, where you also get to define the market rate. Your limit order is placed in the books only when the market rate is matched.
5. Close your Position
You can use limit-order and stop-limit orders to define your take profit position or even mitigate your losses with a stop-loss order. This has the added benefit that you don't need to be online and the order will be executed automatically.
Should you feel the need to exit or enter manually, you can always cancel the placed orders and do so. This allows you to override your limits and exit the trade if you deem profits acceptable or losses intolerable.
How to Buy VeChain with an Exchange
Trading, though easy in terms of forgoing the need to delve into the complexities of cryptocurrencies, wallets, and other intricacies, may not be the best option for you. We humans vary in our understanding of things and many people find trading difficult and prefer to buy Vechain. In this case, you're better off if you go with an investment plan and not a trading one. If you think that you need to buy VET, this section of our guide is for you.
Similar to trading, you need to make a careful and well-studied decision on the crypto exchange you want to use to buy VET. You need to select one that is reputable, reliable, and is regulated or legally compliant. Check out their fee structure, including any charges on deposits or withdrawals as this can drastically affect your decision.
Refer to the start of the guide for our selection of the best VeChain cryptocurrency exchanges to fast-track your selection process.
1. Set up a VET Wallet
Even when cryptocurrency exchanges do offer built-in crypto wallets with your account for safekeeping purposes, it is always a safer and better idea to have a personal VET Wallet. VeChain comes with a variety of options for wallets.
You can go about setting up your wallet easily and there are tons of these available, each with its benefits and drawbacks:
Software Wallets: Either mobile, PC, or web-based, these wallets have a software-based existence, hence the name. They are also called hot wallets as you only interact with the interface and wallet data stored on provider servers, meaning they are always online. This is a security weakness as your assets can be siphoned off by anyone if they gain access to your password or private key.
Hardware Wallets: Physical devices, these are secure as you can disconnect these from your computer or mobile and therefore, the VeChain network. More secure, they are expensive and prone to being lost due to their small size.
Paper Purses: A printable version of VeChain wallets, you can get them printed on paper and store them anywhere you like. You will need to enter the keys manually to access your wallet using a web interface, but as long as the paper is kept away from prying eyes, your VET tokens are safe.
2. Choose and Join an Exchange that sells VeChain
You can cut short your VeChain crypto exchange hunting by using our recommended legally compliant list at the start of this guide. A few of the most popular in 2022 are Binance, Bittrex and Huobi Global.
To buy VET it is preferred to analyse the features and offerings of the exchanges you have selected for yourself, which will help you to not only minimise your time but cost at the same time. Like brokers, these certified exchanges will also demand your data to comply with the KYC and AML laws they are subject to.
3. Choose Your Payment Method for Buying VET
After you have registered and cleared the KYC process on the exchange, you can start funding your exchange account. Every exchange will accept cryptocurrencies so in case you hold some, you can always head over to your exchange wallet to see if it is listed. If so, you can simply transfer over by selecting the VeChain public address within your exchange wallet.
Many exchanges like Bittrex and Binance also support fiat currency deposits. They will have different options just like a broker and you need to see which you can use. Simply head over to the deposit option, select your payment method and follow the given instructions. Use a test transfer as a rule of thumb to make sure you have entered the right data for the funds to credit in your exchange account.
4. Place an Order to Buy VET
Funded, you are ready to place your first order for VET tokens. Go to the market section and select VeChain to see what pairs are being offered. The pairs define what fiat and crypto can you use to buy VET.
Select your VET pair and the exchange will take you to the order page. This will have different information such as price graphs, order books and the buying option. You can use any of the available buy options (market, limit, stop limit, OCO, or FOK) to purchase VeChain.
Some exchanges will have fiat and crypto pairs while others will only have stablecoin and crypto ones. You might find that your deposited funds or digital assets are not supported for direct buying. In that case, you will need to see what common pairs are between VET and your assets. Nearly every exchange offers a Bitcoin and Ethereum pair for VeChain and fiat/stablecoin for the two largest cryptocurrencies. You will need to refer to the previous paragraph to first buy the common crypto and then use it to get VeChain. This may seem a bit irritating as it is an extra step but you will not have any other way on the crypto exchange.
5. Safely Storing Your VeChain in a Wallet
Once your order is executed, the exchange will deposit your VET in its internal wallet. You can let your digital assets sit in the exchange wallet or you can move it off the exchange to your private wallet.
Mainstream crypto exchanges are central and custodial in nature, which means it is the platform that ultimately has control over your VET. To avoid any chances of loss of assets due to a hack or any other misfortune, you can shift these to your VeChain wallet.
Simply go to the exchange wallet, select VET and tap the withdraw option. Enter the public key of your private wallet and move the funds out.
Should you Buy or Trade VeChain?
The answer is in your decision of holding the VET tokens or just using their price for profits. If you are comfortable with just making profits, you can trade for these. On the other hand, if you want to have ownership of the VeChain tokens, buying is the right option for you.
Time also comes into play here. Using advanced options such as leverage can help you make more profits and money, but long term strategies mean these additional selections will run expenses. Holding VET on an exchange or in a wallet will incur no fee.
What's the Difference Between a VeChain Exchange and a Broker?
Careful use of both a broker and exchange is profitable, but the only difference is the ownership of VeChain tokens.
Using an exchange means buying and selling VET tokens, while a brokerage will not give you rights to own, but only use the price to run the contracts for fiat settlement.
Brokers have the advantage that they can use complex and different tools to offer you chances to make higher profits. For example, leveraging VeChain will allow you more exposure to the price movement and multiply your profits, but you will need to pay interest for the loaned amount. Leverage is also dangerous, as the increased exposure can also result in rapid losses should the market go against your favour.
VeChain: Long Vs Short Term Investment
You can rapidly buy and sell VeChain to convert the small price movements into potential profits. This short term strategy means you will be making profits on a near-daily (or weekly/monthly) basis, but requires you to be more tuned in and updated on the latest happenings.
Long term strategy ignores the short term price fluctuations and you can grasp the larger swings, leading to a higher profit percentage per buy/sell. You don't need to be in front of your screen all the time, and you can keep checking lightly, only buying or selling when there is a major VeChain price shift.
3 Tips to Buy VET
VeChain has sharper price oscillations than traditional investment options and this can lead you to make rash and impulse decisions. If you are not careful, this can eventually lead to a loss you might not be able to bear. Here are three things you should consider before buying Vechain.
1. Choose the Right Time and Do Your Own Research on VeChain
Research is always good as it can help you in understanding the current market scenario and future probabilities. Even a little prior research will always benefit you in the long run. You can always use technical and fundamental analysis to predict the market statistics and invest your money accordingly.
2. Comparing Costs to Buy VeChain
No two exchanges are the same with their own fee system and the small differences in price due to the demand and supply on the platform. Study each exchange carefully to see if the fees are something you can bear. Some exchanges have a flat fee, while others have it tiered according to the user's monthly turnover. Many even offer hefty discounts if the internal exchange token is used.
3. Safety and Security when Buying VeChain
Don't only go for cost savings. Make security and safety a priority and balance it with the exchanges' charges. A very low fee is enticing, but don't compromise on the cybersecurity offered.
At the same time, ensure that your end is secure too. Invest in a good antivirus and keep your device updated.
What is the Best Payment Method for Buying VeChain
Buy VeChain with Cash: A local P2P exchange can let buyers and sellers meet or use micro-transaction apps to purchase VET.
Buy VeChcain with Credit Card: One of the easiest options and most swift.
Buy VeChain with Bank Transfer: The most secure, but can take anywhere from a few hours to days for transfer.
Buy VET with Bitcoin: Nearly all exchanges have a VET/BTC pair, so it is widely available.
Buy VeChain with PayPal: Another cheap option, but not every platform supports it.
Other Ways to Buy VET
VeChain uses a lesser-known Proof of Authority (PoA) consensus model that doesn't require any sort of mining. To get the right to earn by becoming a validator, you will need to make an application to VeChain, clear their KYC and commit 25 million VET once approved. This would allow you to passively earn VET tokens.
You can always use a VeChain compatible private wallet to passively earn VETHO. Store your VET and a small amount of VETHO will be generated every day. You can accumulate it and swap it for VET from supported crypto exchanges.
Frequently Asked Questions
It depends on the market mood. Do your research to see if it is a good time to buy VET.

Contact your bank or card issuer. Most of the time the fiat is automatically converted to the receiving account's currency.

You can simply store 1 million VET in the VeChainThor mobile wallet and upgrade yourself to an Economic Node to passively earn.

Contact your crypto exchange. Some, like Binance, do support this feature.

Many crypto exchanges have started offering broker services. You will gain VET tokens using leverage but will start running interest on the loan. Avoid leverage if you want to buy VET.
Alternative Cryptocurrencies