How To Buy NEO | Ultimate Guide To Buy NEO
Neo (NEO)
...
Neo is one of the most rapidly developing blockchain networks that aims to create an infrastructure for the next-generation internet to support a modern economy that involves digital assets, identities, and payments. Neo was established in 2014, and it is one of the few blockchains supported by a government. The main objective of NEO right now is to create a global developers' community who have the talent and the skill to develop a cutting edge foundation for the blockchain network.
The cryptocurrency was founded by Erik Zhang and Da Hongfei who serve on the board of Neo Foundation as chairmen. The Neo blockchain has a native token that is denoted by the initials of NEO. At the time of writing this guide, the price of NEO was hovering around the figure of $18 with the cryptocurrency having a market capitalisation of well over $1.2 billion.
5 Steps to Buy Neo with eToro Now
Buying any cryptocurrency with eToro is easy, simply follow the steps below:
Sign up for free with eToro, entering your details in the required fields.

Fill out the questionnaire, this is both educational for you and eToro.

Click 'Deposit', you'll then be asked how you want to fund your account.

Choose your required payment method, follow the simple steps to link your payment.

Enter the amount you want to deposit and you're good to go!
Our Recommended Platform to Buy NEO
If you are on this assistance page and need to see our top digital currency exchanges and broker suggestions, you may already have an understanding of the basics. Otherwise, those people who need to get into NEO purchasing and trading and haven't had any related knowledge should continue reading the article to build up decent know-how of how the digital currency market operates.
Clients who are already mindful of the complexities of the market can see our keenly assessed and chosen platforms and brokers.
Min. Deposit
$50
Promotion
Accepts customers from the USA
Offers 15 crypto coins to buy&sell including BTC, LTC, ETC, NEO and more
Trade on the world's leading social trading and investing platform
Description:
eToro offers a wide range of cryptos, such as Bitcoin, XRP and others, alongside crypto/fiat and crypto/crypto pairs. eToro users can connect with, learn from, and copy or get copied by other users.
Payment Methods
Bank Transfer, Wire Transfer
Full regulations list:
CySEC, FCA
Where to Buy NEO in 2021
When you want to buy NEO, you first need to know that the only way to do so isn't to purchase the tokens from an exchange. There are two significant routes through which you can trade crypto tokens, including NEO. The primary route is to really purchase NEO coins and own them. You will claim all authority to sell, exchange, and hold them as you wish. An alternate route is to trade NEO tokens without owning them. To do that, you should purchase financial instruments like Contract for Differences (CFDs) for NEO which permit you to bet on the price of the token and use market volatility to your advantage.
Since you now know that there are two different ways to invest, the time has come to learn which approach is an ideal choice for you. If you have a stake in the NEO foundation or desire to put your capital into the coin for a long haul, it is smarter to utilise the first route and purchase NEO tokens through an exchange. The service will let you purchase NEO tokens through a more popular coin, for example, Ethereum or Bitcoin. You will require the necessary software or a cold wallet to store your NEO tokens in a safe and secure way. You can later sell the coins for a profit.
If your investment methodology is about earning quick profits, then the second route of trading tokens through financial instruments is a superior alternative. For that, brokerage websites and trading platforms are a more reasonable choice. Since you don't actually own the tokens, you don't have to manage their exchange expense, nor do you have to deal with the hassle of having and managing a crypto wallet. The financial instruments, for example, CFDs are anything but difficult to purchase and sell rapidly and in a more prudent way.
Regardless of the investment approach, the duty of dealing with the risk lies entirely on you. Ensure that you are just spending a sum the loss of which won't get you into genuine financial challenges. The digital currency markets are unpredictable, and keeping in mind that they are helpful for acquiring quick gains through sudden price surges, crashing prices can likewise sink your capital. You need to put your capital into different tokens to diversify your portfolio and also limit your risk.
Min. Deposit
$50
Promotion
Accepts customers from the USA
Offers 15 crypto coins to buy&sell including BTC, LTC, ETC, NEO and more
Trade on the world's leading social trading and investing platform
Description:
eToro offers a wide range of cryptos, such as Bitcoin, XRP and others, alongside crypto/fiat and crypto/crypto pairs. eToro users can connect with, learn from, and copy or get copied by other users.
Payment Methods
Bank Transfer, Wire Transfer
Full regulations list:
CySEC, FCA
Min. Deposit
$1
Promotion
The world's largest cryptocurrency exchange with over 2bn daily users
Innovative trading platform offering enormous range of crypto coins
Supports over 60 methods of payment including PayPal
Description:
Binance has grown exponentially since it was founded in 2017 and is now one of, if not the biggest cryptocurrency exchanges on the market.
Payment Methods
1Pay, 2C2P, 3d Secure Credit Card, ACH, ANELIK, Abaqoos, AdvCash, AlertPay, Alfa-Click
Algocharge, AliPay, American Express, Apple Pay, AstroPay, BPAY, Bank Link, Bank Transfer, Bank Wire, Baofoo, BitGold, BitPay, Bitcoin, Boleto, Bonds, Borneo Exchanger, Bradesco, CEX.io Mobile App, CFDs, CSS System, CUPS, CartaSi, Carte Bleu, Carte Bleue, Cash, CashU, Cashier Order, Check, Check (UK only), China UinonPay, China Union Pay, China UnionPay, ClickandBuy, Commodities, Contact, Contact Z, Credit Card, Cryptocurrencies, Currencies, DCPay, DIXIPAY, Dankort, Debit Card, Dengi Online, DineroMail, DirectPay, Dotpay, E-dinar, ELV, ENets, EPS, ETFs, EXCARD, Easy2Pay, EcoPayz, Ecommpay, Ecurrencyzone, EgoPay, Emerchant Pay, Eprotections, EstroPay, Ethereum, Euro Bank Account, Euteller, Express Dotpay, Express Polish Post Office 24/7, Express Zabka Market, Ezeebill, Ezybonds, FasaPay, Fastapay, Fastbank, Faster Payments, FilsPay, Forex, GTBank, Gate2Shop, Giropay, GlobalCollect, GlobalPAY, GlobePay, Gluepay, Halcash, I-Account, IPS, Ideal, Indices, Individual US State License(s), Indonesia Exchanger, InstaBill, Instadebit, IntellectMoney, Interswitch, Investmate, Itukar, KNET, Klarna, LaoForexBoard, LavaPay, Lion Payment, LiqPay, Litecoin, Lobanet, MOTO, MT4, MT5, Mailing Cash, Market Maker, Masari, Mastercard, MegaTransfer, Mister Cash, Mobile Trading App, Mobile Trading Platform, Moneta, Money Bookers, Money Order, MoneyBookers, MoneyGram, MoneyPolo, Multibanco, NETBANX, Nab, Namecoin, Neosurf, NetPay, OKPAY, OMT, OmahPoin, OnPay.ru, Online Naira, OrangePay, PAYSEC, POLi, POLi & BPay, PYEER, PagoEfectivo, Paxum, Pay Nova, PayCo, PayPal, PayRetailers, PayWeb, Payeer, Payoneer, Payonline, Payvision, Payza, Perfect Money, PocketMoni, Postbank, Powercash 21, Prepaid MasterCard, Prepaid MasterCard (I-Account), Prepaid MasterCard (Intercash), Prepaid MasterCard (Payoneer), Privat 24, Przelewy24, QIWI, RBK Money, Rapid Transfer, RegularPay, SEPA, Safecharge, SafetyPay, SahibExchange, Shilling, SmartPay, Sofort, SolidTrust Pay, SorexPay, Sporopay, Stock Certificate, Stocks, Swish, Teleingreso, Thailand Exchanger, Ticketsurf, Todito Cash, Trade Interceptor, Transact Europe Payment, Trazus, TrustPay, Trustly, UAE Exchange, UPayCard, USD, Ukash, Unet, UnionPay, Unistream, Uphold, Verve, Vietnam Exchanger, Visa, VixiPay, VoguePay, Vouchers, Wallet One, WeChat, Web Based Trading Platform, WebMoney, WebPay, Webtrader, Western Union, Wire Transfer, Wirecard, Yandex, Yandex Money, Yemadai, YuuPay, Z-Payment, Zenith, Array, cTrader, dinpay, eCard, eCheck, eKonto, ePay bg, ePayments Transfer, eToro Mobile Trading Platform, eToro Trading Platform, eTranzact, iPay, mPay, neteller, paysafecard, postepay, skrill, unichange.me
Min. Deposit
$20
Promotion
Margin Trading with full legal compliance
Description:
Cex.io offers exchange of fiat currency for Bitcoin Ethereum, Tether, and 23 other cryptocurrencies, as well as Bitcoin/Ethereum trading against the USD.
Payment Methods
Credit Card, Cryptocurrencies, Debit Card, Wire Transfer, skrill
How to Buy NEO With a Broker
You shouldn't simply proceed to sign up to any broker site without consideration. When you need to have an exceptional crypto trading experience, you have to choose your trading platform after assessing different features and the broker's reputation. The top thing you should look for is whether it is regulated or not and complies with regional laws. You also need to consider its reputation, which you can discover by looking at online reviews and feedback. You additionally need to think about service features, for example, trading friendliness, transaction expenses, customer care, data and analytics, and more.
1. Register With the Broker
Sign up is the most effortless aspect of the whole cycle. Most top brokers, eToro, just request essential individual particulars like your email address, name, and a password. Keep in mind, however, that you should have unique passwords for different accounts and utilise a mix of special characters, digits, upper, and lowercase letters. A few trading platforms will let you make an account with them utilising your Google or Facebook profile.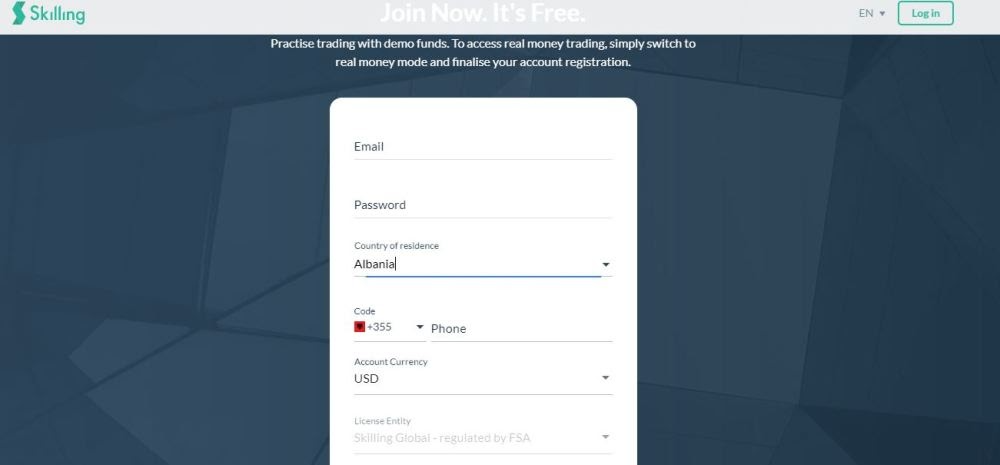 2. Verify Your Identity (KYC Process)
When you join a regulated trading platform, you need to go through a cycle of identity verification. This is compulsory since the brokers need to maintain adherence with Anti-Money Laundering (AML) and Know Your Customer (KYC) regulations to guarantee the security of their clients and assets. Despite the fact that it may not appear to be that user-friendly, it is for your own advantage since identity verification forestalls criminal behaviour, tax evasion, money laundering, and fraud.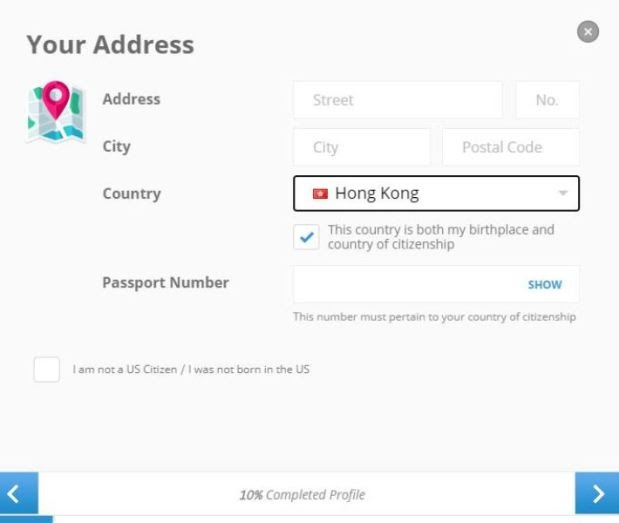 You should submit a legitimate document as identity evidence which can be anything from your driver's permit to proof of salary. The process may take as long as half an hour; however, it is definitely justified given the security and peace of mind you get.
3. Deposit Funds With Your Preferred Payment Method
If you are going with any of the top brokers, for example, eToro, they offer several payment modes for your benefit. Before choosing any payment method, you should look at the expense structure for that specific payment mode. Make sure that the storage, withdrawal, transaction, and different costs aren't too high or these charges will diminish your gains. You need to take ease of use and speed of transfer into consideration as well. For example, wire transfers are affordable, but they can be quite slow when contrasted with other payment methods.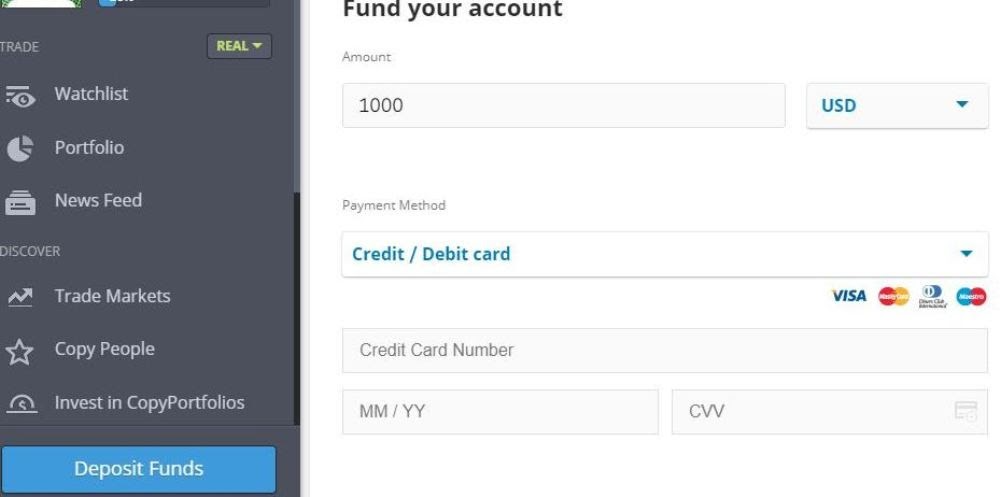 You should begin with the base deposit before you put more capital into NEO. The base sum required is typically up to $200 to $500 contingent upon the trading platform you've picked. Try not to store a great deal of money until you have gained enough skill and experience to deal with big investment trades.
4. Open a Position to Long/Short NEO
Before you trade Neo, you have to comprehend what short and long positions actually are. Short positions are opened by traders who we call bears. The bears think that the price of NEO will go down in the near future while long positions are opened by traders called bulls who believe in exactly the opposite, i.e. the price will see a climb. You can bring in profits by opening any of these two positions relying upon what your investment approach is.
When you understand the contrast between short and long positions, you will be in an improved situation to decide if you need to open a short or long position for NEO trading. Many brokers, for example, eToro offer features that allow you to manage your investment associated risks, including Stop Loss and Take Profit options.
5. Close Your Position
Using Stop Loss or Take Profit measures doesn't mean that you have surrendered your control on the trade. These options are there to play the role of a defender and secure your capital as per your specified limits. If you accept that your open trade has earned enough profit (or has seen enough loss) and keeping the position open will be fraught with risk, you can close your position at any time. You are allowed to supersede the Stop Loss and Take Profit features.
How to Buy NEO With an Exchange
If you are one of those brokers or investors who have trust in the NEO foundation project or believe that the price of the NEO coin will keep on improving in the near future, purchasing NEO tokens and owning them through a crypto exchange is a superior option for you. That said, you can't simply pick any exchange, and you need to gauge the advantages and disadvantages of each to discover which service serves your requirements the best. Some of the features to search for include an excellent reputation, regulated, simple to learn interface, customer service, and reasonable charges. Note that the trades that don't keep regulatory adherence may give off an impression of being enticing, yet they represent a more serious risk to your trading.
1. Set up a NEO Wallet
When new traders think about using a cryptocurrency wallet, they usually believe that it's going to be a long drawn and complicated process. It is simple to utilise your wallet for storing NEO tokens. Depending on your investment technique and security prerequisites, you can pick any wallet. Some of the wallet options are described below:
Exchange/Web Wallets – Browser-based wallets, browser extensions, and the wallets that accompany the trading platform account are alluded to as web wallets since they are available through the web.

Software Wallets – These are software or apps for your desktop and mobile devices that can be used to store NEO tokens. These applications offer good security features to store NEO coins.

Hardware Wallets – When your main concern is security, there is no preferred choice over a hardware wallet. They incorporate devoted hardware to keep your assets safe and are not connected to a network. They are portable and more secure.
2. Choose and Join an Exchange That Sells NEO
Since NEO is one of the most sought after altcoins, it is commonly accessible on all exchanges, including the best ones like Binance, Coinbase, and CEX.io. Before you select any service, evaluate each of them for their strengths and weaknesses, so you can choose the one which is more adequate for your investment strategy. For example, numerous exchanges require little personal data, while some will confirm your identity before activating the account. It is a much safer and smarter idea to use a crypto exchange that complies with regulatory laws for security reasons.
3. Choose Your Payment Methods to Buy NEO
After you have joined an exchange, you have to assess all the payment modes they offer. Bear in mind that every payment method has its upsides and downsides, and you have to deal with your transaction expenses to keep your profit margin at a maximum level. For instance, a credit card is an advantageous method of payment; however, it is somewhat expensive. Wire transfer is quite affordable, but your money can take days to appear in your account.
4. Place an Order to Buy NEO
On numerous exchanges, you won't have the option to purchase NEO directly, and you will initially need to get a mainstream token, for example, Ethereum or Bitcoin. Afterwards, you can trade it for an altcoin including NEO. A couple of exchanges may sell you NEO tokens directly; however, you have to keep in mind that the expense of such trades could be high. To put in your buy request, select the fiat money and the amount you need to use to pay for the investment, and it will give you the number of NEO coins that you can get. Include the sum and send your buy demand through. It will take a couple of moments for the coins to appear in your exchange wallet.
If 2FA is enabled on your account, you will get a one-time password (OTP) which you should type in to confirm your transaction.
5. Safely Storing Your NEO in a Wallet
If you don't want to hold NEO tokens for a long period, it is totally alright to hold your coins in the web wallet. This way, you won't need to stress over safety and withdrawal charges. On the other hand, if you need to hold your NEO coins for a longer period (weeks or months), it is best to move your NEO tokens to a crypto wallet. To do that, you should enter the public key before the NEO coins can be transferred. If 2FA is enabled, you should also enter the One Time Password (OTP) for confirmation of the transfer.
Should You Buy or Trade NEO?
It is a smart idea to purchase NEO tokens for those financial investors who have faith in the NEO foundation or feel that the price of the coin will keep on ascending in the near future. However, for those investors who simply need to utilise the market instability for their potential financial benefit, trading NEO through financial instruments, including CFDs, is a better approach. This way, you won't have to hold or store coins.
What's the Difference Between a NEO Exchange and a Broker?
A NEO exchange is an online service that permits users to buy altcoins or digital currencies, for example, NEO against exceptionally mainstream tokens like Bitcoin and Ethereum. That is the reason these are called cryptocurrency exchanges. For a long term investment venture, you need to depend on an exchange as they sell the NEO token for which you will maintain all authority to transfer, move, exchange, and store.
But, if you would prefer not to hold the token for a long term but simply need to capitalise on the market instability to gain quick profits, a trading platform like eToro is a superior choice for you. They don't offer coins for procurement. Rather, they permit you to wager on the price of these tokens through financial instruments like CFDs, Futures, and Options. These eliminate the obstacle of trading costs and putting away coins safely in a wallet.
Long Vs Short Term Investment
Long haul investment ventures are undertaken by those traders who really put their faith in the NEO project and want to support it or believe that the price of the coin will keep on ascending over the long term. They are in it for a long stretch and are typically quiet traders. For such financial experts, exchanges are the correct choice.
Short term investment ventures are undertaken by those traders who need to utilise the volatility of the NEO price for their potential profits. They depend on quick fluctuations in price to make their move and are, for the most part, profit-driven. For this kind of traders, trading platforms and brokerage websites are a superior fit since they offer monetary instruments or digital forms of money.
Pros and Cons of Buying NEO
Pros
Future proof: NEO's technical approach makes it a currency that answers to the future needs of the market. It may not do well at meeting the current market demands, but its smart economy solution sets it up as leading crypto in the future.
Market potential: Even though China banned cryptocurrencies, the country may open up the doors to its coin, as it did to WeChat. NEO will take the cryptocurrency world with a storm when this happens.
Partnerships: NEO has support from several leading companies, including Microsoft China. It is also the first Chinese cryptocurrency network to join Hyperledger. Hyperledger works on projects that aim to integrate blockchain systems to businesses.
Cons
No mining: The biggest downside is that NEO is not minable, so crypto miners cannot invest in them. According to the developers, 100 million coins were pre-mined before launching. Developers and the rest who use their computers to maintain the network, however, receive rewards in the form of a token called GAS. It is another coin that the NEO foundation uses to distribute its NEO coins.
What Are the Fees Involved In Buying NEO?
As per most cryptocurrency purchases and transactions, there are fees associated with buying and selling NEO. We've outlined the core fee types below.
Transaction fees: These fees are prevalent across nearly all exchanges and broker platforms. Every single transaction that is made has a small fee associated with it, which is taken from the sender and recipient.
Deposit fees: When you deposit money from your SEPA, credit card, or any other payment method to the exchange, you'll sometimes be required to pay a deposit fee. Most trusted and reputable exchanges and broker platforms don't have deposit fees.
Withdrawal fees: When you want to take your cryptocurrency out of an exchange or brokerage, some charge fixed withdrawal fees while others have fluctuating charges. It also varies with the payment method, especially when you are withdrawing in fiat currency.
Spreads and commission: These apply in trading platforms and brokerages. Spread and commission are ways for brokers to make a margin on top of every trade – these are essentially the transaction fees for the trading and broker world.
3 Tips to Buy NEO
Hopefully, you have built up an essential comprehension of how you can use your capital to invest in NEO and different tokens. We are sharing the three most significant pointers related to crypto trading that you should never disregard.
Choose the Right Time and Do Your Own Research
Numerous new financial traders wind up purchasing at an excessive price and lose cash on their trades. It is essential that you pick your purchasing and selling opportunities with accuracy and you can possibly do so if you have investigated the coins, read the entirety of our guidance material, and have watched out for the news related to the coin.
Comparing Costs to Buy NEO
New investors additionally overlook the effect of transaction expenses which can pile on and cut down your net revenue. Pick your payment method and withdrawal times carefully so you can limit the transaction expenses and expand your profit margin.
Safety and Security
You are responsible for storing your NEO tokens safely. Make sure that you have enabled 2FA authentication, have strong passwords and are using strong passphrases.
What Is the Best Payment Method for Buying NEO?
Buy NEO with Cash – First, you are required to purchase Bitcoin with cash through an ATM, and afterwards, you can exchange it for NEO. An inconvenient way to buy NEO.

Buy NEO with Credit/Debit Card – One of the most well-known payment modes to purchase NEO; however, it is more costly than other payment methods.

Buy NEO with Bank Transfer – User-accommodating and affordable as far as cost is concerned, however, generally delayed as deposit reflects in days.

Buy NEO with Bitcoin – Just exchange your Bitcoin for NEO.

Buy NEO with PayPal – Very fast and cost-proficient but isn't accessible all around the globe.
Other Ways to Buy NEO
The methods which we have discussed for buying NEO above are probably the most well-known, economical, and convenient methods. However, there are some lesser-known and undervalued approaches to purchase NEO which you can use if you like.
Peer-to-Peer (P2P) Exchanges – These are sites or services that play the role of a middle man between crypto purchasers and sellers. You can pick your own buying terms here and your own favoured payment mode. There are hundreds, even thousands of dealers, so the probability of finding the right match is quite high.

Since NEO tokens have been pre-mined, you can't get them through a mining process.
We are devoted to providing the best and the most recent information to our readers about cryptocurrencies and how to purchase and trade those currencies. This is the reason we will keep on updating this guide as increasingly more data, updates, news, improvements, and developments occur.
Frequently Asked Questions
We have suggested numerous brokers and exchanges where you can purchase NEO without paying any commission. In any case, remember that there may be other charges.

When you buy NEO, you own the token. You can sell, exchange, or hold it at any time. This is generally done by the long haul traders. On the other hand, short-term investors trade NEO by betting on the price of the token through financial instruments like CFDs.

It is a call that no one but only you can make. Read our guidance material and watch out for the news and latest price developments to identify the right moment to open a position.

This is a choice that you need to make. Consider various variables like service quality consistency, regulatory compliance, reputation, expense structure, transaction costs, and client service to find out the right fit for your investment strategy.

Aside from a couple of countries that have banned digital currencies and their trading, NEO is legitimately accessible and tradeable in the wide range of various countries.
Alternative Cryptocurrencies