How To Buy Monero | Ultimate Guide To Buy XMR
Monero (XMR)
...
One of the many altcoins that came after Bitcoin, Monero (XMR) has mostly been popular among investors due to its rising demand as a privacy coin. XMR used an established ring signature cryptography which made it difficult to determine the sender and the receiver of Monero, along with the total amount. Since 2018, Monero has switched to the Bulletproof algorithm, which offers stronger privacy.
If you are interested in how to buy Monero, this guide will give you complete details and will cover the steps and strategies involved, along with answering any questions you may have.
5 Steps to Buy Monero with eToro Now
Buying any cryptocurrency with eToro is easy, simply follow the steps below:
Sign up for free with eToro, entering your details in the required fields.

Fill out the questionnaire, this is both educational for you and eToro.

Click 'Deposit', you'll then be asked how you want to fund your account.

Choose your required payment method, follow the simple steps to link your payment.

Enter the amount you want to deposit and you're good to go!
Our Recommended Platform to Buy Monero
Chances are that you have already done a bit of research when it comes to how to purchase Monero. If you believe you have enough command over digital currency and are ready to dive directly, you can use the following recommended list of cryptocurrency exchanges and brokers to start your Monero journey.
Min. Deposit
$50
Exclusive promotion
Accepts customers from the USA
Offers 15 crypto coins to buy&sell including BTC, LTC, ETC, NEO and more
Trade on the world's leading social trading and investing platform
Description:
eToro offers a wide range of cryptos, such as Bitcoin, XRP and others, alongside crypto/fiat and crypto/crypto pairs. eToro users can connect with, learn from, and copy or get copied by other users.
Payment Methods
Bank Transfer, Wire Transfer
Full regulations list:
CySEC, FCA
Where to Buy Monero in 2021
There are two ways you can use the moving Monero price to your advantage. You can either purchase Monero as an investment or use derivative contracts such as CFD (Contract for Difference) to simply trade on the value. In both cases, you will be able to take advantage of the fluctuations in XMR value.
Trading Monero through CFDs is attractive to many people as it frees them from the worry of understanding the complexities and other technical processes of the cryptocurrency and simply buy or sell traditional contracts that use XMR's value. You can opt-in on a CFD when you believe Monero will rise in price and close the contract at your desired profit level. You pocket the difference as profit, without ever needing to buy XMR at all.
Another advantage of trading is that since there is no direct buying/selling of Monero but only its value, complex contracts such as Futures and other advanced features such as leverage and shorting can be used.
Though trading is lucrative and a better alternative than repeatedly buying and selling actual Monero, long holding of contracts may not be feasible, especially when there is interest and other ongoing fees involved. Long term actions will result best in profits if you will invest in Monero. This means you will need to get your hands on the XMR coins, probably from a cryptocurrency exchange.
Cryptocurrency exchanges are the best option for purchasing Monero for long term investment. However, most exchanges are centralised and a hot favourite for scammers and hackers due to the large number of different cryptocurrencies stored within their wallets. You would be better off buying Monero and transferring it out of the exchange to a private wallet where you have complete control over the private keys, making it the safest choice. This means you will need to understand how Monero wallets work, the concept of private and public keys etc. which we will cover later on.
You should decide which path is best suited for you.
Min. Deposit
$50
Exclusive promotion
Accepts customers from the USA
Offers 15 crypto coins to buy&sell including BTC, LTC, ETC, NEO and more
Trade on the world's leading social trading and investing platform
Description:
eToro offers a wide range of cryptos, such as Bitcoin, XRP and others, alongside crypto/fiat and crypto/crypto pairs. eToro users can connect with, learn from, and copy or get copied by other users.
Payment Methods
Bank Transfer, Wire Transfer
Full regulations list:
CySEC, FCA
Min. Deposit
$1
Exclusive promotion
The world's largest cryptocurrency exchange with over 2bn daily users
Innovative trading platform offering enormous range of crypto coins
Supports over 60 methods of payment including PayPal
Description:
Binance has grown exponentially since it was founded in 2017 and is now one of, if not the biggest cryptocurrency exchanges on the market.
Payment Methods
1Pay, 2C2P, 3d Secure Credit Card, ACH, ANELIK, Abaqoos, AdvCash, AlertPay, Alfa-Click
Algocharge, AliPay, American Express, Apple Pay, AstroPay, BPAY, Bank Link, Bank Transfer, Bank Wire, Baofoo, BitGold, BitPay, Bitcoin, Boleto, Bonds, Borneo Exchanger, Bradesco, CEX.io Mobile App, CFDs, CSS System, CUPS, CartaSi, Carte Bleu, Carte Bleue, Cash, CashU, Cashier Order, Check, Check (UK only), China UinonPay, China Union Pay, China UnionPay, ClickandBuy, Commodities, Contact, Contact Z, Credit Card, Cryptocurrencies, Currencies, DCPay, DIXIPAY, Dankort, Debit Card, Dengi Online, DineroMail, DirectPay, Dotpay, E-dinar, ELV, ENets, EPS, ETFs, EXCARD, Easy2Pay, EcoPayz, Ecommpay, Ecurrencyzone, EgoPay, Emerchant Pay, Eprotections, EstroPay, Ethereum, Euro Bank Account, Euteller, Express Dotpay, Express Polish Post Office 24/7, Express Zabka Market, Ezeebill, Ezybonds, FasaPay, Fastapay, Fastbank, Faster Payments, FilsPay, Forex, GTBank, Gate2Shop, Giropay, GlobalCollect, GlobalPAY, GlobePay, Gluepay, Halcash, I-Account, IPS, Ideal, Indices, Individual US State License(s), Indonesia Exchanger, InstaBill, Instadebit, IntellectMoney, Interswitch, Investmate, Itukar, KNET, Klarna, LaoForexBoard, LavaPay, Lion Payment, LiqPay, Litecoin, Lobanet, MOTO, MT4, MT5, Mailing Cash, Market Maker, Masari, Mastercard, MegaTransfer, Mister Cash, Mobile Trading App, Mobile Trading Platform, Moneta, Money Bookers, Money Order, MoneyBookers, MoneyGram, MoneyPolo, Multibanco, NETBANX, Nab, Namecoin, Neosurf, NetPay, OKPAY, OMT, OmahPoin, OnPay.ru, Online Naira, OrangePay, PAYSEC, POLi, POLi & BPay, PYEER, PagoEfectivo, Paxum, Pay Nova, PayCo, PayPal, PayRetailers, PayWeb, Payeer, Payoneer, Payonline, Payvision, Payza, Perfect Money, PocketMoni, Postbank, Powercash 21, Prepaid MasterCard, Prepaid MasterCard (I-Account), Prepaid MasterCard (Intercash), Prepaid MasterCard (Payoneer), Privat 24, Przelewy24, QIWI, RBK Money, Rapid Transfer, RegularPay, SEPA, Safecharge, SafetyPay, SahibExchange, Shilling, SmartPay, Sofort, SolidTrust Pay, SorexPay, Sporopay, Stock Certificate, Stocks, Swish, Teleingreso, Thailand Exchanger, Ticketsurf, Todito Cash, Trade Interceptor, Transact Europe Payment, Trazus, TrustPay, Trustly, UAE Exchange, UPayCard, USD, Ukash, Unet, UnionPay, Unistream, Uphold, Verve, Vietnam Exchanger, Visa, VixiPay, VoguePay, Vouchers, Wallet One, WeChat, Web Based Trading Platform, WebMoney, WebPay, Webtrader, Western Union, Wire Transfer, Wirecard, Yandex, Yandex Money, Yemadai, YuuPay, Z-Payment, Zenith, Array, cTrader, dinpay, eCard, eCheck, eKonto, ePay bg, ePayments Transfer, eToro Mobile Trading Platform, eToro Trading Platform, eTranzact, iPay, mPay, neteller, paysafecard, postepay, skrill, unichange.me
Min. Deposit
$10
Exclusive promotion
The broker offers access to a trusted MetaTrader trading system
Pricing is ensured to be completely transparent, also providing accuracy and speed
Trade a Wide Variety of Assets with Leverage up to 1:500
Description:
LonghornFX is a true ECN STP broker dedicated to delivering a superior trading experience to traders no matter their level of experience. Their services are based on transparency, innovation and efficiency, ensuring an unparalleled trading experience for all.
Payment Methods
Bitcoin, Credit Card, Debit Card, Visa
LonghornFX offers high-leverage trading on a wide variety of assets. Trading with leverage carries a degree of risk which may result in losing more than your investments. Clients should practise risk management to protect themselves from losing more than they can afford when trading with leverage.
How to Buy Monero with a Broker
Using a regulated Monero brokerage is advised as your trader rights can be protected. At the same time, compare the fee structure and offered securities. A lower fee is attractive, but ultimately of little consequence if the security of the broker is not up to par.
1. Register with the Broker
Designed to mirror traditional trading environments, signing up with a cryptocurrency broker isn't that complex or difficult. Take Skilling as an example. All you need to do is to go to the broker's website and register by entering basic information such as name, username, email address and creating a password. eToro has a similar registration process, but it gives more flexibility by letting new traders use their Facebook or Google credentials for easy registration if they prefer to.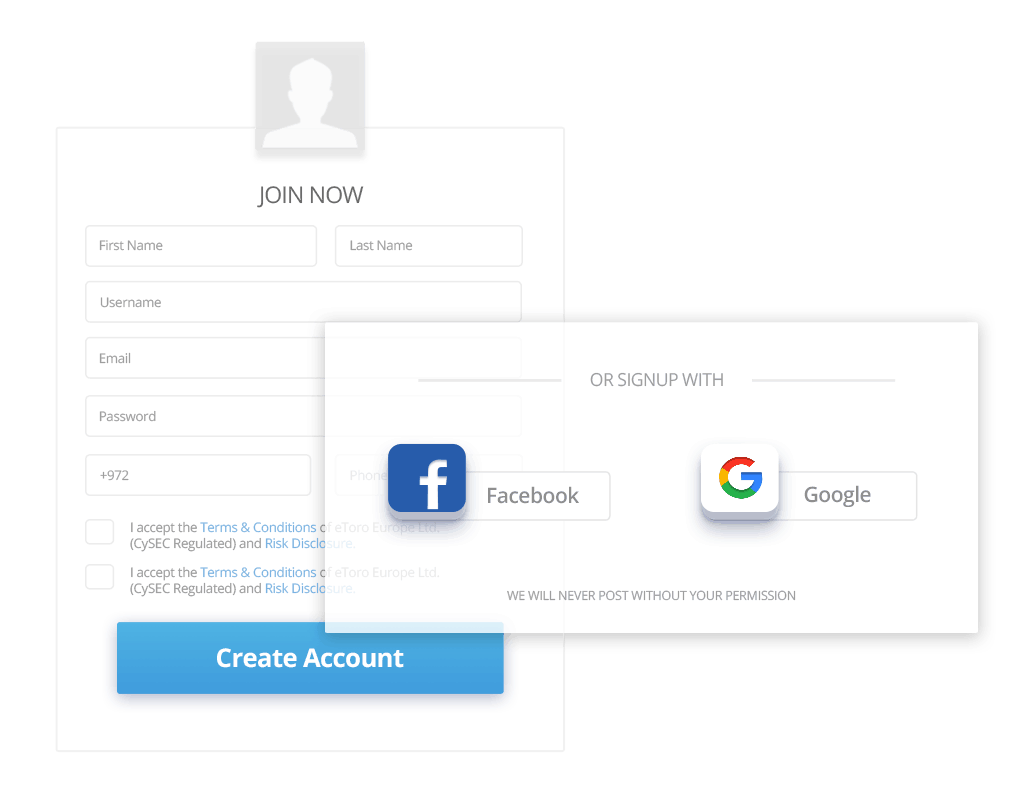 2. Verify your Identity (KYC Process)
Even after more than a decade of existence, cryptocurrencies are still a new class of investment and trading vehicles and regulatory bodies are struggling to cope up. That doesn't mean that there isn't any sort of regulation. A good and reputable broker will always comply with any jurisdictional laws and authorities and this means that it will need to know about you before it can allow any trading to begin from your side. This Know Your Customer (KYC) process will require you to upload different documents, such as your identification (a government-issued ID or passport), proof of residence (a rent agreement, utility bill in your name or any acceptable document that shows your current living location) and some brokers will even ask for your bank statements as proof of legitimate income sources under Anti Money Laundering (AML) checks.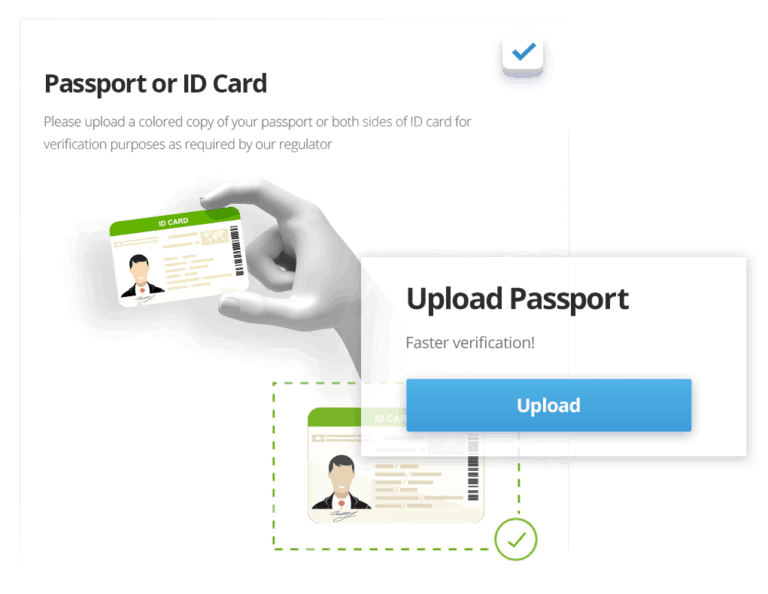 3. Deposit Funds with your Preferred Payment Method
Since trading is all about using contracts that only use XMR value to power the deals, you will need to use fiat currencies to fund your account. Post-registration and KYC clearance, you will need to head over to the deposit option of your broker to see what payment methods are supported. Each payment will have its advantages, such as speed, ease of use and transaction fees. For example, using card-based transactions such as credit cards is perhaps the easiest method as you only need to enter your card details on the broker's website along with your CVV code. Bank transfers can be done both online and by physically going through your bank. The process is slower, the transaction can take anywhere from 30 minutes to a few days and will require much more data input from your side (the destination bank's name, account number, SWIFT code and even reason for transfer).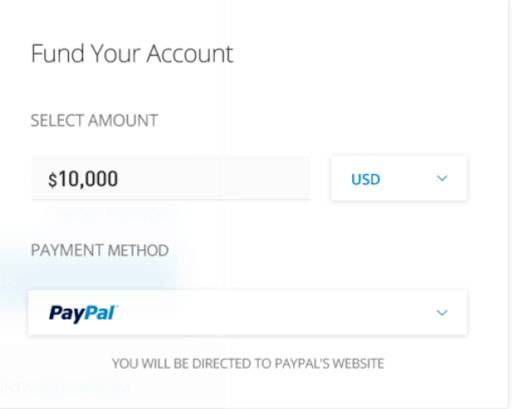 Ultimately, it is you who has to decide which way is better for you. Using credit cards or online banking from the ease of your chair seems the best choice, but comes with its own set of problems. Scams and hacks are everywhere on the internet today. If your computer is compromised or scammers are able to phish your bank or broker interface, you will end up losing your money. Take extreme precaution while using online methods of fund transfers:
Keep your antivirus up to date and regularly perform in-depth scans.
Ensure that you are using only the legitimate website of your broker.
Keep all of your credentials secure, such as bank and broker platform web username and password.
Never give out your password to anyone, even when claimed to be a representative of your bank or trading platform.
4. Open a Position to Long/Short Monero
There are two basic ways in which you can trade XMR for profits: long and short positions.
A trader who believes that the price of Monero will rise in the future will always take a long position. A bull by definition, the trader can buy XMR and wait till the value has appreciated to a point where he or she is comfortable and then sell it off.
A short position taken by a trader is just the opposite. Rather than sit and wait for the XMR price to fall and then enter a long position, a trader can take charge in the bearish market and open up a short, where he bets that the price will fall. If the price falls, the trader makes a profit. This way, both moves of the Monero market, the ups and downs, can be capitalised on and generate profits.
Using long and short positions in conjunction with different types of orders can be very helpful. A careful study of the market movement and an accurate future prediction can help you in determining what price will be perfect to open or close the position.
Using market orders will always let you enter and exit your positions at the current rate, while a limit order will help you define your preferred rate to buy or sell. A stop-loss or take profit will give another level of control, this time letting you define what the market price should be for your limit order to be placed, allowing you to enter the market at your favoured time.
If the risks are carefully evaluated, a trader can also go for leverages to increase exposure through "loans" from the broker. The borrowed amount is returned to the broker along with any interest accrued and the trader gets to keep the increased profits as the position amount was larger. Leverages can be very useful to increase profits, but at the same time, an unfavourable trade will quickly see your money being eroded with the same speed.
5. Close your Position
Using stop loss or take profit can be a great way to automate your profits or even mitigate your losses.
After you have opened a position, you should decide what is the best time to sell XMR. Use the take profit limit order to set the price you are comfortable with. If that value is achieved, your order will be placed in the books and once matched, automatically executed. Similarly, you can define the lowest limit you are willing to hold and your position will be closed, allowing you to cut your losses.
Using automated closings like this doesn't necessarily mean you cannot do anything about your losses or profits manually. Crypto trading is a highly volatile venture and one can never truly account for all the variables that can affect XMR price. A situation can change anytime and you might be faced with a decision to pull out earlier than expected, or just decide that the current profit levels are just what you need. You can always cancel your current orders and simply use market order or set another different level.
How to Buy Monero with an Exchange
People who prefer a long term price discovery for Monero usually tend to go for investing rather than trading. This means that they buy XMR and hold Monero.
Just as selecting the right broker is crucial for trading, having the right crypto exchange for buying and selling XMR is important. Apart from a reliable and reputable exchange, you should also look at their trading fee structure and any charges on deposit/withdrawal. Though fees can affect your decision on selecting an exchange, balance it with the security levels provided.
Similarly, check out the legal and regulatory compliance of the exchange. Not all are made equal in the crypto-verse. Using an unregistered exchange will put your investments at more risk as you will not be guaranteed any rights or the exchange just might pull the rug from right underneath your feet.
1. Set up a Monero Wallet
Digital assets require digital wallets and Monero is no different. Setting up a cryptocurrency wallet can seem complicated, with different confusing terminologies such as private and public keys, but it is a fairly simple process and all it takes is a bit of courage to delve into it.
Broadly speaking, there are two types of wallets and you can select the one that best suits your investment needs:
Software Wallets: Wallets that are as digital as the cryptos they hold are software wallets. Also referred to as hot wallets, they are always online and connected to the network. A drawback in security, the always-online nature means if the private keys are compromised, there is no stopping the bad actor. Hot wallets are app-based, can be on both mobile or computer. Crypto exchange wallets are also another form of hot wallets.
Hardware Wallets: Physical devices, these wallets are also referred to as cold wallets since they can be practically disconnected from the Monero network, offering a level of security that malicious parties will find difficult to break.
2. Choose and Join an Exchange that sells Monero
There are numerous exchanges you can register that support buying and selling of Monero. Popular examples include Binance, Coinbase and Poloniex. Though the basics of investing and buying XMR are the same, no matter which exchange you use, it is better to read up on their individual features, offers, fees and user reviews to get an idea of which one is best suited for you.
At the same time, see how much data do these seek from you in the form of KYC and other regulatory requirements. Some ask for only basic information and simple documents, while others may want in-depth data, including your income sources. Safer is always better, but balance it with the exchange's public reputation.
3. Choose Your Payment Methods to Buy Monero
Post-registration on your preferred Monero exchange, you will need to look into the funding options available on the platform. Depending on your exchange you might have the option to either use your fiat currencies or directly transfer over supported cryptocurrency.
If using fiat, you will have the options of directly funding with your bank account or using your credit card. The direct bank deposit option is safer but may require anywhere from a few minutes to days, depending on your bank and any cross border transfer delays. In the case of a credit card, you will be able to transfer money in a matter of minutes, but since you will need to enter your card details on the exchange, you need to be extra careful so as not to compromise your card.
In all cases, a regulated exchange will offer you more security.
4. Place an Order to Buy XMR
Your selected exchange may or may not give you an XMR to fiat trading pair. If it does in your deposited fiat, you can simply use it directly to buy Monero. If it does not, you will need to first buy crypto with a trading pair set up with Monero. Bitcoin, as leading crypto, is nearly always available in a BTC/XMR trading pair.
For example, Binance doesn't have a fiat pair but supports BTC, ETH and BNB pairs while also giving USDT and BUSD stablecoin support. If you use US Dollars to deposit, Binance will automatically convert it into BUSD for you.
Head over to the trading interface and select your preferred XMR trading pair. Using the Buy section, you can use a market, limit or stop-limit order to buy Monero.
5. Safely Storing Your Monero in a Wallet
Though exchanges provide in-built wallets to store your crypto, it is always a better option to place them in your custody, off the exchange if you are looking for long term storage. Storage in a wallet option is required if you decide to buy and hodl the coins for a long period.
With a private XMR wallet already explained in step one of this section, you can access that wallet and note down the public key. You will need to go to your exchange's wallet, select XMR and withdraw options. The withdrawal will ask you for the destination wallet address and you will need to enter the public key here to initiate the transfer.
You might need to enter a 2FA code if you have the security feature turned on. This is to ensure only you are transferring out the XMR.
Should you Buy or Trade Monero?
Though using Monero's price differences is ultimately all about increasing your wealth, buying and trading are two separate things. While you buy and invest in Monero on an exchange, you get access to XMR tokens that can be stored in a wallet. However, you never actually get hold of XMR in trading using a broker. A professional trader will prefer a broker while a long term hodler will prefer an exchange.
Ultimately, it is your strategy that defines your decision.
What's the Difference Between a Monero Exchange and a Broker?
An exchange is what the name says. It lets you exchange your cryptocurrency for another. The concept is that you will hold your cryptocurrencies, either for use or for the long term price increase.
On the other hand, a broker only allows you to use Monero price to enter into different agreements. You can use these to your advantage to capitalise on the XMR fluctuations to gain profits each time you enter and close a trade. Contract for Difference is a good example, where the Monero price difference between the time you entered the agreement and closed defines any money made. A pure brokerage will always accept fiat and payout in it, while an exchange broker will accept cryptos too.
Monero: Long Vs Short Term Investment
The time length of your investment will usually define the platform you will select for Monero. If you want to hold on to your XMR coins for a long period, or are a supporter of the Monero network and its mission, you are better off using a reputable exchange.
If you don't want to hold Monero for that long and want to take advantage of the ever-fluctuating prices, you should go for a broker and use short term trades, anywhere from a few minutes to hours or days, repeatedly buying and selling the contracts to ride the waves and increase your profits. This also frees you from the complexity of having and maintaining wallets.
3 Tips to Buy Monero
Following are three small, but extremely important tips you should always keep in mind while buying Monero.
Choose the Right Time and Do Your Own Research on Monero
Do your homework right. There are hundreds of factors that can affect Monero's price. Use fundamental and technical analysis or at least contact a few experts if you cannot research on your own. Knowing when is the right time to buy (and at what price) is crucial to your success.
Comparing Costs to Buy Monero
It is not only the cost of Monero you will be paying but also others such as the trade or exchange fee, funding or transfer charges, the difference in exchange rates (both when sending fiat to the platform and the differences in Monero prices on different exchanges). All these are often ignored but can have a big impact if your investment or trade is of a significant amount.
Safety and Security when Buying Monero
You will be handing over your money to a platform and their security weaknesses can mean your assets and money being wiped off. Always look into the type of securities and safety features being offered by a platform. 2FA, multi-sig wallets, how many assets are in the platform's hot wallets can make all the difference. Regulations are also important as it forces the platforms to comply with different rules that protect your investments and rights.
What is the Best Payment Method for Buying Monero
Buy Monero with Cash: Escrow or P2P services are popular for Monero.
Buy Monero with Credit Card: Most accepted form, easy to use and get hold of XMR in minutes.
Buy Monero with Bank Transfer: The most secure method; can take a bit of time but is low on cost.
Buy Monero with Bitcoin: Almost all exchanges and platforms offer XMR/BTC pairs. Instant and extremely fast.
Buy Monero with PayPal: Fast and cheap, but not all platforms support it.
Other Ways to Buy Monero
Though Monero can be bought or traded using crypto exchanges and brokers, there are other ways to get your hands on the cryptocurrency.
Peer to Peer (P2P) exchanges can allow you to instantly purchase Monero, sometimes without even signing up. Though cheaper at times, the network congestion and average transfer fee can make it slower and at times expensive.
Mining is another option you can look into. Though using Proof of Work, Monero is ASIC resistant and you can use a good CPU or GPU to mine the coins yourself. If you are successful in finding a block, you are awarded Monero. You can also make money on the transaction confirmations. Using mining pools can increase your reward speed, though denting your overall rewards in a block. If the costs of running a miner are too high, you can always use cloud mining and rent out computing power.
So there it is, you are now ready to buy and invest in Monero and begin your crypto investment journey.
Frequently Asked Questions
Yes. Most regulated exchanges will insist on KYC procedures. This extra step is to prevent fraud and provide a safe and secure environment for all users.

Unless you intend to keep selling and buying frequently, it is advisable to store your Monero in a private wallet where only you have access to it.

Yes. You can have as many wallets as you like. Just don't lose their public and private keys.

There are hundreds of firms and companies, ranging from tourism to marketing that accept XMR as a means of payment.

Though Monero is a privacy coin, reputable exchanges and platforms will always keep a record of your purchase.
Alternative Cryptocurrencies