Komodo Guide | Learn Everything About KMD
Komodo (KMD)
...
Komodo coin is one of the most familiar cryptocurrencies in the top 50. The Komodo ICO is nearing its 2nd anniversary, and as such Komodo is one of the longer-tenured cryptocurrencies around. That development is ongoing and the Komodo community is growing are testament's to the integrity of the Komodo platform. 
What is Komodo Coin?
Komodo coin is the main currency used in the Komodo platform. The Komodo platform is a can of worms all its own. We'll try to cover as much as possible here, but you really have to spend some time researching and in the Komodo community to get the full and up-to-the-minute story. Here are some of the most important points, which we'll break down a little further below. Komodo coin is a fork of ZCash, the coin which many (ourselves included) is the world's best privacy coin. Komodo allows users to send "transparent" transactions and "anonymous" transactions, using the core technology of ZCash, including the innovative zkSNARKS. Komodo uses Bitcoin in important ways, but has found ways to optimize the performance of the Komodo blockchain beyond Bitcoin's current limitations. Bitcoin miners can mine Komodo coin simultaneously with Bitcoin, but the consensus mechanism employed by the Komodo blockchain itself is more akin to Delegated Proof of Stake. Like other DPoS coins like ARK, Komodo users who hold KMD in the Komodo wallet get 5% annual returns. "Supernet" is a massive platform overseen by the Komodo developer community. It includes tons of digital tools meant to improve freedom and possibility in the blockchain space. This is the main point upon which we'll expand in the following sections. Digging Deeper into the Komodo Platform and Supernet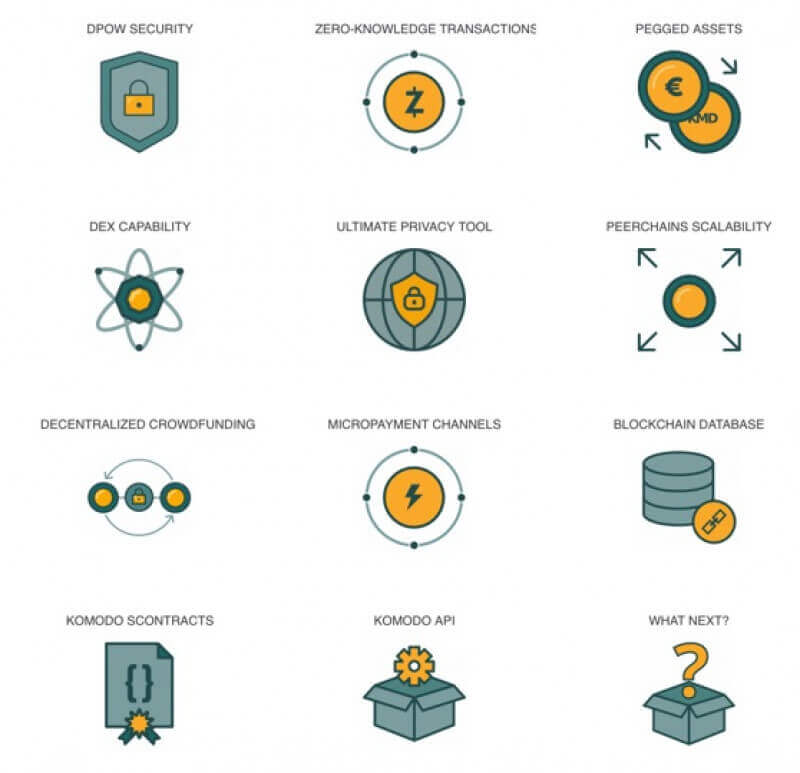 "Supernet" is a catch-all term for many exciting projects which exist or are being developed within the Komodo ecosystem. Some of these are accessible through the Komodo Platform Client: Agama. Here are some of the most interesting and useful applications within Supernet:
dICO. dICO is a platform in development to decentralize and bring freedom to the ICO space. Currently, there is no good single platform through which an investor can buy into ICOs. Each ICO has its own rules, relevant spaces on the web, and necessary information which is sometimes hard to acquire. By bringing all of this under one roof, dICO will make ICOs much easier for investors. With the inclusion of many of the atomic swapping and anonymity technologies native to the Komodo system, it's possible that this tool could be used to provide access to foreign ICOs for investors who would be otherwise blocked.
BarterDEX. BarterDEX is a decentralized cryptocurrency exchange built out of the Komodo development community. It uses atomic swaps to change coins, and has already completed tens of thousands of these successfully. Not only is this convenient; it also means that this DEX isn't dependent upon Bitcoin as a fundamental trade currency. There are more than 80 coins supported by BarterDEX with more on the way. With atomic swaps and a functional decentralized exchange, Komodo is ahead of the game with BarterDEX, at least compared to almost every other cryptocurrency platform.
Jumblr. Jumblr is a coin mixed built right into Agama, the Konomo wallet. For those who are unfamiliar, "mixers" are pieces of software that anonymize transaction data which could be used to trace the path and ownership of certain cryptocurrencies. They're used all around the web, frequently for Bitcoin, but many are expensive and unreliable. Jumblr's integration into Agama makes it convenient to use, and its 0.3% fee for use is nothing compared to many of the larger, sketchier mixers out in the crypto space.
Push Button Blockchains. Called "Peerchains" in Komodo parlance, this is an opportunity for Komodo users to create their own cryptocurrencies and blockchain protocols. Peerchains greatly lower the bar for what it takes to create an excellent blockchain, and because peerchains can take on attributes of the parent Komodo blockchain (or not, it's up to the creators), these blockchains can be very sophisticated very quickly.
This is not an exhaustive list of the projects being developed within Supernet, or the Komodo platform at large. If you're interested in investing in Komodo KMD, keep a close watch on developments in these and newer projects.
Who is the Team Behind Komodo?
Komodo has a trusted team of experts which the cryptocurrency industry has grown to know and trust. Furthermore, the now defunct BitcoinDark saw all of its developers join the Komodo team this year. BitcoinDark was a good project, with many interesting ideas about how to make digital currency more powerful, useful for the average person, and future-proofed in light of the changing industry dynamics. Here is a selection of Komodo's most visible team members.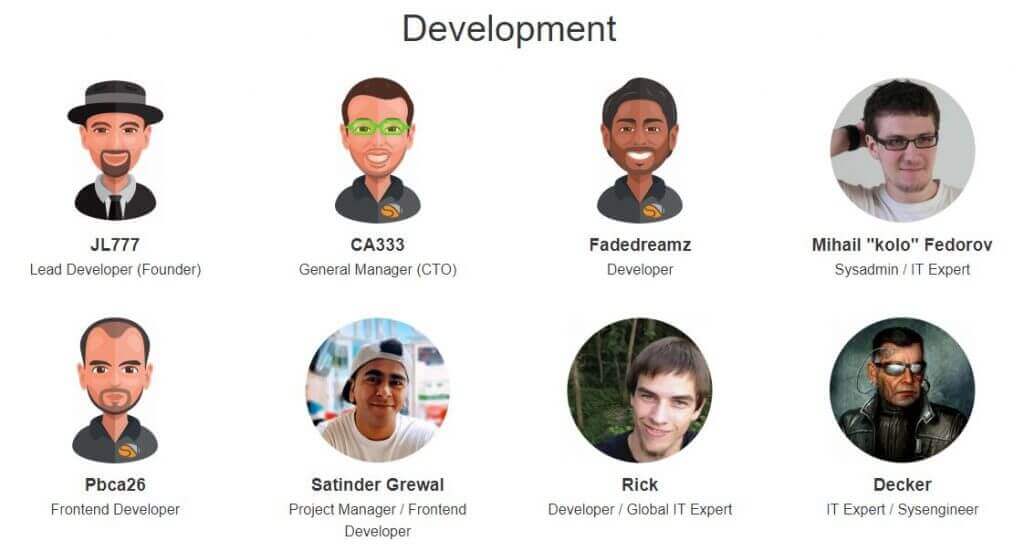 JL777, for example, is not actually a cartoon man with a hat. In reality, only intimates of the Komodo team know for sure who JL777 really is. This shouldn't be surprising, given Komodo's emphasis on privacy and anonymity. Nonetheless, the founder of Komodo may be unknown, but this doesn't mean that he (she?) has been silent. Check out this interview from last year, for example, to see how JL777 remains firmly in the lead of Komodo, even if we've never seen their face. Other central Komodo team members do not choose to be anonymous. Mihail Federov, for example, has a fine pedigree and an active public presence. The Komodo team taken as a whole is a braintrust of encryption specialists, computer science engineers, security wonks, and cryptocurrency innovators. What's more, the Komodo code is open source, meaning that outside developers can and do create tools which are useful to the Komodo platform as a whole, if adopted by the community and/or developer team.
Why Invest in Komodo Coin?
We've written an exhaustive Komodo Coin Buy guide, which you can check out for instructions on how to buy KMD. If you're still on the fence, here are some considerations for prospective Komodo KMD investors.
Privacy is going to become increasingly important in the blockchain space. As large corporations like Google and IBM prepare to enter the blockchain space, you can bet that the inherent privacy potential of many of today's biggest blockchain projects will be circumvented. Having a well developed cryptocurrency ecosystem that has specialized in privacy and full anonymity will be essential in the evolving blockchain space for the rest of this decade and beyond. Komodo is one of the few coins and platforms which stands to step into that gap, providing real security even as blockchain goes mainstream.
Komodo KMD suffered more than some of its peers in the ongoing cryptocurrency crash. At right around 20% of its All Time High price, a recovery from Komodo will mean massive gains for investors. If you believe in the Komodo ecosystem but have not yet bought in, this moment in history (this was written on March 23, 2018) could represent an incredible cryptocurrency investment opportunity.
There are other reasons to invest in Komodo KMD, but these are perhaps the most convincing. If you're unsure, we recommend that you spend some time researching Komodo on your own. There are plenty of videos, articles, and active communities available to you. See what you can learn and invest when you're ready.
Final Thoughts on Komodo KMD
Komodo occupies an interesting space in the blockchain industry. On the one hand, they're a privacy and security platform. On the other, they're trying to make blockchain endlessly more user-friendly, as the technology becomes mainstream. Is it possible for a project to do both? Can Komodo become the mainstream privacy protocol? Only time will tell, but if Komodo is successful on even a few of their many ambitious plans and projects, this is a coin that's going to retain its value for a long time to come. Expect to see Komodo coin match and exceed All Time Highs in 2018.
Alternative Cryptocurrencies