How to Trade Dash - a Beginner's Guide | CoinText
Dash (DASH)
...
Trading a cryptocurrency can be either about buying/selling it on an exchange or using leverage to bet on its market movements on a broker trading platform. No matter whether you use the conservative 'buy low and sell high' approach or prefer shorting a currency, you'd need to stay updated with the market happenings and employ different kinds of risk management, monitoring and analytical tools, for your approach to work. 
If you're keen on trading Dash and want to learn how to trade Dash in 2022, this guide will serve as a good starting point for you.
Dash Trading Summary
The high price-volatility of Dash (DASH) offers an excellent opportunity to the traders. You can use different types of trading strategies like day trading, swing trading, arbitrage trading etc. depending upon your knowledge, experience and comfort level. Traders take advantage of price volatility of the crypto market.
Please also note that a lot of trading activity that happens on broker platforms involves the use of crypto derivative products like contracts for difference (CFDs), options and futures. All these help you leverage your trade, without tying up large amounts of capital. Eventually, it will come down to which strategy appeals to you and you're most comfortable with. Please remember, each comes with both profit as well as loss potential. When you use such derivatives, ensure that you avoid committing mistakes such as overexposure, emotional trading, insufficient research and not using any well-thought-out trading strategy.
Start Trading in 3 easy steps
1. Choose a Trading Strategy
As emphasised earlier, selection of a trading strategy will depend entirely on how well you know about it, and whether it seems exciting enough to you or not. Whichever strategy you use, timing your entry and exit is a skill that you'll learn with time. Nevertheless, learn all you can about Dash, various market tools & indicators, as well as your goals before picking any trading strategy.
2. Register on an Appropriate Platform
As leverage trading on a broker platform doesn't require buying/selling actual cryptocurrencies, all you need is to register with a platform and have a reasonable amount of capital to begin. There are several reputed CFD brokers you can trade with.
3. Long - Short
You can start placing trades and go long or short on Dash after your account is verified and you have deposited some funds into it. Many CFD broker websites allow you to demo their service and learn the ropes before starting trading with real money/cryptocurrency. Whichever way you go about it, ensure that you manage risk and employ tools such as limit orders to book profit at the right point.
Find the Right Place to Trade Dash
The fact that there's a vast variety of crypto brokers available today can make it difficult even for an experienced user to pick the right platform for his/her requirements. Here is a list of some of the best brokers where you can trade Dash.
Most Popular
Min. Deposit
$10
Promotion
Accepts customers from the USA
Deposit $100 and get a $10 bonus!* Build a diversified portfolio with crypto, stocks, and ETFs — all in one place.
Trade on the world's leading social trading and investing platform
Payment Methods:
Bank Transfer, Wire Transfer
Full Regulations:
CySEC, FCA
Cryptoasset investing is unregulated in some EU countries. No consumer protection. Your capital is at risk.
Min. Deposit
$1
Promotion
The world's largest cryptocurrency exchange with over 2bn daily users
Innovative trading platform offering enormous range of crypto coins
Supports over 60 methods of payment including PayPal
Payment Methods:
1Pay, 2C2P, 3d Secure Credit Card, ACH, ANELIK, Abaqoos, AdvCash, AlertPay, Alfa-Click
Algocharge, AliPay, American Express, Apple Pay, AstroPay, BPAY, Bank Link, Bank Transfer, Bank Wire, Baofoo, BitGold, BitPay, Bitcoin, Boleto, Bonds, Borneo Exchanger, Bradesco, CEX.io Mobile App, CFDs, CSS System, CUPS, CartaSi, Carte Bleu, Carte Bleue, Cash, CashU, Cashier Order, Check, Check (UK only), China UinonPay, China Union Pay, China UnionPay, ClickandBuy, Commodities, Contact, Contact Z, Credit Card, Cryptocurrencies, Currencies, DCPay, DIXIPAY, Dankort, Debit Card, Dengi Online, DineroMail, DirectPay, Dotpay, E-dinar, ELV, ENets, EPS, ETFs, EXCARD, Easy2Pay, EcoPayz, Ecommpay, Ecurrencyzone, EgoPay, Emerchant Pay, Eprotections, EstroPay, Ethereum, Euro Bank Account, Euteller, Express Dotpay, Express Polish Post Office 24/7, Express Zabka Market, Ezeebill, Ezybonds, FasaPay, Fastapay, Fastbank, Faster Payments, FilsPay, Forex, GTBank, Gate2Shop, Giropay, GlobalCollect, GlobalPAY, GlobePay, Gluepay, Google Pay, Halcash, I-Account, IPS, Ideal, Indices, Individual US State License(s), Indonesia Exchanger, InstaBill, Instadebit, IntellectMoney, Interswitch, Investmate, Investmate, Itukar, KNET, Klarna, LaoForexBoard, LavaPay, Lion Payment, LiqPay, Litecoin, Lobanet, MOTO, MT4, MT5, Mailing Cash, Market Maker, Masari, Mastercard, MegaTransfer, Mister Cash, Mobile Trading App, Mobile Trading Platform, Moneta, Money Bookers, Money Order, MoneyBookers, MoneyGram, MoneyPolo, Multibanco, NETBANX, Nab, Namecoin, Neosurf, NetPay, OKPAY, OMT, OmahPoin, OnPay.ru, Online Naira, OrangePay, PAYSEC, POLi, POLi & BPay, PYEER, PagoEfectivo, Paxum, Pay Nova, PayCo, PayPal, PayRetailers, PayWeb, Payeer, Payoneer, Payonline, Payvision, Payza, Perfect Money, PocketMoni, Postbank, Powercash 21, Prepaid MasterCard, Prepaid MasterCard (I-Account), Prepaid MasterCard (Intercash), Prepaid MasterCard (Payoneer), Privat 24, Przelewy24, QIWI, RBK Money, Rapid Transfer, RegularPay, SEPA, Safecharge, SafetyPay, SahibExchange, Shilling, SmartPay, Sofort, SolidTrust Pay, SorexPay, Sporopay, Stock Certificate, Stocks, Swish, Teleingreso, Thailand Exchanger, Ticketsurf, Todito Cash, Trade Interceptor, Transact Europe Payment, Trazus, TrustPay, Trustly, UAE Exchange, UPayCard, USD, Ukash, Unet, UnionPay, Unistream, Uphold, Verve, Vietnam Exchanger, Visa, VixiPay, VoguePay, Vouchers, Wallet One, WeChat, Web Based Trading Platform, WebMoney, WebPay, Webtrader, Western Union, Wire Transfer, Wirecard, Yandex, Yandex Money, Yemadai, YuuPay, Z-Payment, Zenith, cTrader, dinpay, eCard, eCheck, eKonto, ePay bg, ePayments Transfer, eToro Mobile Trading Platform, eToro Trading Platform, eTranzact, iPay, mPay, neteller, paysafecard, postepay, skrill, unichange.me
Supports Multiple Altcoins
Dash Trading Explained
Earlier, most crypto traders used to buy Bitcoin on exchanges and save them in their exchange-provided wallets till the BTC price would go up, today the expansion in the crypto market has enabled many to trade positions, using derivatives like options, futures and CFDs, to bank upon the price-volatility of both Bitcoin and altcoins like Dash. A large number of crypto traders nowadays use derivative exchanges and broker platforms for this activity.
Using crypto derivatives like the ones mentioned above is about a type of trading activity called leverage trading. Such trading enables you to get much larger exposure, by depositing only a small percentage for opening a trade, referred to as margin. The extent of exposure or leverage you are allowed will depend on your account type. However, it should be remembered that large exposure magnifies the profit potential to the same extent as chances of a loss.
For instance, in the case of CFDs, you can long or short a cryptocurrency by buying or selling respectively. If you buy/long a cryptocurrency, you expect its price to increase, and hope for the opposite to happen when you short/sell. If the market moves as you had predicted, you book a profit, else you take a loss.
We'd like to add that as you go about using such derivative products to trade a cryptocurrency, it's very important that you steer clear of mistakes like not researching the underlying crypto, overexposing yourself, approaching trades without any definitive strategy/plan and falling prey to emotional trading.
Trade Dash: Establish a Proper Plan
Succeeding at Dash trading will call for detailed due diligence and regular fundamental & technical analysis, along with usage of some proven trading strategy. Let's go over all these below.
Understand What Moves the Price of Dash
A cryptocurrency's value proposition holds a lot of importance when it comes to its long-term success and actual price. It's important to note if the platform regularly introduces improvements and novel features to its protocol. Dash started as a cryptocurrency capable of offering a great deal of anonymity to the users, however, repositioned itself and started focusing on private & instant transactions. This step has helped it significantly increase its growing and vibrant community of users.
A user should understand the true value of a cryptocurrency by analysing various macroeconomic factors, external events and influences surrounding it, for eg: hashrate, trends/cycles, use cases, demand & supply, regulation, news, technical outlook and more.
The technical features of a cryptocurrency also have a say in its price movements. Dash enjoyed the advantage of hindsight as it was developed many years after Bitcoin. The developers focused on BTC's weaknesses and came up with inventive technical solutions like PrivateSend and InstantSend to significantly enhance the privacy and speed of transactions. 15% of every block's reward is directed towards a promotion and development fund, making it a self-funded protocol. The swiftness of Dash transactions can be attributed to its two-tier network, with masternodes and miners running in tandem. Whilst the former order and verify transactions, the latter focus on securing Dash network.
As is the case with any tradeable asset, the price of DASH is also impacted by the well-known demand and supply principle of economics. The total maximum supply of Dash is around 19 million, but only a little more than half were in circulation at the time of writing this piece. This implies that there is plenty of scope for the project's growth, making it a positive attribute for both investors and traders.
Dash is presently accepted by over 4,800 merchants across the world. As the Dash team continues to bring more and more merchants on board, more adoption could follow owing to its unique InstantSend protocol which ensures that Dash transactions are processed in just one second. The enterprise-level implementation of crypto is ensuring its mass adoption. Big entities like Visa, JP Morgan, Paypal etc. are all seeking ways to grab their pieces of the pie, acknowledging crypto as a legit asset class.
Some more well-known fundamental factors that can impact Dash's price movements include the news related to the currency and its network's stability.
Technical Analysis: Read the Charts!
Technical Analysis in case of cryptocurrencies is done with the help of statistical indicators and charting patterns. Some of the most commonly used charts include line charts, bar charts and candlestick patterns. All these are created with the same data, however, present information differently in their unique useful ways. In essence, they enable you to predict future trends and determine the right entry and/or exit points for your trades.
Amongst the technical indicators, the most regularly referred-to include Bollinger Bands, Average Directional Index, Standard Deviation and Relative Strength Index (RSI). Traders also frequently employ other statistical tools like Fibonacci ratios, MACD/RSI/moving averages, time-weighted average price (TWAP) and volume-weighted average price (VWAP).
While you're carrying out technical analysis, please remember that it doesn't guarantee 100% success. If you're a beginner, you might benefit more from using experts' opinions. It may be a good idea to try out the social trading too, through which you can replicate the market decisions taken by seasoned crypto trading experts. One of the very good examples of this is 'Copy Trading' feature offered by the eToro platform.
It is important to use technical analysis alongside fundamental analysis, to factor in aspects like trends and market sentiments, while taking market-related decisions. However, if you're just starting out, you can even opt for the easier route of social trading.
Common Strategies to Trade DASH
Day Trading
Unlike as in the case of conventional markets, in cryptocurrencies, day trading is about opening and closing one's positions within a time period of 24 hours. This is because cryptocurrency trading is a round-the-clock activity, which happens 365 days a year. Day trading is about registering quick profits, often within a few minutes, using price action strategy combined with technical analysis to discover opportunities. Dash being a highly volatile cryptocurrency offers an excellent day trading opportunity to the interested traders.
Dash Swing Trading
Swing trading involves holding onto your trade positions anywhere from a few weeks to a month, and normally attracts overnight fees. It's about banking on Dash volatility waves which might take a few days/weeks to play out. Uncovering swing trading opportunities requires good knowledge of both technical and fundamental analysis. You should also be good at reading charts. Once again, Dash owing to its price-volatility and vulnerability to some popular fundamental factors, makes a good candidate for swing trading.
Trend Trading
Trend trading or position trading is about holding onto one's positions for time periods exceeding a month. You take short and long positions in uptrends and downtrends respectively. Although using this strategy requires good knowledge of fundamental analysis, it's common to see trend traders use moving averages, trend lines and other technical indicators to enhance their success rate. If you're someone who can correctly study external and internal factors affecting Dash's price, and can use technical analysis to stay on track, you're in with a good chance to profit from trend trading Dash.
Choose a Platform that Fits your Trading Strategy
How easily and worry-free you trade a cryptocurrency will depend greatly on your choice of the trading platform. There are many online brokers and derivative exchanges where you can leverage trade Dash. However, experts recommend broker platforms as they are regulated and have strict security measures in place.
Exchanges are often found lacking regulation, which makes them vulnerable to hacking attempts. Additionally, they can sometimes be found wanting in the customer service department. Not just that, you might even have to cough up fees for deposit/withdrawals at crypto exchanges.
Set Up Your Trading Account
Setting up your trading account at a cryptocurrency broker platform requires completing three main steps:
Account registration – This step is about initiating the account opening process by supplying multiple details such as your name, email address, residential address, phone number etc. to the website.
Verification – In this step, the broker website will verify your identity as per its KYC measures. Please note, you may be asked to upload a valid govt.-issued ID as a part of this verification.
Depositing funds – You come to this step after your account is verified. It involves the deposit of funds through a payment method and in a currency permitted by the trading platform. The funds normally show up in the account within 24 hours of completing this step.
Open your First Dash Trade
Opening your first Dash trade will not be very difficult as far as the process is concerned. Most platforms have simple 'Buy' and 'Sell' buttons that enable you to take long and short positions respectively. However, what matters most is the position you choose to take depending upon your strategy and analysis.
In case of CFDs, you can choose from different leverage options available for your account, and also specify your 'Take Profit' and 'Stop-Loss' figures to time your profit-booking and loss-prevention respectively. The user interfaces might vary from platform to platform, but most of the reputed broker websites provide a handful of tools, with easy-to-navigate options.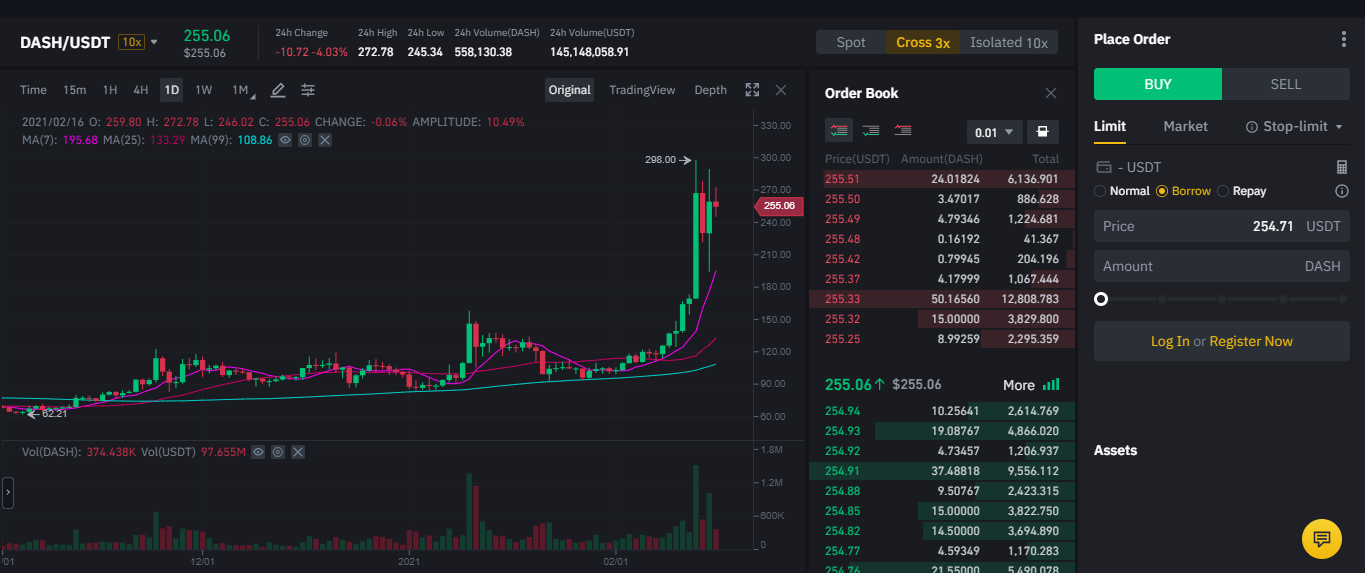 Order type
In the context of trading platforms, an order can be termed as an instruction given by the trader to buy/sell the CFD/cryptocurrency under consideration. This order can be of different types, for instance, market order, which instructs the platform to buy/sell immediately at the current market rate; or a limit order which is an instruction to buy/sell at a certain minimum/maximum price within a given time frame.
Traders are commonly seen using limit orders over market orders, for the evident reason that they offer the best price for the trade. Some other well-known order types are All or None, Immediate or Cancel (IOC), trailing stop and stop-loss orders.
Buy or Sell?
Buy or Sell can be simply understood as instructions to the trading platform—a broker website or a derivative exchange to 'Buy' or 'Sell' the underlying asset. When you buy a CFD on a broker platform, you essentially long the underlying cryptocurrency and short it when you sell. 'Bid' and 'Ask' are the other names frequently used to refer to 'Buy' and 'Sell' respectively.
The price difference between 'Sell' and 'Buy' price of an asset/cryptocurrency on a broker platform, is called the spread. It's the order book which consolidates all the buy-sell orders, and is updated frequently, with every order getting cancelled or completed.
Amount
Coming to the amount of Dash you should trade on a broker platform, it would depend entirely on your risk appetite and your experience in trading cryptocurrencies. In general, new traders must refrain from investing big and should stay limited to minimum trade sizes, till the time they find their feet and are confident of moving to big trades. Please note, CFD trading can lead to big profits and equally big losses.
Leverage on Dash
Leverage trading is about trading large amounts of a cryptocurrency without investing the required capital. It does away the need of putting up the complete value of the trade upfront. All that is needed is a small percentage of the trade value, called margin.
Leverage trading enables you to get bigger exposure and book the same level of profits that would otherwise take large capital on a conventional crypto exchange. As emphasised time and again, there is both profit and loss probability in such trades, but the risk potential is higher.
Stop-Loss and Trailing Stop-Loss
A stop-loss is an order or instruction you can use to cap your losses while trading cryptocurrency on a broker platform. The stop-loss level is set with the help of support & resistance attributes of technical analysis.
Many traders consider a trailing stop-loss as a better tool as it allows you to both prevent losses if the market moves against your position, and book timely profits when the market moves in your favour.
Take Profit
A Take Profit set up is about specifying price points at which you'd like to close your position and book profit, before the market starts moving against you. Like stop-loss and trailing stop-loss orders, this setup is also done with the assistance of support and resistance levels (of technical analysis).
Finishing Touches
You can use various types of derivative products to trade Dash and other cryptocurrencies on broker platforms and/or derivative exchanges. While some of these websites will ask for commissions/trading fees, others will be free of any commissions. It's important to do ample due diligence before proceeding with any product and strategy.
Make sure that you know about the size of the contract, called a "lot". It implies the amount of Dash contained in each CFD. Pip is the other thing you should be aware of. It is a measure of a cryptocurrency's price movement. Please also remember that whenever you trade on margin, the margin requirements will change depending upon the available equity and trade sizes.
Please also keep in mind that while some platforms will allow for zero commission trading, others might charge you commissions on every trade or something called trading fees.
Open Your Dash Trade
Once your trade setup is complete and you're sure about your strategy, you can go ahead and open your Dash trade, by clicking on the 'Buy' or 'Sell' button on the platform's dashboard. We'd like to emphasise that it's always better to double-check that everything is in order, as per your needs, before going ahead and executing a trade.
Closing Orders
You can close your long or short positions either automatically, with the help of stop-loss or limit orders, which will close your positions when the corresponding price points are reached; or manually by logging into the platform and manually executing reverse trades of the same sizes.
Final Thoughts: Ready to Trade Dash?
To conclude, we learnt about various aspects of Dash trading in this article, starting from finding the right trading platform, creating a good plan and the process involved in it, setting up your trading account and finally how to open your first Dash trade.
There's no denying the fact that Dash trading offers opportunities to traders, however, at the same time the risks are equally bigger. It all comes down to how well you execute a Dash trading strategy with the help of different tools and indicators. Go ahead, use the button below and start trading Dash today.
Alternative Cryptocurrencies
Frequently Asked Questions
No, it's not necessary but you can prevent big losses through stop-loss, if the market moves against your position.

Yes, Dash being a decentralised currency, it can be traded round the clock. But, please check with your broker platform as it might offer fixed trading hours.

Yes, many broker platforms allow you to make deposits using your credit/debit card.

No, you can start trading Dash with smaller amounts, and get bigger trade exposure too, through CFDs.