How To Buy Dash | Ultimate Guide To Buy DASH
Dash (DASH)
...
Initially, the Dash cryptocurrency was invented to provide absolute anonymity to its users and was referred to as the Xcoin, and later as the Darkcoin. However, in the wake of increasing regulatory issues, the founder revised the objectives of the currency, giving it a new name, Digital Cash or Dash. It is a user-friendly cryptocurrency that aims at delivering freedom to users who want to avail the ease and accessibility of modern shopping but also want to make the most of the unique features of cryptocurrencies. Dash allows users to transfer money quickly and affordably to anyone, anywhere, and anytime.
To ensure that Dash is accepted as a currency, the team behind the coin has signed partnership deals with more than 4,800 service providers and retailers ensuring that the coin users can get access to any product or service that they're looking for. Dash has a native token which is also called DASH and, at the time of writing, it is priced around the $68.00 mark with a market capitalisation exceeding $650 million.
5 Steps to Buy Dash with eToro Now
Buying any cryptocurrency with eToro is easy, simply follow the steps below:
Sign up for free with eToro, entering your details in the required fields.

Fill out the questionnaire, this is both educational for you and eToro.

Click 'Deposit', you'll then be asked how you want to fund your account.

Choose your required payment method, follow the simple steps to link your payment.

Enter the amount you want to deposit and you're good to go!
Our Recommended Platform to Buy Dash
If you are going through this manual to get some answers concerning the best exchanges and trade platforms today for purchasing Dash, you may already have an essential comprehension of how buying DASH should work. For the individuals who are heading out to test the digital money sphere, they just need to keep on going through our guide so as to accumulate quick information about the coin and how they can buy and trade it.
Financial investors and traders who are already aware of the fundamentals of purchasing and trading DASH can see our deliberately chosen and evaluated exchanges and brokerage websites.
Min. Deposit
$50
Promotion
Accepts customers from the USA
Offers 15 crypto coins to buy&sell including BTC, LTC, ETC, NEO and more
Trade on the world's leading social trading and investing platform
Description:
eToro offers a wide range of cryptos, such as Bitcoin, XRP and others, alongside crypto/fiat and crypto/crypto pairs. eToro users can connect with, learn from, and copy or get copied by other users.
Payment Methods
Bank Transfer, Wire Transfer
Full regulations list:
CySEC, FCA
Where to Buy Dash in 2021
Prior to buying or trading Dash tokens, you have to keep in mind that there are more than one ways to invest. The methodology that you select for the most part relies upon the capital, investment reasons, and the investment duration. The primary method is to buy the DASH tokens, which you can exchange, sell, and hold. Another method is to speculate on the price of DASH coins by opening trading positions through financial instruments such as Contract for Differences (CFDs) and Options.
When you need to invest in Dash for the long haul because you believe that the price of the currency will see an uptick in the coming weeks, you are better off buying Dash tokens outright. It also means that you should utilise a crypto exchange where you can purchase well-known cryptos like Bitcoin and Ethereum and afterwards trade them for altcoins, including Dash. To hold the cash safely, you will require a crypto wallet that will keep your assets secure until the opportunity has arrived to sell them off and reap profits.
On the other hand, when you just need to utilise DASH tokens to make a quick secondary income, the trading approach will be more effective to your investment plan. To do that, it is a good idea to depend on a brokerage website that empowers you to open and close trading orders for a wide assortment of tokens including DASH through financial instruments. These services make your activity a lot simpler as you can purchase an instrument, for example, CFDs which you can sell effortlessly without having to worry about its security. This also gives you a considerably more convenient and affordable approach to trade DASH tokens.
You have to remember that whichever investment procedure you select, initially, you should invest the bare minimum that you can bear to lose. The digital money market is exceptionally unpredictable and keeping in mind that that can be monetarily advantageous to you, it can likewise wipe the whole of your capital off in practically no time. The ideal approach is to put resources into various promising currencies and to close the position at the perfect time.
Min. Deposit
$50
Promotion
Accepts customers from the USA
Offers 15 crypto coins to buy&sell including BTC, LTC, ETC, NEO and more
Trade on the world's leading social trading and investing platform
Description:
eToro offers a wide range of cryptos, such as Bitcoin, XRP and others, alongside crypto/fiat and crypto/crypto pairs. eToro users can connect with, learn from, and copy or get copied by other users.
Payment Methods
Bank Transfer, Wire Transfer
Full regulations list:
CySEC, FCA
Min. Deposit
$1
Promotion
The world's largest cryptocurrency exchange with over 2bn daily users
Innovative trading platform offering enormous range of crypto coins
Supports over 60 methods of payment including PayPal
Description:
Binance has grown exponentially since it was founded in 2017 and is now one of, if not the biggest cryptocurrency exchanges on the market.
Payment Methods
1Pay, 2C2P, 3d Secure Credit Card, ACH, ANELIK, Abaqoos, AdvCash, AlertPay, Alfa-Click
Algocharge, AliPay, American Express, Apple Pay, AstroPay, BPAY, Bank Link, Bank Transfer, Bank Wire, Baofoo, BitGold, BitPay, Bitcoin, Boleto, Bonds, Borneo Exchanger, Bradesco, CEX.io Mobile App, CFDs, CSS System, CUPS, CartaSi, Carte Bleu, Carte Bleue, Cash, CashU, Cashier Order, Check, Check (UK only), China UinonPay, China Union Pay, China UnionPay, ClickandBuy, Commodities, Contact, Contact Z, Credit Card, Cryptocurrencies, Currencies, DCPay, DIXIPAY, Dankort, Debit Card, Dengi Online, DineroMail, DirectPay, Dotpay, E-dinar, ELV, ENets, EPS, ETFs, EXCARD, Easy2Pay, EcoPayz, Ecommpay, Ecurrencyzone, EgoPay, Emerchant Pay, Eprotections, EstroPay, Ethereum, Euro Bank Account, Euteller, Express Dotpay, Express Polish Post Office 24/7, Express Zabka Market, Ezeebill, Ezybonds, FasaPay, Fastapay, Fastbank, Faster Payments, FilsPay, Forex, GTBank, Gate2Shop, Giropay, GlobalCollect, GlobalPAY, GlobePay, Gluepay, Halcash, I-Account, IPS, Ideal, Indices, Individual US State License(s), Indonesia Exchanger, InstaBill, Instadebit, IntellectMoney, Interswitch, Investmate, Itukar, KNET, Klarna, LaoForexBoard, LavaPay, Lion Payment, LiqPay, Litecoin, Lobanet, MOTO, MT4, MT5, Mailing Cash, Market Maker, Masari, Mastercard, MegaTransfer, Mister Cash, Mobile Trading App, Mobile Trading Platform, Moneta, Money Bookers, Money Order, MoneyBookers, MoneyGram, MoneyPolo, Multibanco, NETBANX, Nab, Namecoin, Neosurf, NetPay, OKPAY, OMT, OmahPoin, OnPay.ru, Online Naira, OrangePay, PAYSEC, POLi, POLi & BPay, PYEER, PagoEfectivo, Paxum, Pay Nova, PayCo, PayPal, PayRetailers, PayWeb, Payeer, Payoneer, Payonline, Payvision, Payza, Perfect Money, PocketMoni, Postbank, Powercash 21, Prepaid MasterCard, Prepaid MasterCard (I-Account), Prepaid MasterCard (Intercash), Prepaid MasterCard (Payoneer), Privat 24, Przelewy24, QIWI, RBK Money, Rapid Transfer, RegularPay, SEPA, Safecharge, SafetyPay, SahibExchange, Shilling, SmartPay, Sofort, SolidTrust Pay, SorexPay, Sporopay, Stock Certificate, Stocks, Swish, Teleingreso, Thailand Exchanger, Ticketsurf, Todito Cash, Trade Interceptor, Transact Europe Payment, Trazus, TrustPay, Trustly, UAE Exchange, UPayCard, USD, Ukash, Unet, UnionPay, Unistream, Uphold, Verve, Vietnam Exchanger, Visa, VixiPay, VoguePay, Vouchers, Wallet One, WeChat, Web Based Trading Platform, WebMoney, WebPay, Webtrader, Western Union, Wire Transfer, Wirecard, Yandex, Yandex Money, Yemadai, YuuPay, Z-Payment, Zenith, Array, cTrader, dinpay, eCard, eCheck, eKonto, ePay bg, ePayments Transfer, eToro Mobile Trading Platform, eToro Trading Platform, eTranzact, iPay, mPay, neteller, paysafecard, postepay, skrill, unichange.me
Min. Deposit
$20
Promotion
Margin Trading with full legal compliance
Description:
Cex.io offers exchange of fiat currency for Bitcoin Ethereum, Tether, and 23 other cryptocurrencies, as well as Bitcoin/Ethereum trading against the USD.
Payment Methods
Credit Card, Cryptocurrencies, Debit Card, Wire Transfer, skrill
How to Buy Dash With a Broker
In a scenario where you want to engage in short term profit-oriented trading, you have to pick your brokerage wisely by assessing a large number of aspects of their service quality. This may include ease of use, ease of UI, client assistance, trading charts and data, demo account, and security features. That's only the tip of the iceberg. Never forget that it is a smart idea to pick a trading platform that is committed to maintaining regulatory compliance.
1. Register With the Broker
After you have chosen your trading platform, the time has come to join and go through the sign-up process. Most of the top brokerage websites will request your basic data, including name, email, and a password. Make sure that you utilise a strong password that incorporates a blend of lower and capitalised letters, special characters, and digits. A few trading platforms also allow you to join their service, utilising your Google or Facebook account.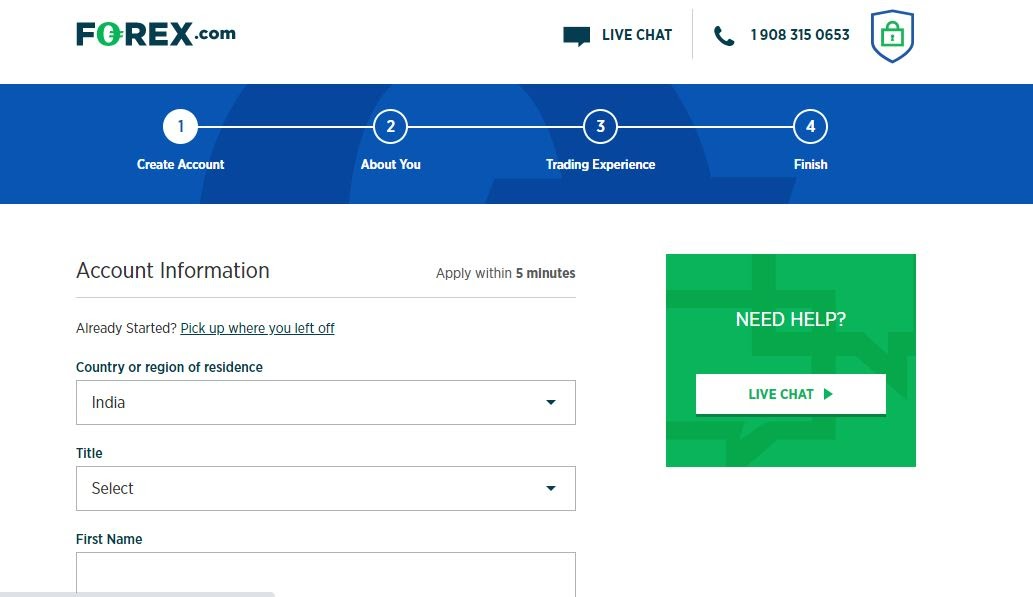 2. Verify Your Identity (KYC Process)
In spite of the fact that this may not seem to be user-friendly at all, it is for your advantage. Regulated trading platforms are legally bound to guarantee adherence with Anti-Money Laundering (AML) and Know Your Customer (KYC) regulations to counter tax evasion, tax avoidance, fraud, and unlawful exchanges on the website. Verifying your identity isn't actually a bad thing as it will guarantee the security of your information as well as your DASH funds.
To finish the process, the user will need to submit documentary proof that verifies their individual identity, for example, ID card, driver's permit, or service bill.
3. Deposit Funds With Your Preferred Payment Method
Before you make a deposit into your account, you should select your payment mode cautiously. The major brokers offer a wide assortment of payment choices to their clients, but the fee structure varies depending on the payment mode. Ensure that you see how the trading costs are added up and remember to peruse the fine print. Think about speed, convenience, and the transactional cost before you select your payment method and strategy. For instance, utilising a bank card could be somewhat costly yet it guarantees instant transfer of funds.
Also, it is firmly suggested that you start trading with the base deposit. Normally, it is in the range of $200 and $500 depending upon the broker. Try not to place a ton of money in your account until you have picked up everything about the platform and have enough experience as a trader to execute large orders.
4. Open a Position to Long/Short DASH
The short positions are opened by individuals who are referred to as bears as they think that the price of DASH coin will diminish in the coming weeks. So they wager on the price devaluing to bring in their profits. On the other hand, long positions are opened by financial investors who are called bulls, and they believe that the price will ascend in the coming weeks. You must have a fundamental comprehension of short and long haul positions so you can devise a compelling investment venture.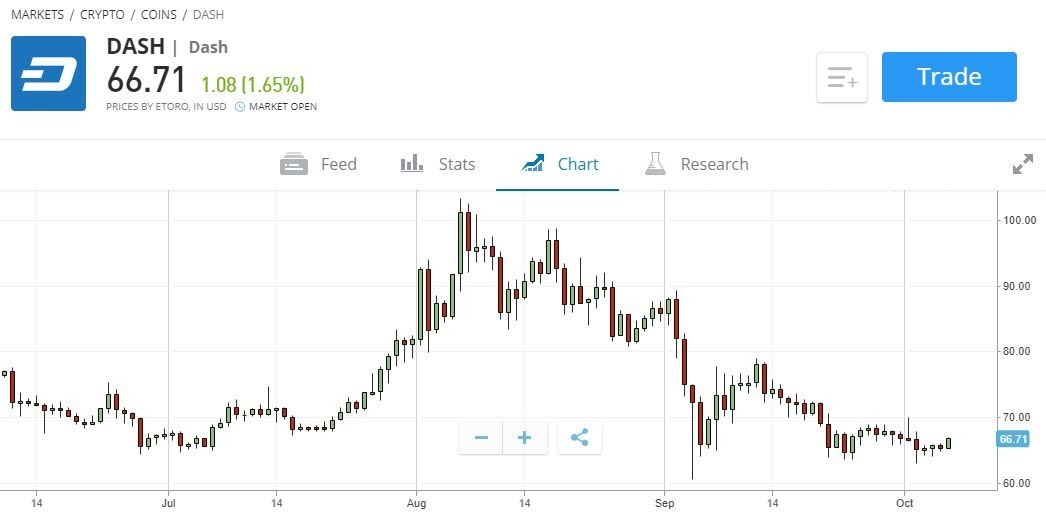 After you have built up an essential understanding of these investment methods, it will be a lot simpler for you to recognise whether you have to open a short or long position. A number of the top trading platforms that we suggest, for instance, eToro offer risk moderation options which you can deploy to your advantage, for example, stop loss and take profit features.
5. Close Your Position
The risk minimization options such as stop loss and take profit are included to guarantee your fund's safety. It doesn't mean that you lose authority over your trade, you essentially have a security net set up if the market doesn't respond according to your predictions. It encourages you to limit your losses and take profits.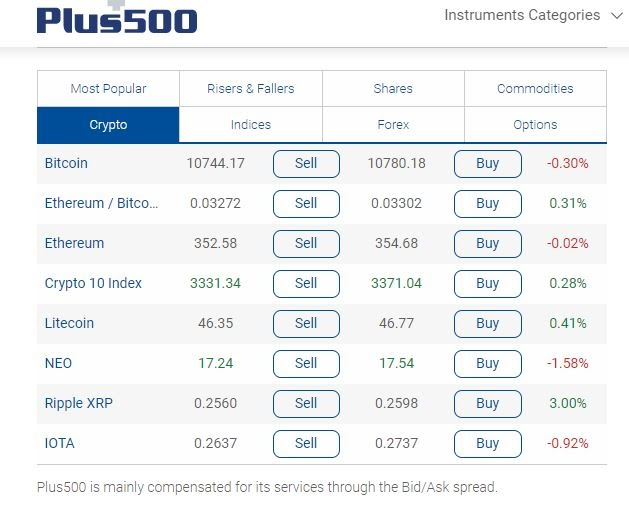 When you feel that your open position has made enough profits and keeping it open would be very risky, you can take advantage of the take profit feature to close your position. Similarly, if you figure the price won't rise, and you have just lost a part of your capital, you can use the stop loss feature and close your trading position.
How to Buy Dash With an Exchange
When you are hoping to hodl your Dash coins for a drawn-out investment, utilising a crypto exchange is the best approach. These are for the traders who accept the price of DASH tokens will keep on ascending in the coming months or for those crypto fans who have confidence in the DASH venture. Before you select a crypto exchange, you have to evaluate each one of them to gauge a number of features including UI, customer care, available payment modes, cost of transaction and more. You must also be careful about certain exchanges that aren't regulatory compliant and may not be as secure as some of the top services.
1. Set up a Dash Wallet
Before you buy DASH tokens, you need to ensure that you own a cold or software wallet to hold your tokens securely. This step may give off an impression of being a complex process from the start; however, the industry has progressed significantly, and these procedures are easier than ever. Depending upon the timeframe for which you need to store your Dash, you can pick between various kinds of crypto wallets:
Exchange/Web Wallets – These are browser crypto wallets that either come in the form of a site, an extension of a browser or are included in your exchange website.
Software Wallets – These come as desktop or mobile applications and offer reasonable security alongside a diverse range of features.
Hardware Wallets – When you would prefer not to compromise on your DASH coins' security, cold wallets are the best approach since they are totally separated from any network and have equipment inside to guard your digital assets.
2. Choose and Join an Exchange That Sells DASH
With regards to joining a crypto exchange, there are numerous industry-driving services you can depend on including CEX.io, Binance, and Coinbase. You can buy your Dash tokens from these exchanges, however, before you decide, ensure that you are selecting the exchange that meets your requirements. A few websites may need additional individual data and charge you high fees while others may be more tolerant with the exchange rates. You need to gauge the upsides and downsides of each exchange before you join. If the trading platform is regulated, you will need to confirm your identity by providing proof, for example, a driver's permit or a utility bill.
3. Choose Your Payment Methods to Buy Dash
After you have selected the cryptocurrency exchange, it is time to evaluate the assortment of payment modes that are offered by your chosen service and which one will be a superior choice according to your investment objectives. For instance, you can pick wire transfer, debit or credit card, and other e-payment methods to purchase DASH tokens, however, first you'll need to find an ideal blend of speed, comfort, and transaction expenses.
4. Place an Order to Buy Dash
To buy DASH, you may initially be required to purchase a well-known coin like Bitcoin or Ethereum through the exchange you have picked. A few services may sell you DASH tokens for traditional cash but some may not. You will also need to choose the fiat money that you'll use to buy your assets. The website will tell you the number of DASH tokens that you can purchase for that amount. When you have gone through this progression, you can send in your buy request.
If you have enabled two-factor authorisation, known as 2FA, you will receive an OTP which you should enter before the transaction is processed. This guarantees improved security.
5. Safely Storing Your Dash in a Wallet
If your investment approach is based on a long haul approach, it isn't wise to leave your DASH tokens in the website's wallet or account. While they are somewhat secure, they are additionally at a high risk of cyberattacks and encountering technical issues. This is the reason why it is important that you move your DASH coins to a more secure crypto wallet.
Again, if you have 2FA enabled, you will need to enter the OTP to confirm the transfer.
Should You Buy or Trade Dash?
You need to remember that purchasing and trading Dash are two distinctive venture approaches. You should purchase Dash when you need to hold it for a long haul or have faith in the project. But, if you simply need to cash off the market value instability, it is a better plan to trade DASH tokens through trading sites utilising CFDs.
What's the Difference Between a Dash Exchange and a Broker?
A Dash crypto exchange is a platform that permits traders to purchase lesser-known crypto tokens or altcoins for the most mainstream ones like Bitcoin and Ethereum. That is the reason these are alluded to as 'cryptocurrency exchanges'. When you are going for a long term investment approach, you need to select an exchange as they sell the DASH coins which you will have the right to hold, move, sell, and transfer whenever you want.
Interestingly, if you simply need to have some additional revenue that can supplement your primary income, trading is a more viable option for you. For trading DASH, you ought to pick a crypto brokerage where you can rapidly purchase and sell financial instruments of DASH, for example, Futures, Options, and CFDs. In this situation, your desire is to benefit from the volatility of the digital money market.
Long Vs Short Term Investment
You should put your capital into DASH for a long haul when you really believe that the price of the coin will keep on ascending in the near future or you need to be a part of endeavours of the project. When you are going for a long term approach, a crypto exchange is an adequate option since you can purchase and own the Dash tokens.
When all you are searching for is quick gains, trading DASH through CFDs and other instruments are a significantly more productive approach as compared to buying and owning them. You can utilise the volatility of the market to trade, but you should ensure that you purchase and sell at the right time to bring in surplus profit. This will also keep you away from the hassle of managing dedicated cryptocurrency wallets.
Pros and Cons of Buying Dash
Pros
Ease of Purchase: Dash can easily be acquired online through friends and businesses. It can also be processed through ATMs in partnership with global online banking platforms.
Real-World Payments: Dash can be used as a means of payment in every vendor or shop with access to Dash; ticketing, paying utility bills, purchasing commodities on e-commerce platforms, and many more.
Mobile Apps: Dash has an application for both Android and Apple devices. This ensures that transactions can be carried out anywhere and anytime.
Security: The security of the platform against unwarranted access and cyber-crimes is impressive.
Customer Support: The platform also has a versatile customer service department, manning social media and direct communication platforms.
Cons
Exchange Lock Down: Currently, there is no way of buying Dash directly. You have to use eToro as a medium to purchase before either converting to available funds or blockchains. This practice makes the transaction and conversion cost high.
Conversion: The conversion platform does not directly sell the proceeds of Dash to its customers. It sells profits derived from the sale of the cryptocurrency.
What Are the Fees Involved In Buying Dash?
As per most cryptocurrency purchases and transactions, there are fees associated with buying and selling Dash. We've outlined the core fee types below.
Transaction fees: These fees are the small amount that gets deducted from the total transaction amount as a facilitator for changing the currency from one form to another. These are standard across all exchanges & blockchains.
Deposit fees: When initially putting fiat currency into an exchange or trading platform, some will charge you for putting money in. This type of transaction fee is very rare, and can sometimes be a little untrustworthy.
Withdrawal fees: When moving your acquired Dash into another exchange or converting it into fiat currency, most exchanges and trading platforms will charge you a fee in order to do so.
Spreads: Spread is the very small difference between the buying price and selling price that trading brokers place onto their systems. This is essentially the transaction fee of the trading world.
It is crucial to analyse the entire fee structure of an exchange or brokerage before settling for it. Some platforms use hidden fees to make up for the low initial fees at one that you first see. Trading platforms have better payment methods and fees than exchanges, meaning it's usually far easier to start investing in cryptocurrency on a broker platform.
3 Tips to Buy Dash
Since you have built up a fundamental concept of how crypto brokerage services and exchanges can be utilised for various investment approaches, here are three significant tips from us that will assist you in dealing with your risk in a considerably more effective manner and make your investment a lot more secure. Remember these important pointers when putting your capital into Dash.
Choose the Right Time and Do Your Own Research
To capitalise on a volatile crypto market, you have to purchase and sell Dash tokens at the right time. You can build up those financial impulses by reading all the guidance material and accessible on our site and watching out for the news related to the coin. Remember that even minor rumours can sometimes have an effect on the price of DASH or other tokens.
Comparing Costs to Buy DASH
If you neglect to deal with your transaction costs, they may eat up a major portion of your investment gains. Numerous new traders become victims of high expenses and transaction costs. Ensure that you have considered everything, including spread, commission, trade expense, store/withdrawal charges, and holding expense. These expenses tend to eat into your profits.
Safety and Security
When you are buying or trading Dash or some other digital currency, you have to know that not all things will be done for you. For example, you should guarantee the security of your coins by picking solid passwords, utilising 2FA, and strong passphrases.
What Is the Best Payment Method for Buying Dash?
Buy Dash with Cash - First, you need to purchase Bitcoin with Cash through ATM and a while later, exchange it for DASH. Not a very viable method.

Buy Dash with Credit/Debit Card - One of the most mainstream payment modes to buy DASH but a bit on the expensive side.

Buy Dash with Bank Transfer - Highly convenient and economical as far as fees are concerned; however, the payment mode is slow as compared to other payment methods.

Buy Dash with Bitcoin - Just exchange Bitcoin for Dash.

Buy Dash with PayPal - Swift and proficient payment mode but restricted availability.
Other Ways to Buy Dash
The methods that we have indicated above are the most advantageous and affordable approaches to buy DASH on different websites. Now, you are more than ready to start trading DASH tokens and put your investment money into different coins subsequent to reading this guide. We will finish up the guide with some lesser-known choices that you can use to get DASH.
Peer-to-Peer (P2P) Exchanges - These are sites that bring crypto sellers and buyers together on a single platform. Rather than joining a trading platform, you can purchase from a person. That being said, you have to ensure that you have checked their reviews and also checked the trading history of the person who you are going to deal with. P2P exchanging is not only easy to understand and flexible but also very efficient too.

Since Dash tokens are pre-mined, you can't get them through mining.
Frequently Asked Questions
We have suggested many top crypto exchanges where you can buy DASH without paying any commission. However, there are still other expenses that you may need to pay for.

Purchasing DASH is for long-term traders who are looking to own and hold onto the coins since they think that the price will surge in the future. However, DASH trading is opted by the traders who just want to capitalise on the volatility of the crypto market to make quick gains. They don't own the tokens themselves, instead, simply speculate on the prices through financial instruments.

The right moment to purchase DASH or any other cryptocurrency can only be determined by you. Ensure that you don't buy any coin during a price rally as they are mostly short-lived.

The best exchanges that we recommend include CEX.io, eToro, Binance, and Coinbase. We have made these suggestions after evaluating a wide range of features, including user-friendliness of the platform, fee structure, customer support, and built-in wallet.

Barring the regions and countries which have banned cryptocurrencies and their trading, DASH is lawfully available and tradeable.
Alternative Cryptocurrencies