How To Buy BitShares | Ultimate Guide To Buy BTS
BitShares (BTS)
...
BitShares launched in 2014 with the primary goal of expediting blockchain-based transactions. The BitShares blockchain core developer team adopted the Graphene protocol, which reportedly supports up to 100,000 transactions per second (tps). Besides speed, BitShares is also unique for integrating a decentralised exchange (DEX) platform.
Some argue that the BitShares DEX platform gave birth to the now popular Decentralised Finance (DeFi) community. The DEX enables users to digitise traditional financial products to trade them as digital assets or precisely BitAssets. This guide explains the BitShares (BTS) cryptocurrency in detail and shows you how to buy the coins in 2021.
5 Steps to Buy BitShares with eToro Now
Buying any cryptocurrency with eToro is easy, simply follow the steps below:
Sign up for free with eToro, entering your details in the required fields.

Fill out the questionnaire, this is both educational for you and eToro.

Click 'Deposit', you'll then be asked how you want to fund your account.

Choose your required payment method, follow the simple steps to link your payment.

Enter the amount you want to deposit and you're good to go!
Our Recommended Platform to Buy BitShares
For those to whom BitShares appears completely new, it is prudent to consume this guide in its entirety. However, some might view this guide as a refresher, and maybe the real reason for being here is to obtain directions to the best platforms to buy BitShares. Therefore, we will go ahead and list our recommended platforms for buying BTS here.
Min. Deposit
$50
Exclusive promotion
Accepts customers from the USA
Offers 15 crypto coins to buy&sell including BTC, LTC, ETC, NEO and more
Trade on the world's leading social trading and investing platform
Description:
eToro offers a wide range of cryptos, such as Bitcoin, XRP and others, alongside crypto/fiat and crypto/crypto pairs. eToro users can connect with, learn from, and copy or get copied by other users.
Payment Methods
Bank Transfer, Wire Transfer
Full regulations list:
CySEC, FCA
Where to Buy BitShares in 2021
Owning BitShares is a process that begins with buying the coins from a cryptocurrency exchange. The platform brings together buyers and sellers of the crypto, and the trades happen at the market price. Possessing these tokens has some merits, such as their tendency to gain value over time. For example, the BitShares ROI since inception to date (May 2021) is 391.31%. If the value continues to grow, then the future ROI could be higher.
The flipside of owning BitShares is inconvenience and security issues. As with any other currency, cryptocurrency requires storage. Many crypto wallets exist today for storing BTS tokens, but the problem arises when you want the best product. You need to dig deep into the market, and even setting up the wallets is a technical affair. Also, you might run into compatibility and security issues.
For this reason, some prefer to trade the BTS price movements through CFDs. CFDs are financial instruments offered by professional cryptocurrency brokers. BTS trading involves buying contracts that track the price movement of the cryptocurrency. When the contract closes in your favour, the broker pays the difference between the opening and closing price in cash, and you never need to worry about storing the coins themselves.
Min. Deposit
$50
Exclusive promotion
Accepts customers from the USA
Offers 15 crypto coins to buy&sell including BTC, LTC, ETC, NEO and more
Trade on the world's leading social trading and investing platform
Description:
eToro offers a wide range of cryptos, such as Bitcoin, XRP and others, alongside crypto/fiat and crypto/crypto pairs. eToro users can connect with, learn from, and copy or get copied by other users.
Payment Methods
Bank Transfer, Wire Transfer
Full regulations list:
CySEC, FCA
Min. Deposit
$1
Exclusive promotion
The world's largest cryptocurrency exchange with over 2bn daily users
Innovative trading platform offering enormous range of crypto coins
Supports over 60 methods of payment including PayPal
Description:
Binance has grown exponentially since it was founded in 2017 and is now one of, if not the biggest cryptocurrency exchanges on the market.
Payment Methods
1Pay, 2C2P, 3d Secure Credit Card, ACH, ANELIK, Abaqoos, AdvCash, AlertPay, Alfa-Click
Algocharge, AliPay, American Express, Apple Pay, AstroPay, BPAY, Bank Link, Bank Transfer, Bank Wire, Baofoo, BitGold, BitPay, Bitcoin, Boleto, Bonds, Borneo Exchanger, Bradesco, CEX.io Mobile App, CFDs, CSS System, CUPS, CartaSi, Carte Bleu, Carte Bleue, Cash, CashU, Cashier Order, Check, Check (UK only), China UinonPay, China Union Pay, China UnionPay, ClickandBuy, Commodities, Contact, Contact Z, Credit Card, Cryptocurrencies, Currencies, DCPay, DIXIPAY, Dankort, Debit Card, Dengi Online, DineroMail, DirectPay, Dotpay, E-dinar, ELV, ENets, EPS, ETFs, EXCARD, Easy2Pay, EcoPayz, Ecommpay, Ecurrencyzone, EgoPay, Emerchant Pay, Eprotections, EstroPay, Ethereum, Euro Bank Account, Euteller, Express Dotpay, Express Polish Post Office 24/7, Express Zabka Market, Ezeebill, Ezybonds, FasaPay, Fastapay, Fastbank, Faster Payments, FilsPay, Forex, GTBank, Gate2Shop, Giropay, GlobalCollect, GlobalPAY, GlobePay, Gluepay, Halcash, I-Account, IPS, Ideal, Indices, Individual US State License(s), Indonesia Exchanger, InstaBill, Instadebit, IntellectMoney, Interswitch, Investmate, Itukar, KNET, Klarna, LaoForexBoard, LavaPay, Lion Payment, LiqPay, Litecoin, Lobanet, MOTO, MT4, MT5, Mailing Cash, Market Maker, Masari, Mastercard, MegaTransfer, Mister Cash, Mobile Trading App, Mobile Trading Platform, Moneta, Money Bookers, Money Order, MoneyBookers, MoneyGram, MoneyPolo, Multibanco, NETBANX, Nab, Namecoin, Neosurf, NetPay, OKPAY, OMT, OmahPoin, OnPay.ru, Online Naira, OrangePay, PAYSEC, POLi, POLi & BPay, PYEER, PagoEfectivo, Paxum, Pay Nova, PayCo, PayPal, PayRetailers, PayWeb, Payeer, Payoneer, Payonline, Payvision, Payza, Perfect Money, PocketMoni, Postbank, Powercash 21, Prepaid MasterCard, Prepaid MasterCard (I-Account), Prepaid MasterCard (Intercash), Prepaid MasterCard (Payoneer), Privat 24, Przelewy24, QIWI, RBK Money, Rapid Transfer, RegularPay, SEPA, Safecharge, SafetyPay, SahibExchange, Shilling, SmartPay, Sofort, SolidTrust Pay, SorexPay, Sporopay, Stock Certificate, Stocks, Swish, Teleingreso, Thailand Exchanger, Ticketsurf, Todito Cash, Trade Interceptor, Transact Europe Payment, Trazus, TrustPay, Trustly, UAE Exchange, UPayCard, USD, Ukash, Unet, UnionPay, Unistream, Uphold, Verve, Vietnam Exchanger, Visa, VixiPay, VoguePay, Vouchers, Wallet One, WeChat, Web Based Trading Platform, WebMoney, WebPay, Webtrader, Western Union, Wire Transfer, Wirecard, Yandex, Yandex Money, Yemadai, YuuPay, Z-Payment, Zenith, Array, cTrader, dinpay, eCard, eCheck, eKonto, ePay bg, ePayments Transfer, eToro Mobile Trading Platform, eToro Trading Platform, eTranzact, iPay, mPay, neteller, paysafecard, postepay, skrill, unichange.me
Min. Deposit
$10
Exclusive promotion
The broker offers access to a trusted MetaTrader trading system
Pricing is ensured to be completely transparent, also providing accuracy and speed
Trade a Wide Variety of Assets with Leverage up to 1:500
Description:
LonghornFX is a true ECN STP broker dedicated to delivering a superior trading experience to traders no matter their level of experience. Their services are based on transparency, innovation and efficiency, ensuring an unparalleled trading experience for all.
Payment Methods
Bitcoin, Credit Card, Debit Card, Visa
LonghornFX offers high-leverage trading on a wide variety of assets. Trading with leverage carries a degree of risk which may result in losing more than your investments. Clients should practise risk management to protect themselves from losing more than they can afford when trading with leverage.
How to Buy BitShares with a Broker
A professional broker links its clients with the cryptocurrency market. The broker plays a fiduciary role, which has security implications. For this reason, a legitimate broker must have proper licenses from reputable regulators and must employ strict security protocols to safeguard clients' funds. Another identifier of an ideal broker is the fees it charges. The best crypto broker platforms do not overcharge their clients despite providing best-in-class services.
1. Register with the Broker
Several online brokers offer BTS trading services. All of them require new users to register accounts before accessing the services. The typical signup process is uncomplicated and the information required is as little as an email address alone. But some brokers' requirements might stretch further. For example, Skilling demands an email address, your country of residence, a phone number, and the preferred account currency.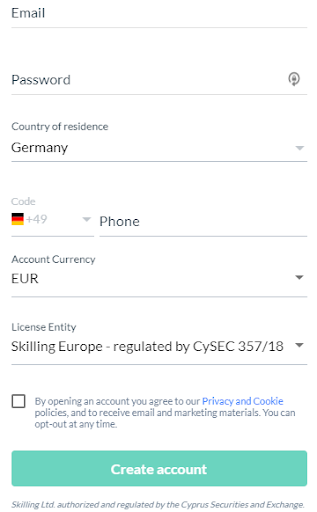 Comparatively, eToro is content with only the email address, at least for the start. eToro also provides the additional feature of logging in via Google or Facebook.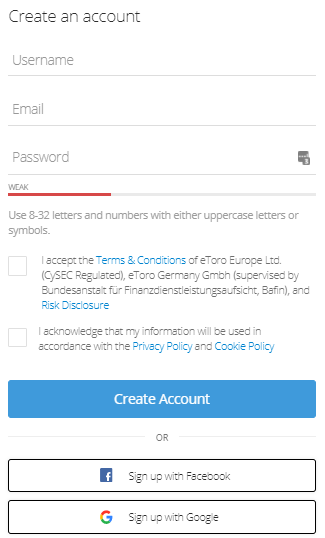 2. Verify your Identity (KYC Process)
The brokers cannot ascertain the authenticity of the information you provide, which makes verification necessary. Verification of client information is the most daunting stage of the account registration process. This process goes by the name 'Know Your Customer' or KYC because, at the end of it, the broker will be able to establish the validity of your details.
The KYC process involves uploading documents that support residency and personally identifying information you provided earlier. If you choose Skilling as your broker, you will upload a copy of your passport or national ID card for proof of identification. Also, you will upload a utility bill (usually not older than six months) for proof of address (or residency).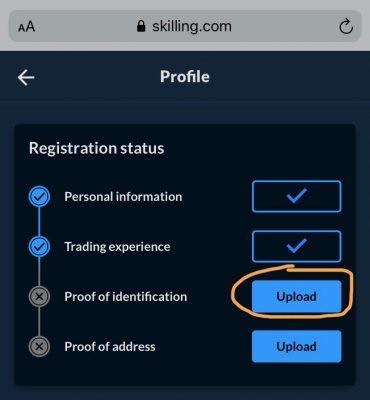 Yes, the KYC process is daunting, but the outcome is desirable. The primary goal of identifying new customers is to help brokers satisfy regulations prohibiting money laundering and fraud. Therefore, a successful KYC process enables the broker to avoid being a conduit for dirty money. In return, more people grow trusting of the broker, and, ultimately, this increases the adoption of BitShares and all the other cryptos listed on the platform.
3. Deposit Funds with your Preferred Payment Method
If there is one thing to notice from the screenshots shared in the previous sections is that brokers require clients to fund their accounts using fiat currency. Each broker offers a range of options for the clients to make the transaction.
For example, Pepperstone accepts deposits through VISA, MasterCard SecureCode, PayPal, POLi, and Credit/debit cards.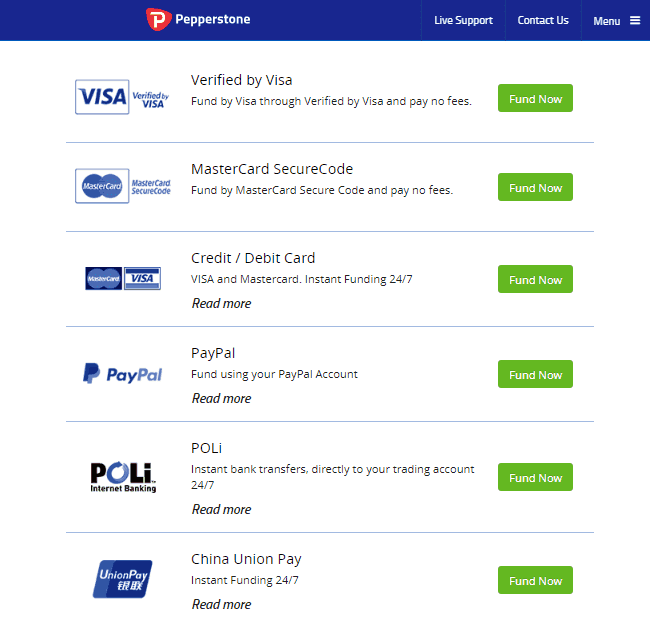 Given these options, you might be wondering how to select the best payment method. Security is a great starting point. A payment channel must ensure that your funds do not get swallowed along the way. Another consideration is transaction speeds. Each of the payment methods completes transactions at different times. For you, the channel with the fastest speeds is what to look for.
What about costs? The charges of the payment method should not exceed the industry standard by an ungodly margin. Lastly, it helps to note that you bear personal responsibility for the security of your funds during the transaction process before the funds leave your bank account. Ensuring proper security means protecting your computer with strong and up-to-date anti-virus software.
4. Open a Position to Long/Short BitShares
With your account funded, it is now time to enter the market. But before you make the first trade, it is important to note that you might encounter jargon that might sound confusing. It makes better sense to tackle the jargon before learning how to open market positions.
'Long' and 'short' BitShares are not the industry's most technical terms, yet they form the foundation of cryptocurrency trading. The simple explanation is that long and short BitShares positions reflect the possible directions that the BTS price is required to take for you to earn a profit.
A long position refers to when you open a trade hoping for the BTS price to increase in the future. Alternative names for this strategy are 'going long' or 'buying BitShares.' The benefit of going long BitShares is that the trade has unlimited profit potential. You generate a profit for as long as the price of BTS tokens increases, which could be forever.
On the contrary, a short position entails making a trade and hoping for the BTS price to decline. When you do so, one can say that you are going short BitShares or selling BitShares. Unlike long BitShares, a short BitShares position has limited profit potential. The position is only profitable as long as the BTS price stays above zero. However, going short BitShares enables you to benefit from a decline in BTS price.
Sometimes the jargon might be too difficult to understand, which impairs your trading capabilities. Thankfully, most cryptocurrency brokers offer a feature called copy trading. This feature lets you copy strategies from the experts and apply them. If the expert earns a profit, you do too.
5. Close your Position
The ultimate goal of trading BitShares is to stay profitable, and the only way to achieve this aim is to close the position before it turns loss-making. Professional crypto brokers provide useful tools such as take-profit and stop-loss orders on their trading platforms. The tools enable traders to automate processes such as closing a position.
Cryptocurrency markets can sometimes be too volatile. In such conditions, crypto prices fluctuate too fast for human hands to avoid errors. Also, the high volatility in the market means that you have to stay at your trading desk at all times to avoid taking losses. A stop-loss order avoids such embarrassments by closing the position immediately after a given price point is reached. The take-profit order works similarly, only that it activates when the position reaches your profit target.
Sometimes, the profit target might come earlier than expected. Here, you do not have to rely on a take-profit order, instead, you can exit the market manually. The same is true in a loss-making position. If you feel you cannot take losses, it is okay to terminate the trade without relying on the stop-loss order.
How to Buy BitShares with an Exchange
Unlike BitShares brokers, the exchanges enable clients to participate in the peer-to-peer market. Here, prices are determined by demand and supply forces. Also, buyers acquire the real digital asset and not derivatives. Because of the growing demand for BitShares tokens, many exchanges have come up to fill emerging gaps in supply. However, each exchange has a unique fee structure and different security levels. Therefore, always ensure that your preferred exchange charges low fees but without compromising on security.
1. Set up a BitShares Wallet
First of all, buying BitShares from an exchange gives you custody of real BTS coins. It means a BitShares wallet is the first thing you should think about before initiating the purchasing process. However, it is not mandatory to have a private wallet because some exchanges offer custody services. But what if you want the coins with you?
Setting up a BitShares wallet begins after you have identified the wallet type that suits your needs. When researching, you will see a BitShares wallet could be a hardware device or software installable on a computer or mobile phone. The hardware type of BitShares wallets is ideal for the most security-oriented investors. They generate both private and public keys offline, keeping your coins safe from prying eyes online.
The software type of BitShares wallet is more convenient. Because it is a piece of software, it means you can carry it around with ease without the risk of theft or loss. However, software wallets require an internet connection for access. This link to the internet gives them the name 'hot wallets.' The problem with hot wallets is that hackers can gain access and steal private keys.
2. Choose and Join an Exchange that sells BitShares
The growing popularity of BitShares has attracted many businesses offering exchange services. They include Coinmama, Binance, Poloniex, and Huobi Global. Importantly, note that each cryptocurrency exchange uniquely caters to your needs. It is, therefore, upon you to choose an exchange based on preference.
It is prudent to recall that all legitimate exchanges take their new clients through a KYC process as part of the regulatory obligation. However, the details of the process differ. Some businesses might ask for basic identification details, while others prefer more details. Nevertheless, we believe that an exchange is legitimate as long it is properly regulated and that it employs the best security standards.
3. Choose Your Payment Methods to Buy BitShares
Most exchanges accept payments via a selection of methods. Some of these channels include direct bank transfers, debit cards, and online payment providers like Skrill. When choosing the payment method, transaction costs should be a top factor. Another factor to consider is the speed the transaction needs to complete. Also, the security of your funds is paramount.
It could be helpful to note that each of the payment methods supported differ along the factors enumerated above. As part of due diligence, ensure that the preferred payment method scores higher than the rest on all factors.
4. Place an Order to Buy BTS
Purchasing BitShares differs from Bitcoin (BTC) and other major altcoins. While you can buy BTC instantly using a credit card, buying BTS tokens takes a few more steps. Most, if not all, exchanges do not support purchasing BitShares directly with fiat currency. Instead, you will have to buy another digital currency such as BTC or Ethereum (ETH) first.
First, fund your wallet and use the fiat currency to buy BTC. Most exchanges encourage clients to buy BTC because it is the most common option across the industry. With the BTC coins secured, go to the 'Exchange' or 'Markets' section on the trading platform and search for BitShares. Follow the prompts and place the buy order.
5. Safely Storing Your BitShares in a Wallet
If you recall when we were discussing the difference between owning and trading BitShares, you will know that owning BitShares requires a few more steps after acquisition. You need to find a place to park the tokens safely.
Thankfully, some exchanges extend the cryptocurrency storage services to those clients who do not intend to hold the coins for long. Some investors want to exploit the volatility of BTS price by holding the coins for a short period then selling.
If you subscribe to the long-term investment strategy, the arrangement above cannot suit your needs. Instead, you might want to set up a private wallet to store the tokens.
Should you Buy or Trade BitShares?
Every investor has a profile, and this profile offers an important guide regarding one's investment strategy and goals. Also, the investor profile helps to distinguish between buying and trading BitShares.
Some investors want to buy and hold BitShares for an extended period, say a month or a couple of months hoping for higher prices. For those who fit this profile, the ideal platform to get BitShares is the crypto exchange.
Contrariwise, some investors want flexibility. They want to get in and out of the BitShares market as fast as possible to avoid risks and to exploit the profit potential of a volatile market. If you fit this profile, the broker is your platform. Professional brokers offer BitShares trading services where investors can make tens of trades in a single day via derivatives, without taking custody of the coins.
What's the Difference Between a BitShares Exchange and a Broker?
A BitShares exchange lets you buy and sell BTS tokens to the highest bidder. In another sense, an exchange is a market where buyers and sellers meet, and transactions are on a peer-to-peer basis. On the other hand, a broker is a third party that links you to the BitShares market. Also, the broker deals in BitShares derivatives such as CFDs. Contracts for difference (CFDs) are agreements between brokers and clients where the broker pays the client the difference between the current BitShares value and its value when the contract was activated if the client's trade wins.
BitShares: Long Vs Short Term Investment
BitShares is an asset whose value could go up or down in the future. As such, you could commit to holding the BTS tokens for an extended period, sometimes even years, and only sell after the price reaches a given point. This approach constitutes a long-term investment strategy, and its antithesis is the short-term investment strategy. Here, you have no intention of holding the BTS coins for long, perhaps because you intend to exploit short-term price gyrations.
3 Tips to Buy BitShares
Now that you are confident about buying BitShares, here are some useful tips:
1. Choose the Right Time and Do Your Own Research on BitShares
You identify an opportune time to purchase BitShares through extensive due diligence. Ensuring that the research is original helps to increase the accuracy of the predictions. It is important to research BitShares before jumping in to build a firm foundation for investment decisions.
2. Comparing Costs to Buy BitShares
Several exchanges are competing to net you as a client. As such, it is important to note that each platform charges differently. To get the best deal possible, make sure you compare the costs of using each exchange and select the most affordable.
3. Safety and Security when Buying BitShares
Buying BitShares entails moving funds often, which exposes you to bad actors. For proper security, ensure your preferred exchange implements industry-standard security measures. You can also ramp up security by configuring a two-factor authentication mechanism for your profile.
What is the Best Payment Method for Buying BitShares?
Buy BitShares with Cash – Buy Bitcoin (BTC) with cash via a Bitcoin ATM and then use the BTC to purchase BitShares.
Buy BitShares with Credit Card – most exchanges support credit cards as a payment method.
Buy BitShares with Bank Transfer – bank transfers are the safest method to fund your account.
Buy BTS with Bitcoin – most exchanges require buyers to use Bitcoin or other major altcoins to buy BTS.
Buy BitShares with PayPal – PayPal offers the most convenience when buying BitShares.
Other Ways to Buy BitShares
The BitShares blockchain implements a proof-of-stake consensus protocol, which means users can earn some BTS through staking. Also, the blockchain requires the efforts of Masternodes to facilitate the seamless functioning of smart contracts and other applications. The Masternodes earn BTS tokens as rewards for their efforts.
BitShares pioneered the delegated proof of stake (DPoS) protocol, which is the precursor to DeFi. This feature has made the project a strong contender for the disruption of the financial services industry. BitShares' immense potential to upend the most liquid industry in the world gives strength to the BTS token to compete favourably in the market.
Frequently Asked Questions
First, you need to define your goals. If you aim to hold BitShares for an extended period, then the cryptocurrency exchange is the platform to buy the tokens. On the contrary, a professional BitShares broker is an ideal platform if you aim to exploit the short-term BTS price gyrations.

To understand the difference, let us first define long and short positions. Taking a long position on BitShares means you are buying the digital asset hoping for its price to rise, while a short position means you are selling BitShares coins today hoping for the price to decline so that you can buy them back cheaply. When your profit depends on BitShares increasing its value, then your approach is a long-term investment. However, your approach is a short-term investment strategy if your profit depends on BitShares' value declining.

Going short BitShares is ideal in a bearish market. The conditions in a bearish market are hostile to the BTS price, whose most likely direction is downwards.

Yes. BitShares has a website rich with information about the project, its goals, and use cases. Also, the BitShares tokens are listed on reputable cryptocurrency exchanges such as Binance, and CoinMarketCap ranks the coin at position 182 in the entire cryptocurrency market. All these are the hallmarks of a legitimate crypto project.

BitShares is unique in that it allows users to create digital assets out of traditional financial instruments, also called BitAssets; they can be pegged to fiat currencies such that we have BitEUR, BitUSD, and so on. Users can then use the BitAssets as collateral in the real world.
Alternative Cryptocurrencies