How To Buy Basic Attention Token | Ultimate Guide To Buy BAT
Basic Attention Token (BAT)
...
When the Bitcoin blockchain whitepaper became public, it appeared as if the project was targeting a complete overhaul of global finance. Few thought the technology could find relevance in other countless industries. The Basic Attention project was founded by Brendan Eich, the co-founder of Firefox and Mozilla. The primary aim of the project is to fix digital advertising.
The Basic Attention Token (BAT) supports a reward system that encourages advertisers to respect user privacy. Its integration into Brave Browser has drawn many people towards the token. This guide shows you how and where to buy BAT.
5 Steps to Buy Basic Attention Token with eToro Now
Buying any cryptocurrency with eToro is easy, simply follow the steps below:
Sign up for free with eToro, entering your details in the required fields.

Fill out the questionnaire, this is both educational for you and eToro.

Click 'Deposit', you'll then be asked how you want to fund your account.

Choose your required payment method, follow the simple steps to link your payment.

Enter the amount you want to deposit and you're good to go!
Our Recommended Platform to Buy Basic Attention Token
The Basic Attention Token has captured a large chunk of the search engine market. It could be that you have substantial knowledge of the digital currency, and all you need is a nod in the direction where you can get the token. In that case, here are the platforms we recommend.
Min. Deposit
$50
Exclusive promotion
Accepts customers from the USA
Offers 15 crypto coins to buy&sell including BTC, LTC, ETC, NEO and more
Trade on the world's leading social trading and investing platform
Description:
eToro offers a wide range of cryptos, such as Bitcoin, XRP and others, alongside crypto/fiat and crypto/crypto pairs. eToro users can connect with, learn from, and copy or get copied by other users.
Payment Methods
Bank Transfer, Wire Transfer
Full regulations list:
CySEC, FCA
Where to Buy Basic Attention Token in 2021
The question of where to buy Basic Attention does not have a straightforward answer, and here is why. The phrase "buying cryptocurrency" has different connotations based on the buyer's ultimate motive. Some wish to own the tokens for an extended period, while others want to trade the tokens in the market.
So, to what end are you buying BAT? Some wish to hold the BAT tokens in a wallet as a long-term asset. Long-term assets constitute an investment strategy that seeks to benefit from the eventual increase in value after an extended period.
Owning BAT is an excellent strategy if the cryptocurrency's value grows over time. So far, CoinMarketCap data shows that the Basic Attention Token has an ROI of 320.07%. Could buying and holding BAT tokens be your preferred strategy?
If not, there is the option of trading the price fluctuations of the digital asset. Trading price movements is ideal for investors who do not relish the burden of setting up and maintaining a cryptocurrency wallet. Instead, such investors want quick profits, especially when volatility levels in the market are elevated.
While buying and owning the BAT coins involves holding the actual coins, trading is all about speculating on the future direction of BAT price. The former strategy seems low risk, but a lot of work goes into researching the best wallet and setting it up. Also, there is the issue of compatibility and security. A poorly protected BAT wallet exposes the coins to hackers who might steal them effortlessly.
On the other hand, trading BAT CFDs is convenient. You never have to worry about people hacking wallets and other shenanigans. All you have to do is conduct thorough market research and use the insights to take a position in the market.
Let us say you decide to settle for the long-term investment strategy. In this case, you can get Basic Attention Tokens from any cryptocurrency exchange that lists the coins. But if you think short-term BAT trading is your thing, then professional crypto brokers are your destination.
Min. Deposit
$50
Exclusive promotion
Accepts customers from the USA
Offers 15 crypto coins to buy&sell including BTC, LTC, ETC, NEO and more
Trade on the world's leading social trading and investing platform
Description:
eToro offers a wide range of cryptos, such as Bitcoin, XRP and others, alongside crypto/fiat and crypto/crypto pairs. eToro users can connect with, learn from, and copy or get copied by other users.
Payment Methods
Bank Transfer, Wire Transfer
Full regulations list:
CySEC, FCA
Min. Deposit
$1
Exclusive promotion
The world's largest cryptocurrency exchange with over 2bn daily users
Innovative trading platform offering enormous range of crypto coins
Supports over 60 methods of payment including PayPal
Description:
Binance has grown exponentially since it was founded in 2017 and is now one of, if not the biggest cryptocurrency exchanges on the market.
Payment Methods
1Pay, 2C2P, 3d Secure Credit Card, ACH, ANELIK, Abaqoos, AdvCash, AlertPay, Alfa-Click
Algocharge, AliPay, American Express, Apple Pay, AstroPay, BPAY, Bank Link, Bank Transfer, Bank Wire, Baofoo, BitGold, BitPay, Bitcoin, Boleto, Bonds, Borneo Exchanger, Bradesco, CEX.io Mobile App, CFDs, CSS System, CUPS, CartaSi, Carte Bleu, Carte Bleue, Cash, CashU, Cashier Order, Check, Check (UK only), China UinonPay, China Union Pay, China UnionPay, ClickandBuy, Commodities, Contact, Contact Z, Credit Card, Cryptocurrencies, Currencies, DCPay, DIXIPAY, Dankort, Debit Card, Dengi Online, DineroMail, DirectPay, Dotpay, E-dinar, ELV, ENets, EPS, ETFs, EXCARD, Easy2Pay, EcoPayz, Ecommpay, Ecurrencyzone, EgoPay, Emerchant Pay, Eprotections, EstroPay, Ethereum, Euro Bank Account, Euteller, Express Dotpay, Express Polish Post Office 24/7, Express Zabka Market, Ezeebill, Ezybonds, FasaPay, Fastapay, Fastbank, Faster Payments, FilsPay, Forex, GTBank, Gate2Shop, Giropay, GlobalCollect, GlobalPAY, GlobePay, Gluepay, Halcash, I-Account, IPS, Ideal, Indices, Individual US State License(s), Indonesia Exchanger, InstaBill, Instadebit, IntellectMoney, Interswitch, Investmate, Itukar, KNET, Klarna, LaoForexBoard, LavaPay, Lion Payment, LiqPay, Litecoin, Lobanet, MOTO, MT4, MT5, Mailing Cash, Market Maker, Masari, Mastercard, MegaTransfer, Mister Cash, Mobile Trading App, Mobile Trading Platform, Moneta, Money Bookers, Money Order, MoneyBookers, MoneyGram, MoneyPolo, Multibanco, NETBANX, Nab, Namecoin, Neosurf, NetPay, OKPAY, OMT, OmahPoin, OnPay.ru, Online Naira, OrangePay, PAYSEC, POLi, POLi & BPay, PYEER, PagoEfectivo, Paxum, Pay Nova, PayCo, PayPal, PayRetailers, PayWeb, Payeer, Payoneer, Payonline, Payvision, Payza, Perfect Money, PocketMoni, Postbank, Powercash 21, Prepaid MasterCard, Prepaid MasterCard (I-Account), Prepaid MasterCard (Intercash), Prepaid MasterCard (Payoneer), Privat 24, Przelewy24, QIWI, RBK Money, Rapid Transfer, RegularPay, SEPA, Safecharge, SafetyPay, SahibExchange, Shilling, SmartPay, Sofort, SolidTrust Pay, SorexPay, Sporopay, Stock Certificate, Stocks, Swish, Teleingreso, Thailand Exchanger, Ticketsurf, Todito Cash, Trade Interceptor, Transact Europe Payment, Trazus, TrustPay, Trustly, UAE Exchange, UPayCard, USD, Ukash, Unet, UnionPay, Unistream, Uphold, Verve, Vietnam Exchanger, Visa, VixiPay, VoguePay, Vouchers, Wallet One, WeChat, Web Based Trading Platform, WebMoney, WebPay, Webtrader, Western Union, Wire Transfer, Wirecard, Yandex, Yandex Money, Yemadai, YuuPay, Z-Payment, Zenith, Array, cTrader, dinpay, eCard, eCheck, eKonto, ePay bg, ePayments Transfer, eToro Mobile Trading Platform, eToro Trading Platform, eTranzact, iPay, mPay, neteller, paysafecard, postepay, skrill, unichange.me
Min. Deposit
$20
Exclusive promotion
Margin Trading with full legal compliance
Description:
Cex.io offers exchange of fiat currency for Bitcoin Ethereum, Tether, and 23 other cryptocurrencies, as well as Bitcoin/Ethereum trading against the USD.
Payment Methods
Credit Card, Cryptocurrencies, Debit Card, Wire Transfer, skrill
How to Buy Basic Attention Token with a Broker
In the previous section, we distinguished the concept of buying and owning Basic Attention Tokens from trading the coins. We discussed that BAT trading services are available through brokers. In this section, we dive deep into the process of acquiring the tokens via a broker. Please note that brokers operate differently, especially on issues such as fees and security. It is prudent to do exhaustive due diligence to make sure your preferred Broker offers the best services while keeping costs low. Also, it would be helpful to check the Broker's regulatory status because this contributes to the platform's security.
1. Register with the Broker
No broker will let you onto their trading platform without an account, so you need to create one first. Each Broker is a separate business entity with specific goals, meaning users on different platforms might have differing experiences. In fact, the difference in user experience begins at the account registration phase.
Some brokers ask for a wide range of identifying information at the registration window, while others widen the range later. For example, Forex.com asks for your country/region of residence, date of birth, full name, email address and phone number. Interestingly, the information is not enough to create even a demo account. Forex.com also asks for your trading experience and more detailed personal information such as identification documents before you can create an account.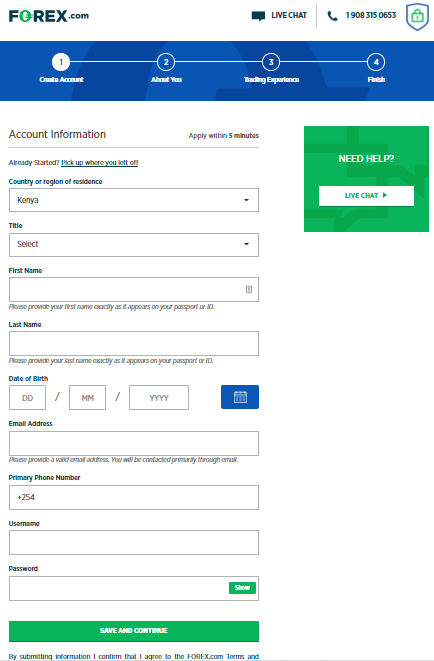 eToro demands less information. New users can create an eToro account after providing a valid email address, a username and a password. Also, one must agree with the terms and conditions of the platform. That is all. Alternatively, you could sign up with Google or Facebook. The rest of the information can be provided at the Know-Your-Customer (KYC) stage.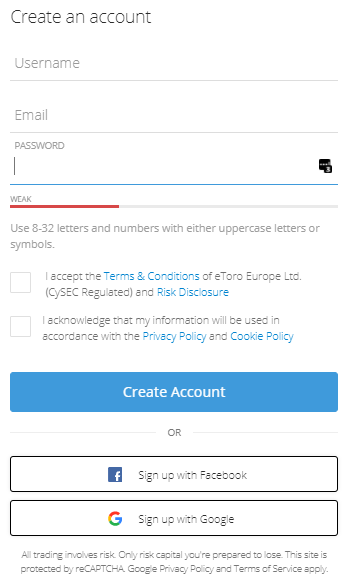 2. Verify your Identity (KYC Process)
The KYC process is straightforward in its goals; it aims to prevent frauds and criminals from desecrating a broker's trading platform. Regulations obligate brokers to ensure they know the kind of people they onboard as clients. Knowing a customer means obtaining his/her identification documents, which could be a passport, national ID card, driving license, or bank statements. Furthermore, the Broker could ask for a recent utility bill to verify the location information you provided.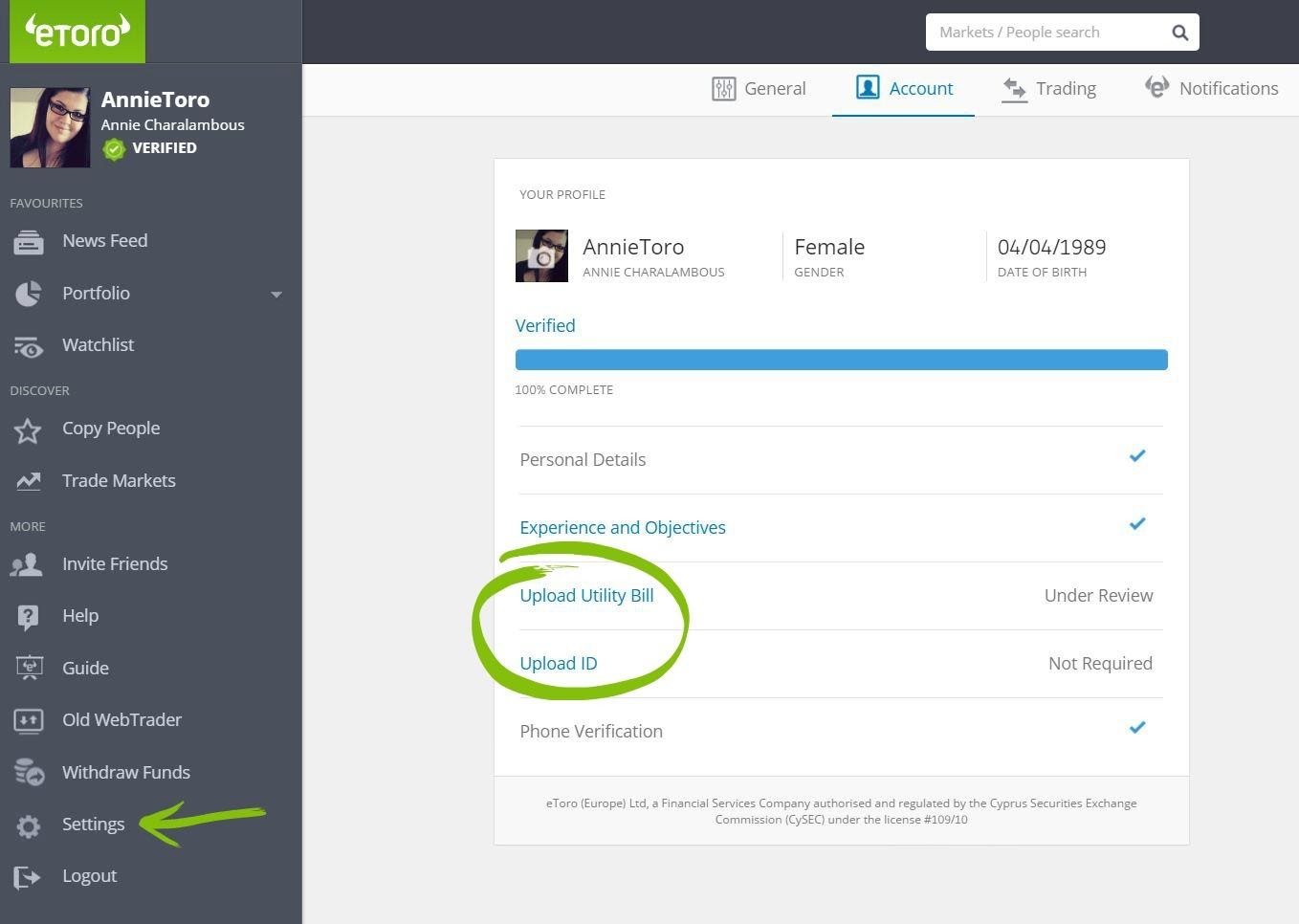 The identity verification process is probably the most taxing–and certainly annoying part of the account registration process. Nonetheless, the process is vital. In the first place, the KYC process is a condition that must be fulfilled under regulatory guidelines and, secondly, the process weeds out bad actors from the trading platform. Ultimately, the KYC process enables brokers to maintain a secure environment for clients, which encourages BAT adoption.
3. Deposit Funds with your Preferred Payment Method
The next step after a successful KYC process is to deposit funds. Typically, BAT brokers offer various choices of payment methods from which you choose the most preferred. On the Broker's website, find the "Deposit Funds" button and click on it. A window should open with instructions on how to fund the account. The window also includes the list of supported payment methods.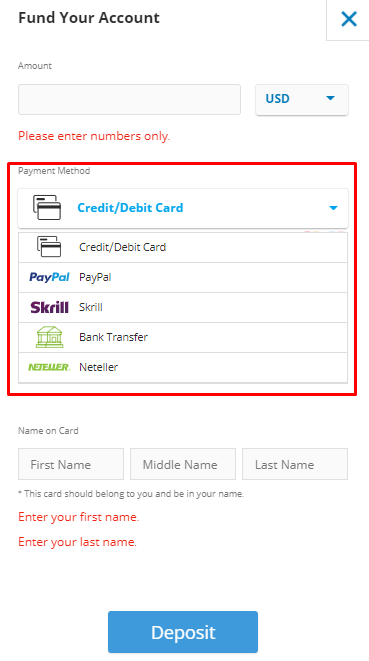 You might want to consider the speed of transactions and associated fees for a particular payment method before making a choice. Making a quick comparison of the payment methods based on the said factors is the best approach. Also, there is the security factor. Please be advised that unprotected computers are a security lapse that hackers could exploit to steal your funds. Therefore, ensure the computer you use has proper antivirus software installed.
4. Open a Position to Long/Short Basic Attention Token
Trading BAT is exciting, but only if you understand everything that is happening. While many strategies exist, long and short Basic Attention Token are two of the most popular. It is important to note that trading BAT involves buying and selling BAT contract for differences (CFDs). As the name suggests, a CFD is a contract for trading the underlying price of BAT.
The contract becomes active at the trade execution and terminates at the closing of the market position. One party will pay the other the difference between the contract value at position close and the trade execution point. Cryptocurrency CFDs are derivatives that enable traders to benefit from wagering price movements of digital assets.
When you open the trading platform, you can open a position to long or short BAT. On the one hand, going long means buying the cryptocurrency pair where BAT is the quote token. This decision should be made after extensive technical analysis. The analysis should show beyond reasonable doubt that the pair's value is likely to grow in the future.
Going short on BAT is the opposite of the long strategy. This strategy makes sense when the evidence of the value of the crypto pair–in which BAT is the quote currency–falling in the future is undeniable. Shorting the cryptocurrency indicates a bearish view.
Thankfully, some brokers have made BAT trading easy such that you do not have to break your skull trying to distinguish long and short positions. For example, eToro lets users copy the experts on the platform. All you have to do is click on the "Copy" button, and eToro will do everything else.
5. Close your Position
While copy trading might save the day, it would be helpful to note that proper market exit relies on adequate risk management skills. Exiting the market is as crucial as the entry because you risk losing all the capital if done poorly.
Of note are the stop-loss and take-profit concepts. The tools allow you to automate market exit without threatening the chances to obtain gains. For example, the stop-loss tool closes a position immediately after the target price activates.
While the tools are a great risk management technique, sometimes you just want to exit the market early. In such a case, you are free to close the position manually and take the little gains generated or accept the loss made.
How to Buy Basic Attention Token with an Exchange
Now comes the time when we talk about buying and owning BAT coins. Please recall that brokers only offer exposure to BAT through CFDs, but exchanges put you in contact with peers to buy and sell Basic Attention Tokens. As with brokers, exchanges also differ in fees charged and the security of the platform. Therefore, it is prudent to compare the exchanges beforehand to make sure you get the best deal available. For better security, ensure that the exchange has proper licenses that ascertain its regulatory status.
1. Set up a Basic Attention Token Wallet
Since you are buying to hold the coins, you need somewhere to store them safely. Thankfully, Basic Attention Tokens are popular, and that means most wallet providers support the crypto. Before you set up the wallet, it helps to know the type that will offer the best service.
It is essential to note that crypto wallets exist in two forms—hardware and software type. A software wallet also goes by the name online wallet because you need an internet connection to gain access. This wallet type can exist on a desktop or a smartphone. However, the live (or hot) nature of the wallet makes it vulnerable to hackers.
Perhaps this is why security-obsessed BAT owners prefer hardware wallets. A hardware wallet performs the same functions as the software type, the only difference being that the former is a physical object. Some refer to hardware wallets as cold wallets because you do not need an internet connection to access them.
2. Choose and Join an Exchange that sells Basic Attention Token
As with brokers again, exchanges require new users to create accounts before being able to transact. The account registration process does have some differences, but they are mostly minor. Some exchanges from which you can buy BAT include Coinbase, Binance and CEX.
The verification process is another area where key differences exist among the exchanges. For example, some exchanges have a stricter KYC process, and that might take days to complete. Others take a few hours to verify uploaded documents. We believe that the verification period should not matter if you get better security and service delivery in turn.
3. Choose Your Payment Methods to Buy Basic Attention Token
You have lots of freedom when choosing the payment method to buy Basic Attention Tokens. The exchanges, including those mentioned above, accept direct payments such as using credit cards. It means you do not have to fund your account first before placing the buy order.
Other exchanges allow users to attach bank accounts to their profile. This way, the users can transfer funds between the exchange and the bank in a seamless fashion. Depositing funds in the account is also a great choice and also the most convenient.
The payment methods differ based on convenience, cost and transaction speeds. For instance, bank transfers might offer convenience, but you might have to wait for longer, sometimes days, to complete transactions.
4. Place an Order to Buy BAT
Buying BAT begins by logging into your account or creating one if not yet registered. After you complete the verification process, now is the time to fund the account. Our research discovered that few exchanges support the buying of BAT with fiat currency, so you need to buy specific digital currencies to use. For example, Binance lets you buy BAT using Litecoin (LTC), Dash (DASH), Bitcoin (BTC), and a few others.
The good thing with buying BAT with other digital currencies is that the personal details demanded are few. However, users who wish to use fiat currency have to pass the rigorous KYC process.
To buy BAT using other cryptocurrencies, ensure you acquire the preferred tokens before opening the exchange's Buy/Sell page. Specify the BAT amount you want and the currency in which you wish to pay. The exchange will automatically generate the precise amount required from you.
5. Safely Storing Your Basic Attention Token in a Wallet
Do you wish to spend the tokens in the coming days, or would you love to keep them for months or even years? If the former, then the coins are safer in the exchange's custody. This way, you avoid the back and forth that saves you the transaction costs.
If the latter, then a private wallet is the ideal storage. Transferring the coins is a straightforward process that begins with opening the "Withdrawals" page. Choose the destination wallet by entering the public wallet address in the provided space. Once everything is in place, including two-factor authentication, click "Send" and wait for the tokens to land in the private wallet.
Should you Buy or Trade Basic Attention Token?
We have discussed the difference between owning and trading BAT elsewhere in this guide, but we think it won't hurt to repeat. Buying the Basic Attention Token involves logging into a crypto exchange account, such as Coinbase or Coinmama, and placing an order for the given amount of the tokens. At the end of the transaction, you get the coins and then store them in a private wallet or let them stay in the exchange's custody.
On the other hand, trading BAT happens via a broker such as eToro or Pepperstone. Unlike a crypto exchange, professional brokers offer exposure to BAT through CFDs. Also, they only link clients with the market, which means buyers/sellers do not have access to the digital asset's market price. Trading BAT entails opening long or short positions, which can be done as many times as possible, and a position can last from a few minutes to a day.
What's the Difference Between a Basic Attention Token Exchange and a Broker?
A Basic Attention Token exchange offers a platform where buyers and sellers acquire or release BAT coins at the market price. The exchange merely links the transacting parties without playing any third-party role. Contrarily, a broker is a middle party between a trader and the cryptocurrency market. The Broker's clients buy or sell BAT CFDs at prices higher or lower than the market price. A CFD only offers exposure to BAT, and traders do not own any of the coins being traded.
Basic Attention Token: Long Vs Short Term Investment
Long-term investment entails buying BAT coins to hold them for extended periods; it could be one month, a year or more. The investment strategy involves setting up a private wallet to store the coins for the period of ownership.
Although we cannot place a rigid timeframe for a short-term investment, we think this is an investment approach that involves gaining exposure to BAT for a single 24-hour trading session or less. This investment technique is ideal for BAT traders who prefer to buy BAT CFDs from professional brokers.
3 Tips to Buy Basic Attention Token
With your mind focused on buying BAT, we wish to offer three tips for extra guidance.
1. Choose the Right Time and Do Your Own Research on Basic Attention Token
The right time to buy BAT depends on your ultimate goals and the due diligence you conduct. If your approach is a long-term investment, then the right time to buy the token is when the BAT price appears cheap. For short-term investors, the right time to buy BAT depends on what technical analysis says. Also, ensure you do your own research to avoid falling for false insights.
2. Compare Costs to Buy Basic Attention Token
The exchanges and brokerages that offer access to Basic Attention Token charge a fee, which eventually adds to the cost of buying the cryptocurrency. Therefore, ensure the exchange you select charges affordably. To get the best deal, make a thorough comparison of the fees of all the exchanges in the market.
3. Safety and Security when Buying Basic Attention Token
Besides lower fees, the security of the platforms is paramount. A platform that takes necessary security precautions such as employing sophisticated encryption protocols–guards the integrity of the transactions. You could raise the bar higher by setting up a two-factor authentication mechanism for your account.
What is the Best Payment Method for Buying Basic Attention Token?
Buy Basic Attention Token with Cash: it is possible to buy Bitcoin (BTC) at ATMs using cash and then use the BTC to purchase Basic Attention Token.
Buy Basic Attention Token with Credit Card: one can buy BAT instantly with a credit card.
Buy Basic Attention Token with Bank Transfer: add a bank account to your profile to enable secure and seamless transactions.
Buy BAT with Bitcoin: most exchanges support buying BAT with Bitcoin.
Buy Basic Attention Token with PayPal: PayPal is a popular payment method for funding accounts, though it is not accessible globally.
Other Ways to Buy Basic Attention Token
The team behind Basic Attention Token created the Brave Browser, a security-focused browser that awards users with BAT coins for ads displayed. Users can tip their favourite content creators with the BAT. So, it means one can get BAT through receiving a tip on social media platforms.
The Basic Attention is a revolutionary project. Specifically, the team's fixation on salvaging a broken digital advertising industry is noble. Information on the Basic Attention Token website says more than one million content creators are part of the BAT ecosystem, and the user numbers are advancing past 12 million.
For any currency to enter mass adoption, the masses must find some application for it. BAT is doing great on this front by enabling tipping. Since content creation is growing as a significant employer, there is a higher probability that more creators will join the ecosystem. BAT stands to gain massively from such a development.
Frequently Asked Questions
Basic Attention Token is an Ethereum blockchain-based utility token used to transfer value between publishers and advertisers on one side and users on the other side. The token underwrites a digital advertising and services platform built on blockchain technology.

Yes. The cryptocurrency is a utility token that facilitates transactions in the BAT ecosystem, and users can transfer it across different supported wallets. Also, the token is tradeable over various cryptocurrency exchanges.

No. Bitcoin is a digital currency, while BAT is a utility token. The primary difference here is that BAT is only a unit of account between different parties in the BAT community, while Bitcoin can be used as currency to pay for goods and services. Also, BAT's relationship with the Ethereum blockchain means it can be integrated with smart contracts, something that Bitcoin cannot achieve.

One BAT coin was worth $0.8194 on Thursday, 20, 2021. The coin's price has grown substantially since the start of the year; it was $0.204 on January 2, 2021.

Download the Brave Browser via the Basic Attention Token website and install it on your computer. Next, enable the Brave rewards and opt-in to be shown ads.
Alternative Cryptocurrencies