How To Buy Aeternity | Ultimate Guide To Buy AE
Aeternity (AE)
...
Aeternity is part of Blockchain 2.0, a new smart contract technology built around the original blockchain technology, specifically Ethereum. The Aeternity team describes the project as the answer to the scalability issues in earlier blockchains. As such, the Aeternity protocol can accommodate large-scale enterprise use cases easily.
Considering the growing popularity of blockchain-based solutions across many industries, the possibility of Aeternity rising to challenge Bitcoin in value and adoption is real. This guide provides valuable information to help you get exposure to Aeternity while the token is still affordable.
5 Steps to Buy Aeternity with eToro Now
Buying any cryptocurrency with eToro is easy, simply follow the steps below:
Sign up for free with eToro, entering your details in the required fields.

Fill out the questionnaire, this is both educational for you and eToro.

Click 'Deposit', you'll then be asked how you want to fund your account.

Choose your required payment method, follow the simple steps to link your payment.

Enter the amount you want to deposit and you're good to go!
Our Recommended Platform to Buy Aeternity
Aeternity is not a newcomer on the cryptocurrency scene and Yanislav Malahov had established the project in 2016. During this time, there is a possibility that some people have come across the cryptocurrency and have a deep understanding of how to get it. If you belong to this category of our readers, allow us to point you to our recommended platforms.
Min. Deposit
$50
Exclusive promotion
Accepts customers from the USA
Offers 15 crypto coins to buy&sell including BTC, LTC, ETC, NEO and more
Trade on the world's leading social trading and investing platform
Description:
eToro offers a wide range of cryptos, such as Bitcoin, XRP and others, alongside crypto/fiat and crypto/crypto pairs. eToro users can connect with, learn from, and copy or get copied by other users.
Payment Methods
Bank Transfer, Wire Transfer
Full regulations list:
CySEC, FCA
Where to Buy Aeternity in 2021
As with other digital currencies, Aeternity is a new class of assets whose classification is not precise yet. For the time being, jurisdictions such as the US and a few European countries classify cryptocurrency as intangible assets in the same vein as securities. Perhaps the classification arises from the fact that you can buy and hold Aeternity and earn income, or you can trade the tokens on an online cryptocurrency broker.
The paragraph above helps to set the stage for the discussion of where to buy Aeternity. Buying and owning Aeternity (AE) are two different things. First, let us see what owning Aeternity means.
For starters, ownership implies control over something. If one says that one owns Aeternity, then one means that he/she can decide to spend the AE tokens, move them from one wallet to another, and exchange them for either other cryptocurrencies or fiat currency. You can buy Aeternity on crypto exchanges available online.
Purchasing and holding Aeternity has some exciting upsides. For example, you stand to gain substantial value if the price of the AE tokens shoots up. Having control of the coins also enables you to access the Aeternity blockchain and transact easily with fellow peers.
But there are downsides to owning Aeternity. These coins need cryptocurrency wallets for storage. The technology behind crypto wallets could be too technical for some people. If so, the chances of losing the coins to malicious actors are high. Secondly, it is not easy to find the preferred crypto wallet because providers are many, and each one claims to offer the best product in the market. As such, you bear the burden of due diligence, which is time-consuming and burdensome.
The alternative to buying and holding Aeternity is trading the cryptocurrency. Trading (or buying, as we referred to it earlier) means you stake an indirect claim to the tokens but without taking physical delivery. You can trade AE tokens on an online cryptocurrency brokerage. The brokerages link their clients to the cryptocurrency market, but they set arbitrary prices. They offer an opportunity for clients to trade the gyrations of the Aeternity token price. You can trade the underlying price of AE through contract for differences (CFDs).
CFDs trading could be an ideal alternative for investors who do not wish to fumble with Aeternity wallets. Also, the instrument allows traders to get in and out of the cryptocurrency market as many times as they want in a day. This way, you can generate small profits many times in a day.
The only research you need to do when trading Aeternity CFDs is market analysis. Insights from the analysis should point you in the right direction before taking a position in the market. One could argue that trading Aeternity involves less hustle as opposed to buying and holding the crypto.
Min. Deposit
$50
Exclusive promotion
Accepts customers from the USA
Offers 15 crypto coins to buy&sell including BTC, LTC, ETC, NEO and more
Trade on the world's leading social trading and investing platform
Description:
eToro offers a wide range of cryptos, such as Bitcoin, XRP and others, alongside crypto/fiat and crypto/crypto pairs. eToro users can connect with, learn from, and copy or get copied by other users.
Payment Methods
Bank Transfer, Wire Transfer
Full regulations list:
CySEC, FCA
Min. Deposit
$1
Exclusive promotion
The world's largest cryptocurrency exchange with over 2bn daily users
Innovative trading platform offering enormous range of crypto coins
Supports over 60 methods of payment including PayPal
Description:
Binance has grown exponentially since it was founded in 2017 and is now one of, if not the biggest cryptocurrency exchanges on the market.
Payment Methods
1Pay, 2C2P, 3d Secure Credit Card, ACH, ANELIK, Abaqoos, AdvCash, AlertPay, Alfa-Click
Algocharge, AliPay, American Express, Apple Pay, AstroPay, BPAY, Bank Link, Bank Transfer, Bank Wire, Baofoo, BitGold, BitPay, Bitcoin, Boleto, Bonds, Borneo Exchanger, Bradesco, CEX.io Mobile App, CFDs, CSS System, CUPS, CartaSi, Carte Bleu, Carte Bleue, Cash, CashU, Cashier Order, Check, Check (UK only), China UinonPay, China Union Pay, China UnionPay, ClickandBuy, Commodities, Contact, Contact Z, Credit Card, Cryptocurrencies, Currencies, DCPay, DIXIPAY, Dankort, Debit Card, Dengi Online, DineroMail, DirectPay, Dotpay, E-dinar, ELV, ENets, EPS, ETFs, EXCARD, Easy2Pay, EcoPayz, Ecommpay, Ecurrencyzone, EgoPay, Emerchant Pay, Eprotections, EstroPay, Ethereum, Euro Bank Account, Euteller, Express Dotpay, Express Polish Post Office 24/7, Express Zabka Market, Ezeebill, Ezybonds, FasaPay, Fastapay, Fastbank, Faster Payments, FilsPay, Forex, GTBank, Gate2Shop, Giropay, GlobalCollect, GlobalPAY, GlobePay, Gluepay, Halcash, I-Account, IPS, Ideal, Indices, Individual US State License(s), Indonesia Exchanger, InstaBill, Instadebit, IntellectMoney, Interswitch, Investmate, Itukar, KNET, Klarna, LaoForexBoard, LavaPay, Lion Payment, LiqPay, Litecoin, Lobanet, MOTO, MT4, MT5, Mailing Cash, Market Maker, Masari, Mastercard, MegaTransfer, Mister Cash, Mobile Trading App, Mobile Trading Platform, Moneta, Money Bookers, Money Order, MoneyBookers, MoneyGram, MoneyPolo, Multibanco, NETBANX, Nab, Namecoin, Neosurf, NetPay, OKPAY, OMT, OmahPoin, OnPay.ru, Online Naira, OrangePay, PAYSEC, POLi, POLi & BPay, PYEER, PagoEfectivo, Paxum, Pay Nova, PayCo, PayPal, PayRetailers, PayWeb, Payeer, Payoneer, Payonline, Payvision, Payza, Perfect Money, PocketMoni, Postbank, Powercash 21, Prepaid MasterCard, Prepaid MasterCard (I-Account), Prepaid MasterCard (Intercash), Prepaid MasterCard (Payoneer), Privat 24, Przelewy24, QIWI, RBK Money, Rapid Transfer, RegularPay, SEPA, Safecharge, SafetyPay, SahibExchange, Shilling, SmartPay, Sofort, SolidTrust Pay, SorexPay, Sporopay, Stock Certificate, Stocks, Swish, Teleingreso, Thailand Exchanger, Ticketsurf, Todito Cash, Trade Interceptor, Transact Europe Payment, Trazus, TrustPay, Trustly, UAE Exchange, UPayCard, USD, Ukash, Unet, UnionPay, Unistream, Uphold, Verve, Vietnam Exchanger, Visa, VixiPay, VoguePay, Vouchers, Wallet One, WeChat, Web Based Trading Platform, WebMoney, WebPay, Webtrader, Western Union, Wire Transfer, Wirecard, Yandex, Yandex Money, Yemadai, YuuPay, Z-Payment, Zenith, Array, cTrader, dinpay, eCard, eCheck, eKonto, ePay bg, ePayments Transfer, eToro Mobile Trading Platform, eToro Trading Platform, eTranzact, iPay, mPay, neteller, paysafecard, postepay, skrill, unichange.me
Min. Deposit
$10
Exclusive promotion
The broker offers access to a trusted MetaTrader trading system
Pricing is ensured to be completely transparent, also providing accuracy and speed
Trade a Wide Variety of Assets with Leverage up to 1:500
Description:
LonghornFX is a true ECN STP broker dedicated to delivering a superior trading experience to traders no matter their level of experience. Their services are based on transparency, innovation and efficiency, ensuring an unparalleled trading experience for all.
Payment Methods
Bitcoin, Credit Card, Debit Card, Visa
LonghornFX offers high-leverage trading on a wide variety of assets. Trading with leverage carries a degree of risk which may result in losing more than your investments. Clients should practise risk management to protect themselves from losing more than they can afford when trading with leverage.
How to Buy Aeternity with a Broker
If this is your first time in the cryptoverse, you will encounter numerous brokers vying for your money. Basically, the brokers are looking for income, and you are the source. So, some brokers will try to hoodwink you, but you won't do the machinations if you know that the right Broker offers quality services and the charges are explainable. It helps to note that the smaller the costs you encounter, the higher the chances of earning a good income.
1. Register with the Broker
Online crypto brokerages attend to thousands of clients, and they need to be able to identify each user correctly. For this reason, the first thing to do before starting to trade is to create an account. Account creation begins at the registration window. Please realise that different brokers collect specific information at the registration window.
For example, Forex.com has three separate windows for different categories of customers to register. You need to come knowing the type of trader you are or going to be. If you are a beginner trader and on a tight budget, then the Standard Account is for you.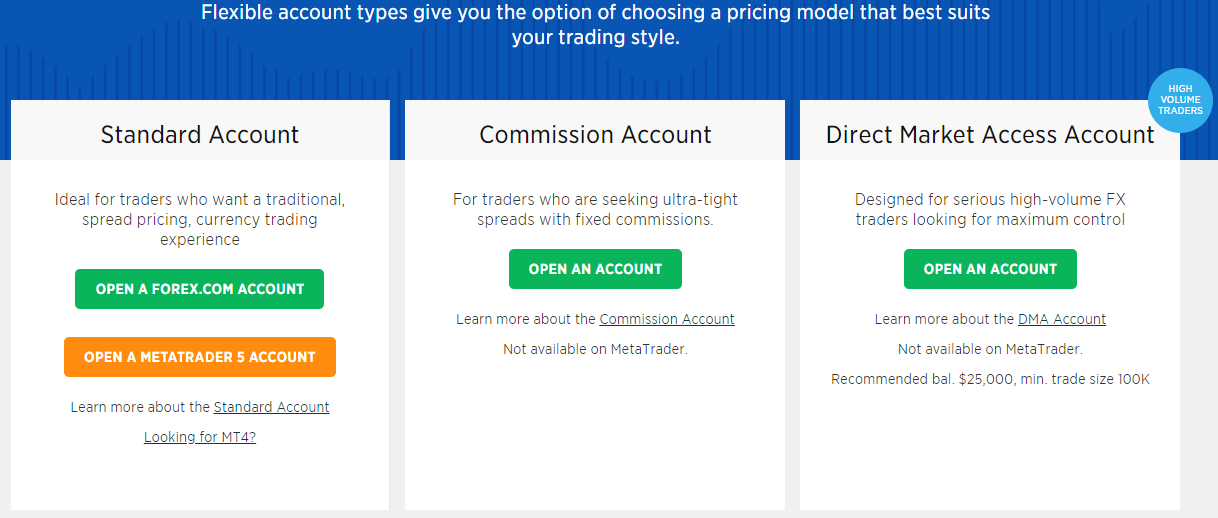 Let us say you decide to go with the Standard Account. When you click on the "Open A Forex.com Account" button, a tall window will pop up. Here, you will populate information such as your full name, country of residence, date of birth, email address, phone number (primary and secondary), username and password.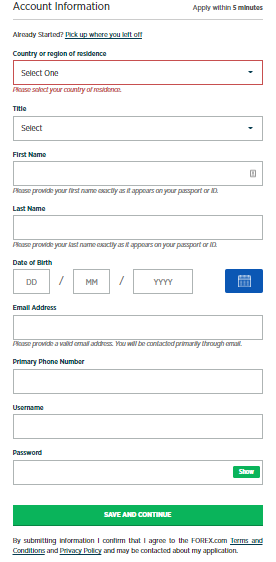 Some platforms like eToro do not go into details when asking for information at the registration window. You only need to provide a verifiable email address, a username, and a password. Alternatively, eToro permits signup using Facebook or Google.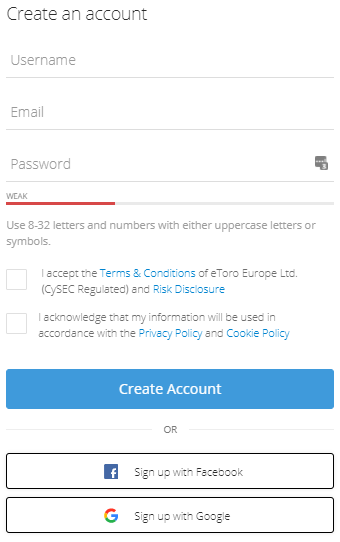 2. Verify your Identity (KYC Process)
The know-your-customer (KYC) process originates from the banking sector, where banks ask for information from prospective clients for identification. In the same vein, prospective clients for Aeternity brokers need to declare their identity via KYC. The brokers accept specific documents to prove your identity. For example, documents required for proof of residence are bank statements, a valid driving license, a utility bill, or registration certificates issued by the local government.
KYC might appear burdensome to some traders, but it is necessary. Aeternity brokers rely on the process to prevent misuse of their services. Also, identity ascertainment creates a safe environment for other users to operate. Increased adoption of the KYC process is laudable as it has reduced fraud cases in the cryptocurrency community.
3. Deposit Funds with your Preferred Payment Method
Your account will be inactive until you transfer the minimum amount of funds required to make trades. Every Broker lists the payment methods that it supports. Interestingly, all payment methods claim to offer unrivalled security, speed and cost-effectiveness. We believe that you should take such words with a pinch of salt.
It is not enough for a payment service provider to say that their services are the best. Instead, you should prove it beyond a reasonable doubt. But how can anyone achieve such a feat? The best approach is to research all the available payment methods. Thankfully, there is Google to help you in this endeavour. Precisely, determine the security measures that each option implements, their charges and the transaction speeds. Then, compare all the options based on the three metrics. The one that comes on top should be your choice.
4. Open a Position to Long/Short Aeternity
When you make an order on a broker's platform, you ask to take a position on one side of the market; the market has a buy-side and a sell-side.
When you choose to sell Aeternity, it means you are pessimistic about the future value of the cryptocurrency. In cryptoverse parlance, this strategy refers to shorting Aeternity or short Aeternity. Contrariwise, taking a position on the market's buy-side indicates confidence in the token's future price. Because this strategy tends to play out for an extended period–typically a few days to years–traders call it a long position, hence long Aeternity.
It helps to keep the information in mind when opening a position. Fortunately, some Aeternity brokers provide means by which less competent traders can copy their expert fellows. It means you might not need to trouble yourself with researching extended and short-position trading.
For example, Pepperstone offers three types of copy trading or social trading services. DupliTrade and MetaTrader Trading Signals are pieces of software that you install on your trading platform. The other one is Myfxbook, and this service does not require software installation.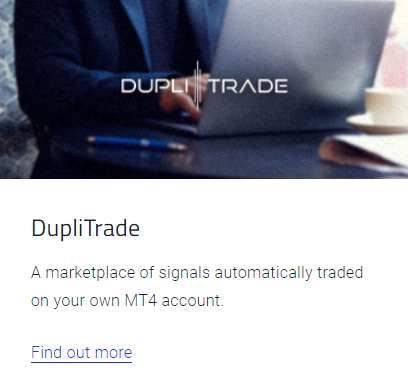 5. Close your Position
Every expert crypto trader will tell you that risk management is as critical as market entry. Closing a position is a crucial technique that you could use to manage risks, notwithstanding that the method is also proper when you wish to earn from a profitable position.
You could close a position through the manual or the automatic route. Both approaches are essential in the risk management machinery. The automated way entails using tools such as stop loss, take profit, and trailing orders (trailing stop loss and trailing take profit). These orders execute when the market touches the trigger price. They are instrumental in the situation where volatility is too high for a human trader to handle.
Sometimes you might feel you have had enough, whether the market is going in your direction or the other way. Let us say you are winning, and you think that the pips are enough. In this case, you could close the position and take the available profit. This is the manual way of closing your position.
How to Buy Aeternity with an Exchange
While Aeternity brokers aim to link traders to the cryptocurrency market, crypto exchanges are the market itself. The interaction on the exchanges is more direct, and investors access the market price of Aeternity. However, as with Aeternity brokers, many exchanges exist, and each one is vying for your attention. How do you pick the right one?
Selecting a suitable exchange is crucial to the success of your crypto investing journey. The proper Aeternity exchange employs industry-standard encryptions to secure user information and their funds. Also, a good exchange lets you enjoy as much of your income as possible by limiting the costs you incur to the lower side. You get the best deal when the exchange's regulatory status is in order, on top of the already mentioned factors.
1. Set up an Aeternity Wallet
Aeternity exchanges deliver the actual tokens when fulfilling your buy order. But these tokens are not physical coins that you can store in a piggy bank or under your mattress. Instead, Aeternity tokens are a string of random numbers generated in a blockchain network.
Storage of the coins requires a unique solution called an Aeternity wallet. Please, ensure that you have the wallet ready before placing a buy order. Setting up the wallet is especially critical when you wish to store the Aeternity crypto by yourself. But what should you do if you do not have sufficient knowledge about wallets? The best approach is to search for information online. However, we will discuss the wallets here for your benefit.
Crypto wallets store the private keys that give you access to your digital currency. Another key called a public address or the wallet address lets you receive coins from other senders. Please think of the wallet address as a bank account and the private keys as the secret number that unlocks the wallet.
Cryptoverse categorises crypto wallets based on their nature, i.e., hardware or software wallets. Also, the wallets are either hot or cold wallets. Hardware wallets store the private keys on a tangible device. Conversely, software wallets store the private keys on a PC or an internet-enabled mobile phone. The word hot describes a crypto wallet, whether hardware or software, whose access is only possible over the internet. Contrarily, cold wallets are accessible without an internet connection.
2. Choose and Join an Exchange that sells Aeternity
Many popular exchanges offer buy/sell services for Aeternity. They include Coinmama, CEX, Huobi Global, Bithumb and many more. It is essential to mention that each of the exchanges packs unique and exciting features. As such, you might want to do some due diligence to be sure which one fits your liking.
Besides the difference in features, the exchanges also differ on the registration process, especially the KYC process. We believe the safest exchange has the most stringent but reasonable KYC process. The suitability of the avenue increases when you can confirm its regulatory status.
3. Choose Your Payment Methods to Buy Aeternity
Satisfied with your choice of an exchange that sells Aeternity? Now, it is time to select the avenue for paying for the cryptocurrency. Different routes exist, but bank transfers, debit and credit cards, and online payment service providers like Skrill are the most popular.
For example, some exchanges allow users to attach their bank accounts to the platform for the secure and expeditious transfer of funds. Given the reluctance by some banks to process crypto-related transactions, the institution's representatives are likely to call you for confirmation.
If bank transfers do not work in your location, you could try using debit/credit cards. So far, this avenue boasts the fastest transaction speeds. Using these cards on some trading platforms leads to the instant settlement of the transactions.
Online payment service providers also have their benefits; they require the least amount of energy to activate the funding process. However, the entities face the highest risk because their security situation is more inferior to banks.
4. Place an Order to Buy AE
It is now time to purchase Aeternity, now that your account is active and funded. Before you place the order, it is crucial to know that the purchasing process might slightly differ depending on how you wish to pay for the AE tokens. The process might be a bit complicated if you want to pay for the transaction using another cryptocurrency, such as Bitcoin.
A typical AE buying process begins with visiting the exchange's "Buy/Sell" tab for those using fiat currency. Next, the exchange will ask you to select the specific currency to pay for the coins from a list of fiat currencies. What follows is choosing Aeternity in a drop-down list of supported cryptocurrencies. The last step in the order placement process is selecting the payment method. This step is unnecessary if you have already loaded funds into your account with the exchange.
Some exchanges will not proceed with the purchase order until you pass the 2FA (two-factor authentication) step. We believe that such exchanges care about your security.
It helps to note that most crypto exchanges, such as Binance, do not support buying AE with fiat currency. Instead, you buy another cryptocurrency first, usually Bitcoin. With Bitcoin in your wallet, you can now buy Aeternity without much hassle. The entire purchasing process does not change.
5. Safely Storing Your Aeternity in a Wallet
Congratulations, you are a proud owner of Aeternity cryptocurrency! What next? Some exchanges offer custody services, meaning they can store the AE coins for you at a small fee. Storing the tokens with the exchange is ideal for investors who wish to trade the crypto for short-term profit.
But if you aim to keep the crypto for a long time, you should store them in a private wallet. Thankfully, transferring crypto from an exchange to your wallet is fast and straightforward. On the exchange's website, go to the "Send" tab; this might differ depending on the exchange. Specific prompts will appear to guide you through the transaction. However, it is essential to know that you will need to provide the wallet address of the destination. Therefore, be sure you know your wallet's public address.
Should you Buy or Trade Aeternity?
Do you intend to hold the AE tokens for a month or more and sell if the price rises? Then your investment strategy is long-term. In such a case, you should buy Aeternity. But if you intend to trade Aeternity, then AE CFDs should be your target.
Long-term investors should buy AE from exchanges. The exchanges offer the Aeternity tokens at the market price, which is competitive. Contrarily, professional brokers are ideal for investors who prefer a short-lived exposure to Aeternity.
What's the Difference Between an Aeternity Exchange and a Broker?
An Aeternity exchange is where peers meet to exchange AE tokens for either fiat currency or another digital currency. On the platform, buyers and sellers of AE trade based on the coin's market price.
On the contrary, an AE broker merely links clients with the AE market. It means the Broker's clients do not have direct access to buyers or sellers of the cryptocurrency. Also, the clients cannot access the market price of the AE tokens.
As it is apparent, you buy AE from an exchange, and you get physical delivery of the tokens. Trading AE means wagering the price fluctuation of the token without owning the asset itself. Such services are available through AE brokers.
Aeternity: Long Vs. Short Term Investment
Understanding the difference between buying and trading AE helps distinguish a long-term from a short-term investment strategy. Your investment strategy is long-term if you are buying AE tokens for holding in a private wallet. The aim here could be to keep for one year and then sell when the AE price is significantly high.
A short-term investment strategy is antithetical to the former. It means shorting the cryptocurrency when its price threatens to tank. This investment strategy entails holding a position for a few hours or even a day but not longer.
The short-term investment strategy is ideal for investors who thrive in a highly volatile market. Also, such traders can open and close countless positions in a day, hence earning many small profits. The patient and value-oriented investors prefer the long-term investment strategy. They believe that asset prices eventually rise.
3 Tips to Buy Aeternity
If you are one of those investors steeped in value investing, then here is how to make sure you do not make a mistake when buying AE:
1. Choose the Right Time and Do Your Own Research on Aeternity
Buying low and selling high is one of the fundamental laws of investing. The problem is how to know that asset prices are low. Fortunately, you could have an idea after thorough research. Researching on Aeternity gives hints concerning the token's valuation and its future price based on current developments. Insights from the research will help you to choose the right time to buy AE.
2. Compare Costs to Buy Aeternity
Aeternity is available on multiple exchanges, but you should be cautious about where to buy AE. Each platform has a unique fee structure that ultimately affects your potential gains. Luckily, you can get the best deal by comparing the total expenses you incur on each exchange.
3. Safety and Security when Buying Aeternity
Aeternity is a digital currency, meaning it faces great danger from hackers who could exploit security weaknesses. As such, the safety of your AE tokens and personal data depends on the measures you take and those of the exchange on which you operate. On your end, you could customise your profile for better security. For example, you could activate 2FA. But also make sure that the exchange has the correct encryption protocols in place.
What is the Best Payment Method for Buying Aeternity?
Buy Aeternity with Cash: platforms such as Changelly enable cash purchases for AE.
Buy Aeternity with Credit Card: Changelly also supports instant buying of AE using credit cards.
Buy Aeternity with Bank Transfer: Bank transfers are the most popular payment method for buying Aeternity because of top-notch security.
Buy AE with Bitcoin: Most exchanges support buying AE with Bitcoin instead of fiat currency.
Buy Aeternity with PayPal: Exchanges accept funding of accounts via PayPal, but the avenue is not accessible globally.
Other Ways to Buy Aeternity
Besides brokers and exchanges, there are many other ways of how to get Aeternity. A good example is the Superhero social platform. Built on the Aeternity blockchain, Superhero enables peers to tip their favourite content creators in AE. The transfers are direct and low-cost.
Alternatively, you could get Aeternity via instant swaps. An instant swap refers to obtaining one cryptocurrency in exchange for another instantly. Platforms such as Jelly Swap support AE swaps, swapping crypto such as Bitcoin for AE tokens.
How about trying AE bounties? The Aeternity team runs regular bounty campaigns, after which they reward winners with AE tokens. A bounty campaign could entail taking up development tasks, creating guides, etc. The team posts instructions for upcoming bounty programs on their blog, so check it out.
Aeternity is an under the radar project and if blockchain technology is to achieve mainstream adoption, then such ventures need to succeed.
Frequently Asked Questions
Aeternity is a blockchain technology platform in the same vein as the Bitcoin network. Unlike Bitcoin, Aeternity emphasises decentralisation, and the Aeternity team proposes an alternative system of governing finances, economies, and governments through the use of public blockchains.

For starters, the AE tokens are native to the Aeternity blockchain. The digital currency is the unit of account for the value transacted in the Aeternity ecosystem. Also, the decentralised applications (dApps) built on Aeternity use AE tokens as crypto-fuel.

Aeternity is creating a platform for exciting applications. Some of the use cases in development or being implemented include supply chain management, insured crowdfunding, portfolio and asset replication.

Yes. The scalability of blockchain technology is Aeternity's primary focus, so the team developed the state channels technology to facilitate its success. The state channels technology enables Aeternity users to execute smart contracts off-chain, hence reducing the load on the Aeternity blockchain network.

Yes. Aeternity is a registered entity with the Liechtenstein authorities in Vaduz.
Alternative Cryptocurrencies